14 Money Making Ideas for Stay at Home Moms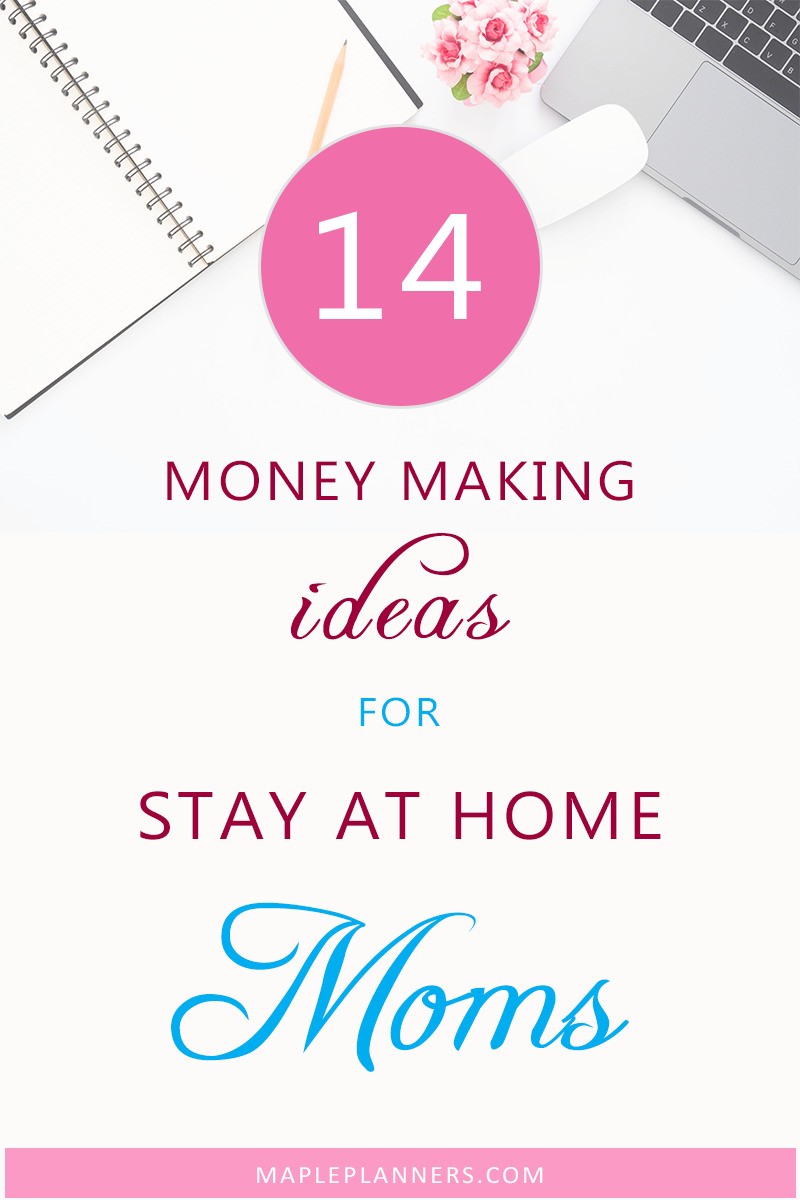 While looking for ways to make money from home, I was surprised to find so many options, that help moms and dads make significant amount of money without even stepping out of the house.
I haven't used all of these methods but I will still share the information I was able to find about all of the opportunities.
Some of these were also suggested to me and I did more research to find out about what they are about, so I am including those in the list as well.
1. Blogging
I have been blogging for a while and can honestly say it makes money. But just like any other business it takes time before you actually start monetizing.
Blogging has been such a creative outlet for me. Besides creating fun printables, I love to share my organization tips, money saving and money making ideas.
If you want to start a blog yourself, make sure to read through my step by step tutorial on how to start a blog where I walk you through the whole process of money making blog in as simple way as possible. If you sign up using my link, you will be able to get hosting at discount rate through Bluehost for only $3.95 per month. You will also be able to get a FREE Domain.
This step by step guide is a great resource for helping you out on starting a new blog, setting it up, installing WordPress and essential plugins and finally writing your first blog post.
2. Swagbucks
What I love about Swagbucks is that you can earn money or Amazon gift cards by performing some simple tasks such as searching the internet, taking surveys, shopping through their site, watching videos, playing games and printing grocery store coupons.
When you reach your threshold for earning enough points, you can cash them out via either gift card or transfer money via Paypal gift card. Sign Up for Swagbucks!
3. Taking pictures of your receipts
Did you know you only need to take picture of your receipt and get cash back on your groceries. There's a mobile app called Ibotta that will pay you just to take picture of your groceries. How cool is that?
The way it works is, when you sign up and register with this app, browse through the cash back offers in your area and make a list of all of the items that will give you cash back. With this handy list, next time you go grocery shopping you can buy that item, take a picture and earn cash.
For example, Ibotta will give me a $1 if I buy a gallon of milk or 25 cents if I buy a pack of string cheese. Offers vary every week so if you see a cash back offer on an item one week you may not see it next week.
I think this is a pretty neat way to earn cash on something you were already supposed to do – grocery shopping for your household items. Sign up for Ibotta here! New users receive $10 for trying Ibotta for the first time.
4. Make Money with Daily Rewards
DailyRewards is a free online rewards club that pays cash when you perform some of the regular tasks via them. New members can earn $5 when they sign up.
As soon as you reach $30 threshold, you can request your check. At this point you also become Gold member making you eligible for even more rewards.
There are many ways to make money with DailyRewards. You can watch videos, complete surveys, read emails, complete 100% FREE offers and search the web.
These are some of the things that you do on the internet anyways. So why not earn some cash out of it. Sign Up for DailyRewards!
5. Freelance Writer
If you love to write engaging content, you should consider becoming a freelance writer. There are many sites that pay you to write reviews on movies, restaurants and concerts in your local area.
Besides reviews, you can write for sites (and earn money) that covers the topic of your interest. For example, if you like to write about parenting you can submit your publications to sites like Scary Mommy, Babble, Metroparent.
To submit technical articles or tutorials, you can write for InstantShift, A List Apart and Linode.
Jeff Bullas has listed 10 Amazing sites that will pay you for writing. Find the sites that cover topic of your interest and get writing.
6. Virtual Assistant
Almost everyone I know has a blog. As bloggers become popular and their workload increases, they start looking for help to hire.
As a Virtual Assistant, you can assist with social media management, graphics designing, freelancing, marketing, promotion and search engine optimization.
It is one of the lucrative work moms can make money from home, set up their own timings and work on the projects as they get time.
There are many Facebook Groups that you can become member of to seek work. You can also apply to be a VA to companies like Virtual Assistant Jobs where you can gain experience.
Companies like Zirtual can even help assign clients to you. Once you have built a successful portfolio, you can launch yourself as an independent VA.
If you have never worked as Virtual Assistant before and looking for more information, make sure to check out The Bootstrap VA, where Lisa Morosky talks about how to become a successful VA and how to get more clients. She walks you step by step through setting up this lucrative home based business.
7. Sell Handmade Crafts
If you know how to sew or crochet, you can easily make money from home by selling your handmade crafts.
There are many online platforms that let you sell your handmade items on their sites. Etsy, Shopify and eBay are some of platforms that let you create your own virtual shop and help you sell for percentage of fees.
If you like graphics designing, you can even design or sell your own graphic tshirts on Cafepress or Cents of Style. Not only t-shirts, you call design and sell mugs, shoes, custom jewelry and so much more.
If you want to learn any of these crafts, you can take free or paid online classes at Blueprint. They offer paid and sometimes free classes for learning to sew, quilt, knit, crochet, cake decorating, drawing, painting, photography and so much more.
8. Bookkeeper
If you know how to manage money, you might want to try working as a bookkeeper.
This flexible, online and remote job is perfect for someone who has some knowledge of accounting and like to play with numbers. Every business, small or big, needs to track accounts receivables and expenses.
With the availability of so many cloud based platforms like Quickbooks and Xero, you can easily work remotely for any of your client from home.
You can utilize free accounting software programs like Turbocash and Wave. There are paid programs as well like Quickbooks where you are charged monthly but it comes with large variety of tools and resources.
If you would like to work as a bookkeeper, you can create your profile on sites like Upwork and Freelancer.
List your freelance services and even apply for open positions or contact potential clients who have posted positions for freelance bookkeepers. Start with low fees in the beginning, and charge your way up as you build your portfolio.
9. Social Media Manager for Brands
If you have lots of experience with social media you can use it to make money from home. Social media has become one of the most popular platforms that companies and brands use to promote their products and services.
Most of these jobs are offered as independent contractor positions that means you can work remotely from any location. Keep an eye out on gigs section in Craigslist or job listings on Indeed or SimplyHired.
10. Photographer
If photography is your passion, you can make money out of this hobby of yours. Photography has come a long way since wedding photography was one of the most popular careers for photographers. As blogging has evolved over the years, so has photography.
You can make money from home or anywhere by selling your photos online. You can sell your photos on popular stock photos websites like Shutterstock or Fotolia.
Travel Bloggers sell their photos from different parts of the countries, remote locations or volcano eruptions are some of the most popular images covered by photographers and in demand by magazines.
You can even showcase your talent as a food blogger or publishing a cookbook. You can coach others how to be a photographer, start classes or photography tutorial. Flickr and 500px have channels where you can generate paid leads. Of course you have to make strong following before you start making some money, but it can add up slowly but surely.
11. Proofreader
This one is a perfect job for someone who has a very keen eye. This is a flexible work from home job where you proofread the printed manuscript. It can be any area of the field.
For example, one of my friends used to work as a medical proof reader. She had to proofread the medical transcripts and had to have an eye for detail for all the medical terms.
Finding a proofreader work can be challenging but you can checkout some of the popular freelancing sites like Freelance Writing or Upwork. If you specialize in particular area, all the better.
12. Baby Sleep Consultant
I had no idea such a career option existed until one of my friends asked me if she should become a baby sleep consultant. She felt so confident of herself after she sleep trained her baby that she was inspired to go for such a career.
After hearing this I had to do a little more research and found out that such a thing exists. You can take baby sleep consultant certification from an institute that offer such a course.
There are some that were pointed out on some of the discussion forums like Family Sleep Institute, Gentle Sleep Training, Sleep Sense.
So if you think you can be great at helping moms sleep training their babies, go for baby sleep consultant job.
13. Consumer Focus Groups
Way back when I was a student, I was invited for a focus group to discuss about the recently launched tech product.
Around 10 women about to-be engineers were seated around the conference table and answering questions about how easy or difficult we found that product to use with our existing apps.
As we were discussing, seated behind the 2 way mirrored wall were observers from that firm. At the end of the discussion, we were all paid $90 for that session. I participated in few other similar sessions and collected varied amount of money ranging from $60 – $90.
Such Focus Groups or surveys are conducted by companies that are about to launch a new product. They want the consumer's feedback, address consumer needs and look for any concerns. When you participate in such consumer Focus Group you can expect to get paid as much as $100.
If you want to participate in such Focus Groups, check out Swagbucks, 20/20 Panel, Focus Group and Adler Weiner Research.
14. Customer Service Agent
If you love to chat and communicate with people, Customer Service Agent might just be the job for you. Many companies hire work at home agents via staffing companies to answer questions from their customers.
Make sure to check out Arise Virtual Solutions and Working Solutions to find more information about customer service agent positions.
So, there you have it! These flexible, remote and work from home opportunities can help you earn some extra cash from the comfort of your home. Have you tried any work from home jobs that have helped to earn? Please share with us in the comment box below!
This post may contain affiliate links. For more information, please read my disclosure
here
.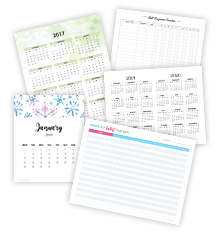 Join our mailing list to get access to huge library of freebies and exclusive deals on planner printables!