7 Simple Ways to Save Money at Target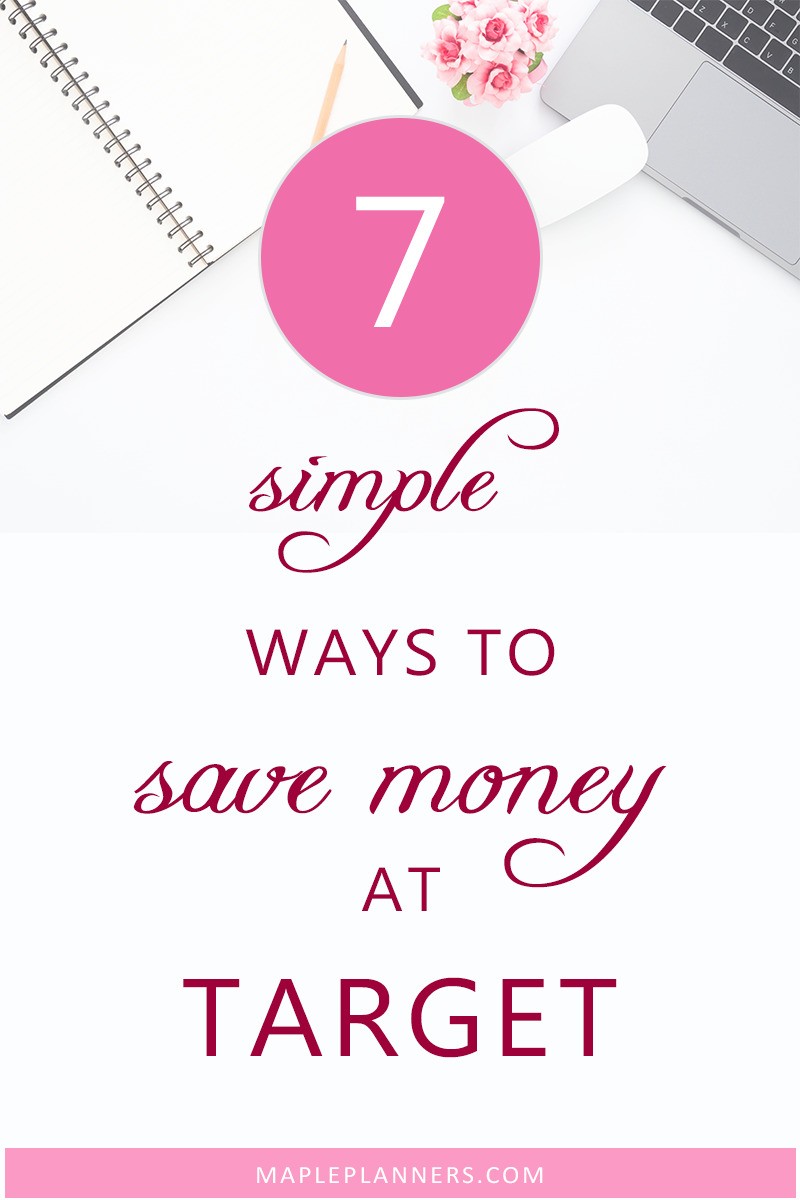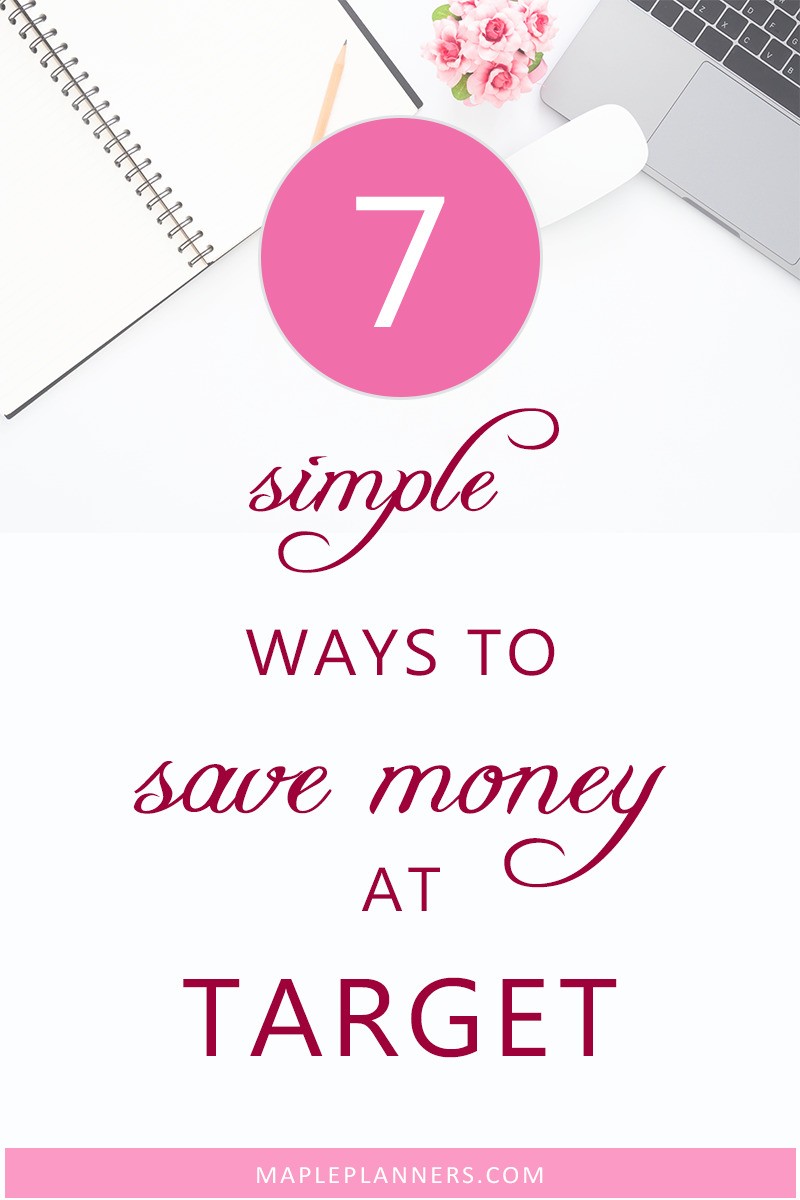 I'm sure you already know about some of the ways to save money at Target, such as signing up for their REDcard because it offers an additional 5% off their mobile and print coupons.
But you might not be aware there are so many other ways to save money at the popular store. Here's how you can shop at your favorite store and keep even more cash in your wallet!
This post contains affiliate links and we will earn commission if you buy the products through those links. For more information, please read our disclosures here
Target apps and eCoupons
Save money at Target by using their eCoupons or apps on your smartphone. Simply download these and take advantage of deals that are offered everyday.
Cartwheel by Target lets you save on things you already buy at Target. Discounts may range from 5% – 50% off. You can add them your personalized Cartwheel barcode. You can also save on your next Target shopping by scanning your barcode at checkout in store. Discounts can be used as many times as you like before they expire. Cartwheel deals even work when you stack them on top of coupons, sales and your REDcard discount and other coupons.
Ibotta at Target – Ibotta is another awesome app for your smartphone. You can take a quick poll, watch a short video or take a look at the recipe, you earn money. Purchase the product as you normally would. Using coupons will not have any effect on your ibotta offers. You can even scan the products barcode through the Ibotta app to be sure you are purchasing the correct product. Once you have made your purchase, you simply take a photo of your receipt through the app. The amount of the coupon will be deposited into your Ibotta account.
ShopKick lets you access exclusive deals at Target. Simply earn points (or "kicks") just for walking into a Target store and earn even more "kicks" for making qualifying purchases. You can discover deals and trending items before you start shopping. Browse collections to stay on top of the latest offerings. Kicks can be redeemed for Target gift cards.
Sign up For Coupon Alerts
Save money by signing up for coupon alerts for mobile offers that are delivered via text on your smartphone. These alerts are sent according to your preferences you set up at the time of your signup. Coupons that are printed in the weekly ad are also available via these text alerts.
Get Insider Information on Each and Every Deal
One of the things I love about Target is the way they constantly offer a huge array of deals to help stay well within my spending limits. Whether it's a special, limited time deal, a bonus REDcard discount, stackable coupons, or a free gift card with certain purchases, there's always a method of saving money.
Trouble is, keeping up with these changing offers can be time consuming, especially when relying on in-store circulars, coupon websites and advertisements. That was until I discovered AllThingsTarget.com. Now I simply visit the site and I get a comprehensive list of all the current deals at Target.
Shop Smarter and Check Online
Target is great about matching prices if you find the same item for sale elsewhere. This is also true for items sold at Target.com. Before paying for a product at the register, check Target's website to see if it sells there for less. If so, simply head on over to the guest services desk and receive the lower price.
Check Your Receipt for Bonuses
For the longest time I would just stuff my Target receipts into my bag without really looking at them. Then I would toss the crumpled wads of paper into the trash without a second thought.
Then I started noticing that my receipts include valuable coupons for clothes, food, toys, and a whole bunch more! Take a look at your receipt, it could save you even more money in future purchases.
Skip Costly Shipping Fees
I'm the first to admit that I love to shop but I hate crowds. Naturally I gravitate towards online shopping, but the shipping sometimes costs more than the item.
Target has removed the sting from both shopping and shipping by introducing the ship-to-store option which not only allows you to skip the cost of shipping, it also saves you the hassle of fighting with crowds.
Usually, if I order something early in the day, I can pick it up from Guest Services within two hours just by showing a valid ID.
Did you know about Weekly Markdown Schedule
Yes, there is one, and I had no idea. With Weekly Markdown Schedule, you will be able to score major deals if you shop according to the day. Different departments at Target have different discounts throughout the week. Here is the schedule for each department. Please note that this may vary according to the location in your area.
Monday – Electronics, Accessories, Kids Clothing, Books, Baby and Stationery
Tuesday — Domestics, Women's Clothing, Pets and Market (food items)
Wednesday — Men's Clothing, Health and Beauty, Diapers, Lawn & Garden items and Furniture
Thursday — Housewares, Lingerie, Shoes, Toys, Sporting Goods, Decor & Luggage
Friday — Auto, Cosmetics, Hardware, & Jewelry
Shopping at Target is always so much fun. If you know of any methods you save money while shopping at Target, please share in the comment box below or on our Facebook page!