9 Home Based Business Ideas for Stay at Home Moms
Making money from home seemed like a far fetched idea a decade ago, but now it is possible to start home based business and actually make money from it. Few years ago, when I started blogging, I had no idea I could make money blogging.
Not just blogging, there are so many different ways moms can make money from home. While brainstorming, I came across many home based opportunities that are perfect for stay at home moms.
This is what I found out about lucrative home based business that moms an make money from.
1. Blogging
Blogging is something I was always passionate about. When I first heard about blogging, I remember I was sitting in my living room, watching TV.
There was a short segment in the news on how people are starting to write their feelings and thoughts on an online platform.
They said, the trend is on the rise, and it is called blogging. It seemed like some sort of hobby that you make time for whenever you have some time to kill. Never ever did I think at the time that people could actually make money blogging.
I am so glad that I got an opportunity to blog. I am able to contribute to our family income, and there are chances it is going to keep growing. If you are wondering How to Start a Blog, think no more.
You can either use free platforms like Blogger or WordPress or set up self hosted blog. Although Blogger and WordPress are free to use, you have no control over the contents. You also have no way of monetizing your blog.
When you set up self hosted WordPress blog, you have more chances of monetizing. So, if you started your blog on blogger platform and it has taken off successfully and you want to transfer to self hosted platform, you can easily migrate from platform to another.
There are many ways you can make money blogging. Affiliate Ads, Sponsored Posts and Adsense programs are just a few programs that pay you to work with them. You have to apply to the advertising networks in order to become a part of these ad networks.
Want to set up your own blog? Click Here to Learn How To Start Your Blog In Three Easy Steps!
2. Virtual Assistant
Virtual assistants is what every successful business is looking for. Virtual assistance, or admin assistance is a service you can provide from home, and is one of a great cost effective ways to make money online. Virtual Assistants can provide this service to individuals, businesses and corporations.
This insiders book, The Bootstrap VA provides great insight into how to become a successful VA, how to get more clients. Lisa Morosky talks about how to set up Virtual Assistance business and walks you through the process of setting up this lucrative online business.
Most common Virtual Assistant opportunities include social media management, graphic design, newsletter management, transcription, copy writing, editing, researching, mentoring, tutoring, coaching, consulting, data entry, answering phone calls, schedule management etc.
Virtual assistants are growing in popularity as organizations aim to cut costs and delegate administrative functions. In order to become a launch a successful virtual assistant, people need to be able to find you.
So, make sure to check competition and stand out from others. Start and set up a blog and showcase the services that you offer.
Highlight your services on social media sites. Get involved in social media and build relationships with clients. There are many Facebook groups that help bloggers find VAs for their business.
Other Facebook Groups support VAs and let them advertise the services on their group for bloggers to find more about them. To find such groups, just search using the keywords like "virtual assistants", "sell contents to bloggers" or social media management services".
Network, network, network. Find out where your potential clients are hanging. Reach out. Make relationships. Work for Virtual Assistant services like Upwork and eaHelp to get your foot in the door.
Companies like these match you with your potential clients based on your skill set. I have worked with a few VAs from Upwork and was very impressed with the professionalism.
3. Home Child Care
If you love children, you might be a perfect fit for starting a home based child care. With most of the parents working, there is a huge demand for home daycare centres.
Many parents prefer home daycare kind of setting over commercial formal kind of setting. Running a home child care can be emotionally rewarding and financially very lucrative.
You can start with very few children in the beginning. You do not have to have a large area to start the daycare. You can use major parts of your house for your business.
Make sure to contact your state and local agencies to find out about the square footage area required to fulfill the requirements for such a setting. This requires meeting the local government regulations and licenses.
Setting up the fees and operating hours is totally up to you. However, check other childcare businesses in your area to find out the child care fees they are charging and what are their operating hours.
Try to stay competitive and offer better deals for parents looking for such a child care setting.
A home set up is appealing for kids and their parents because it is usually more affordable and fun for the children. Want to learn more about starting a home based child care business?
Want to set up your own blog? Click Here to Learn How To Start Your Blog In Three Easy Steps!
4. Freelancer
Do you love to write? There is a huge market for writers these days. Check out online platforms like Upwork, Freelancer and Fiverr. You will find plenty of freelancers advertising their services. Most of these places have their potential clients bid and select a service that they think will best fit their writing needs.
As a freelancer, you can write on any topic you feel you have enough knowledge about. Ghost writing has become popular nowadays. There are many Facebook Groups freelancers post about their services. You can search these groups using keywords like "freelancers","sell content for bloggers" or something similar.
You can make sure to deliver quality content by using grammar checking and proof reading tool like Grammarly. This tool can improves any text, eliminates grammar errors and even detects plagiarism.
In order to showcase your freelance services, make sure to start a blog or website. Write articles and try to get them published on reputed sites like Huffington Post, Scary Mommy, Blogher, ProBlogger etc. You gain much needed exposure when your article gets published on these websites.
Guest Posting is another great way to get some exposure. Reach out to the bloggers who accept guest posts. Make sure to contact bloggers that are in the same niche as yours.
For example, if you write about photography, contact bloggers that have photography related blog, if you are write about gift ideas, reach out to bloggers that have party planning blogs, if you have finances and money saving tips articles contact bloggers that have financial blogs.
Want to set up your own blog? Click Here to Learn How To Start Your Blog In Three Easy Steps!
5. Gift Basket Business
Utilize the creative side of your personality with the gift basket business. Gift baskets are popular all year long, from holidays to birthdays to Valentines and other special occasions throughout the year.
You need that special talent to buy the gifts and tuck them in the gift basket, decorative tins and festive bags. Attractive packaging is very important and should not be overlooked. This business is more about presentation than anything else.
This one is a very lucrative business. It is in high demand thanks to corporate offices and commercial businesses. Marketing in the beginning can be tough but once established, it's not too difficult to land more clients.
Making gift baskets can be a rewarding experience, allowing your creativity and talent to flourish. It requires identifying the suitable customers and analysis of market for any competitors present.
Make sure to start and setup a blog where you can highlight about your gift basket business. It is important that you have your contact details listed on your website at a section where it is most visible to your potential clients. Offer custom orders and try to deliver on time.
It is important that you deliver the promised goods on time so that your clients can become repeat customers. Hand out your business cards to your friends and family and tell them to pass around.
6. Pet Sitting / Dog Walking
Love animals? Pet sitting and dog walking might the profession right for you. People who have to travel a lot and gone for days at a time, or who are away most of the hours of the day are your potential clients.
As a pet sitter, you may have to bathe and brush the pets, walk them, clean up after them, play with and feed them.
Dog walkers take the dogs and puppies out for walk, individually or in a group. As additional services, they can play with them and feed them.
This one is a great home based business, but try to get the logistics before starting one. Check out the licensing terms with local government authorities if there are any in your town.
If you want to work in your local neighborhood, then you can get the word out through your existing customers. As you grow your business, you may want to invest in a website.
Start and setup the blog or website, highlighting all the services and respective prices for those services. If possible, add the pictures with you and the pets you already walk with.
Pet sitting and dog walking is a booming home based business that is getting popular by the day.
7. Photography
If you love to take photos, consider opening up your own photography business and offer your services for individuals and events. You can photograph weddings, celebrations, sports games, etc. Have fun with your hobby and make money from it.
There are many sites you can sell your photographs like Shutterstock, Fotolia, SmugMug, Dreamstime and so many more.
Shutterstock is one of the popular pictures site that has paid more than $350 million to it's contributors. Other sites have similar kind of stats and you won't be disappointed if you start selling your photographs to these sites.
Make sure to upgrade your photography skills from time to time. I love photography and own this Nikon D3300. It is an awesome camera if you are just starting out. Not only is it high quality, it also provides high resolution images.
If you want to start photography business from home, make sure to start and set up a blog or website. Create a beautiful portfolio of your photographs. Get a photography theme if possible. Write all your contact details.
Meet with other photographers in your town and network. Meet Up and other similar sites let you create a group or join already existing groups. Get your name out there.
8. Sewing and Quilting Business
If you know your way with sewing machines, enjoy sewing and quilting, you are a perfect candidate for sewing, quilting and crafting business.
My sister in law recently got herself this Brother Sewing Machine, perfect for beginners. She is planning to learn embroidery and quilting once she gets acquainted with the basic model.
Monogrammed baby quilts are popular gifts for new parents. If you want to take sewing lessons, there are online classes at Craftsy going on all the time. You can even learn about knitting and quilting as well.
Once you have created some great products, you can use Etsy or Shopify to sell them. This online platform is very trustworthy and quite popular among buyers and sellers. You never know what kind of growth your business can see.
9. Website Consultant
Have you noticed everyone wants a website or blog these days. Even if someone opens up a new business, a blog is a must have to get their name out there.
If you have enough knowledge about building and managing websites, you can deliver website consultant services.
Basic website consultant services include knowledge about hosting and managing a website. Building backlinks for your clients, managing banners and affiliate programs is part of website consultancy. You can even offer Search Engine Optimization (SEO) and graphic design services.
These are just a few avenues you can try if you want to work from home. If one thing does not work out, perhaps you can try something different. Learning along the way is half the fun when it comes to working from home.
Best thing about starting your own home based business is that you can start earning money by doing what you are passionate about, right from the comfort of your home. And if you start doing something, you will surely find success with it. Yes, you can do it!
Related: Learn How to Start a Blog in Three Easy Steps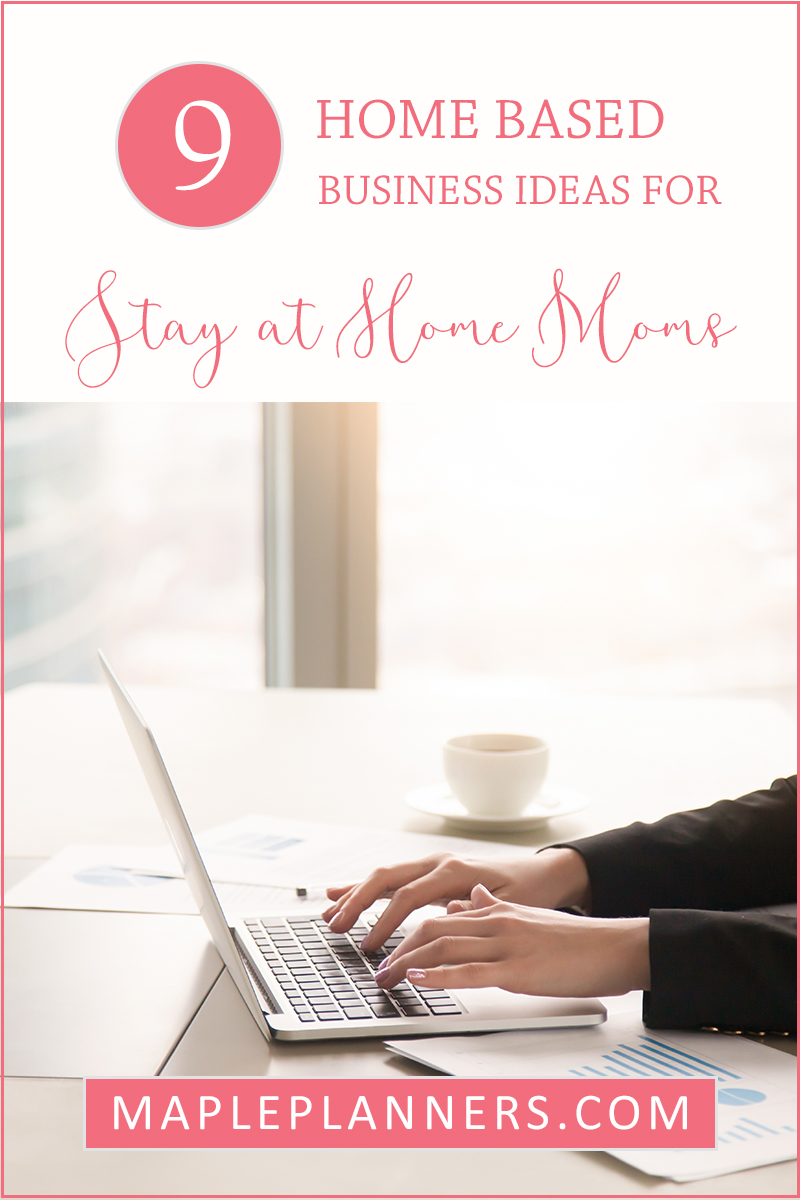 This post may contain affiliate links. For more information, please read my disclosure
here
.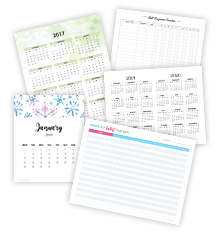 Join our mailing list to get access to huge library of freebies and exclusive deals on planner printables!