Blogging Basics: 12 SEO Tips to Optimize your Blog Posts
Search Engine Optimization or SEO is something I started appreciating a few months into blogging.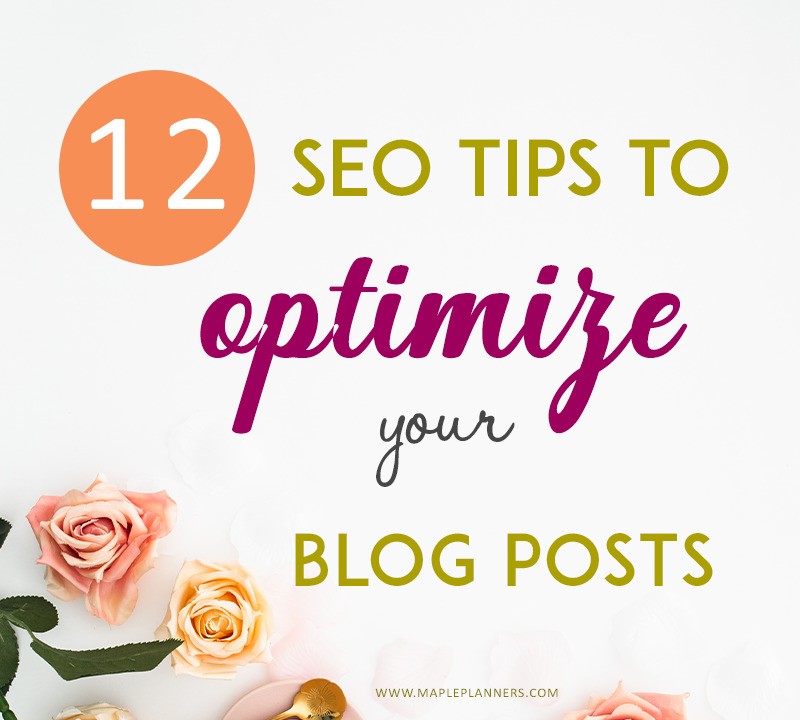 I realized this was one of the best ways to get maximum exposure to your blog or website without investing any money.
I mean, who doesn't like anything free. In this case, free organic traffic to your blog.
Best thing I like about SEO is that my blogs keep getting traffic on constant basis as opposed to a spike in the traffic if it was coming from one of the social media networks or paid ads.
Since Search Engine Optimization provides free organic traffic, it is also something that takes some time to start reaping the fruits after you sow the seeds.
Meaning, if you have optimized your blogs and sites really well, it doesn't mean you will start ranking right away.
In this post, I'm sharing search engine optimization strategies that help me rank my sites really well.
This post contains affiliate links and we will earn commission if you buy the products through those links. For more information, please read our disclosures here
#1. Use Self Hosted Domain
Want to be an authority in the blogging world via SEO?
Use a self hosted domain!
Of course, you can go with Blogger or WordPress.com domains for free, but when you choose self hosted domain, you have more control over your content and your SEO.
There are so many free and paid themes and plugins that are compatible with WordPress.
You can host a WordPress site for as little as $3.95 per month on a shared hosting. Since there are so many plugins and themes available, it is easy to customize and design.
#2. Set up Google Analytics
If you want to optimize your blog posts for SEO, you need to track the performance of your posts. Google Analytics is a free tool that tracks website traffic.
It helps generate the detailed statistics about your blog's performance, traffic sources, conversions, audience, location of your visitors, new and repeat visitors and lot more. You can set up your own dashboard and set up the stats you wish to view.
#3. Know your Target Audience
Now that you have set up your Google Analytics, next step is to know who your target audience is. Find out their age, gender, geographic location.
Knowing their specific needs and solutions they are looking for their problems help define your search engine optimization strategy. You will be able to better plan out the content on your blog.
For example, on one of my blogs, major audience consists of women, aged 26 – 34 that are looking for organization and money saving tips. Knowing what my audience wants I am able to create quality content for my audience on my blog with higher conversion rate.
#4. Keyword Research
Once you know who your target audience is, you can target the particular keywords to make sure that your blog ranks well for the keywords they are searching for.
You can use tools like Google Keyword Planner to determine what keywords you want to target. Each of your blog post should have at least one target keyword.
It is important that your targeted keywords are relevant to the niche of your blog. Don't use the keywords because they are popular or profitable.
If you are using your targeted keywords as a regular flow in your blog posts, it will appeal more to your audience.
#5. Title & Description
Another important part of SEO, title and description of your blog posts is what you should focus on.
Google and other search engines look at the title and meta description of your blog posts.
This is how they know what your blog post is about. When you figure out the targeted keywords for your blog post, make sure to include it in your title tag and meta description.
Title tag should normally be around 55 characters and meta description should be around 150 – 160 characters.
#6. Create High Quality Backlink
When your blog posts are being linked from other high authority sites, your blog will be ranked higher in search engine ranking.
Blog commenting and guest post on authority sites is one of the best ways to create high quality backlinks. When commenting on blogs, make sure to leave quality and useful comments.
Not only does this help to create backlinks to your blog, it also helps you network with other bloggers in the same niche. Guest posting is another way to gain quality backlinks.
#7. High Quality Content with Long Posts
It is recommended to write long(er) blog posts with at least 1000 – 1500 words, even more. With longer blog posts that reflect high quality content, search engines are able to better determine what your post is about.
Keep it as reader friendly as possible. Most of my blog posts are close to 1000 words, and I feel like I am able to explain my points better when I can write more.
#8. Fast Loading and High Speed
I hardly stay on the blogs or sites that take too long to load. I am sure you feel the same way. Not only do you lose readers, you also risk getting penalizing by Google.
It is important that a site loads really fast. To find out your blog speed, you can use sites like Gtmetrix, Google Pagespeed Insights or Pingdom. If you find out that your site is loading slowly indeed, you can try compressing all your images.
#9. No Broken Links
Broken links can hurt your SEO in the long run.
Not only is it bad for SEO, it is bad from your users point of view too. When search engines crawl your blog, and find dead or broken links, that means your blog is not being crawled properly. This Free Broken Link Checker can help to see if there are any broken links on your blog.
Broken links or 404 crawl errors are like stop signals. Every time there is a broken link, crawlers halt. When there are too many broken links, search engine crawlers may diminish the value of your blog.
It is also true for your readers. When they click on a link thinking that they are going to find more information, and they come across broken link, it may not encourage them to proceed further, making them abandon your blog.
#10. Blog Commenting
This is one of my favorite ways to network with other bloggers and create high quality backlinks. If you leave comments on other blogs, try not leave simple two letter comments.
Instead, leave conversational comments that are bound to get more interaction from fellow readers and the authors of the articles.
#11. Optimize Images for SEO
Since images have become an integral part of blogging, make sure to optimize images for search engine optimization.
Add alt text to your images, so that Google knows what your images are about, and that they are relevant to your blog post.
You need to pay close attention to images because of how social media sites like Pinterest and Instagram send targetted traffic to your blog. If you post appealing images on social media network, that stand out, chances are there will be more visitors visiting your blog y clicking through. Images play a major role in bringing traffic to your site, so make sure you spend time on creating some rich images.
#12. Yoast SEO plugin
One of the reasons I love using WordPress as I mentioned above. It is compatible with most of the plugins. If you use WordPress, make sure to install and set Yoast SEO plugin.
You just have to fill in a few fields after you are done composing your new blog post. It asks you for a focus keyword. You have to fill in the title tag and meta description. It also displays the number of steps if your blog post looks like it is not optimized properly.
#13. Interlinking the blog posts
It is very important to link to your other blog posts. Not only does it increase the authority of your site, your visitors are bound to click on those links to find out more about the information you are providing them.
When you interlink, search engines can crawl all your pages easily. Your blog structure will be much more clear and will be indexed faster. Not only your pages will be indexed faster, your newer or updated posts can pass link juice to older posts, giving you major traffic boost.
Do you optimize your blog posts for search engines? What are some of your tips to best optimize your blog posts?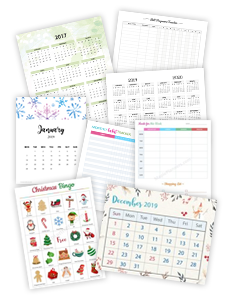 FREE Printables Library
Looking for freebies? Download free printables including planner inserts, binders, wall art, wedding party printables, stickers & graphic art. Also, don't forget to bookmark and visit later for new additions.