Free Emergency Quarantine Checklist Printable
These are some testing times with Covid-19 spreading faster than we ever imagined. It's natural for families to go into panic mode, leading to confusion. We're getting so much information about this virus that it's easy to get overwhelmed.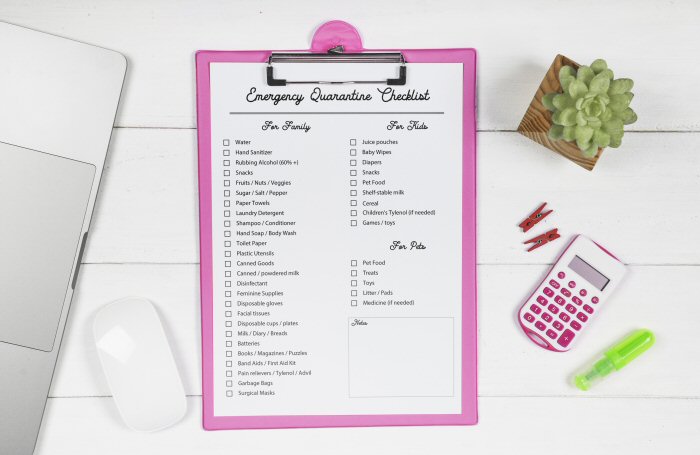 We are getting so much information on what steps to take, what symptoms we should be looking for, and how to prevent.
Spring break for kids starts this week in our neck of the woods, and kids will get to stay home for another two weeks after that.
We were originally planning on traveling out of country, but we have decided to stay put due to this outbreak. In terms of prevention, it's important to wash your hands and not touch your face. I think it's important to be cautious in order to isolate this virus.
Staying home seems like a great idea at first, but we can get on each other's nerves from time to time. I am trying to stock up my fridge, pantry and all the supplies to keep my little one busy, but I'm not sure how long before he starts getting "bored".
Emergency Quarantine Checklist
This Emergency Quarantine Checklist is what I came up with, to make sure we have everything we need if we were to stay home for more than expected.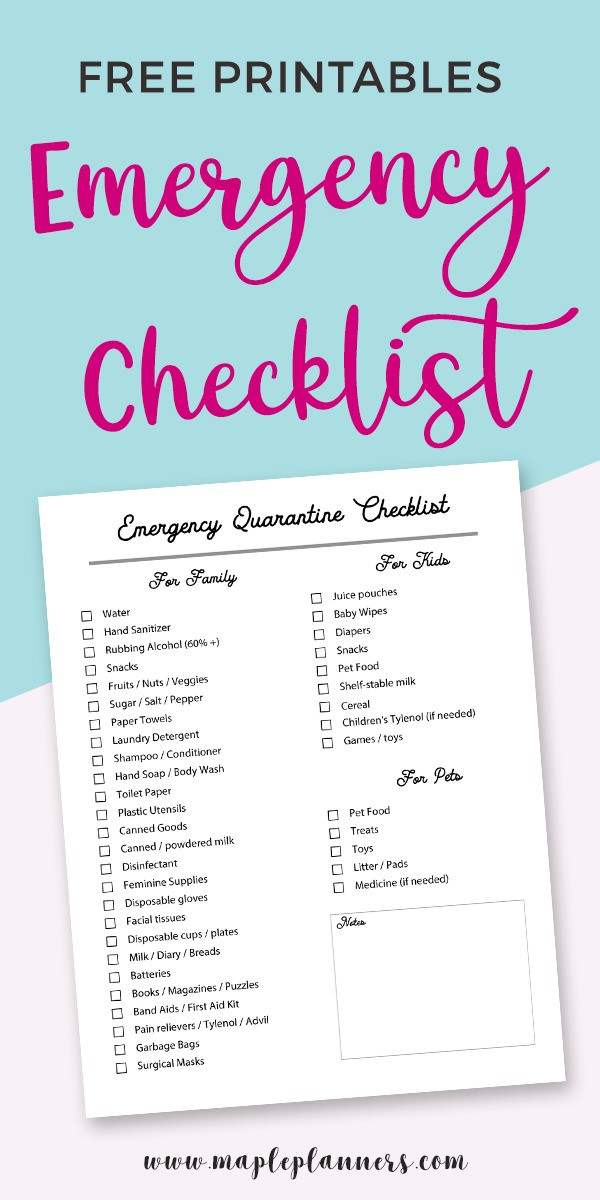 It has been simplified to divide into three separate sections so that you can make arrangements accordingly. There are different checklists for family, kids and pets. There is also an empty version that you can use and list the items of your choice.
It is available in pdf format, and can be printed on letter size paper. Simply download, print and take it along to the grocery store when you visit there next time.
Education Games for Kids
With kids being at home, I'm bound to hear "I'm getting bored" every now and then. I have put together these educational games for kids that can keep them entertained for hours. And they get learn a thing or two.
Memory Games for Kids. I love it when my little one stays busy with memory games. These are not only educational but helps with improved focus, concentration and quicker thinking skills. So not a bad deal at all.
St. Patrick's Day Bingo. We love Bingo in our household, kids love to play matching the fun characters on the cards. Whether you plan on playing at home with your kids, or in your classroom with little ones, they will have tons of fun playing this interactive and engaging game.
St. Patrick's Day I Spy Game. Kids find all the St. Patrick's Day symbols with this I Spy game. Not only kids have fun learning about different St. Patrick's Day characters, they also develop visual discrimination skills while counting and writing the numbers.
Word Search. Perfect to play at your home or in a classroom, this word search puzzle is one of the fun games when players try to search the hidden words related with St. Patrick's Day.
Word Scramble. Unscramble these jumbled words related to St. Patrick's Day. This one is a fun activity for kids where they try to solve this Word Scramble puzzle.
Easter Bingo Game. Just like a classic Bingo but with an Easter theme. These cute Easter Bingo boards are super cute and so much fun to play. Simply download, print and play – as simple as that.
All the new developments in the last few days have been really overwhelming, but it's important to remain calm. It is human nature to freak out when something like this happens and things need to be taken seriously, we really need to stay calm, try to wash our hands some more than usual, keep distance from each other, sneeze into your elbow if you need to and if in doubt, see your healthcare professional.