How I Saved over $480 on My Internet, Cable and Phone Bill
Hi There! How was your summer?
We had a busy one, and traveled a bit. It was in the middle of this summer, that we went away for a few days. By the time we came back home, we had all these bills waiting for us in the mail.
As I was going through each, I noticed our internet, cable and phone bill was higher than usual. I checked further and found out that we had overused our home phone for international calls for the previous couple of months. That made the bill payment go higher than usual.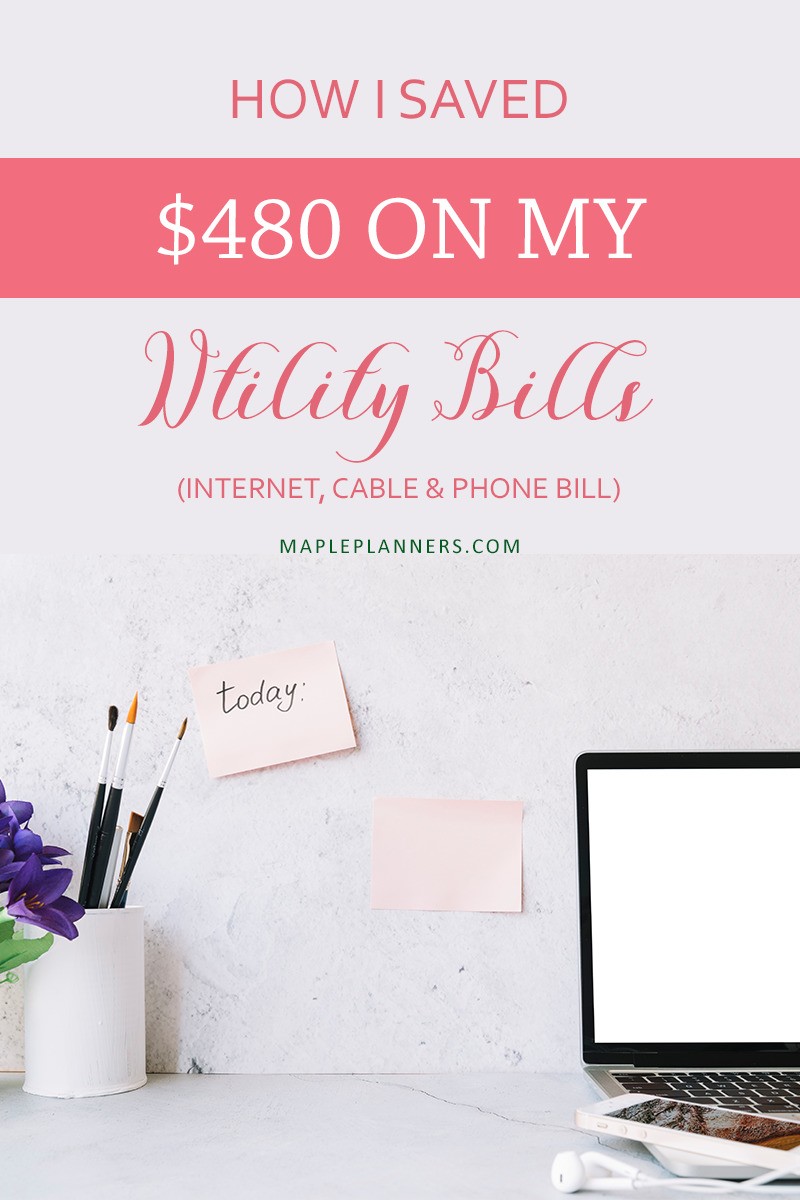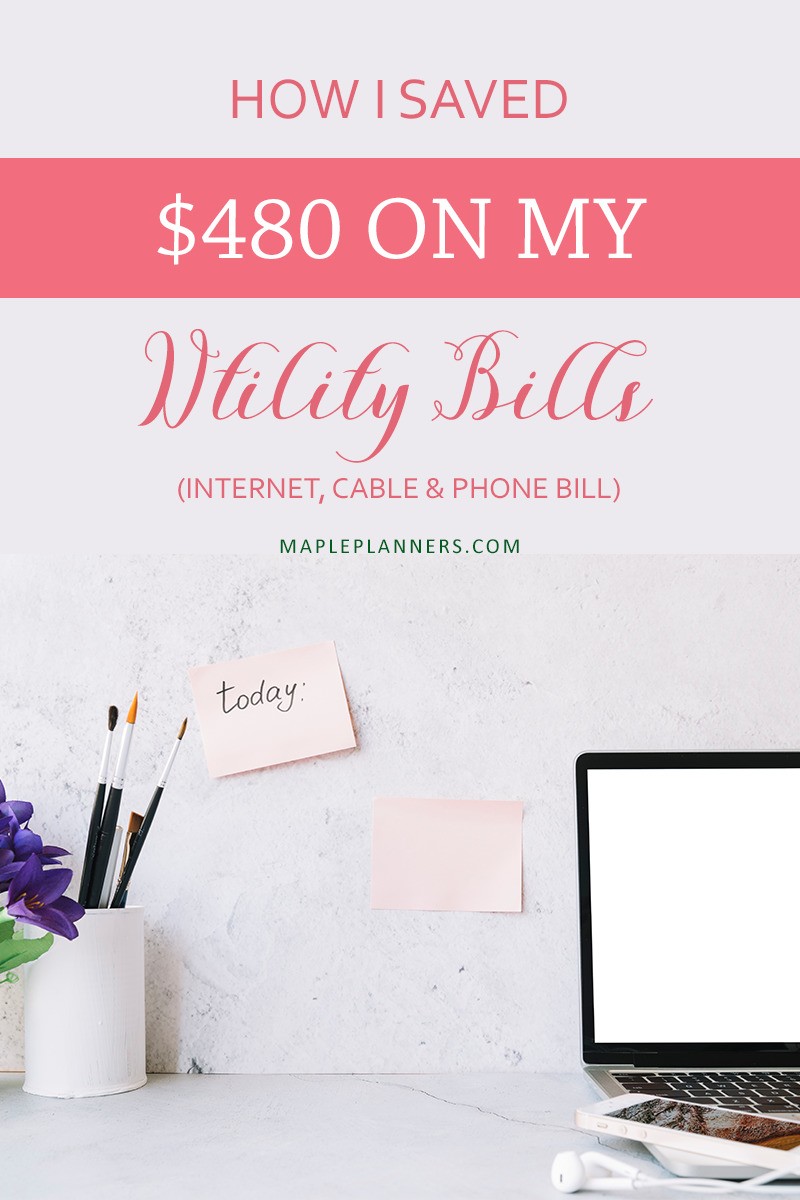 As I was going through my bills, my phone rang and I was contacted by my current provider's competitor, offering us much better rates than what we currently have. I was intrigued, asked him all the details and put everything down in my notepad. I was offered home bundle where I could save $50 per month on my internet, cable and phone bill. We discussed this and decided to talk to our current company.
We were ready to negotiate, with a price in mind.
I called them and told them about the phone call we had received earlier that day. I asked them that we are ready to switch our carriers if they didn't give us a better deal, or we 'd downgrade since we wanted to stay in our budget.
We were transferred to a customer representative, and after on a hold for about 15 minutes we were able to reach the manager. She was nice enough to go through our account and made an offer where we would be able to save $40 per month. Best thing about this plan change was we did not have to compromise on any services.
Rather, now we have internet with unlimited bandwidth and over 100 mbps speed (3 times more than our previous plan). We can also call nationwide free of charge, that we got extra. We are still subscribed to additional TV channels. I think we got a pretty sweet deal. We are able to save $480 per year.
Want to get a better deal from your provider? Here are some money saving tips that we learned in the last few months and you can see success as well if you follow these simple tips to save money in the long run:
1. Make a List of Services in a Package.
I learned the hard way, writing down everything makes huge difference when trying to keep your expenses in check. When we were both working we never made a list of expenses.
When our little one came along, and I started my part time job, we got concerned about our expenses. That's when I started using this easy to use budget binder. It has been really helpful in keeping our expenses in our check. Make sure to check it out, or keep an excel sheet and write down all the expenses for every month. You won't even believe how much you will end up saving.
When writing down the services in your package, find out how many extras you are subscribed to. In our case, we were subscribed to 2 extra channels that we subscribed to when our LO was a baby. He doesn't watch them anymore, but we never got rid of them.
Similarly, we never used the whole bandwidth on our internet, but we had been paying for it anyways. For our phone service, we were paying for service that we enrolled for international calling but we never used it. So, when you write down and review your home bundle bill, you may find out that you are not even using the services you are paying for.
2. Check Your Bill Frequently.
We have been with our current provider for almost 10 years. But I rarely took time to look at my bills. It was when we moved, I checked my bills during the process of transferring our bills and utilities to the new address.
After checking our current provider's website, I found out that we were still paying for a package that did not even exist anymore. We were paying almost $10 extra every month, for I am not even sure how long. Since then I make it a point to review my bills frequently.
We also found out that we had been using an outdated modem, and that we were due for a new one. We got it changed immediately and our internet connection was never down again.
3. Be Always On The Look Out For Better Deals.
Check your provider's and their competitors websites from time to time to see if there are any offers that you can take advantage of.
There are times when these companies have hot deals going on for new customers, but existing customers cannot benefit from such deals. So if you come along any such deal, make sure to call your provider and ask for such a deal or at least something similar.
When talking to your provider, negotiate as much as possible. After all what do you have to lose. Most of the times, your provider won't be ready to lose their existing customer. Once they find out that you are considering switching, they will most likely be ready to give you the best possible rates.
4. Be Prepared To Cancel.
If your provider is smart enough to get you a great deal, great! If not, be prepared to cancel or downgrade.
When I called my provider, I asked for reduced price for the package. I was asked about all the details about the new deal we were getting from other provider. At one point she said we may not match the deal you are getting.
I told her that I would like to downgrade my service then, because I want to keep it in my budget and I want at least $30 reduced. After hearing this, she immediately transferred me to customer representative manager. Where I got much better deal.
Although call your provider to ask for better deal but never make your negotiation look like, Gimme the deal, or ….. Always be polite and respectful. Mention the amount of time you have been with them. Also let them know that you are looking to stay in the budget and you'd rather downgrade.
Most of the time they adjust their existing customers and able to find good bargain.
Do you want to reduce your internet, cable and phone bill by even $20? Or have you have your bills reduced before? Please share your story with us in the comments below!