ADHD Adult Planner
Download free printable ADHD Adult Planner. For more similar Daily templates, browse our free printable library. Simply download and print them at home or office.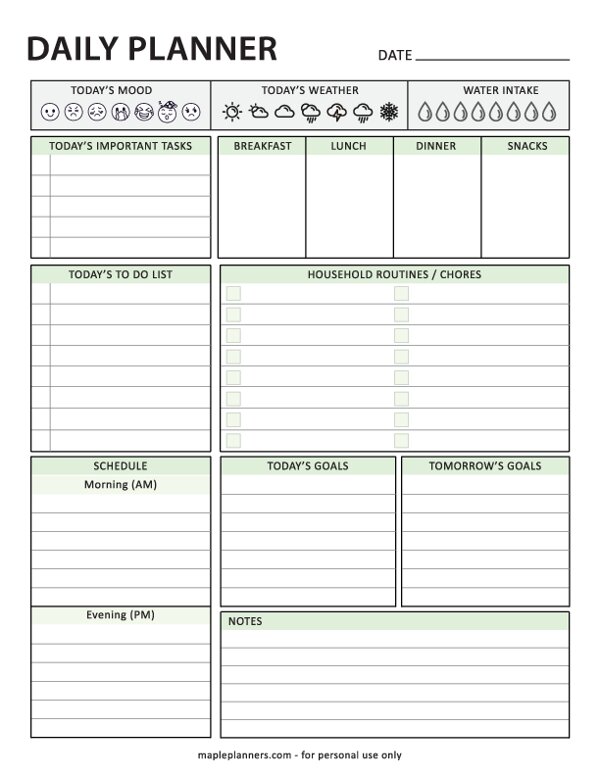 Scroll down for print and download options
Free printable ADHD Adult Planner is perfect to keep track of all the different tasks you need to do and to remember important dates.
This cute printable Planner provides extra features that allow users to easily prioritize tasks, create lists, and keep track of individual goals in a way that works for them.
An ADHD adult planner can provide numerous benefits, including better productivity, improved organization skills, decreased stress levels, and even improved mental health.
It can help structure your day and make it easier to break down large tasks into smaller, more manageable chunks.
Using an ADHD adult planner can help reduce anxiety by providing a sense of control over your life and allowing you to feel like you have accomplished something every day.
This Planner Template comes with the following sections:
Today's Mood
Today's Weather
Water
Today's Important Tasks
Today's To-Do List
Breakfast
Lunch
Dinner
Snacks
Household Chores
Schedule for Morning and Evening
Today's and Tomorrow's Goals
Notes
Organizing your life doesn't have to be complicated or overwhelming. With the help of our free printable ADHD Adult Planner, you can get organized quickly and easily so that you can focus on what matters most. Download and print your Planner printable today!