Weekly Schedule Templates
Download free printable Weekly Schedule Templates. For more similar Weekly templates, browse our free printable library. Simply download and print them at home or office.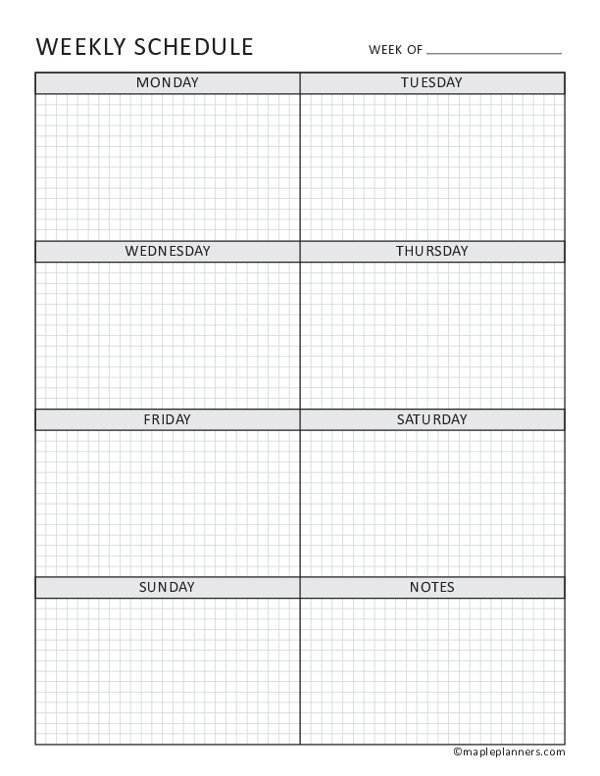 Scroll down for print and download options
Perfect for a bullet journal, this free printable weekly schedule with grid-style format helps keep track of your weekly schedule.
Write down the important tasks for each day of the week under each column. The grid Style format makes it perfect to use as bullet journal.
Moms, Dads, Teachers, Entrepreneurs, Business owners, and other professionals find such weekly schedule templates very helpful to be organized for the week. Never forget an important appointment, meeting or a special occasion.
The weekly schedule template will help you plan your week to make the most of your time. It includes a space for each day of the week and a section for notes.
How to use the Weekly Schedule Template?
If you're looking to organize and plan your week, a weekly schedule can be a helpful tool. Of course, how you use your weekly schedule is up to you - there's no wrong way to do it. Here are some ways how you might want to approach it:
Choose the days and times that work best for you. If you're a morning person, consider setting aside some time in the early hours of the day to plan out your week. Or, if evenings are more your jam, make sure to leave some space in your schedule then. It is important that you choose days and times when you know you'll be able to focus and won't be interrupted.
Set realistic expectations. When you're making your schedule, it's important, to be honest with yourself about how much time you realistically have to devote to each task. Trying to cram too much into your week will only lead to frustration and burnout.
Use your schedule as a guide, not a rulebook. Your weekly schedule should be flexible enough to accommodate unexpected events and changes in plans. You can adjust your schedule or move things around.
Make time for breaks. Just as it's essential to be realistic about how much you can get done in a week, it's also important to make sure you're taking some time. Whether it's scheduling a daily walk or planning a weekend getaway, including some time in your schedule for relaxation and rejuvenation.
Get started today! The best way to use a weekly schedule template is to start using it immediately. So print out our template and get started planning
Download this free printable weekly schedule template and stay organized.
Weekly Schedule Templates