Bill Payment Checklist
Download free printable Bill Payment Checklist. For more similar Budget templates, browse our free printable library. Simply download and print them at home or office.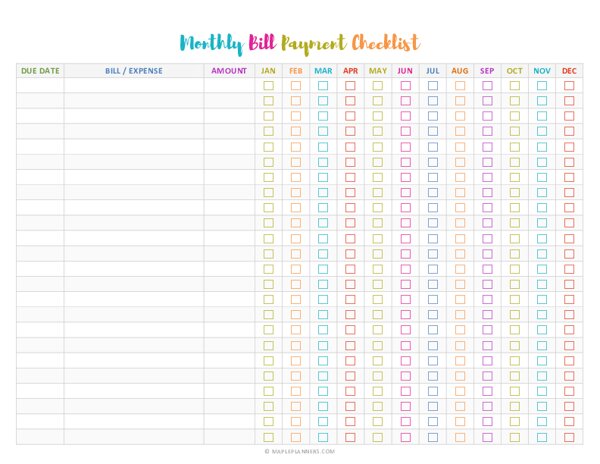 Scroll down for print and download options
Our Monthly Bill Payment Checklist Printable is a great resource to help you stay on top of your bills each month. You can easily track when each bill is due, how much you owe, and when you make payments.
It's a convenient way to avoid missed payments and the associated late payment fees and penalties. Download our printable and enjoy peace of mind knowing you are on top of your bills.
Benefits of Monthly Bill Payment Checklist
The benefits of using our bill payment checklist printable are many.
For one, it ensures you never forget a due date and pay your bills on time.
It also helps to prevent you from incurring late payment fees that can add up over time.
Additionally, keeping track of your bills can help you stay on top of your finances and avoid financial stress.
Paying bills is a crucial part of every adult's life. The feeling we get when we realize we forgot to pay a bill on time is one that nobody wants to experience.
It can lead to late payments, penalties, and bad credit scores. Make sure to use our monthly bill payment checklist to avoid those embarrassing late payment scenarios.