Travel Packing Checklist
Download free printable Travel Packing Checklist. For more similar Checklist templates, browse our free printable library. Simply download and print them at home or office.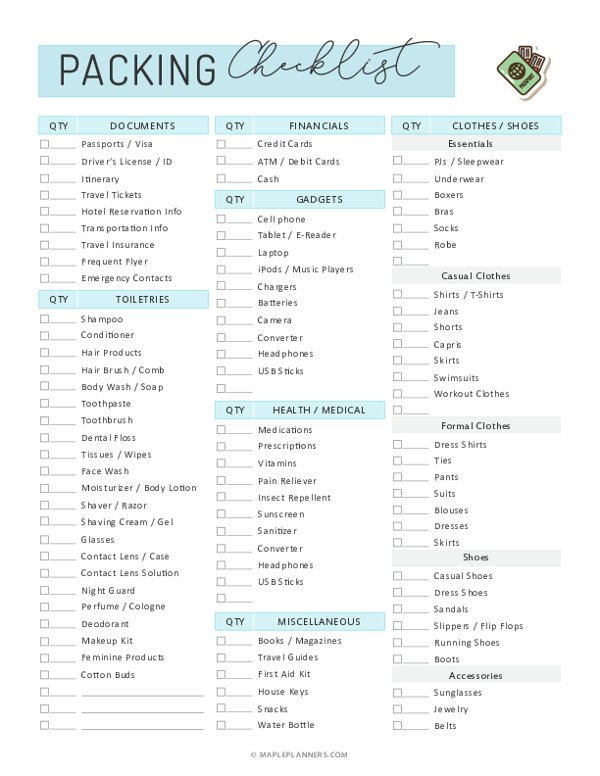 Scroll down for print and download options
Going on a vacation soon? Make sure to grab this handy free printable travel packing checklist. You will have an extensive list of all the important stuff and things to do before you leave.
While packing, keep track of important travel documents like passports, tickets, itinerary, and emergency contacts. Not only that, but you can also check off the items like credit cards, cash, health documents, clothes, kids' stuff, and other important stuff.
This travel packing checklist will make your next vacation stress free so that you can enjoy and have the relaxed vacation you deserve.
There are two versions, prefilled and empty checklist. So you have the convenience of either using already filled items or writing your own. These can be conveniently printed on letter size paper (8.5x11 inch).
If you happen to download this travel packing checklist, please do not forget to tag #mapleplanners on Instagram, and follow us @mapleplanners
To download more free printables, check out our printable library.
Want more and get even more organized for your travel? This Travel Planner Binder is just what you need. This 30 page simple yet functional planner binder includes sections like travel budget, travel expenses sheets and much more.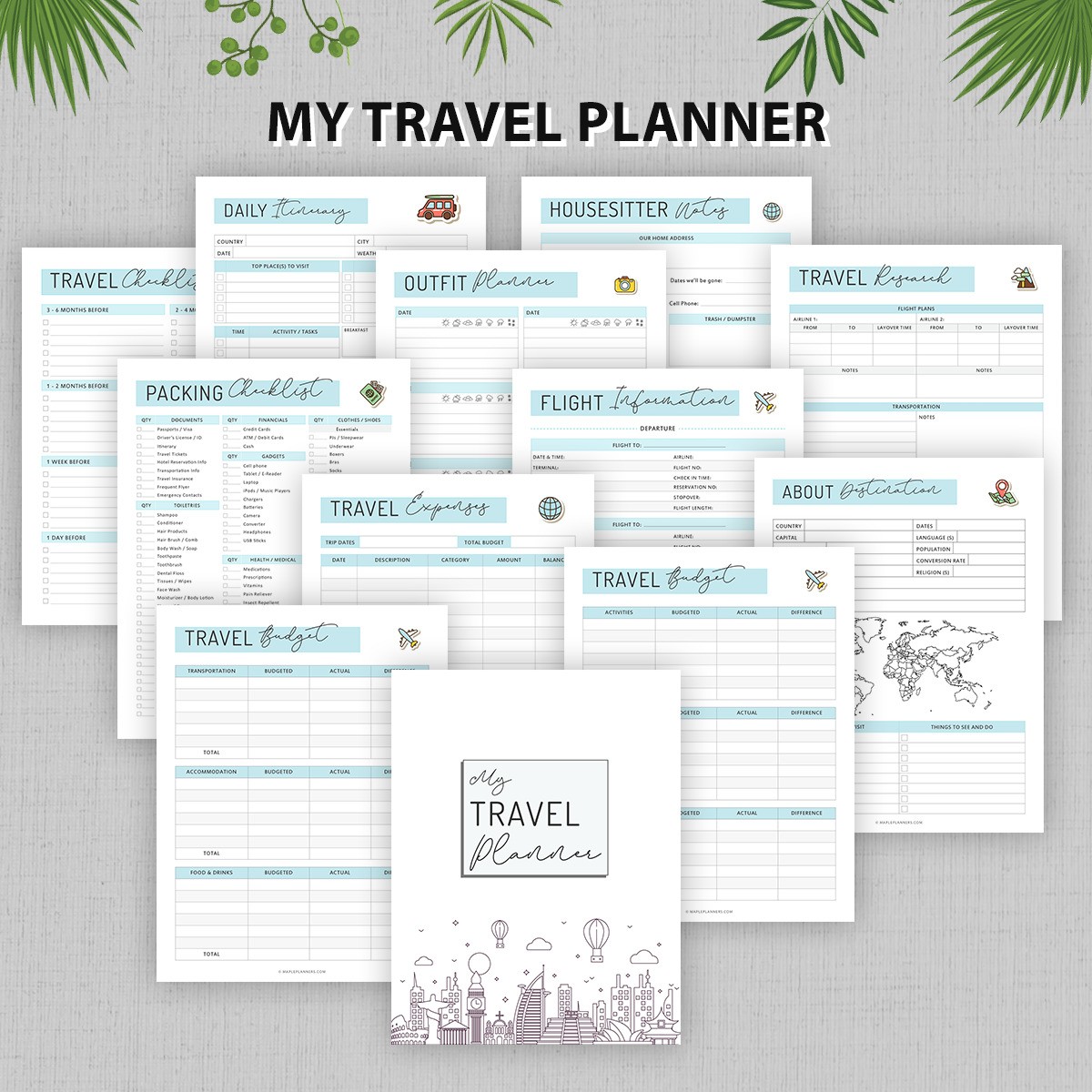 If you are getting ready for your next vacation, make sure to bring everything you need with this comprehensive travel packing checklist! This list will help you make sure that you don't forget anything important, from your passport to your toothbrush.
How to pack efficiently to save space in your luggage?
Documents and tickets. Make sure to have all your documents in order. This includes your passport, visa (if required), tickets, and other important papers.
Pack your clothes. Depending on where you're going and the activities you have planned, you'll need to pack different items.
Clothing. Be sure to pack both casual and dressy clothes. Do not forget to pack a swimsuit if you're planning on spending time at the beach or pool.
Shoes. Don't forget to pack shoes that are appropriate for the climate and activities you'll be doing!
Toiletries. Once you've packed your clothes, it's time to move on to toiletries. Be sure to bring all your essential items, such as shampoo, conditioner, soap, toothpaste, and a toothbrush.
Makeup. If you wear makeup, pack your favorite products so that you can touch up your look while on vacation.
Other important items to pack include sunscreen, insect repellent, and any medications you take on a regular basis.
Packing for young children. Pack some toys and activities to keep them entertained if you are traveling with young children.
Travel Pillow and blanket. If you're taking long flights or car rides, bringing a travel pillow and blanket is a good idea.
Camera. Don't forget your camera! Whether you use a digital camera or smartphone, make sure you have a way to capture all of your vacation memories.
By following this packing checklist, you can be sure you won't forget anything important when packing for your next trip.