Printable Travel Planner Bundle
Download free printable Printable Travel Planner Bundle. For more similar Checklist templates, browse our free printable library. Simply download and print them at home or office.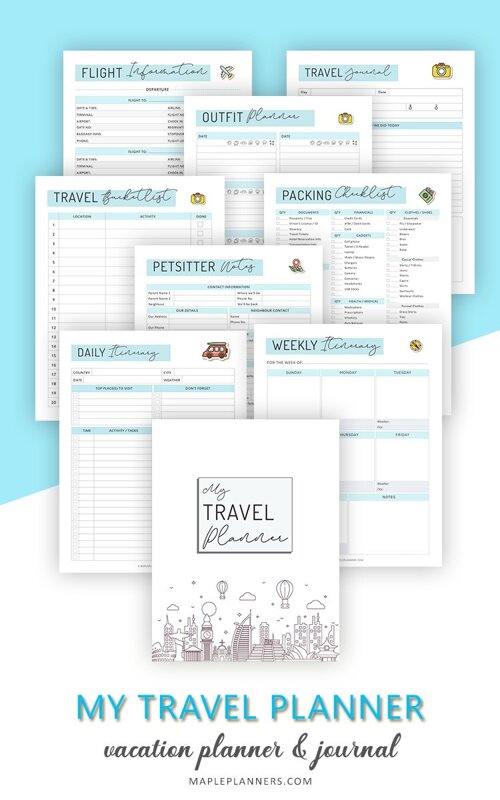 Scroll down for print and download options
Plan your perfect vacation with this printable travel planner. You can use this planner to keep track of your travel budget, expenses, flight information, packing checklist, and much more.
Are you planning to travel soon? As much as planning for your next adventure sounds exciting, as you get into the details of things, you may feel overwhelmed.
After all, starting from booking the tickets to looking up the destination information, exploring tourist attractions, hotel information to house sitting, pet sitting, flight information, etc.
Add this all together, and you will forget the actual fun part of your travel.
How about making it a little less stressful for you?
Make sure to checkout this printable travel planner.
Printable Travel Planner
This printable travel planner is what you need to make your next travel experience as smooth as possible.
All you need to do is download, save, and print. The advantage of using a printable version is that you can skip the sections you don't plan on using.
And print multiple copies of the sections if you need more than one.
What's in the Package?
The Printable Travel Planner package includes the following:
◆ Planner Cover
◆ Travel Budget
◆ Travel Expenses
◆ Destination Information
◆ Flight Information
◆ Packing Checklist
◆ Travel Research
◆ Outfit Planner
◆ Travel Checklist
◆ House sitter Notes
◆ Daily Itinerary
◆ Emergency Contact Information
◆ Travel Journal
◆ Hotel Information
◆ Weekly Itinerary
◆ Travel Bucket List
◆ Pet sitter Notes
◆ Tourist Attractions
This Travel Planner Printable is available for instant download in a PDF file format that you can print at home or at your local printing firm.
The finished size of the printable travel planner is 8.5x11 inches!
Please note that the files are non editable and will come as shown in the preview images. Make sure to check the text and design before making the purchase and most definitely, before printing.
How to access the Travel Planner PDF files?
This package comes with pdf planner pages.
There maybe zipped files in the package, so feel free to use this free online tool to unzip the files: https://www.mapleplanners.com/unzip
Printing
Simply download, edit, save, and print. You can print as many copies as you want for your personal use.
PLEASE NOTE:
◆ There will be no refunds once a digital file has been sent out. If you need any revisions to the PDF, please feel free to contact us; we can certainly work with you to resolve any issues.
◆ Colors may vary depending on the monitor and printer styles and settings.
◆ These files can be printed for your PERSONAL use only. Redistribution by any means is prohibited.
INSTANT DOWNLOADS:
Your files will be available to download instantly. There will be no physical items shipped.
Thanks for stopping by!
Package Details
| | File Name | Size | Type |
| --- | --- | --- | --- |
| | my-travel-planner.pdf | 3.06 MB | PDF |
Printable Travel Planner Bundle
Buy $9.95