Free Printable Easter Bingo Game
Easter Bingo Game: Just like a classic Bingo but with an Easter theme. These cute Easter Bingo cards are super cute and so much fun to play. Simply download, print and play.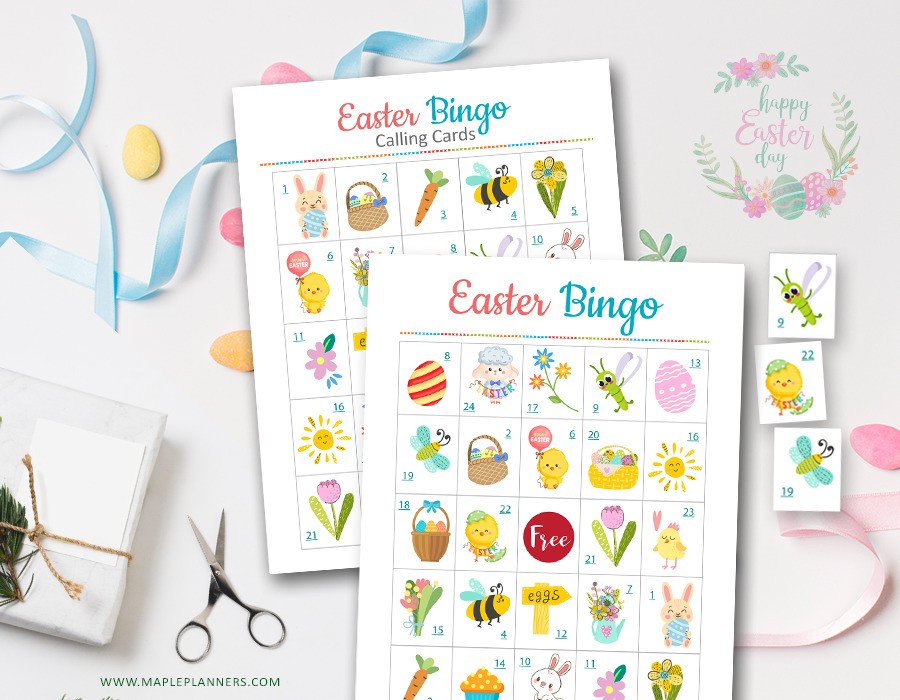 This post contains affiliate links and we will earn commission if you buy the products through those links. For more information, please read our disclosures here
Looking for fun activities to do with kids this Easter? This Easter Bingo is not only fun but perfect way to keep your little ones busy for hours.
Easter Bingo is a twist to classic bingo but with Easter related pictures. Kids of all ages, including toddlers and preschoolers will love playing this version because there are no numbers or letters, simply fun pictures.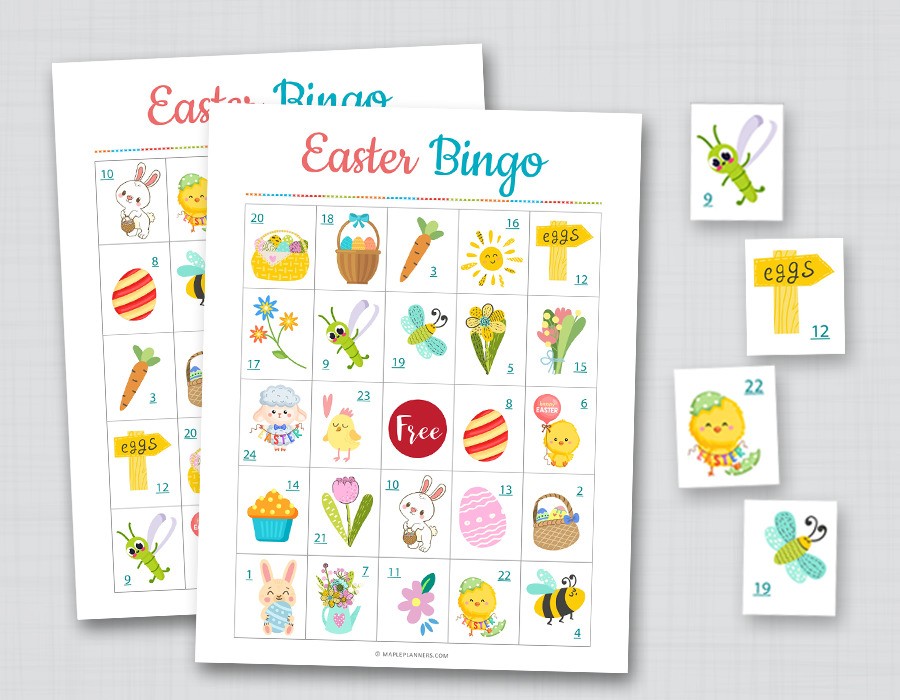 Kids can enjoy playing this in a class party or Easter party at home. You can keep kids busy with Easter Bingo while preparing your Easter treats. This is one of those fun activities that kids can play after their Easter Egg Hunt.
These are perfect for class party for Easter celebration. Kids will have fun recognizing these characters associated with Easter and spring. Since these game printables feature fun characters like cute bunnies, carrots, Easter eggs, they will enjoy matching these characters with the character being called from the calling mat.
Easter Bingo Cards
This set of free Easter Bingo Cards come in the set of three printables. Two versions of Easter Bingo playing cards and one calling mat to call out the characters. Each set has 4 different bingo cards, making it total of 8 playing cards. These are 8.5×11 inch size that you can easily print at home on your printer.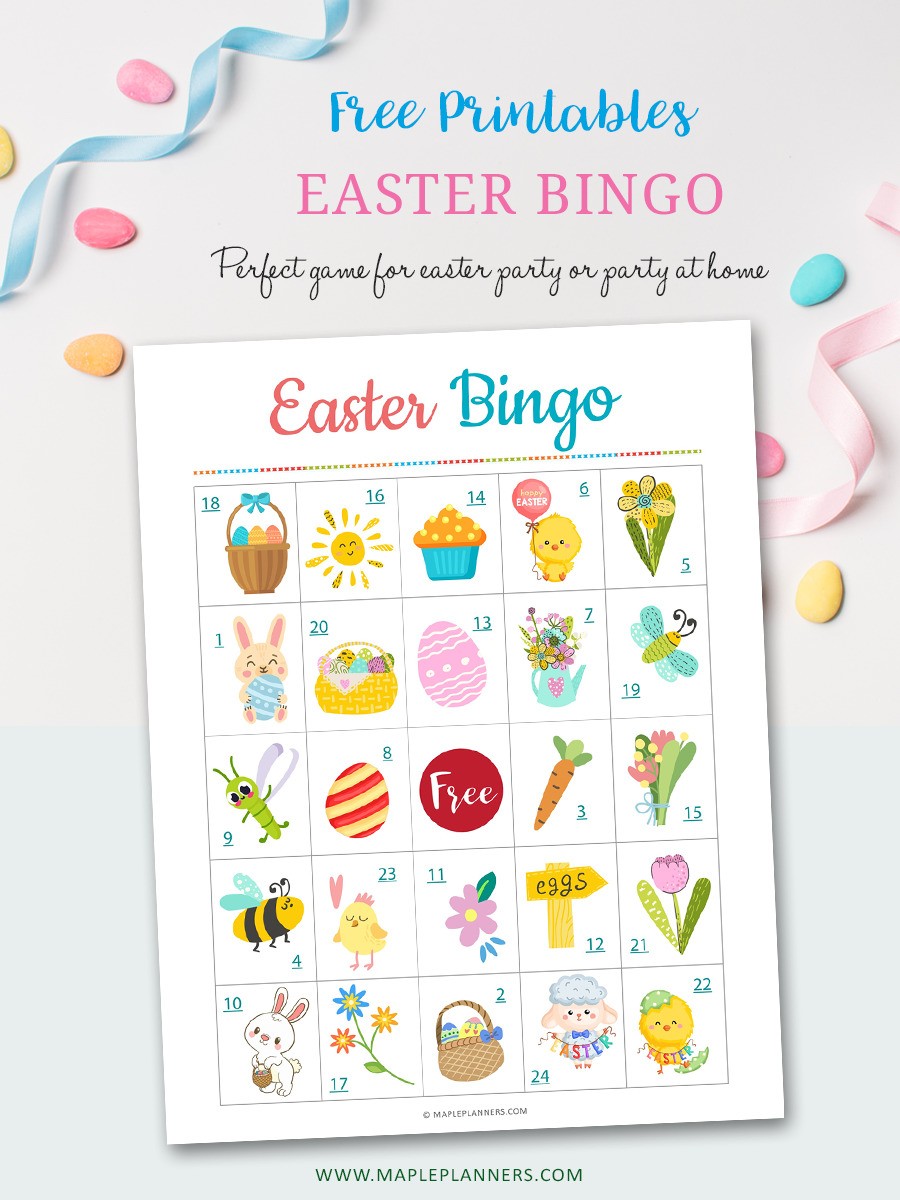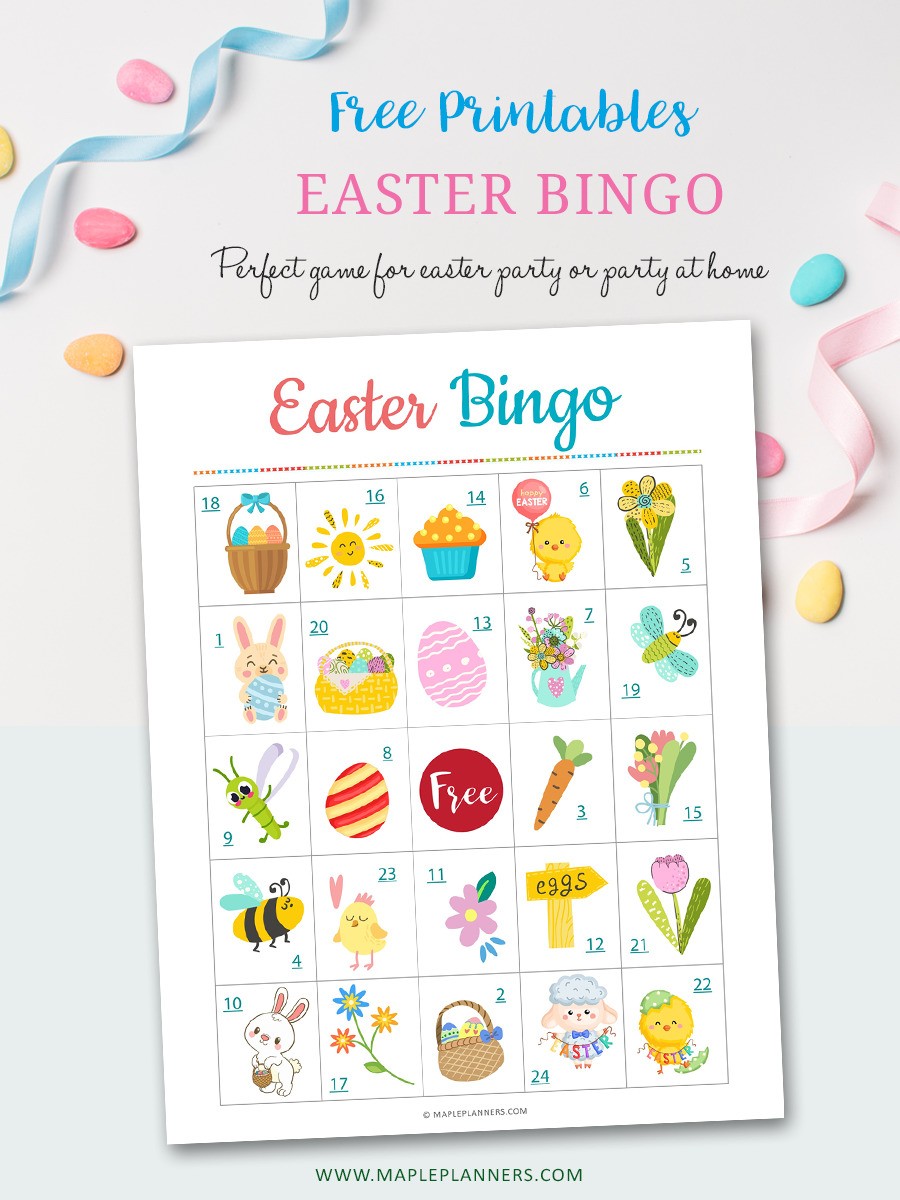 If you need more than 8 cards, you can go for this premium set of 30 bingo cards. More number of cards will ensure that you do not get multiple winners in the same round. Finished size of these bingo cards is 5×7 inch which means you can print 2 per letter size paper.
Easter Bingo Calling Sheet
You will find a separate calling sheet in the package. This sheet includes all the characters listed randomly on the bingo cards. After printing the calling sheet, cut out the small squares for each character. Put them in a bowl or a hat.
How to play Easter Bingo
To play Easter Bingo, you will need:
– Paper markers or Small candy
Directions:
Print the Easter bingo cards on letter size paper. Finished size of each bingo card is 8.5×11 inch, so one bingo card will print on one letter size paper.
Distribute the bingo cards among the players. There are total of 8 bingo cards, so this game is best played among 8 or less people so that each player will get a chance to play.
If you need more cards, it is best to play in smaller groups or break the play into different rounds. If there are more than 8 people, chances are there will be multiple winners in each round.
Print the calling card and cut out the small cards.
Put them in a bag or hat.
Start playing by having one person pull out a small card out of the bag or hat and call it out or by showing the picture on the card.
Players look for that picture on their bingo card. If they find the similar card, they cover it with the small candy or mark it off with the paper marker.
Continue pulling out the small cards from the bag or hat one at a time.
Once someone cross off five in a row, they shout out BINGO and win that game.
Space in the center is Free space.
If you have more than 8 – 10 people, you can go for this set of 30 Easter Bingo Game Cards. Each of these cards come with different characters associated with Easter and Spring.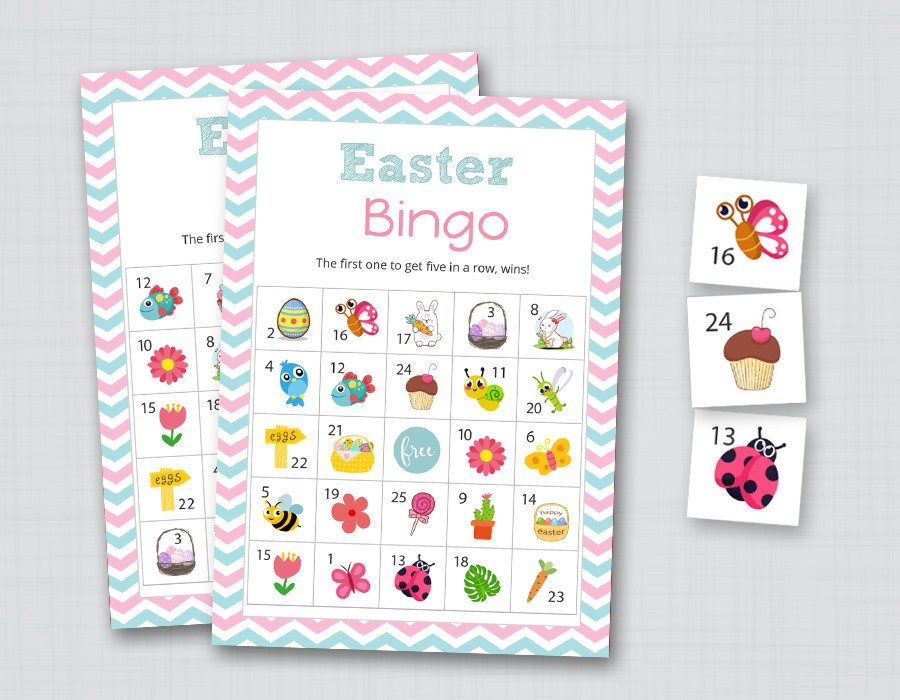 Here's another set of 30 Hello Easter Bingo Game Cards that are perfect to play if you have more than 8 – 10 people. There are variety of different images in this set as well. Make sure to check it out. Here's the preview.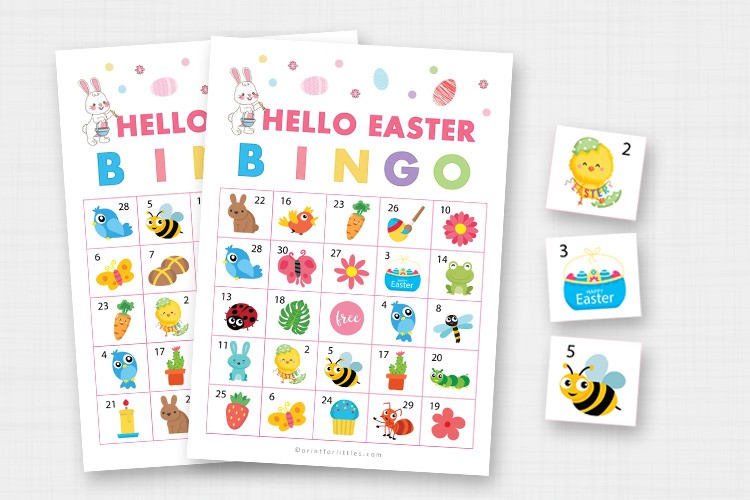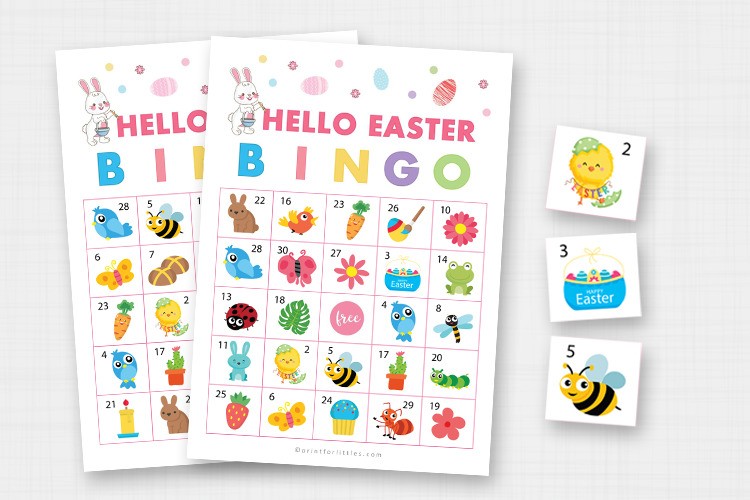 There are so many more fun holiday party games. Make sure to check them out, and have a great holiday season with your loved ones!