Spring Cleaning Checklist
Download free printable Spring Cleaning Checklist. For more similar Checklist templates, browse our free printable library. Simply download and print them at home or office.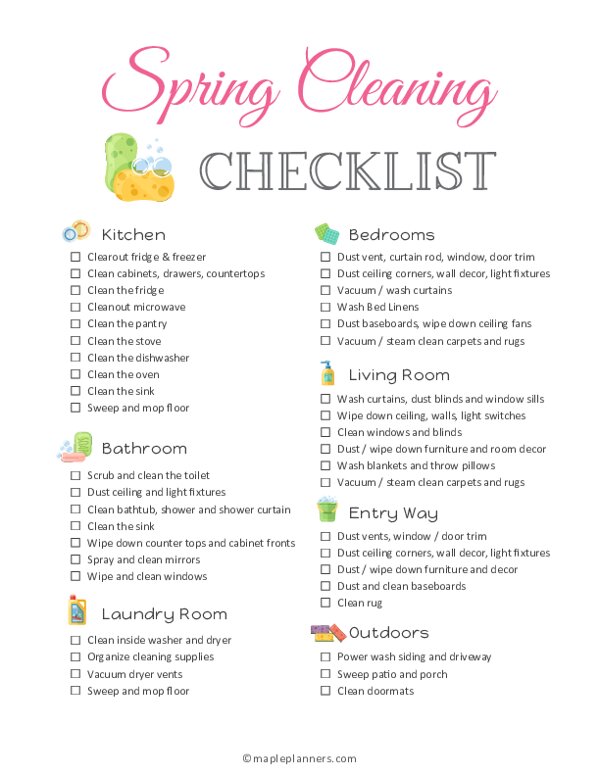 Scroll down for print and download options
Thought of spring cleaning the entire house might be overwhelming, but it doesn't have to be. Make sure to download this handy Spring Cleaning Checklist printable. This will give you a head start on where to start and go from room to room without feeling overwhelmed.
Keep track of what has been cleaned and what has not been cleaned yet. This checklist will help you stay focused on making the most of your time while cleaning and not get distracted easily.
To download more free printables, check out our printable library.
Want to get even more organized this Spring?
This Spring Cleaning Checklist is just what you need. This colorful and detailed checklist includes more sections and covers extra spaces for your living space.
There are two versions, prefilled and empty checklists. So you can either use already filled items or write your own. These can be conveniently printed on letter size paper (8.5x11 inch).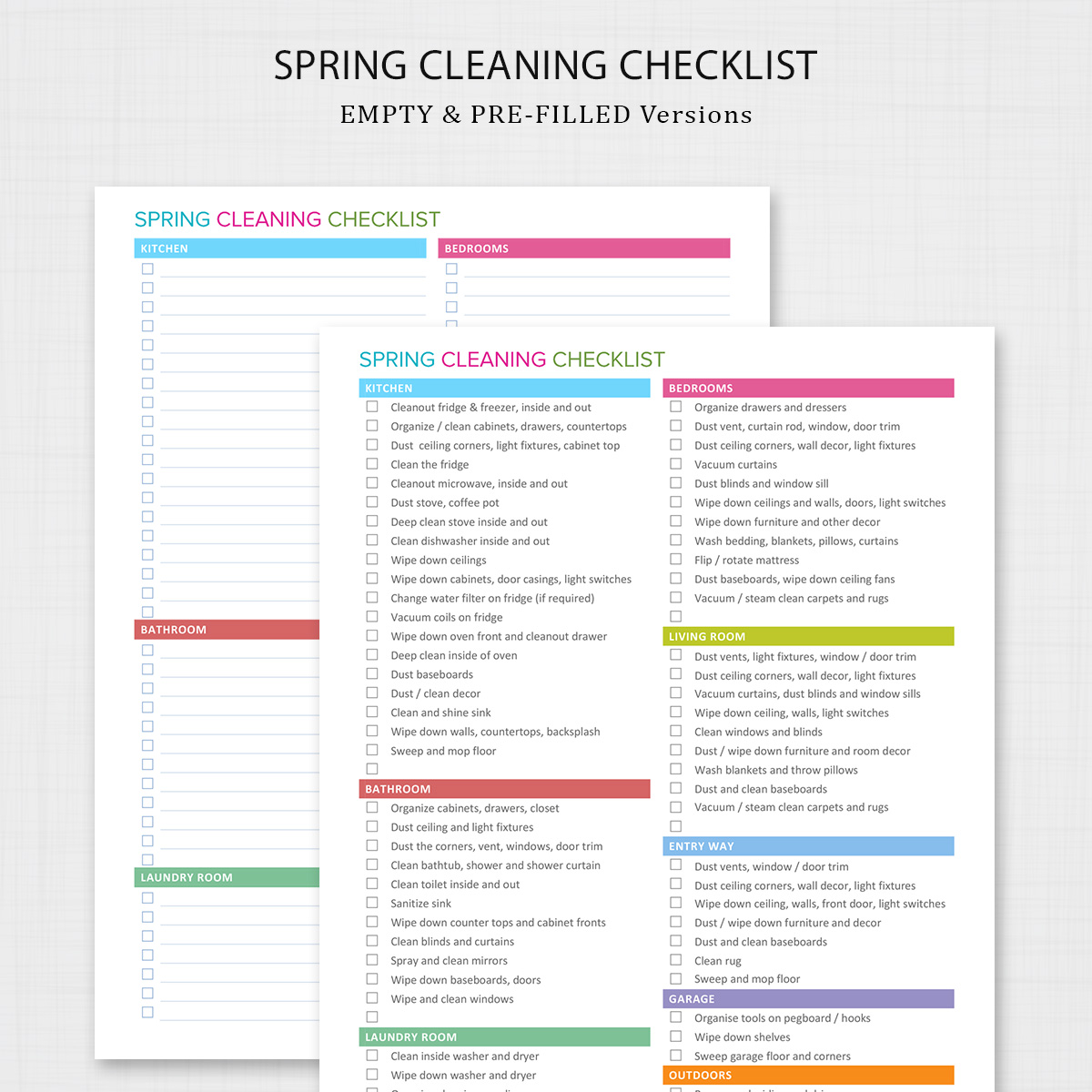 Spring has sprung. That means some serious housecleaning is in order. Don't despair, though - a little elbow grease can go a long way. After all, there's nothing like the feeling of a clean house.
So roll up your sleeves and get ready to tackle that spring cleaning with our handy checklist template.
Free Printable Spring Cleaning Checklist
This Spring Cleaning Checklist will help guide you through decluttering and thoroughly cleaning your home. It includes tips on how to deep-clean every room in your house and advice on organizing your belongings for a clutter-free lifestyle.
You can use a printable Spring Cleaning Checklist any which way you like. Some people prefer to use the template as a guide, checking off each task as they complete it.
Others find it helpful to use the template as a plan of action, tackling one area of the home at a time. Regardless of how you choose to use it, a Spring Cleaning Checklist can be valuable in helping you achieve a clutter-free home.
The Benefits of Using a Spring Cleaning Checklist
A Spring Cleaning Checklist is very helpful while tackling the most challenging part of cleaning. This template can help you;
Save time by ensuring that all areas of your home are covered during the cleaning process.
Keep organized and on track, preventing you from forgetting important tasks.
Reduce stress levels, as it can provide a sense of accomplishment as you check off each task.
You can create your own if you prefer not to use a pre-made Spring Cleaning Checklist.
Be sure to include all areas of your home that need to be cleaned.
Consider breaking the tasks into smaller, more manageable pieces.
Don't forget to add items for good measure (such as decluttering and organizing).
You can create a Spring Cleaning Checklist to help you achieve a clutter-free home by following these tips.
A Spring Cleaning Checklist can help save you time by ensuring that all areas of your home are covered, and it can also keep you organized and on track.
Spring Cleaning Checklist