Christmas Movies Emoji Pictionary
Download free printable Christmas Movies Emoji Pictionary. For more similar Christmas templates, browse our free printable library. Simply download and print them at home or office.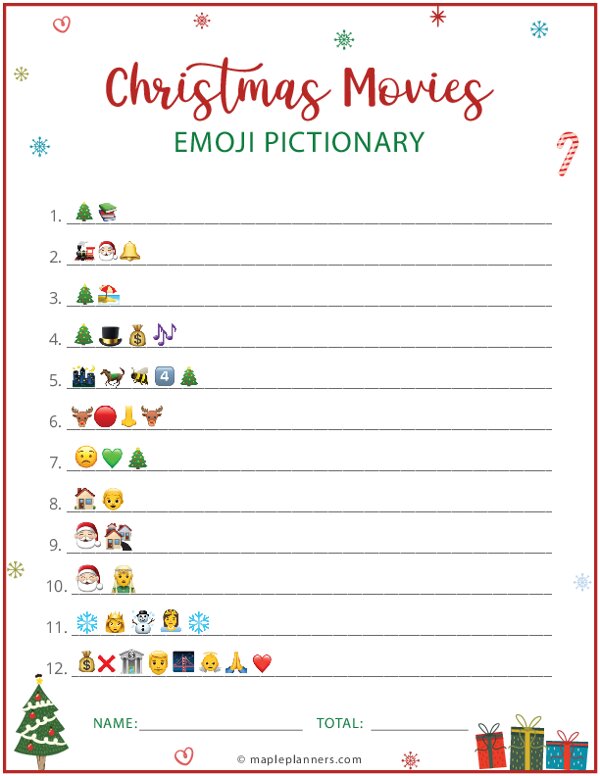 Scroll down for print and download options
Christmas Movies Emoji Pictionary is a fun family game that you can enjoy during the festival season. A perfect game for all ages, this is the game where everyone tries to guess the name of the movie by looking at the clues given by these cute emojis.
With Christmas, comes the Christmas Movie Season. Binge watching Christmas themed movies is one of the favorite part for most of the kids and adults. Add this movie quiz part to the routine and you have the fun packed holidays planned for the entire family.
This Christmas themed movie emoji pictionary game is simple to play. You have to look at the emojis and try to guess what movie they represent. A big clue is that these are all Christmas movies.
Most of these are pretty straight forward to guess, others are a bit complex. You may need a bit of extra brainstorming to come up with the right answer. This has been done on purpose, because not everyone should be able to guess the movies easily.
Make it even more fun by timing the game. Whoever can solve the puzzle first with the most correct answers wins.
Playing Christmas Games with family adds to the cheer of the festival season.
Simply download this Christmas Movies Emoji Pictionary game, print and start playing. This movie emoji game comes with an answer sheet.
Christmas Movies Emoji Pictionary