Monthly Timesheet Template
Download free printable Monthly Timesheet Template. For more similar Templates templates, browse our free printable library. Simply download and print them at home or office.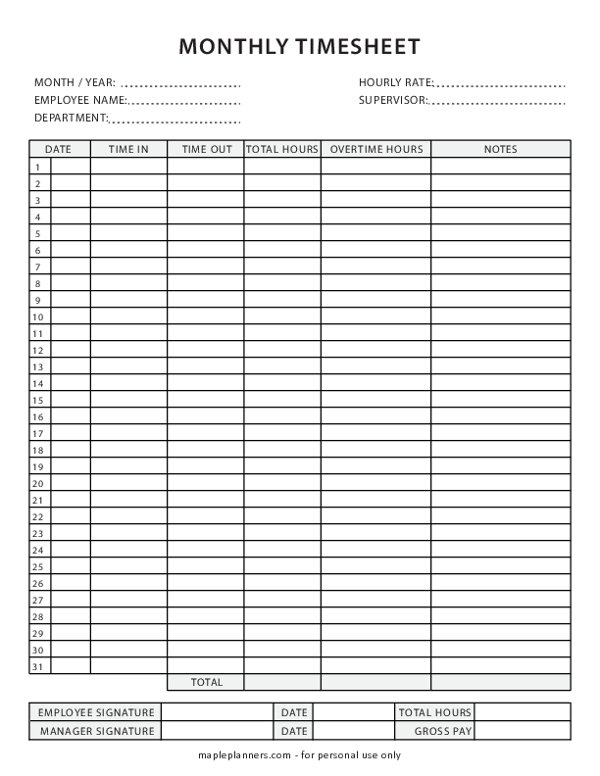 Scroll down for print and download options
Monthly timesheet templates are a smart and efficient way for any employer to track employee's activities, productivity, and output. They can simplify the tracking process, make employee performance easy to gauge, and leave room for adjustment.
Reasons why you should use a monthly timesheet at your workplace or home office.
Track long term projects.
If you're working on a lengthy project, tracking it daily can be difficult. However, tracking it weekly or monthly can give you a better picture of how much time each employee has spent on the project, making it easier to complete billing or budgeting tasks at the end of the month.
Categorize work activities.
You can track activities that can be hard to categorize during the regular week. With monthly timesheets, you can reserve certain blocks of time for specific projects, making it faster and simpler to log hours worked.
Compare month to month figures.
Track how time is being used over the course of a month. If you notice a month when your business is particularly busy, you can adjust your workforce or schedule for the next month. You will also be able to tell whether or not certain periods of the week are more productive than others.
Track focus and performance.
You can track how much time your employees are spending on the various tasks they are assigned. This analysis will help you learn more about the different talents of your staff, which you can use to make future workforce and task assignments.
Monthly Timesheet Template