Thanksgiving Fact or Fiction Game
Download free printable Thanksgiving Fact or Fiction Game. For more similar Thanksgiving templates, browse our free printable library. Simply download and print them at home or office.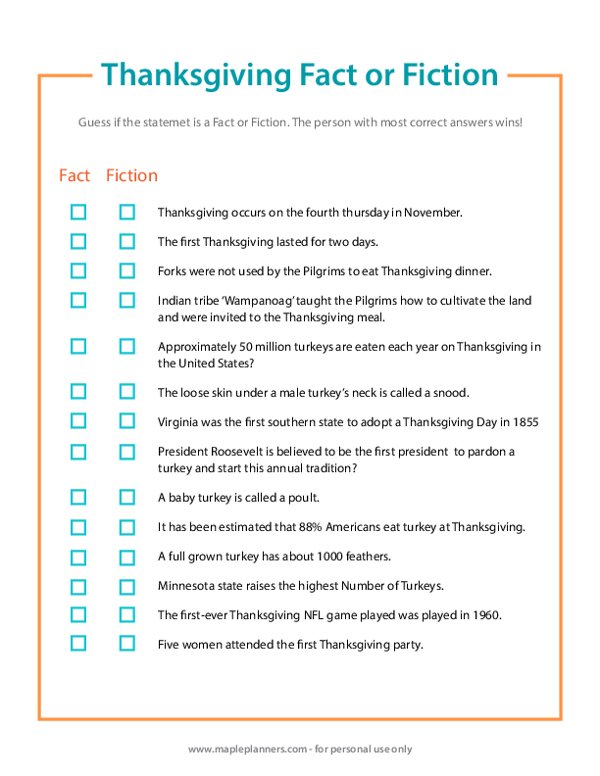 Scroll down for print and download options
Thanksgiving is an American holiday when families get together for dinner and fun. Here are some of the facts and trivia associated with Thanksgiving that most of the people may or may not know about.
Download and print these Thanksgiving trivia, facts and fun activities for your family get together.
The questions list include:
Thanksgiving occurs on the fourth Thursday in November.
The first Thanksgiving lasted for two days.
Forks were not used by the Pilgrims to eat Thanksgiving dinner.
Indian tribe 'Wampanoag' taught the Pilgrims how to cultivate the land and were invited to the Thanksgiving meal.
Approximately 50 million turkeys are eaten each year on Thanksgiving in the United States?
The loose skin under a male turkey's neck is called a snood.
Virginia was the first southern state to adopt a Thanksgiving Day in 1855
President Roosevelt is believed to be the first president to pardon a turkey and start this annual tradition?
A baby turkey is called a poult.
It has been estimated that 88% Americans eat turkey at Thanksgiving.
A full grown turkey has about 1000 feathers.
Minnesota state raises the highest Number of Turkeys.
The first-ever Thanksgiving NFL game played was played in 1960.
Five women attended the first Thanksgiving party.
Thanksgiving Fact or Fiction Game