Debt Payment Tracker
Download free printable Debt Payment Tracker. For more similar Budget templates, browse our free printable library. Simply download and print them at home or office.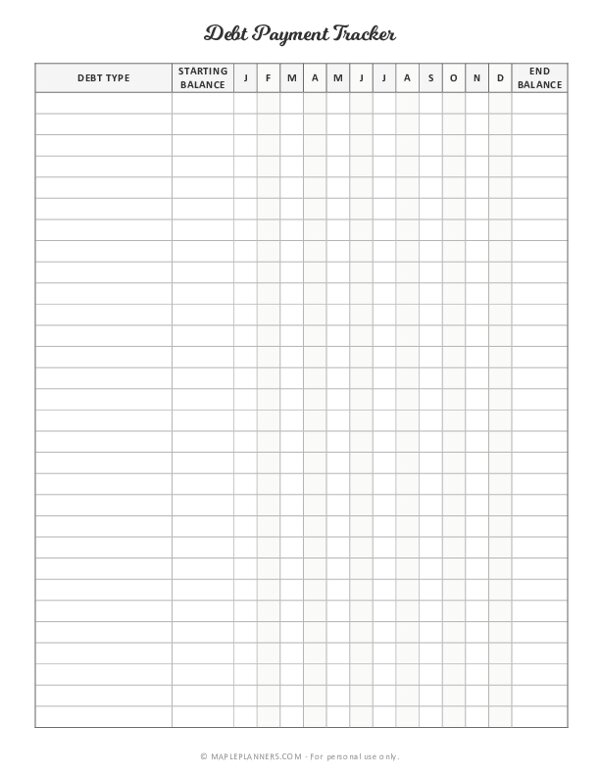 Need to keep track of your debt payment?
If you are a paper and pen kind of person, you will enjoy using this Debt Payment Tracker. Simply download and start using this free debt payoff tracker printable to keep track of your debt. This free printable worksheet will help to keep track of your monthly payments and payoff progress!
What is Debt Payoff Tracker?
Debt Payoff Tracker is printable that helps you organize your debt payments. It has space for you to list all of your debts, starting balance, the month it is due, and the ending balance. Use this tracker to see how much debt you've paid off and how much you have left.
Debt Payoff Tracker will be helpful if you're struggling to keep track of your debt payments. It's a simple way to see all of your debts in one place and track your progress. This can be a helpful motivator when trying to get out of debt.
How to Use Debt Payoff Tracker
To use the Debt Payoff Tracker, download and print it out and fill in the information for each of your debts. Then, you can use it to track your progress over time.
Every time you make a payment, update the tracker. Stay on top of your debts and see your progress. Here are some ways to help you use the Debt Payoff Tracker:
Start with the debt with the highest interest rate to save you money in the long run.
Make more than the minimum payment each month to help you get out of debt faster.
Set up a budget and stick to it to free up money to put towards your debt.
Stay motivated by setting goals and celebrating your progress to help you stay on track.