Editable Printable Recipe Binder
Download free printable Editable Printable Recipe Binder. For more similar Meal Planner templates, browse our free printable library. Simply download and print them at home or office.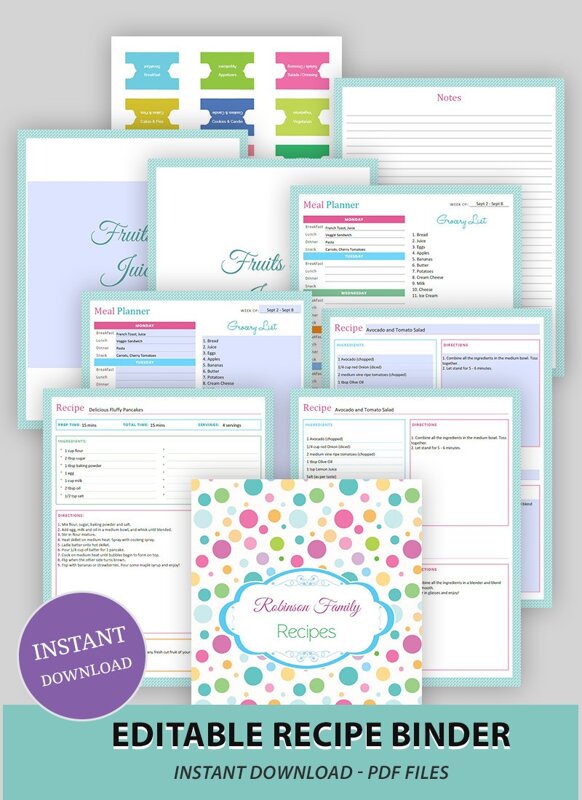 Scroll down for print and download options
With the Editable Printable Recipe Binder, you can create your custom cookbook and organize your recipes in one easy-to-find place. It's perfect for all cooking enthusiasts and recipe makers looking for a cost-effective and convenient alternative to traditional recipe storage methods.
Download and print your copy today and take the first step towards easy and organized meal prep!
You can add or remove pages based on your cooking needs. It's simple to use and keeps everything in one place, making meal prep more efficient and fun.
Editable Recipe Binder Printable
The binder has helpful sections like recipes for special events, seasonal meals, and even drinks. Adding family recipes, notes, and tips can also make it your own. You can easily adjust and modify your recipes with editable pages.
Printable and Editable Pages
Print the pages as often as needed to add new recipes or update existing ones. The pages come in PDF format, making them easy to print and keep organized.
The pages are also editable, meaning you can fill them out directly on your computer, save your changes, and print them out whenever you're ready. This feature allows you to make changes, add ingredients, and edit directions without starting from scratch.
Easy to Use
Our recipe binder is designed to make life easier for busy home cooks. You will no longer need to flip through countless cookbooks or search your disorganized kitchen drawers. With this binder, all your recipes will be organized in one easy-to-find place.
What's in the Package?
This recipe binder package includes
The following documents are EDITABLE:
Cover Sheet
Long Recipes Sheet
Shorter Recipes Sheet
Divider Pages Sheet
Divider Tabs Sheet
Meal Planner Sheet
15 Prefilled Divider Pages and Tabs
Appetizers
Beverages
Breads
Breakfast
Dessert
Grilling
Holidays
Juices & Smoothies
Pasta
Salads & Dressings
Slow Cooker
Soups & Sandwiches
Vegetarian
Cakes & Pies
Cookies & Candies
** You can personalize divider pages and tabs to add your own food categories **
Long Recipes Sheet - Write down your recipes, with preparation and cooking time, serving, ingredients and directions to cook.
Shorter Recipes Sheet - This recipe sheet is for recipes that do not require any cooking or major preparations, like smoothies. Use these recipe sheets to write down shorter or quick recipes. Only ingredients and directions are included in this sheet.
Notes - If you want to write anything special regarding these recipes or make any special notes.
There are zipped files in the package, so feel free to use this free online tool to unzip the files: https://www.mapleplanners.com/unzip
How to edit the editable printable recipe binder?
Here's a step by step tutorial on how to edit PDF editable files using Adobe Reader.
How to Edit PDF Files in Adobe Reader – Change Text, Color, Size, Font, Alignment, Spacing
Printing
Simply download, edit, save, and print. You can print as many copies as you want for your personal use.
PLEASE NOTE:
◆ There will be no refunds once a digital file has been sent out. If you need any revisions to the PDF, please feel free to contact us; we can certainly work with you to resolve any issues.
◆ Colors may vary depending on the monitor and printer styles and settings.
◆ These files can be printed for your PERSONAL use only. Redistribution by any means is prohibited.
INSTANT DOWNLOADS:
Your files will be available to download instantly. There will be no physical items shipped.
Thanks for stopping by!
Package Details
(ZIP Archive)
| | File Name | Size | Type |
| --- | --- | --- | --- |
| | Recipe-Binder.pdf | 993.95 KB | PDF |
| | Individual-Recipe-Binder-Files.zip | 1.96 MB | Archive |
Editable Printable Recipe Binder
Buy $2.95