Pregnancy Planner Printable
Download free printable Pregnancy Planner Printable. For more similar Baby Shower templates, browse our free printable library. Simply download and print them at home or office.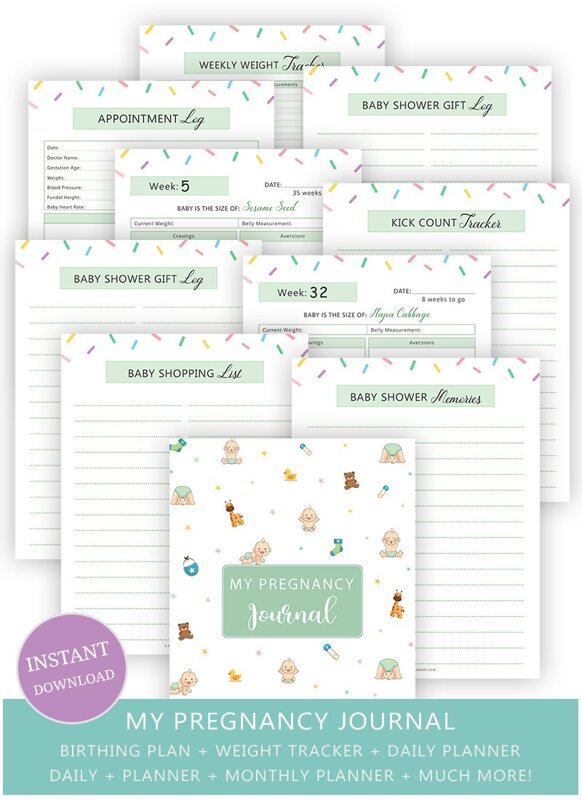 Scroll down for print and download options
A pregnancy planner printable is an essential tool for every parent-to-be. It can help keep you organized and prepared for all the exciting moments and challenges that come with pregnancy.
By using a planner, you can capture memories, track your symptoms, and prepare for your baby's arrival. Download and print a pregnancy planner printable today to start making the most of your pregnancy journey!
Why do you need this Pregnancy Planner?
This pregnancy journal is perfect to:
1. Stay Organized - Pregnancy is a time filled with many appointments, tests, and important dates to keep track of. This planner printable can help you keep all of this information organized in one place.
With your planner, you can schedule all prenatal appointments and jot down notes from each visit. This planner will help ensure you don't miss any important dates or forget valuable information from your appointments.
2. Track your Symptoms - As your body changes and adapts to the changes happening inside you, you might experience many symptoms such as nausea, fatigue, and cravings.
Keeping track of your symptoms can help you notice patterns and identify health issues related to pregnancy. A planner will let you record daily symptoms and share them with your doctor if necessary.
3. Capture Your Memorable Moments - Pregnancy is an exciting time filled with sweet memories, from the first flutter of your baby's movement to the anticipation of holding your little one for the first time.
With this pregnancy journal, you capture these moments and keep them for a lifetime. Write down all your pregnancy journey's sweet moments, from the first ultrasound to the first time you felt the baby move.
4. Prepare for Baby's Arrival - The closer you get to your due date, the more you'll need to prepare for your baby's arrival. Stay on top of all the tasks you need to get done, such as creating a baby registry, planning for the baby's room, and packing your hospital bag. Having a plan can help you stay calm and relaxed as your due date approaches.
5. A Perfect Keepsake - This pregnancy memory book will make a perfect keepsake for years. You can even show this to your grown-up babies and have sweet memories down the road.
There are so many more fun sections covered in this pregnancy journal that you will love to fill up during and after your pregnancy.
What's in the Package?
The Printable Pregnancy Journal includes the following:
◆ 3 Cover Designs
◆ Birthing Plan
◆ I am Pregnant
◆ Daily Planner
◆ Monthly Planner
◆ Hospital Bag Checklist
◆ Baby Name Ideas
◆ Weekly Weight Tracker
◆ Dear Baby (Letter to Baby)
◆ Nursery Ideas
◆ Nursery Layout
◆ Nursery ToDo List
◆ Appointment Log
◆ Kick Count Tracker
◆ Baby Shower Guest List
◆ Baby Registry Wish List
◆ Baby Shower Gift Log
◆ Weekly Meal Planner
◆ Weekly Milestones
◆ Baby Shower Memories
◆ Baby Shopping List
◆ Fitness Log
◆ Reading List
◆ Belly Pics Page (You can print multiple copies)
◆ Ultrasounds Pics Pages
◆ Journaling Pages
◆ Blank Pages to draw, doodle or pictures
◆ Things to Remember
◆ Baby's first picture page
◆ Baby is here (baby's vital statistics)
◆ Ideas and Notes
This Pregnancy Planner is available for instant download in a PDF file format, that you can print at home or at your local printing firm.
Finished size of printable pregnancy journal is 8.5x11 inches!
Please note that the files are non editable and will come as shown in the preview images. Make sure to check the text and design, before making the purchase, and most definitely before printing.
How to access the PDF files?
This package comes with PDF planner pages.
There maybe zipped files in the package, so feel free to use this free online tool to unzip the files:
https://www.mapleplanners.com/unzip
Printing
Simply download, edit, save and print. You can print as many copies as you want for your personal use.
PLEASE NOTE:
◆ There will be no refunds once a digital file has been sent out. If you need any revisions to the PDF, please feel free to contact us, we can certainly work with you to resolve any issues.
◆ Colors may vary depending on the monitor and printer styles and settings.
◆ These files can be printed for your PERSONAL use only. Redistribution by any means is prohibited.
INSTANT DOWNLOADS:
Your files will be available to download instantly. There will be no physical items shipped.
Thanks for stopping by!
Package Details
| | File Name | Size | Type |
| --- | --- | --- | --- |
| | My-Pregnancy-Journal.pdf | 4.22 MB | PDF |
Pregnancy Planner Printable
Buy $7.50