Printable Pet Care Planner
Download free printable Printable Pet Care Planner. For more similar Pet templates, browse our free printable library. Simply download and print them at home or office.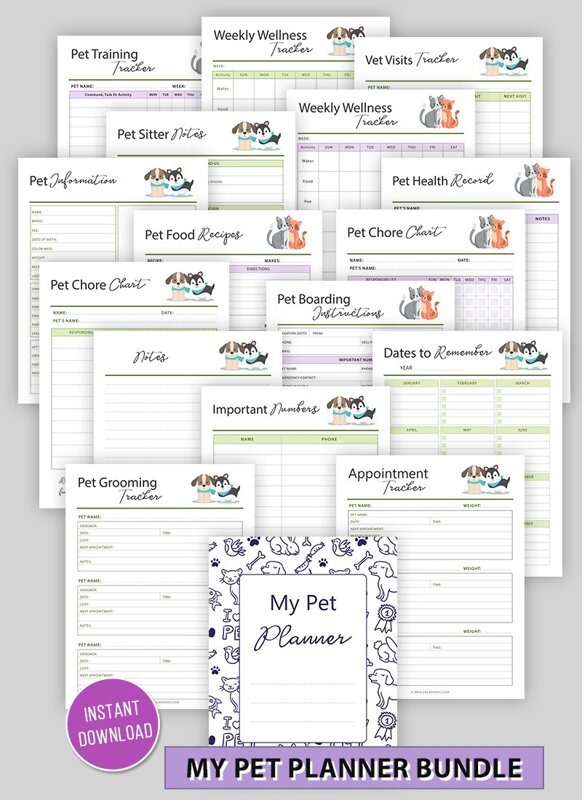 Scroll down for print and download options
If you're a proud pet parent, you know how much time, love, and effort goes into caring for your furry friends. Whether you have a loyal dog or a snuggly cat, ensuring they stay healthy, happy, and comfortable is a top priority.
However, keeping track of all the necessary tasks and appointments can be overwhelming with the hustle and bustle of daily life. That's why we've created a Printable Pet Care Planner that will help you stay organized, focused, and in control of your pet care routine. Download and print it today, and let's make pet care stress-free!
1. Keep a Record of Your Pet's Medical History
One of the most important aspects of pet care is ensuring that your pets have access to preventive and emergency healthcare. This means taking them to the vet for checkups, vaccines, and treatments and keeping track of their medical history.
Our Printable Pet Care Planner includes a section where you can record all your pet's medical information, such as their vaccination schedules, medication dosages, allergies, and other relevant details.
2. Plan Your Pet's Meals and Treats
Another crucial aspect of pet care is providing healthy and nutritious food that meets their dietary needs. Whether you cook for your pets or buy commercial pet food, planning their meals in advance can save you time, money, and stress.
This printable planner includes a section where you can jot down your pet's favorite recipes.
3. Schedule Your Pet's Activities and Socializing
While proper nutrition and healthcare are essential to your pet's well-being, so is staying active and engaged. Dogs, for instance, need regular exercise, playtime, and socializing with other dogs and humans to stay happy, healthy, and well-behaved.
Cats, on the other hand, need plenty of opportunities to climb, scratch, and explore their environment. You can schedule your pet's daily and weekly activities, such as walking, running, playing, training, and visiting the dog park or the vet.
4. Keep Your Pet's Grooming and Hygiene in Check
Pet grooming and hygiene are crucial elements of pet care that can improve your pet's appearance, prevent health problems, and keep your home clean. Depending on your pet's breed, age, and lifestyle, they may need regular bathing, brushing, nail trimming, ear cleaning, and dental care.
You can record your pet's grooming routines, such as when to schedule a haircut or teeth cleaning.
Whether you're a seasoned pet parent or a new pet owner, this planner is easy to use. Download and print, and start taking your pet care game to the next level!
What's included in the Package?
Printable Pet Planner package includes the following:
Two separate themes for dogs and cats
Appointment Tracker
Dates to Remember
Grooming Tracker
Growth Tracker
Important Numbers
Notes
Paw Prints Stickers
Pet Boarding Instructions
Pet Chore Chart
Pet Food Recipes
Pet Information
Pet Medication Record
Planner Cover
Pet Sitter Notes
Pet Training Tracker
Pet Vaccinations
Vet Visits Tracker
Weekly Wellness Tracker
This printable pet planner is available for instant download in PDF format that you can print at home or at your local printing shop.
Please note that the files are non-editable and will come as shown in the preview images. Make sure to check the text and design before making the purchase and most definitely, before printing.
How to access the printable pet planner PDF files?
This package comes with pdf planner pages.
There may be zipped files in the package, so feel free to use this free online tool to unzip the files: Unzip Tool
PLEASE NOTE:
There will be no refunds once a digital file has been sent out. If you need any revisions to the PDF, please feel free to contact us; we can certainly work with you to resolve any issues.
Colors may vary depending on the monitor, printer styles, and settings.
These files can be printed for your PERSONAL use only. Redistribution by any means is prohibited.
INSTANT DOWNLOADS:
Your files will be available to download instantly. There will be no physical items shipped.
Package Details
(ZIP Archive)
| | File Name | Size | Type |
| --- | --- | --- | --- |
| | My-Pet-Planner-Cats.pdf | 875.62 KB | PDF |
| | My-Pet-Planner-Dogs.pdf | 823.28 KB | PDF |
Printable Pet Care Planner
Buy $3.95