Free Christmas Planner Printable
Plan your holidays ahead of time with this free Christmas Planner printable. Download and save this cute planner today, organize and stay on top of things this festival season.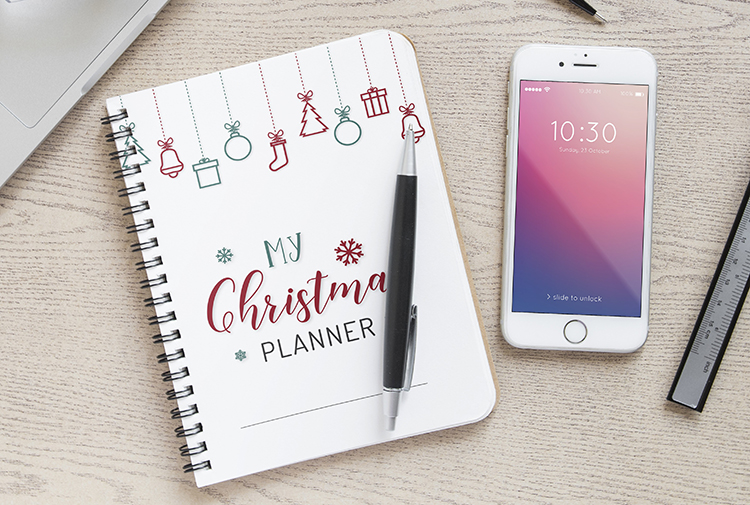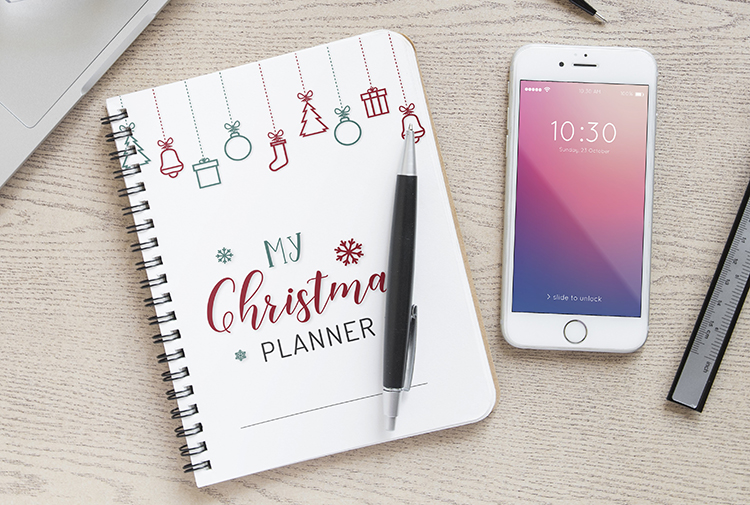 This post contains affiliate links and we will earn commission if you buy the products through those links. For more information, please read our disclosures here
Festival Season is approaching fast. Soon you will find yourself running around shopping for gifts, getting prepared for cookie exchange events, putting together family dinners and so much more.
As much as holiday season is exciting, it can get as stressful and overwhelming.
So how about getting you prepared with little something so you can feel relaxed in the next few weeks?
CHRISTMAS PLANNER PRINTABLE
This Christmas Planner Printable is all you need so that you stay on top of all things for the holidays.
You need to add this Christmas Planner to your list of things to get, like yesterday.
Simply download, print and start planning.
Related: Christmas Bingo Game Printable
Thinking about holidays and Christmas brings so much to mind … gift shopping, budget tracking, event planning and what not.
What's inside this Printable Christmas Planner?
Want to take a peak at this Christmas Planner Binder?
There are monthly calendars, budget planner, baking list, dinner menu, holiday gift tracking and so much more!
Let's take a look at some of my favorite pages:
Gift Budget Planner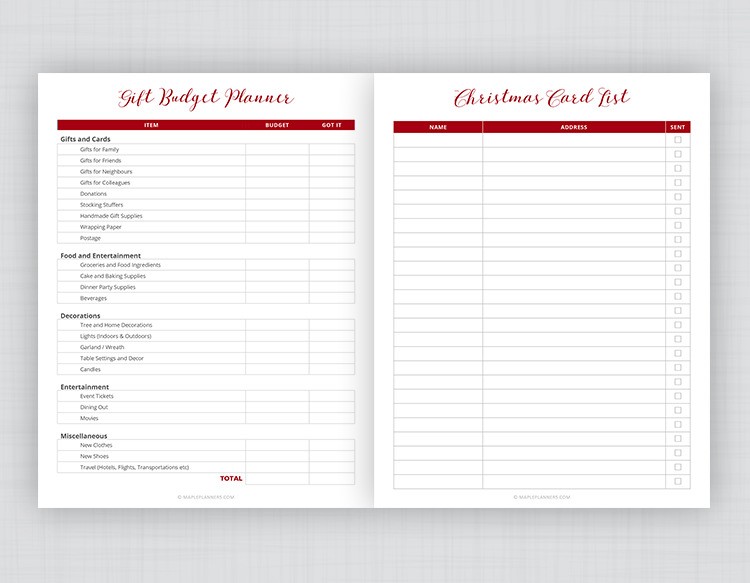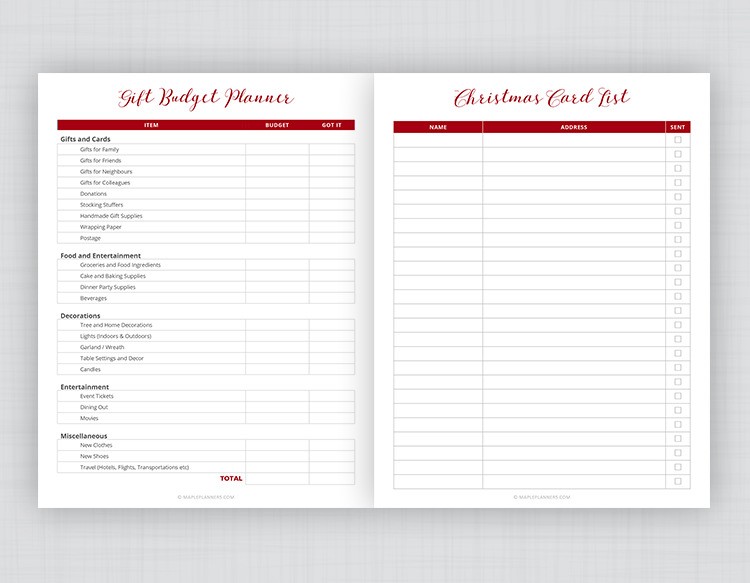 Holiday season is the one where we tend to splurge financially and our budget gets out of control before we know it. That's why it is important to set up a holiday budget.
Set up the budget for the holiday season beforehand. Set aside how much money you are going to spend on gifts, cards and parties.
Write down your recipes for holidays in Baking List. Write down the contacts in the Address Book.
Christmas Card List
Similarly keep track of everyone you plan on sending the Christmas cards with this Christmas Card List Printable.
Related: Weekly Meal Planner Printable
Monthly Calendars
If you like to plan way ahead of time, you can make good use of monthly calendars included in the planner. Starting from August all the way to December, you can start planning every little detail.
There is a blank monthly calendar where you can insert your own month if you wish to write details about any other months of the year.
Related: Monthly Calendar 2021 Printable
Simply write down important dates in the coming months. This is going to be super helpful when you plan an event of your own like attending cookie exchange party or a potluck at family friends' place.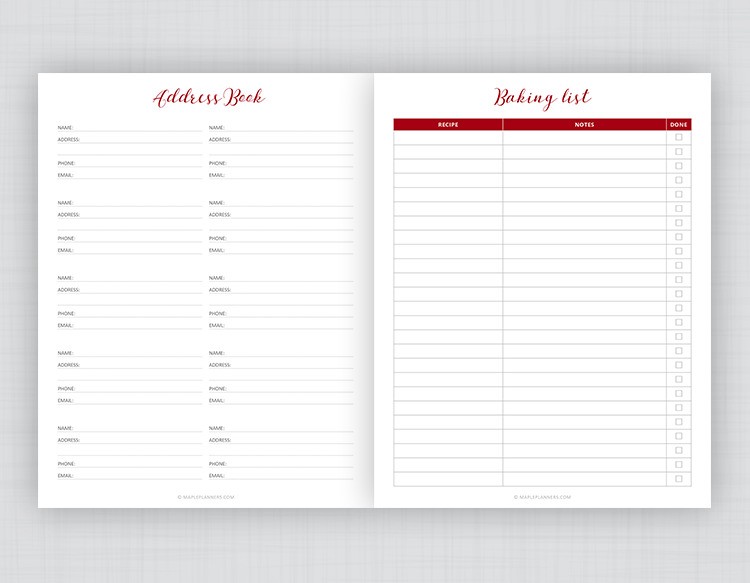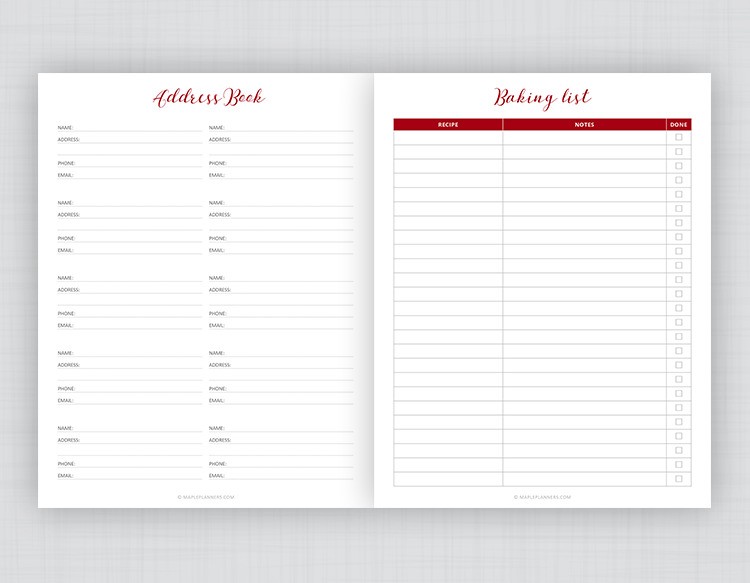 Address Book
Address book printable always comes handy when you need to record the names of your family and friends that you need to communicate with about your Christmas plans. It could be sending them Christmas cards, sending them gifts, inviting them for dinner etc.
Baking List
You can make a list of all the baked items you plan on making in the next few weeks using this baking list printable.
Grocery Shopping List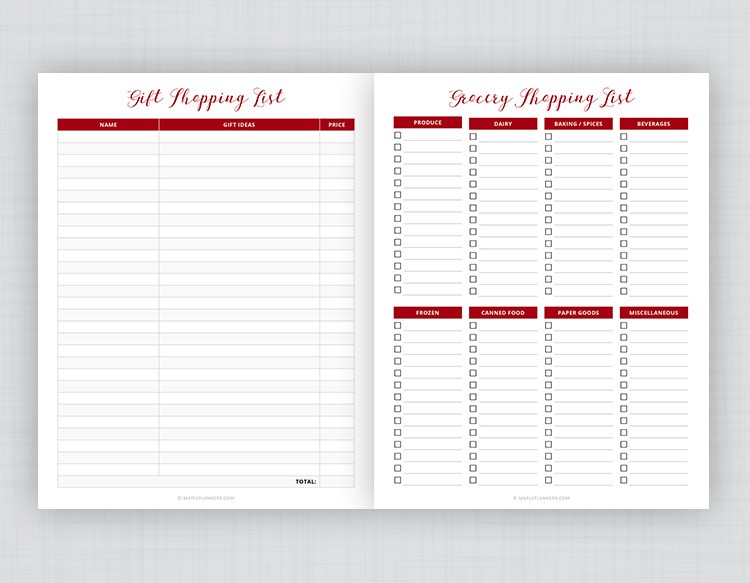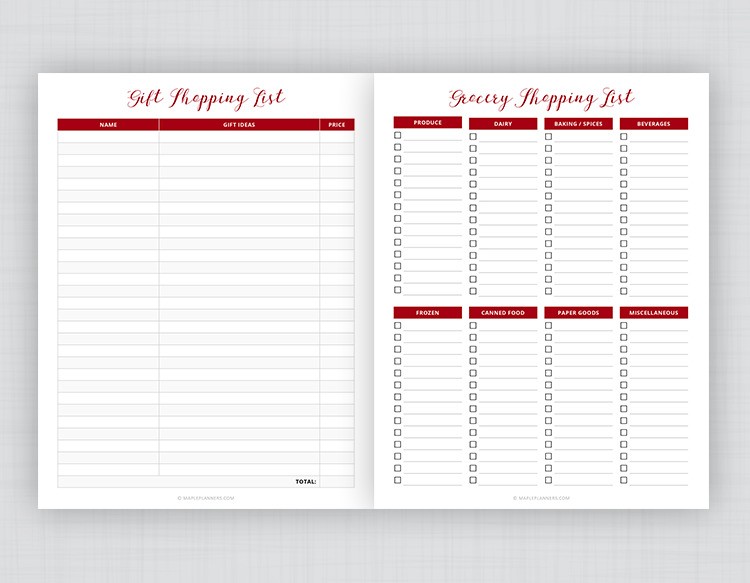 Planning a party or two for friends and family during holiday season? List the items you need in this grocery shopping list and take it along to the grocery store.
Party Guest List
Make a party guest list where you can record the names, address, phone nos, invitation and RSVPs from the invited guests.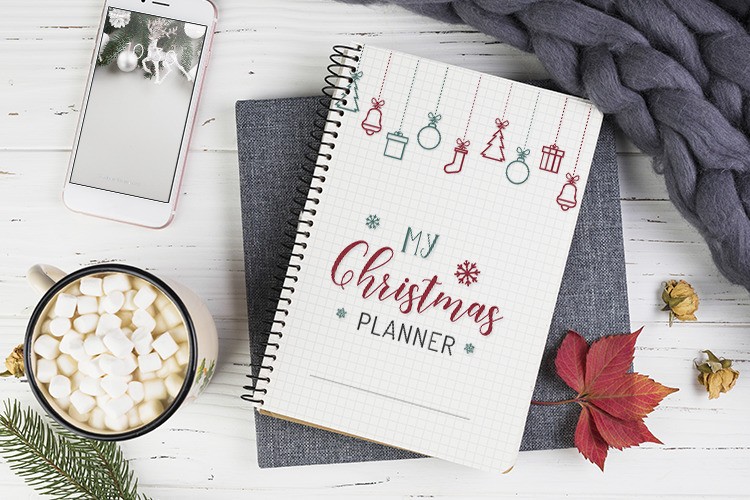 This is so helpful especially if you tend to forget inviting close friends or family members. Happens with most of us, so this list is very useful.
Holiday Gift Tracker
Same goes with Holiday Gift Tracker. This planner comes in pretty handy when it comes to making a gift list for everyone.
It helps keep track of all the gifts purchased and sent in the mail. This way you're also assured that you did not forget anyone in your gifts list.
Holiday Dinner Menu
Preparing holiday dinner menu ahead of time is one of the most crucial parts of preparing for holidays.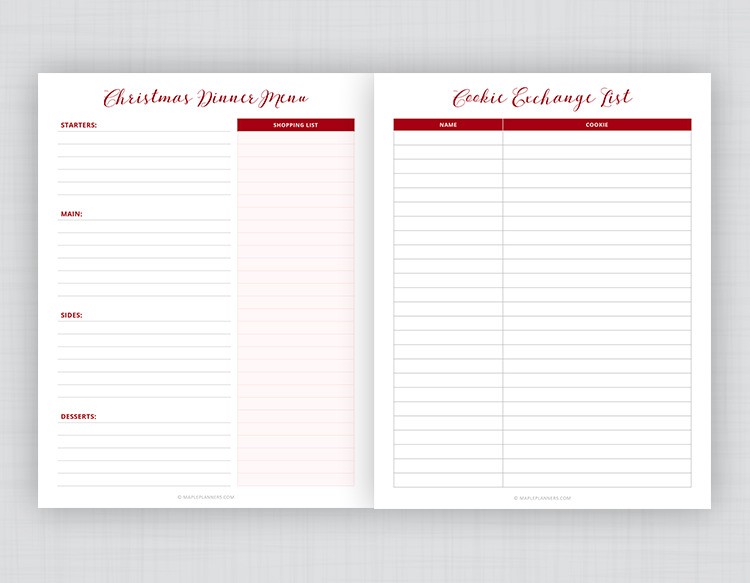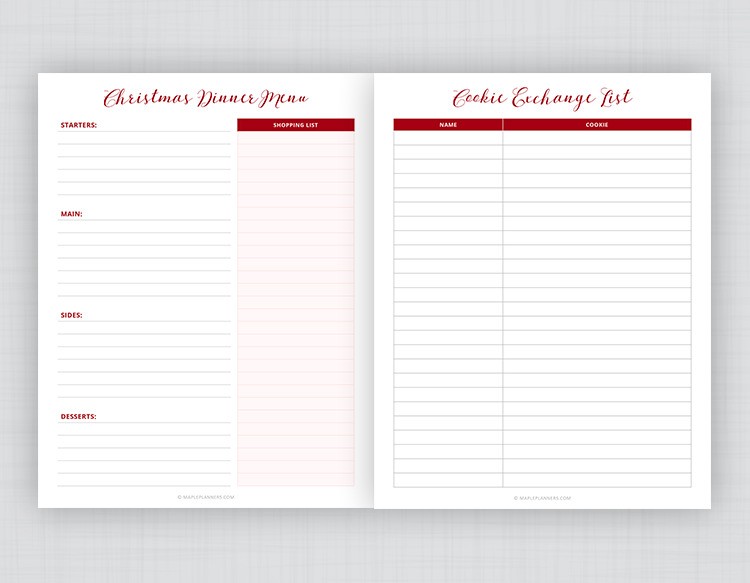 Basically preparing the menu helps with grocery shopping. You can prepare meals ahead of time that may take longer to cook or bake.
Decide on the starters, main entree, side dish and dessert.
Gift Shopping List
Buy the most thoughtful gifts for your loved ones with the help of gift shopping list. This list also helps you keep your budget in control.
Brainstorm gift ideas for everyone on your list. Price column can be used to compare prices of all the gifts and you can decide accordingly.
Todo List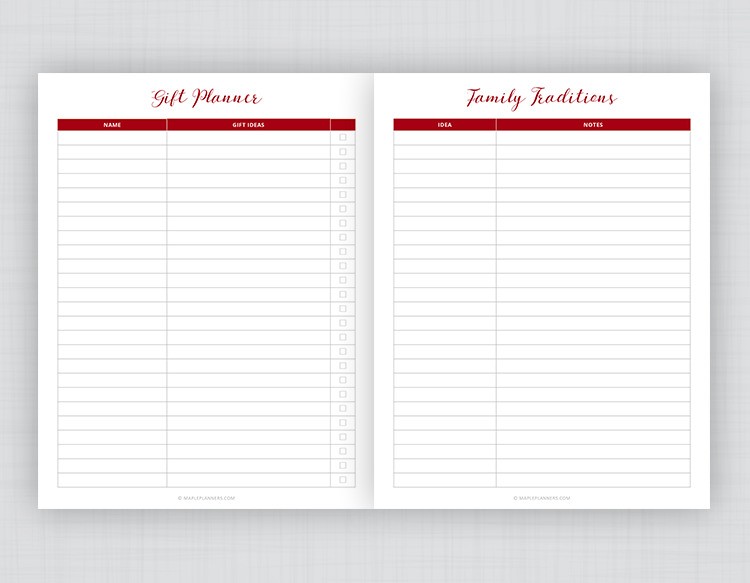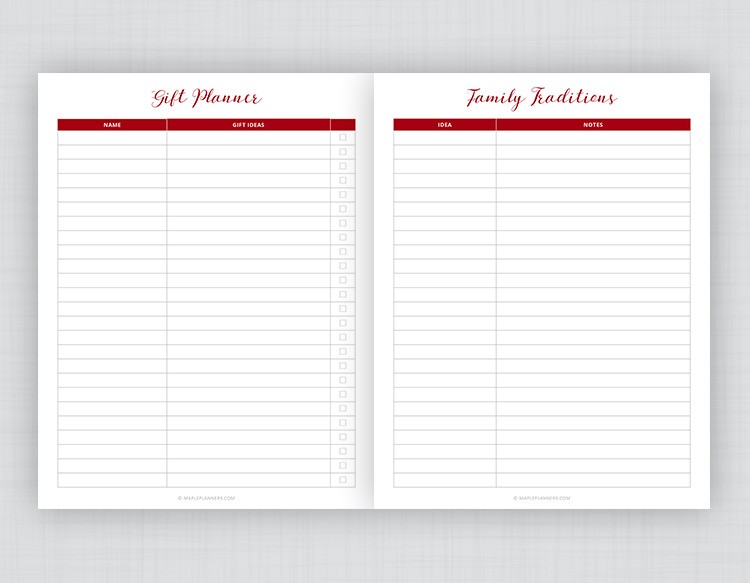 Write all the things to do in the todo List, including activities planned for the holidays. As you finish each task, place a check-mark against that item on the list.
Make sure to check out this Christmas Planner to see what other pages are included and how you can make good use of this planner come holiday season.
It helps to keep such a planner handy to keep things in check since expenses can go out of control during the holiday season.
Make sure to checkout this budget planner for keeping track of my monthly expenses.
This Christmas Planner Printable includes the following:
PLANNER COVER
ADDRESS BOOK
CHRISTMAS BAKING LIST
CHRISTMAS BUDGET PLANNER
CHRISTMAS CARD LIST
CHRISTMAS DINNER MENU
COOKIE EXCHANGE LIST
AUGUST – DECEMBER CALENDAR
FAMILY TRADITIONS
GIFT PLANNER
GIFT SHOPPING LIST
GROCERY SHOPPING LIST
HOLIDAY GIFT TRACKING
PARTY GUEST LIST
RECIPE CARDS
RECIPE UNIT CONVERSIONS
TO DO LIST