Free Back to School Coloring Pages for Kids
These back to school coloring pages are perfect for parents and teachers looking for a last-minute activity to keep kids entertained and busy during the last few days of summer vacation. Simply download and print!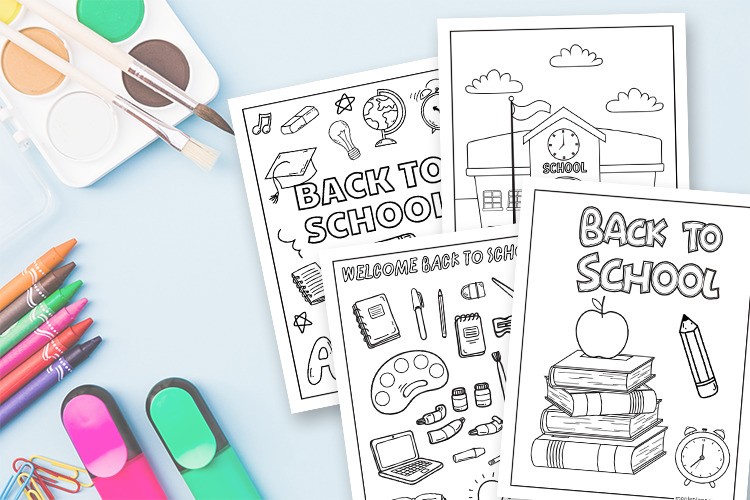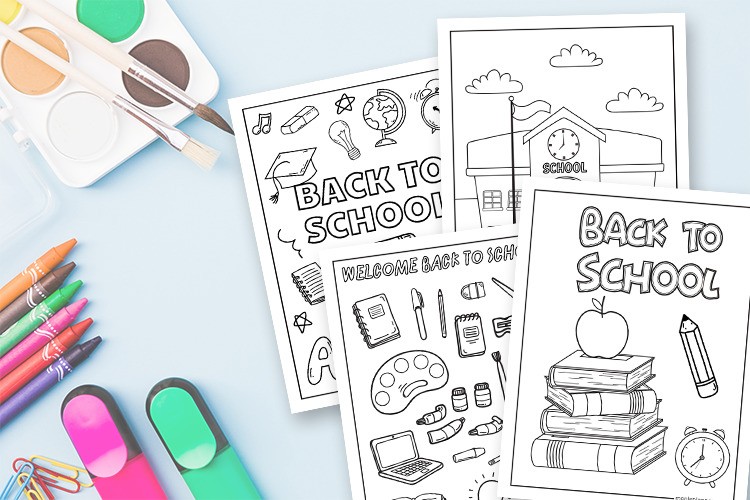 This post contains affiliate links and we will earn commission if you buy the products through those links. For more information, please read our disclosures here
It's that time of year again! Time to stock up on school supplies like pencils and paper and prepare for another school year. We've gathered some fun back to school coloring sheets to help your little ones get excited for their first day back.
These will help you get younger children into the school routine before school starts. Download these coloring pages for free in pdf format.
Free Printable Back to School Coloring Sheets
The first day and first week of school can be a daunting experience for new teachers and students. In addition to getting to know each other, there is also a lot of new information to take in during school time. Well, there's a way to help ease the transition – coloring pages.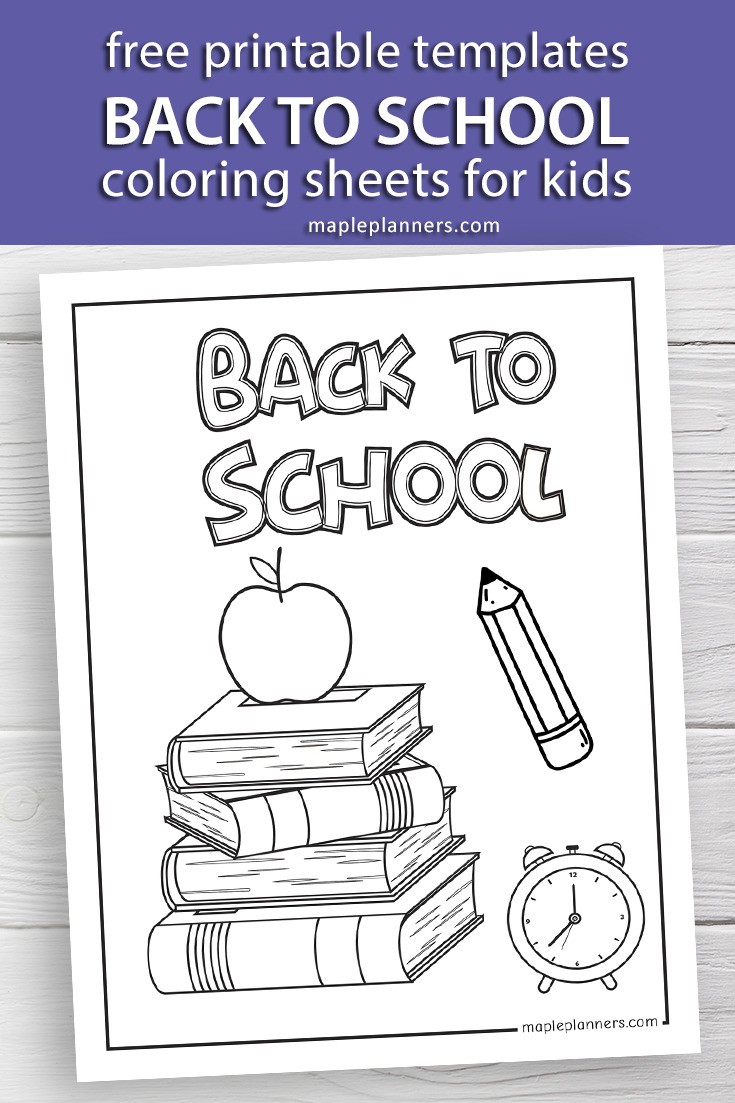 These fun coloring pages are a great way to introduce students to the material they will be learning in an interactive and fun way.
They also help to build fine motor skills and promote creative thinking. And the best part, they can be used again and again throughout the year.
So if you are looking for a fun and easy way to engage your students, try these cute coloring pages.
Benefits of Coloring Pages for Kids
Coloring pages can have several benefits for kids, both mental and physical.
Improve Fine Motor Skills. They can help improve kids' motor skills. This is because coloring requires using fine motor muscles in the hands and fingers.
Hand-Eye Coordination. Coloring can also help to improve hand-eye coordination.
Creativity. They help to foster creativity in kids. This allows them to experiment with color, line, and form.
Express Themselves. It gives them a chance to express themselves freely.
Sense of Calm and Relaxation. Coloring pages help to reduce stress and anxiety levels and get rid of first day jitters.
Coloring pages can be a great way to help kids wind down after a busy day.
School Bus Coloring Page
This school bus coloring page features a school bus, bringing back memories for parents and grandparents alike. Kids can color in the bus's wheels, windows, and doors before adding their own unique touches.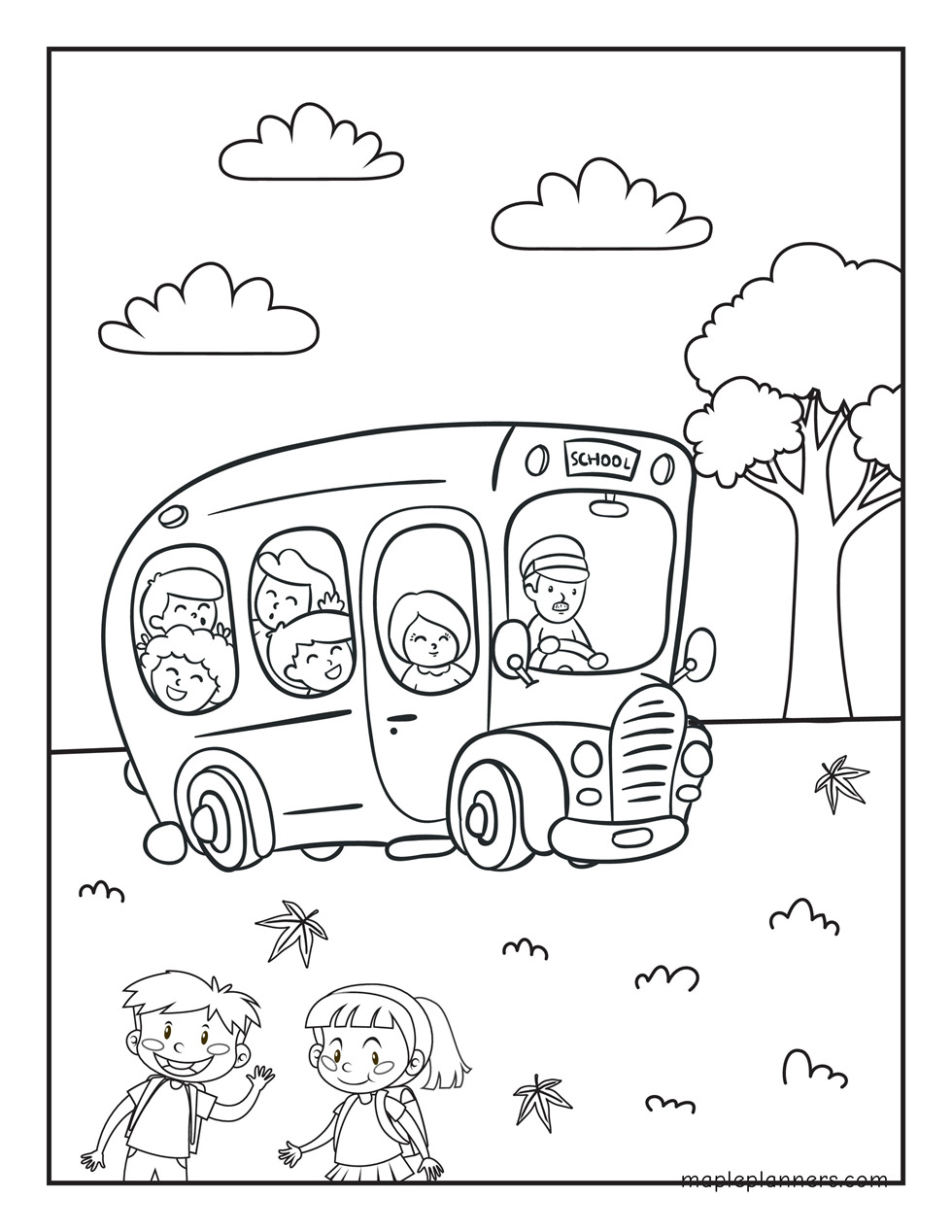 Help them practice writing their names by having them sign their artwork when they're finished.
First Day of School Sign
This coloring page features a "first day of school" sign in front of a group of eager students. You can talk with your kids about what they're most excited or nervous about as they head back to school.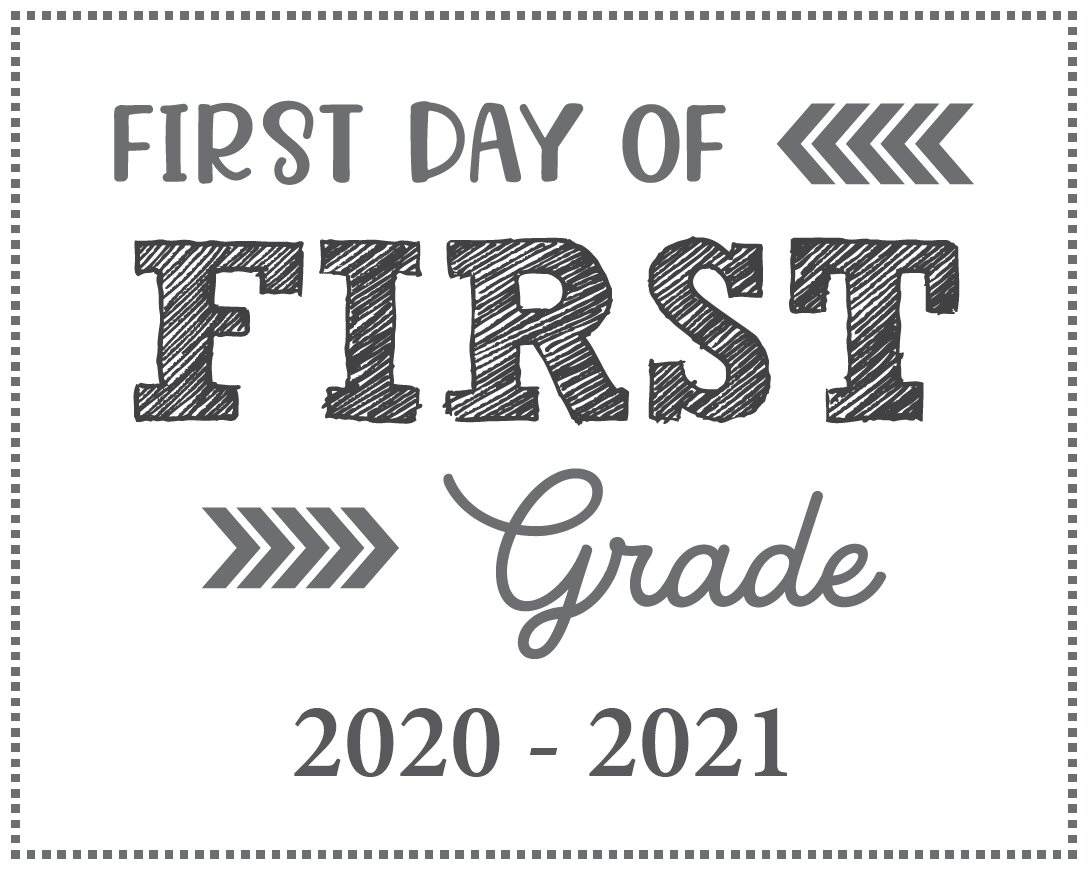 What classes are they most looking forward to taking? Who will be their new teacher? What club or sport do they hope to join this year?
Ask them to add any other details they'd like before hanging their art up on the fridge for all to see.
School Books, Pencil, and Apple
This simple school books coloring page is perfect for younger kids just learning their colors. The school books, pencils, and apples are classic back-to-school symbols, so this is a great activity for the last few days before the start of school.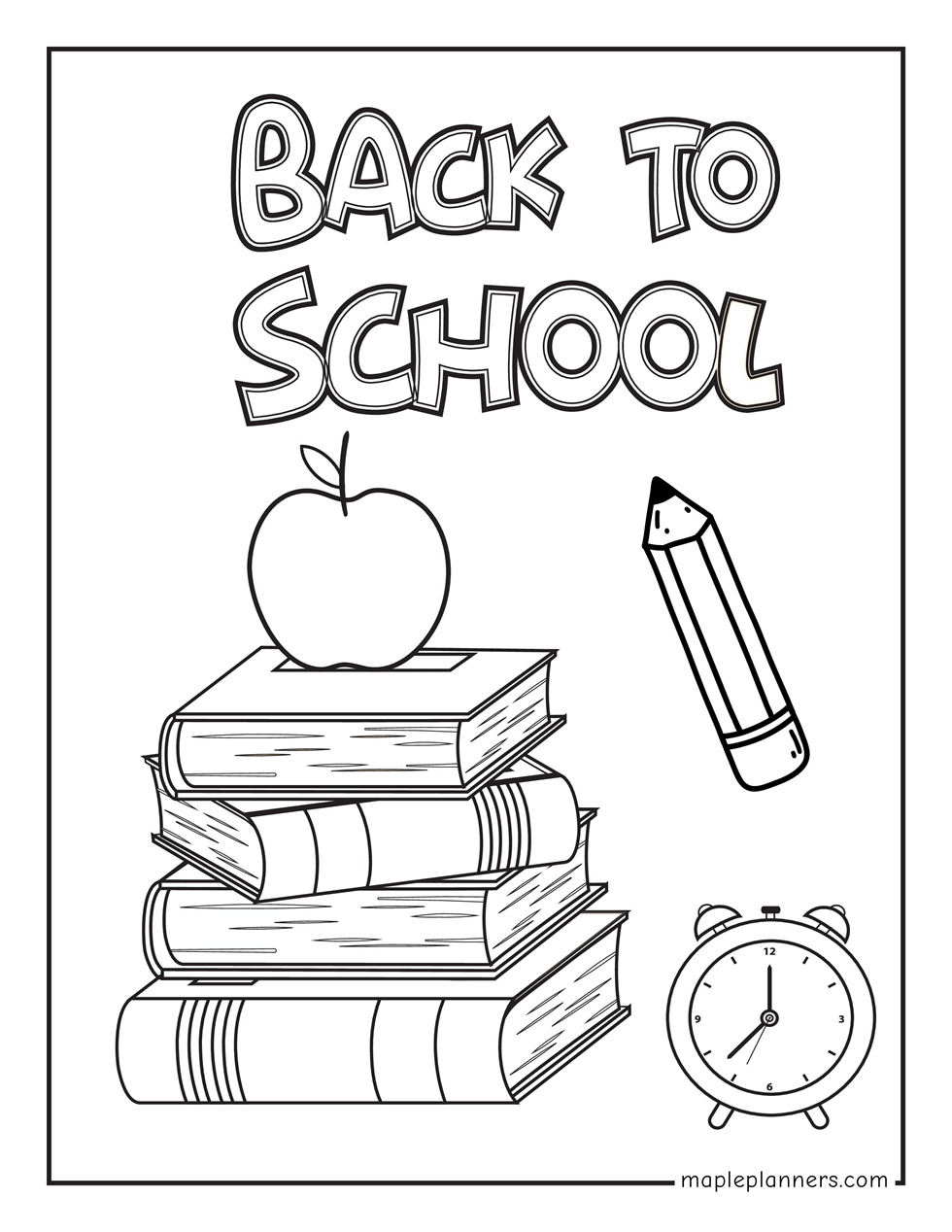 As they color, take the opportunity to ask your child what their favorite subject is or if they have any new students or old friends in their class that they're looking forward to seeing again.
School Building Coloring Free Printables
This school building coloring sheet allows kids to be creative as they color in the different parts of a school building.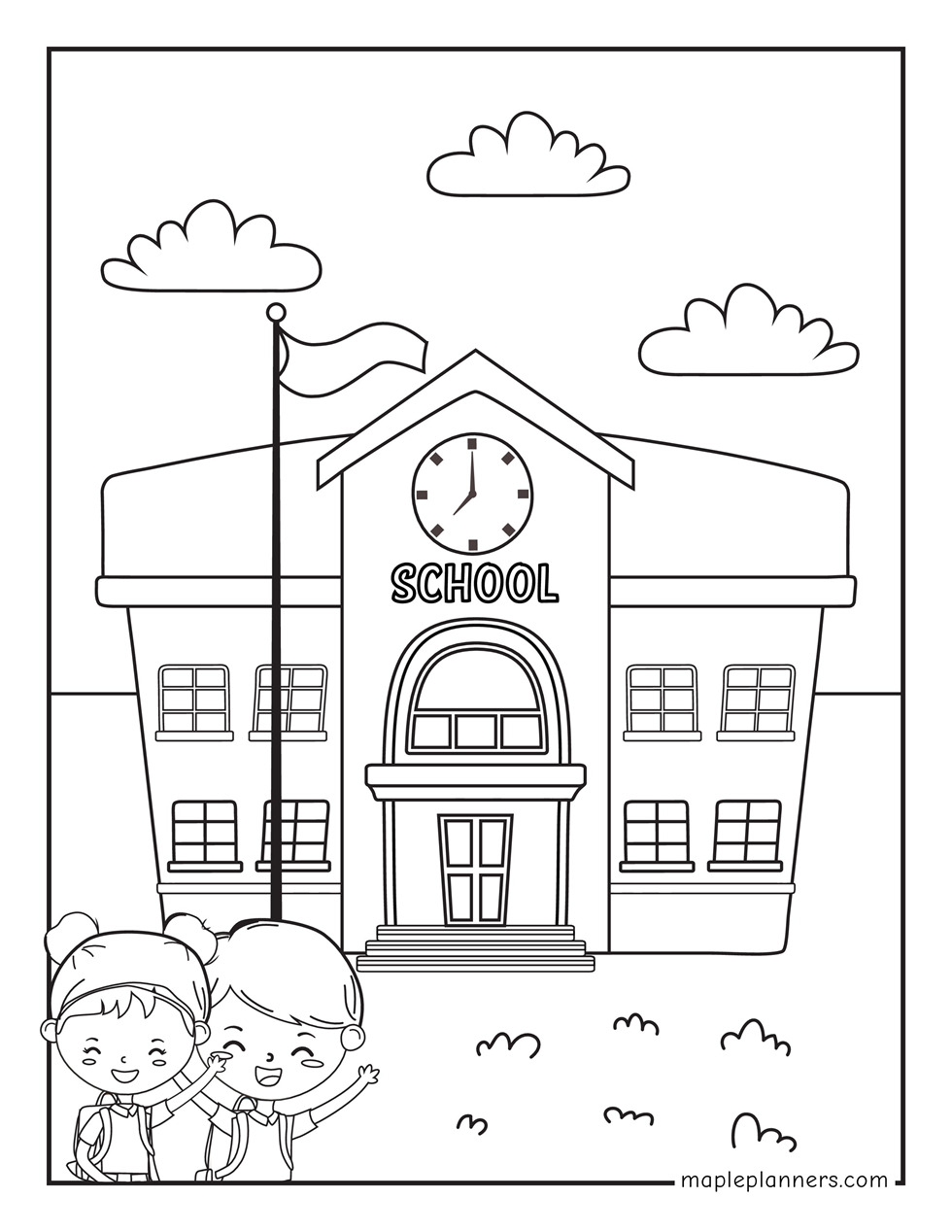 They can choose any colors they like, and you can even challenge them to use as many colors as possible in this cute picture.
Such printable activities are great for discussing safety at school and reviewing the rules for walking in hallways and using the stairs.
Graduation Hat and Alarm Clock
Graduation hat and alarm clock coloring page is perfect for kids starting a new school year and moving to the next grade. It features a graduation cap and alarm clock, symbols of new beginnings and starting fresh.
Inquire your child about their goals for the new school year. Do they want to make the honor roll? Join a new club? Be nicer to their little brother or sister?
This back to school coloring sheet features more elements associated with school supplies.
Whatever their goals, encourage them to color on this page and hang it up where they'll see it frequently to help them stay motivated.
School Backpack
This backpack coloring page is perfect for kids just starting school or moving to a new grade. It features a backpack, which can be personalized with your child's name or initials.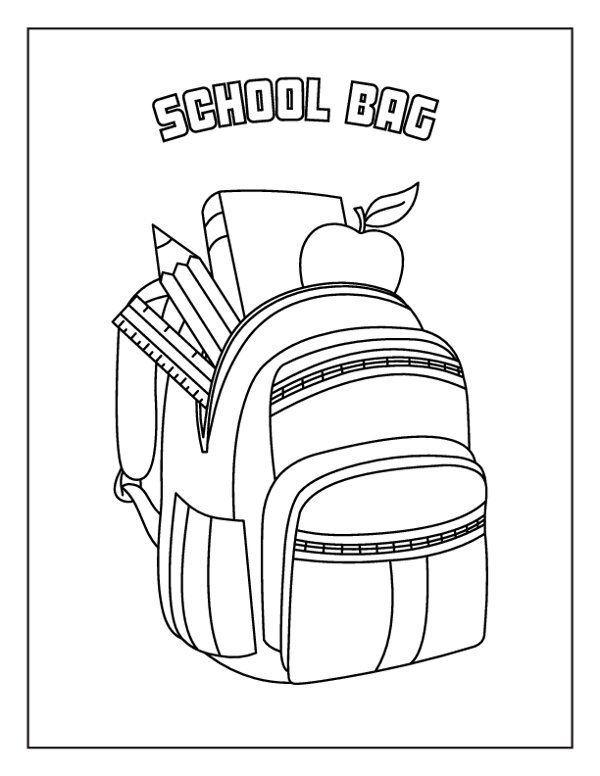 As they color, take the opportunity to ask them what supplies they're most excited to use this year. Do they need new crayons? A different type of notebook?
Help them get excited for the new school year by talking about all the great things they'll be able to do and learn.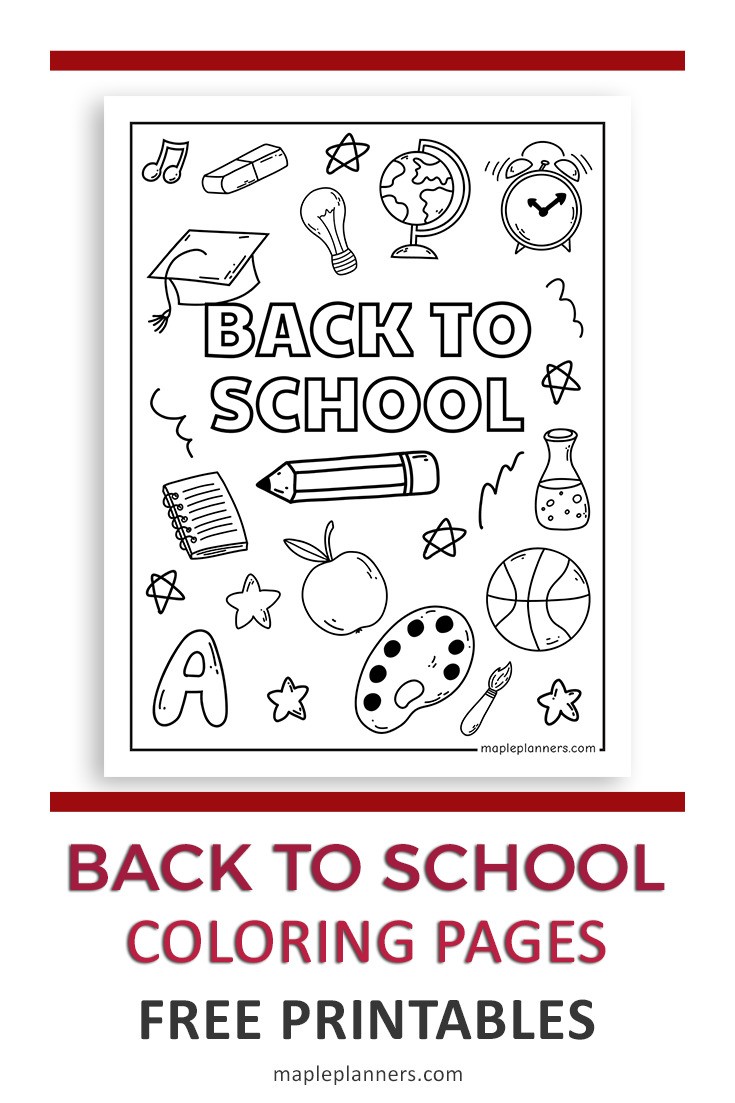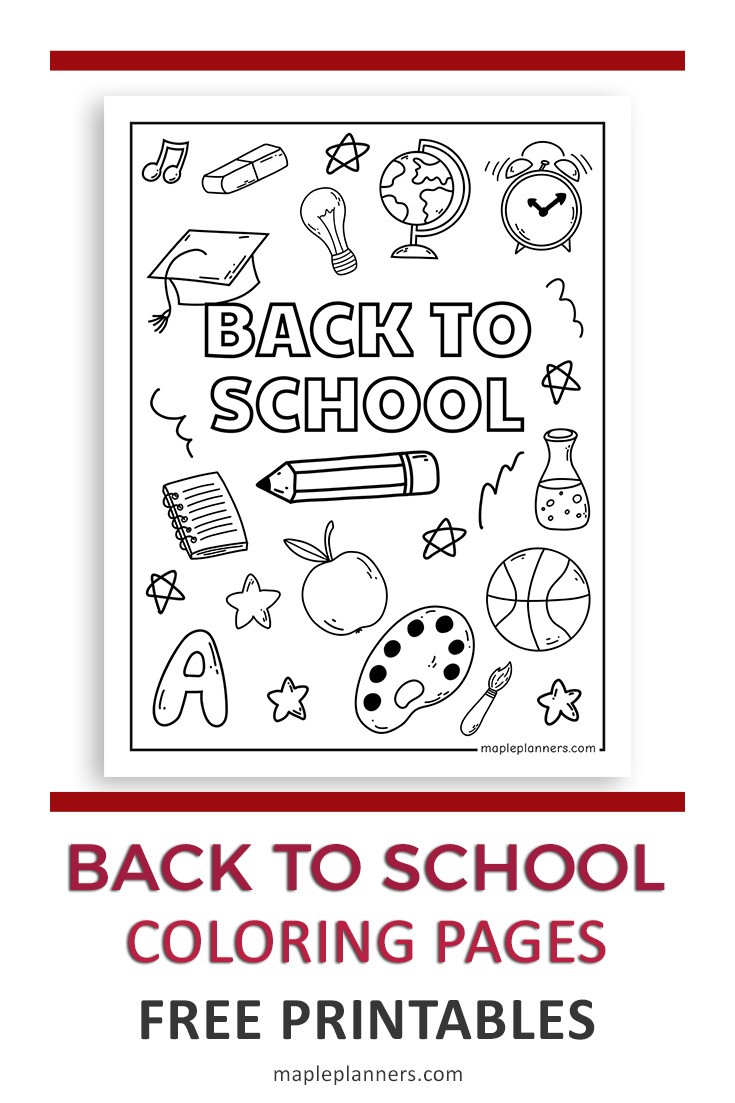 Whatever back-to-school activity you choose, have fun with your kids before heading off for another year of growth and learning in school life. These back to school printables are a great place to start the conversation about what's to come in the upcoming school year!