Daily Planner 2021: The Ultimate Planner
Have you been wondering where did this year go? Well, it was a pretty eventful year, to say the least and will be well remembered for years to come.
If you're looking forward to 2021, and already made plans, make sure to grab a copy of this Daily Planner 2021. This printable planner has ample space and sections for you to plan your 2021 in the most efficient way.
This planner comes with pages like Year at a Glance 2020 – 2021, Monthly Calendar (lined and dated), Vertical Weekly Planner 2021 and a detailed daily planer with one day per page. There are many other useful pages like Password Tracker, Monthly Goals, Weekly Goals, Todo Lists for each month and so much more.
There are so many pages to make the best use of, but just in case you don't need any of these, you can skip printing them. That's the great thing about printable planners. You can skip the pages or print the duplicates if you need to.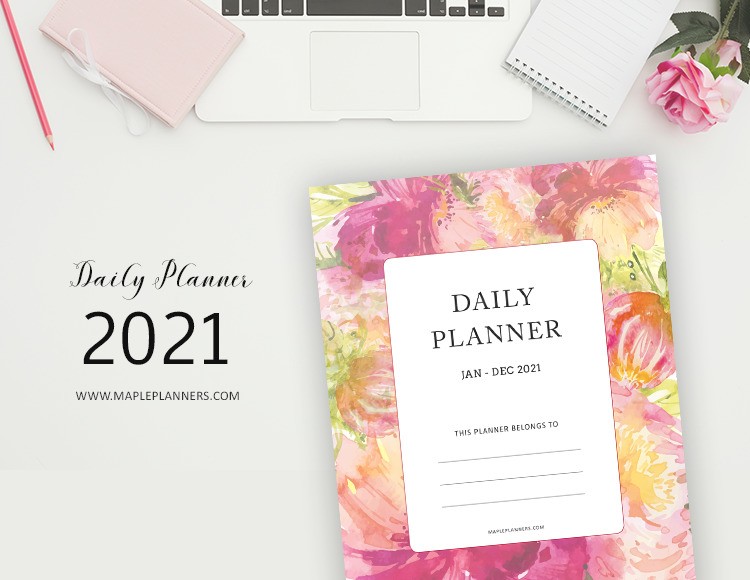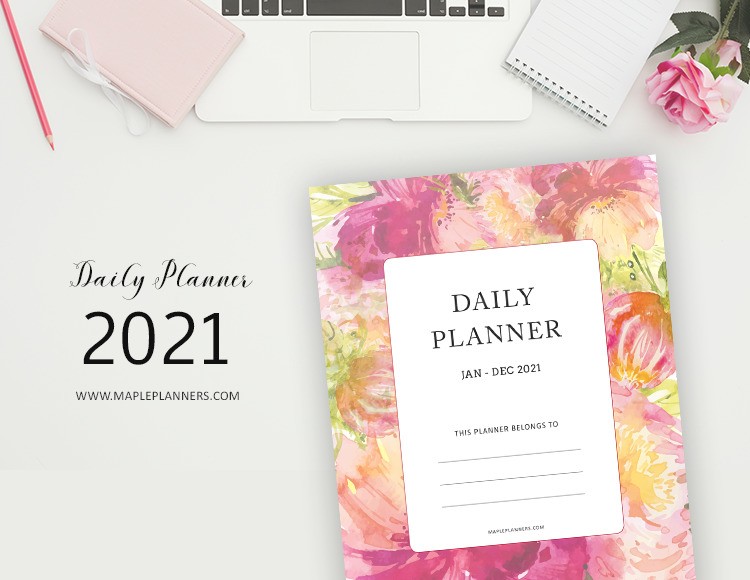 I know some of you may find all these pages useful for the entire year, some of you won't, but that's the beauty of using a digital planner.
You don't have to print all the pages you don't need. Simply use the ones that you really need for your planning purposes.
Related: Blog Planner: Grow your Blog and Start Making Money
Having said that, let's take a sneak peak at this oh so cute (I know, I know, I am biased) colorful yet simple planner.
Printable Daily Planner 2021
This Daily Planner 2021 comes with the option of 4 cover pages. There are spines and monthly tabs included in the package. Here are the 4 options for the cover pages.
Which one do you like the best?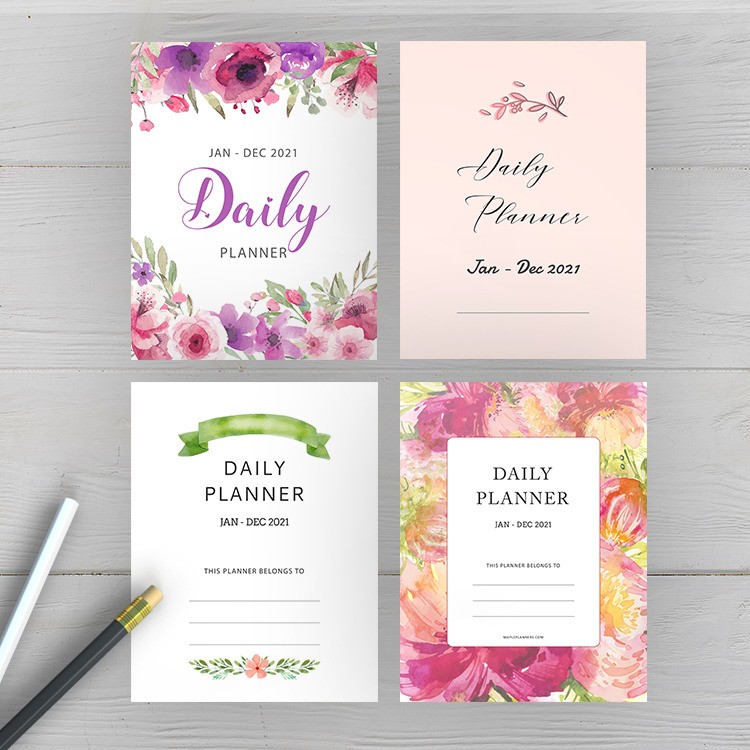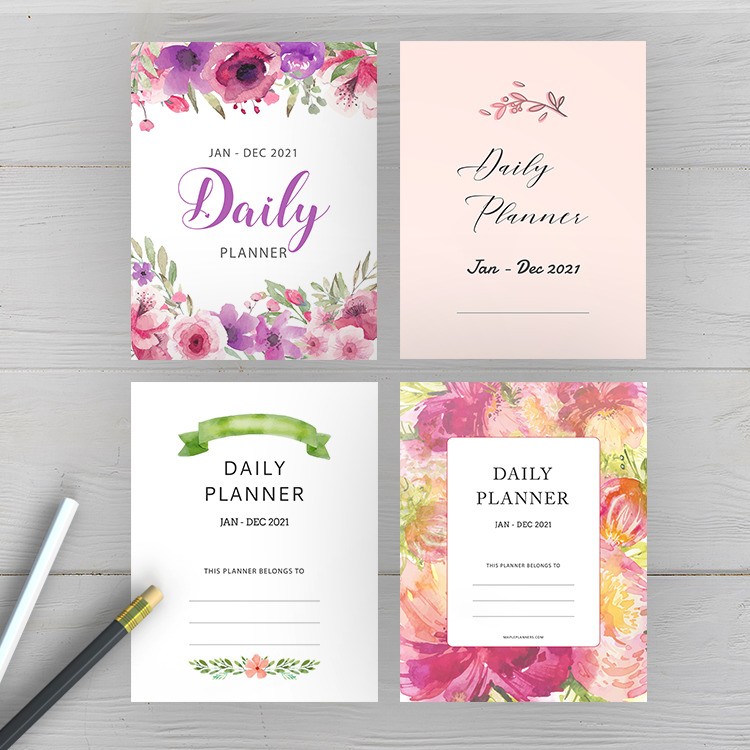 How to stay Organized and Plan ahead?
It's easy to forget doctor's appointments, children's sports practices or important meetings with the busy lifestyle we are all leading.
What if, you could write everything down in a more organized way, you might feel more relaxed and prepared.
Looking to be more planned and prepared for the days to come?
You need a system to get your life organized.
Take control of your life and and start planning things at least 6 months ahead of time. That way, you will know which part of your life you need to stay more focused on and what other things can wait!
Stay organized and plan your activities with the weekly and monthly calendars. Monthly Spread comes with major holidays, so it makes it even easier to plan out your entire day.
With this Daily Planner 2021 you do not have to forget important dates anymore. Anniversaries and birthdays can be written down conveniently in this planner.
You can write down the activities and events for that week, like things to buy, people to call, carpooling and ride sharing duties etc.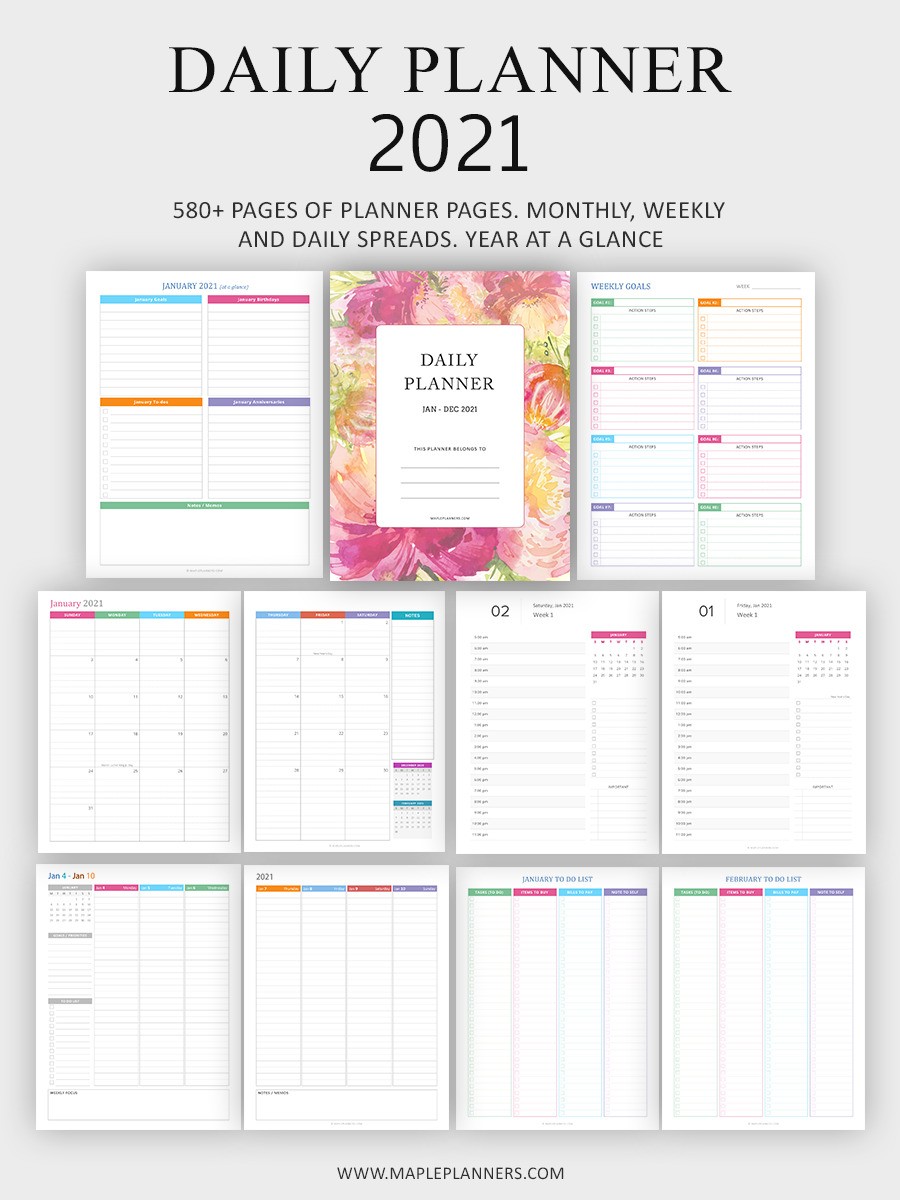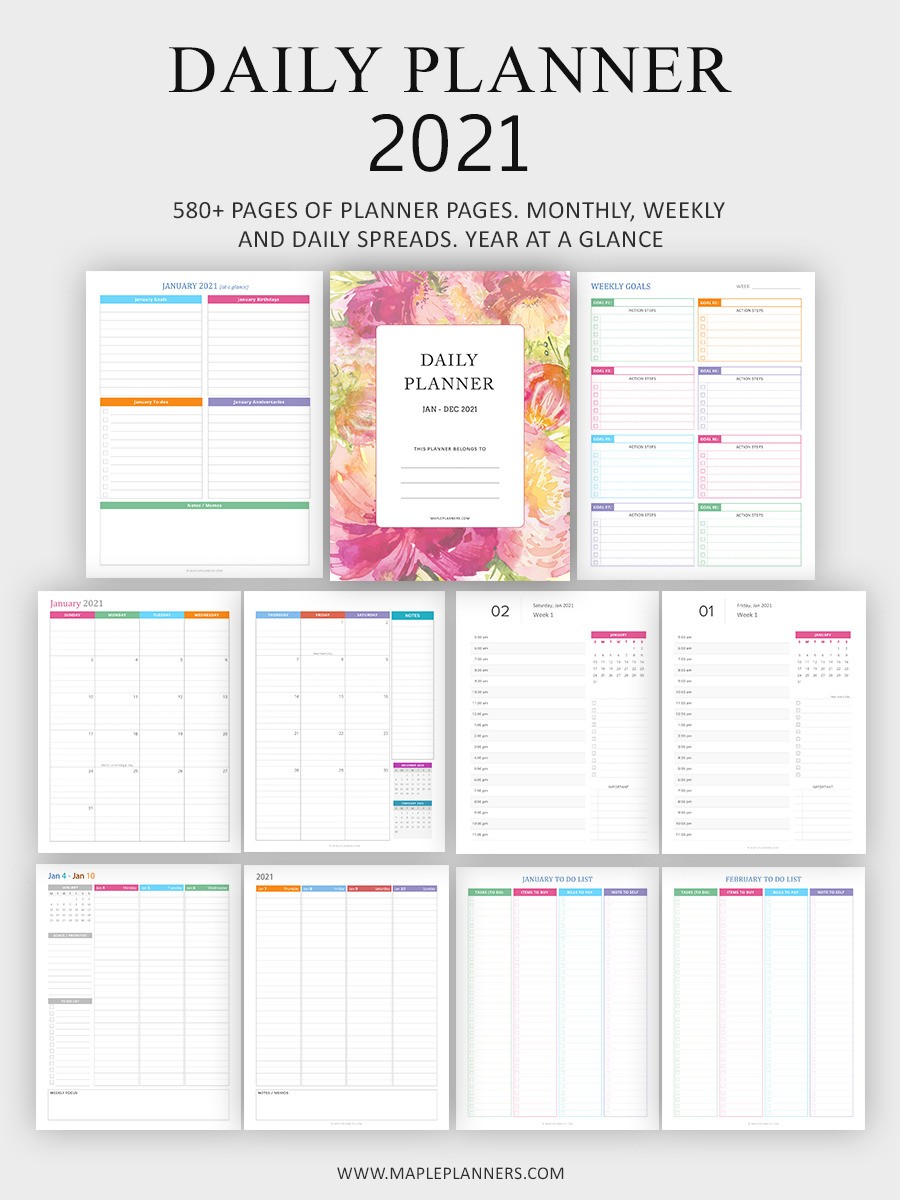 This Year at a Glance 2020 and 2021 help you glance at the full year calendar view.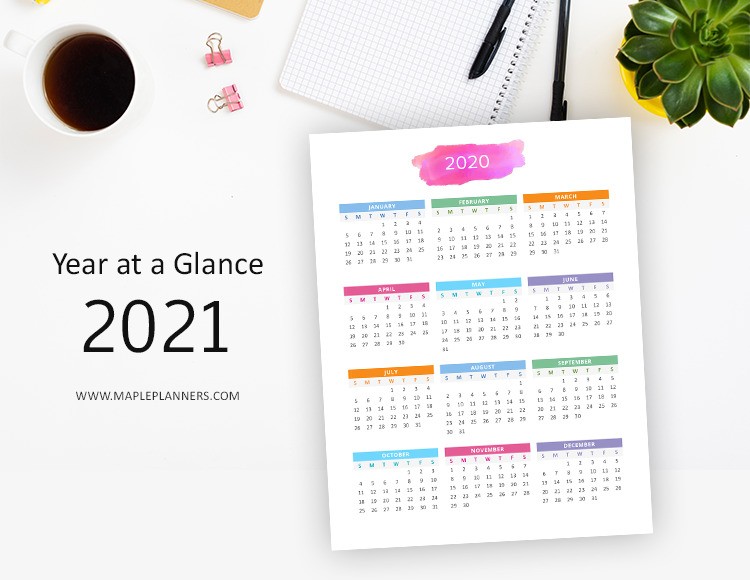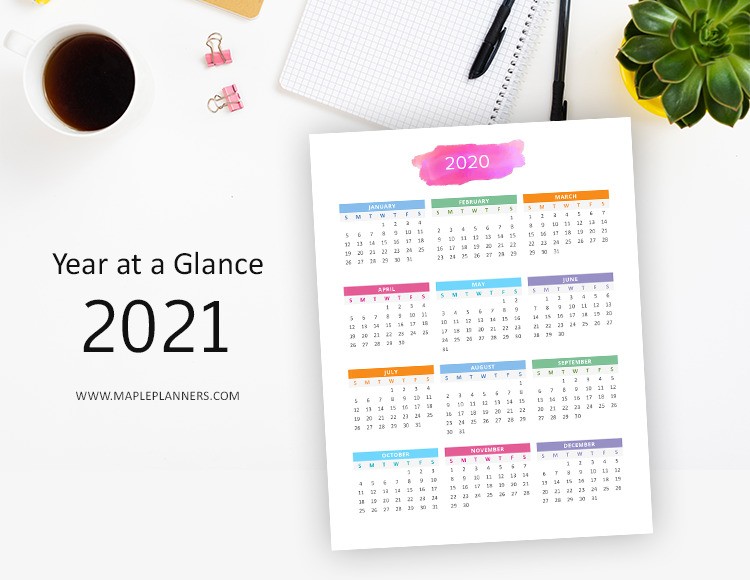 Dated Monthly Planner 2021 (January – December)
Lined and dated monthly calendar comes dated from January – December 2021. This includes popular holidays. On the right hand side, write down the notes for the month.
Bottom right hand side has small monthly calendars for the previous and next month.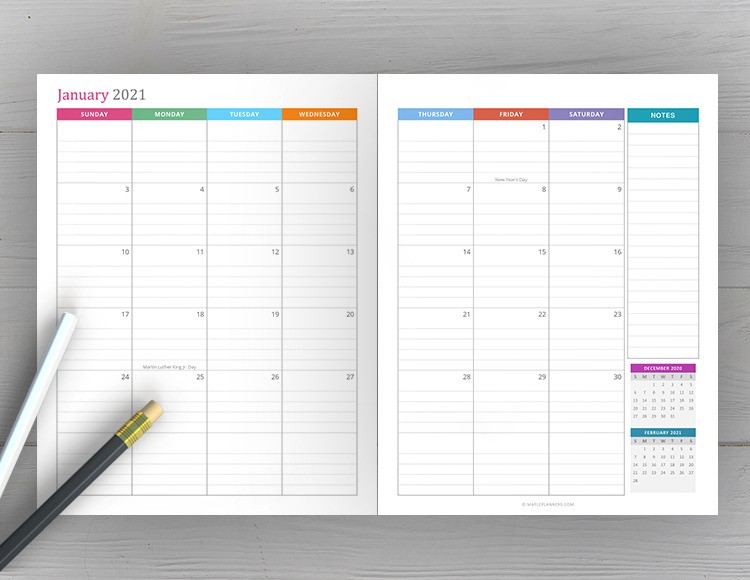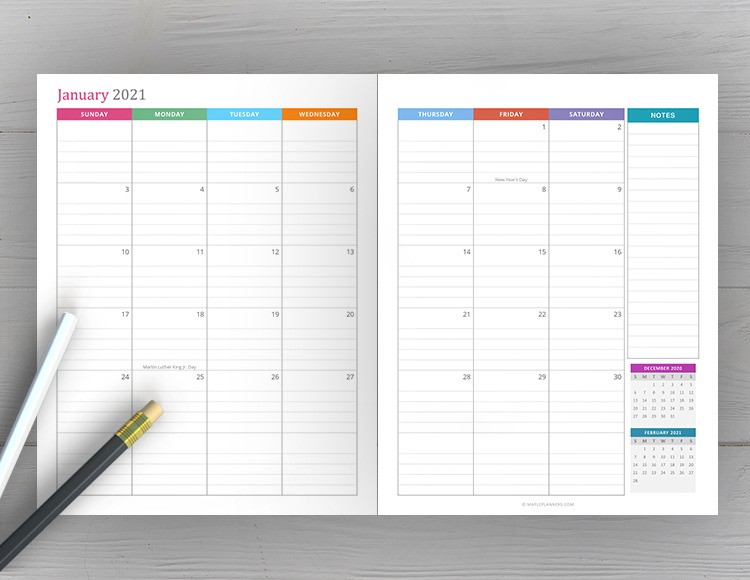 Dated Vertical Weekly Planner 2021 (January – December)
Vertical Weekly Planner comes dated from January – December 2021. Vertical format comes with small circles to check off the chores for that specific day.
You can divide the day among morning, afternoon and evening. Small monthly calendar on the top left reflects the month at a glance for each week of that month.
At the bottom of the page, you can write the focus for that week, and on the right bottom you can write the notes or memos.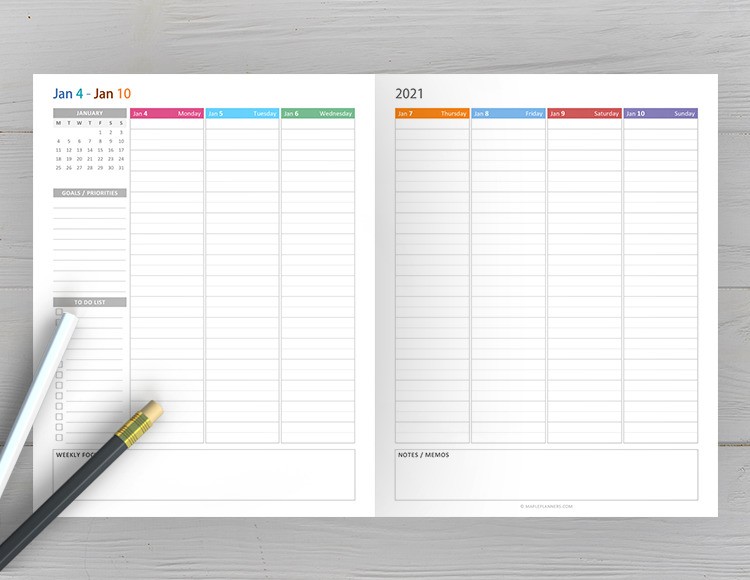 Dated Daily Planner 2021 (January – December)
Daily Planner is great for writing down activity for each day or even each hour. Start from 5 in the morning and goes until 11pm.
Each day has the small month at a glance on the right hand side. Make a to do list and check off as you finish your chores, and write what's important for the day.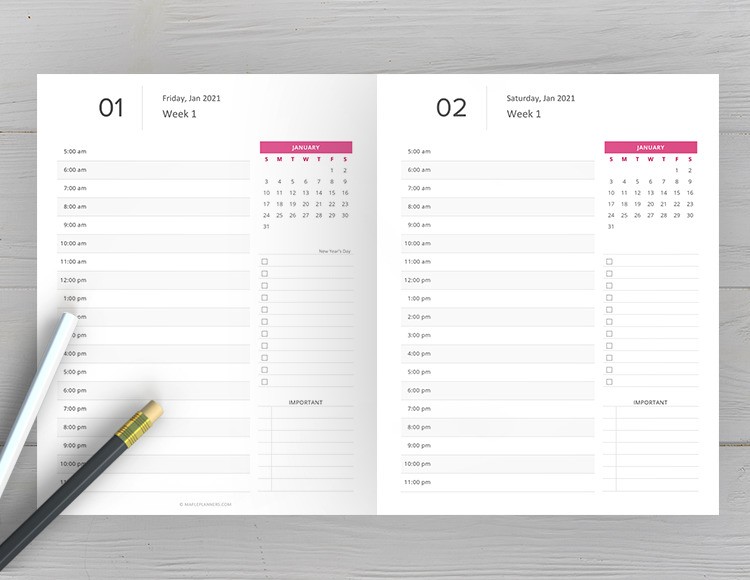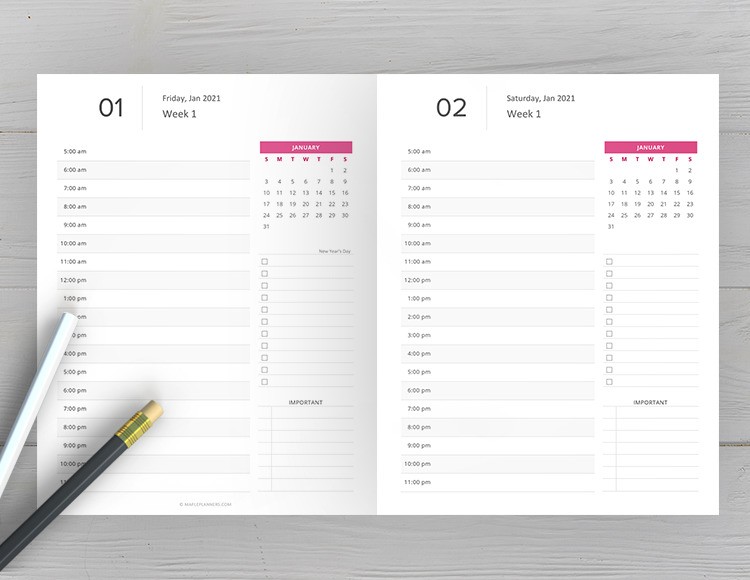 I think having these sections alone is bound to make your days pretty productive.
Notes section is perfect for jotting down the general things you need to keep track of, or that don't fit in any of the other categories.
I love that each month has been separated by monthly tab dividers. It makes it so easy to refer to any month.
For Monthly and Weekly Goals, you can write down up to 8 goals, and action steps to achieve them. What better way to remind yourself of your goals and continuously working towards them.
Do you think you will be able to better organize your life with this Daily Planner 2021?
If you find this daily planner 2021 to be useful, feel free to checkout my Finance and Budget Planner where you can track your finances and save more money with better organization of your time and money.