Free Habit Tracker Printable: Keep track of your Goals and Habits
Keep track of your habits and goals with this habit tracker printable. Set it up for each month and stay on track. Stay productive and reach your goals.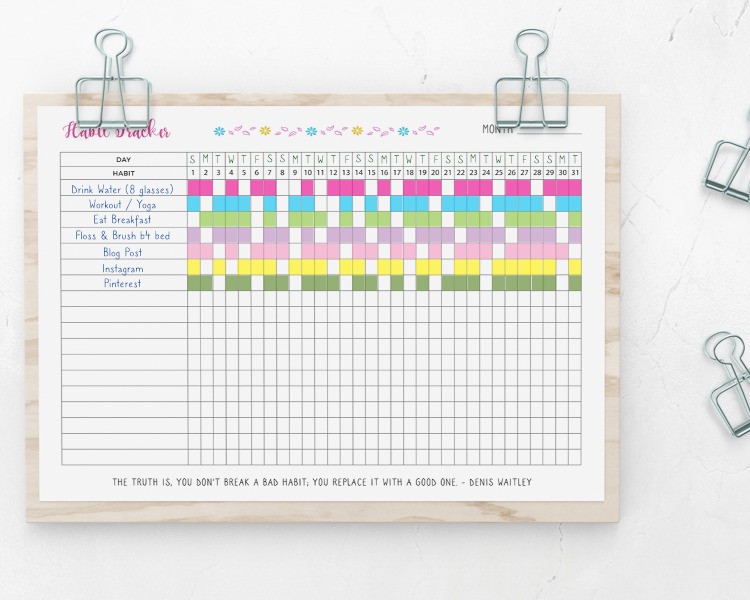 This post contains affiliate links and we will earn commission if you buy the products through those links. For more information, please read our disclosures here
I'm so excited to show off and share my habit tracker printable, that I created to keep my habits and goals in check.
This printable has not only helped me get more productive and keep my sanity while I'm juggling whole lot of things at the same time, but I have been able to manage my time efficiently and get more done.
Why we need a Habit Tracker
Procrastination is what prevents many of us from taking action, and reaching our goals. We think we are making progress, but in reality we keep going in circles. Guesstimating is something we rely upon and lose track of the things we did last month or the month before.
Whereas if you set your goals in writing, it is much easier to keep track of things from few months ago.
I highly recommend using this habit tracker to see where you are headed in your progress chart. Not only can you develop good habits, you can kick your bad habits at the same time.
Just write everything down.
I have this monthly habit tracker available in my printable library. Simply download, and print. Start by writing very simply habits and goals you wish to achieve. Keep record of your daily routine. See the results in a few months time, you will be surprised.
When you download this free habit tracker printable, you will find it in three different sizes of Letter Size, A4 and A5 size, and two layouts. You can use all these or the ones that you like.
Setting Goals and Tracking Habits
There are so many things you can track using this habit tracker. Think of small things like drinking water everyday, or taking your vitamins or even going out for a walk.
For me, I forget to eat breakfast most of the mornings. In the rush of getting ready in the morning hours, many of us tend to do that. So I write it down  in my habit tracker, and make sure to follow through. If I have to wake up earlier than usual, I do that.
That makes for writing another habit, waking up at around 6am. I make sure not to hit the snooze button more than once. It is hard in the beginning, but once you get used to it, it becomes a habit.
Once I wake up early, I make sure that I write down my top priorities and to do tasks for the day in my daily routine tracker.
Editable Habit Tracker
Would you rather type and edit the habits columns before printing? Here's an option for you. This Editable Habit Tracker lets you do that. I have been using this for a while, where I type my habits and goals in the editable fields. This is available in the Printables Shop.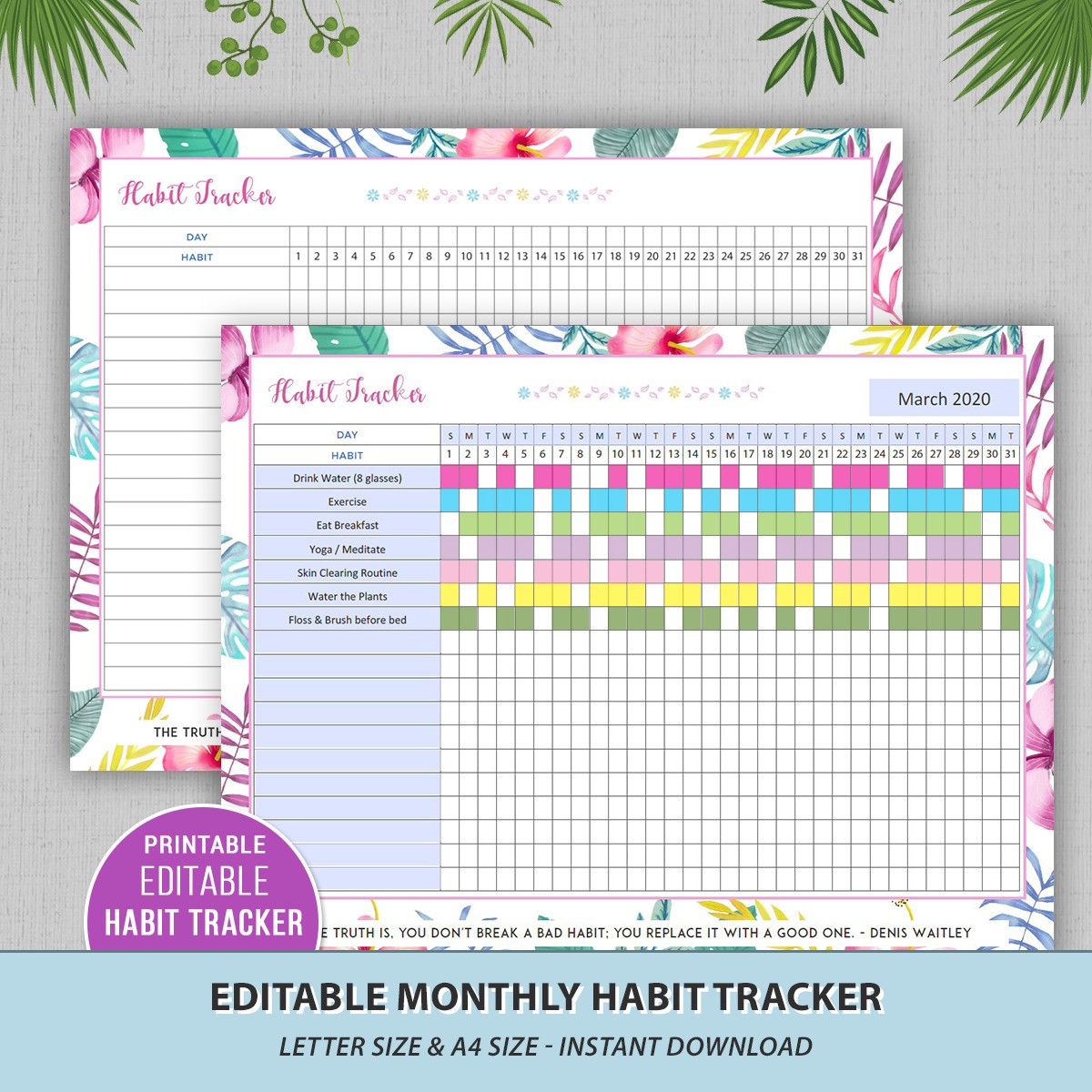 I am able to edit the habits column, days of the week corresponding to each date of the month. It makes it easy for me to visualize what day of the week that date is. I can also type the month and year on the top right hand side. You don't have to input the year and simply type the month.
How to print the Habit Tracker pdf files?
Simply download this Free Habit Tracker.
Unzip the files. You can use this free tool to unzip the files. You have the options to print on letter size, A4 or A5 size paper.
Open in Adobe Reader (download it from here for free).
Print the pdf files using your printer at home or at your local print shop.
To download and print these files, you will need:
Talking about keeping track of goals and habits, have you been tracking your daily routine? In case, you need to plan your daily routine, here's a Daily Routine Checklist Printable.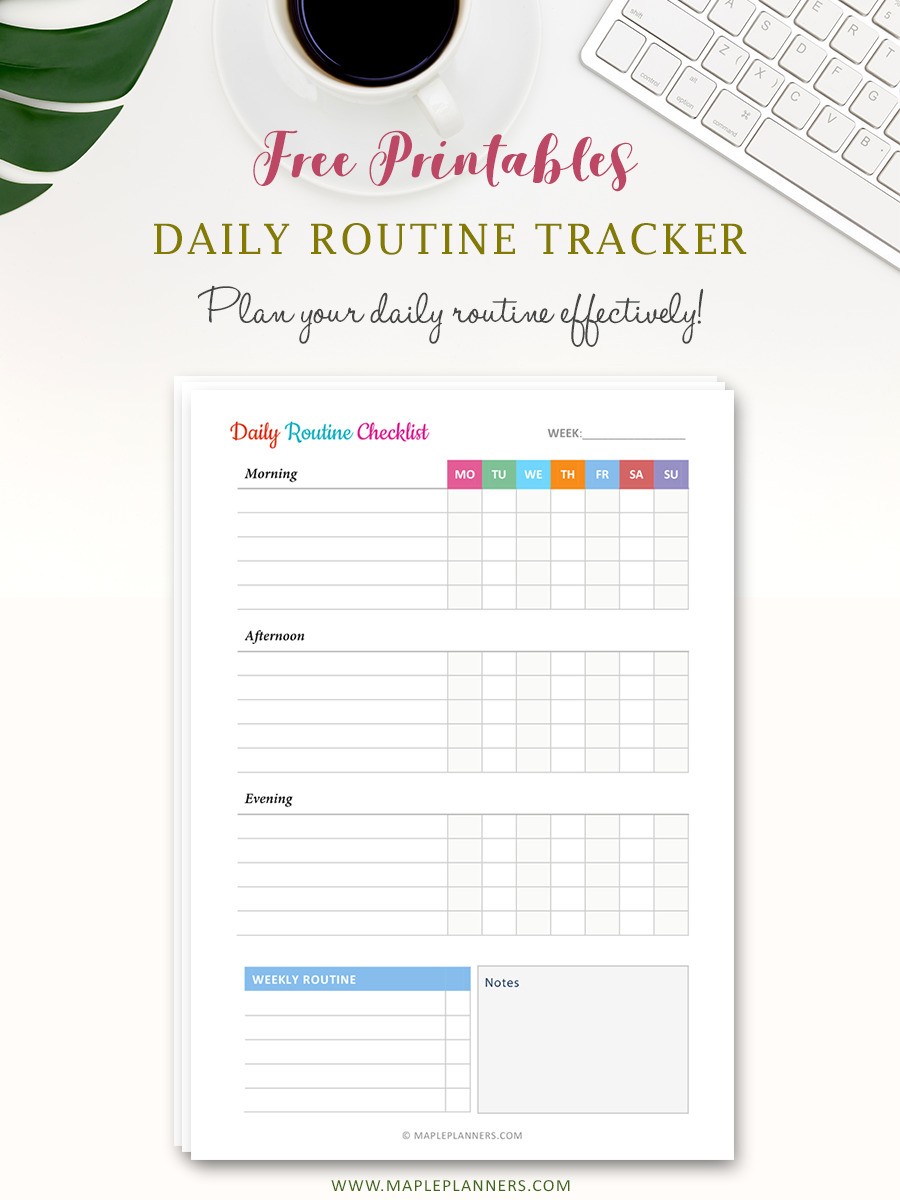 Never miss an important appointment or special occasion. Simply plan your daily routine, break it into three sections of morning, afternoon and evening.
Check off for each day as you finish the task.
Do you like to keep track of your habits and goals? What kind of tools do you use? Please share in the comments below.