Pet Information Template
Download free printable Pet Information Template. For more similar Pet templates, browse our free printable library. Simply download and print them at home or office.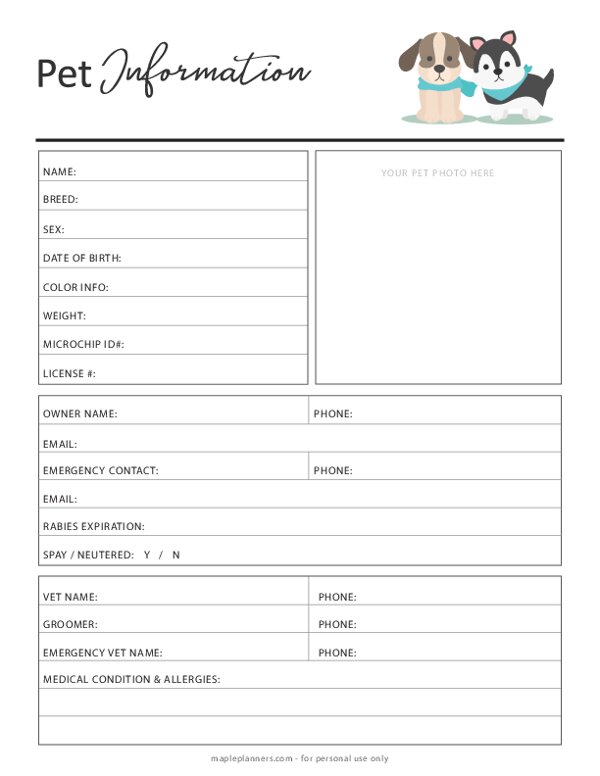 Scroll down for print and download options
Printable Pet Information Template will help keep track of all your pet's details like name, breed, date of birth, color info, weight, microchip ID number, license number and more in one place.
If you are a pet owner you know how important it is to keep track of your pet's information.
This printable pet information template will be especially handy if you ever need to take them in for an emergency visit or just want some extra peace of mind knowing that their information is always with you.
With this template, you will never forget an important detail about your pet again. This printable is great for those who are new to owning a pet or just want an easy way to keep track of their furry friend's important information.
There is enough space to fill in the following information about your pet:
Pet's Name, Breed, Date of Birth, Color, Weight
Microchip ID Number
License Number
Owner Name, Phone, Email Address
Emergency Contact, Phone, Email Address
Rabies Expiration
Spay / Neutered
Vet Name, Phone
Groomer Name, Phone
Emergency Vet Name, Phone
Medical Condition and Allergies
Space for Pet's Photo
Print out a copy of this pet information template and keep it where you can access it easily, perhaps a pet care planner binder. You'll be able to quickly refer to it every time you need any information about your pet.
Finished size of this template is standard letter size (8.5x11 inch) so it can be conveniently printed at home.
Want to have an organized pet care planner bundle?
Make sure to check out this Pet Care Planner Bundle. This one comes with separate themes for dogs and cats.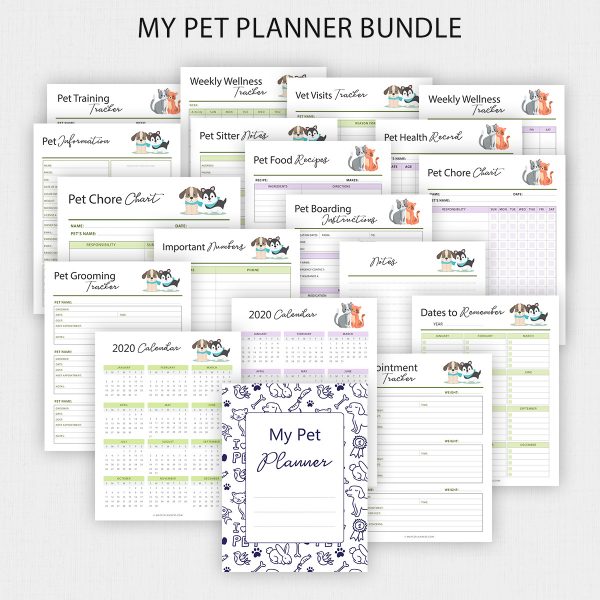 Download your Pet Care Planner Bundle
This detailed planner covers everything from pet appointment tracker, vaccinations records, pet-sitter notes and so much more!