The Blog Planner Printable
Download free printable The Blog Planner Printable. For more similar Blogging templates, browse our free printable library. Simply download and print them at home or office.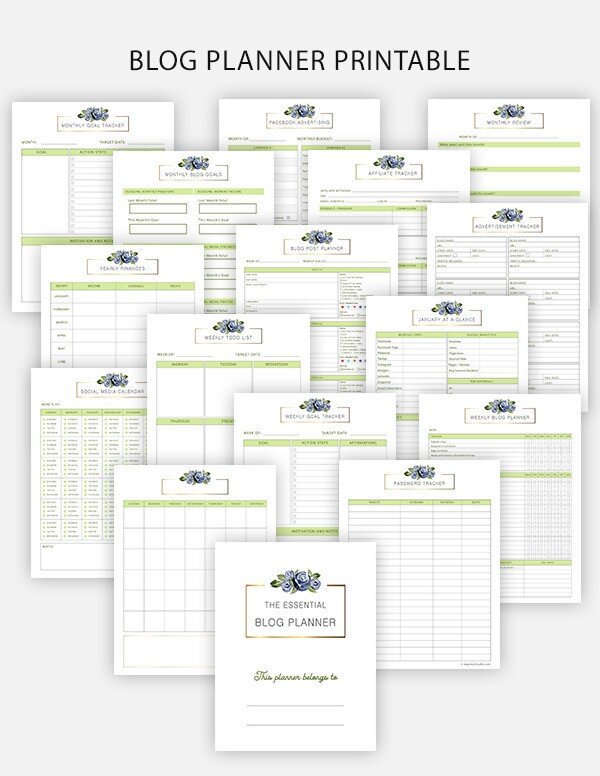 Scroll down for print and download options
Keep track of your progress and reach your blogging goals with a printable blog planner. This planner helps you plan your weekly posts, track your monthly and yearly goals, social media posts, and more.
If you have been blogging for a while and making money out of it, you know how important it is to keep track of your stats and progress to make sure you are on the right path.
From the sound of it, blogging may seem like only content creation. But as you dig deep into it, you will find it is more than just creating content.
Blogging includes but is not limited to content creation, exploring blog post ideas, planning your weekly and monthly posts, setting goals, tracking monthly and weekly stats, scheduling social media posts, email marketing, giveaways, tracking usernames and passwords, tracking income and expenses, affiliates, and what not.
If you plan on reaching your blogging goals, you need this printable blog planner binder.
Printable Blog Planner
This Printable Blog Planner comes with helpful sections that are sure to cover the major aspects of blogging.
When you start using this blog planner, you will get to write the mission statement and vision board to help you visualize yourself and your blog in the next five years.
It is important to network with other bloggers in your niche. So blog contacts page can be used to write down your new and existing contacts so that you can refer to them whenever there is a need.
You will find other important sections like password tracker, advertisement tracker, affiliate tracker, email campaign tracker, and a whole lot more.
There's a section for keeping track of YouTube stats, a video planner and brainstorming video ideas.
What's in the Package?
The Blog Planner Printable package includes the following:
◆ Blog Planner Cover
◆ Mission Statement and Vision Board
◆ Blog Contacts
◆ Password Tracker
◆ Advertisement Tracker
◆ Affiliate Tracker
◆ Email Campaign Tracker
◆ Sponsored Post Tracker
◆ Facebook Advertising
◆ Facebook Post Planner
◆ Giveaway Tracker
◆ Guest Posts Planner
◆ Guest Posts Tracker
◆ Social Media Calendar
◆ Undated Monthly Planner
◆ Monthly Stats
◆ Monthly Blog Goals
◆ Monthly Goal Tracker
◆ Weekly Blog Planner
◆ Weekly Goal Tracker
◆ Monthly Income
◆ Monthly Expenses
◆ Yearly Finances
◆ Yearly Review
◆ Yearly Blog Goals
◆ YouTube Monthly Stats
◆ Monthly Video Planner
◆ YouTube Video Ideas
◆ Weekly Video Planner
◆ Inspirational Quotes
◆ Notes / Thoughts
◆ Dotted Grid (for bullet journaling)
◆ Graph Grid
This Printable Blog Planner Binder is available for instant download in a PDF file format that you can print at home or your local printing firm.
The finished size of the planner is 8.5x11 inches!
Please note that the files are non-editable and will come as shown in the preview images. Make sure to check the text and design before making the purchase and most definitely, before printing.
How to access the Printable Blog Planner PDF files?
This package comes with PDF planner pages.
There may be zipped files in the package, so feel free to use this free online tool to unzip the files: https://www.mapleplanners.com/unzip
Printing
Simply download, edit, save, and print. You can print as many copies as you want for your personal use.
PLEASE NOTE:
◆ There will be no refunds once a digital file has been sent out. If you need any revisions to the PDF, please feel free to contact us; we can certainly work with you to resolve any issues.
◆ Colors may vary depending on the monitor and printer styles and settings.
◆ These files can be printed for your PERSONAL use only. Redistribution by any means is prohibited.
INSTANT DOWNLOADS:
Your files will be available to download instantly. There will be no physical items shipped.
Thanks for stopping by!
The Blog Planner Printable