15 Smart Ways to Save Money during the Holidays
As soon as summer wraps up, it's time to start thinking about the holiday season. Although I love the festive events around this time, the holidays bring along the stress of shopping and budgeting.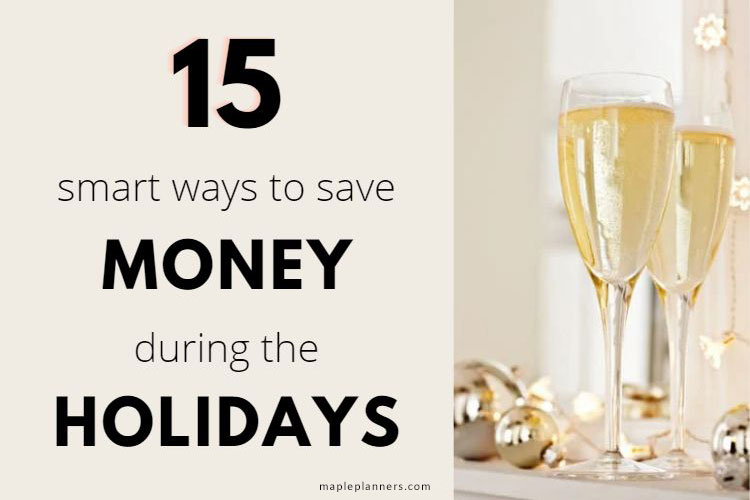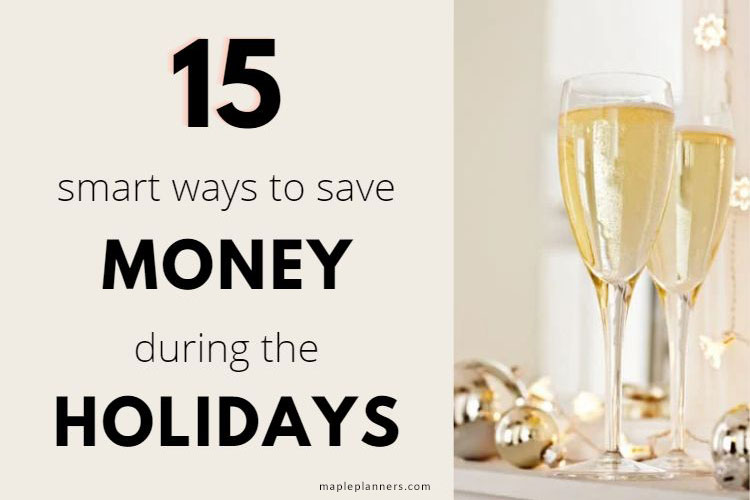 This post contains affiliate links and we will earn commission if you buy the products through those links. For more information, please read our disclosures here
I am always up for finding ways to keep finances under control. The holiday season is no different.
Most of the time, it ends up being the most stressful time of the year for many families. Planning ahead of time helps me take out the stress. I try to write things down as much as possible. A Holiday Planner can help organize ahead of time. You can create lists of gifts, shopping items, party guest lists, holiday decor items, and so much more!
If you have been looking to avoid the shopping and budgeting stress, do follow these money saving tips for the holiday season, which are not only helpful to keep your budget in control but also keep you sane, well, most of the time!
1. Make a Gift List
I love to write things down and have always been a list person. It helps a lot when I make a list of anything I need to do. Same with the holiday season, I write down the list of people you need to give the gifts to. No matter how small the gift is or how young the gift receiver is.
I used this Christmas Planner last year and was very happy to see everything going pretty smoothly. Needless to say, I created one for this year, too, and enjoying using it.
If you prefer to keep your gift list on your smartphone, there are many apps available that you can download and make your life much easier. Here are some free and paid ones that let you make your gift list easy to maintain.
2. Compare Shopping Services
Even if you find that perfect gift for your cousin, do not get tempted to buy it immediately. Compare with other shopping services and see if you can get the same item at a lower cost.
Look out for shipping prices and other taxes. There are sites like Amazon that offer free shipping on purchases that exceed $35. Check out the sites like Price Grabber, Shopping, and Shopzilla. Chances are you might find a much better deal on one of these sites.
3. Set up your Budget
I follow Envelope Budgeting System to keep track of our income and expenses. Then we allocate money for each category. I add an extra envelope for the Holidays category, where we allocate extra money for our holiday budget, considering the gifts, parties, outfits, and dining out.
If you happen to do a gift exchange with family or friends, keep a limit on how much you will be spending on those gifts.
It helps me stay organized and keeps me from spending extra cash or getting carried away if I see something I have been eyeing for a long time. It is very important to set up the budget beforehand to control your finances and helps you save money.
4. Use Rakuten
If you love to shop online, you can take advantage of Rakuten, formerly Ebates. Not only can you save money when you shop via Ebates, but you end up making money sometimes.
How does Ebates work, you wonder? Let's say you want to shop at Amazon. Visit Ebates, which will take you to Amazon. You buy a laptop worth $500. Ebates makes $10 on the sale, because they advertised for Amazon. Ebates in turn, pays you $5 to thank you for shopping via Ebates. Basically, you get 1% cash back on your purchase.
Many popular merchants are part of Ebates, including Amazon, Walmart, Sephora, Best Buy, and many more.
5. Use Groupon
Groupon is an eCommerce marketplace that connects subscribers with local merchants. Most of the time, they have great deals on local activities, goods, services, and travel destinations. Groupon earns money through the commission it generates when selling through every coupon it sells.
6. Black Friday and Cyber Monday
There are some really great deals going on on Black Friday and Cyber Monday. The price drop is significant during these days, especially on electronic gadgets, clothing items, toys, etc. You can use sites like CyberMonday or Dealio to see the coupons and offers for free shipping.
Keep one thing in mind tough, purchase only those things that you think are really worth buying. Generally, when there is a sale, we tend to buy and stock up on things we don't really need. And before we know it, the bill adds up. So make sure to keep your budget in mind, and shop for only those things that you really really need.
7. Shop Online
Shopping online is always fun. Not only can you shop from the comfort of your home, but you can also get stuff delivered to your home. Black Friday and Cyber Monday always have some great deals. Try to find items from your gift list online.
Most online retailers offer free shipping above a certain price. But if you can't find a free shipping option, simply add the items to the cart, but don't checkout. Chances are that you may receive an email or two from the retailer offering you free shipping or some percentage off.
8. Use Honey with Google Chrome
I love online shopping because you can find so many great deals and apply coupon codes whenever possible. But finding coupon codes may seem tedious, and you may not always find the good ones. While searching online, I found this cool tool called "Honey for Chrome."
How does it work?
You can use it with Google Chrome. Browse via Chrome and add items to your shopping cart, Honey searches for coupon codes across the internet and adds to your shopping cart. You no longer have to search for coupon codes on different sites.
Visit JoinHoney to get an extension on Google Chrome.
This FREE tool can find and add the best available deals to your cart. You can even get cash back from thousands of stores. It finds the best deal by automatically comparing different sellers in the Amazon marketplace. Cool, right?
9. DIY Gifts
Handmade gifts are so awesome. I love giving and receiving them. They add such a personal touch to any gift.
If you like Do It Yourself projects, look for inexpensive Homemade Gift Ideas that are perfect for loved ones. You will find great DIY and Craft ideas on Youtube and Google.
10. Use Cash
As much as possible. As mentioned above, Envelope Budgeting is effective in helping stay within budget. When you use cash, you can see how much money you have, how much you spend in one day, and how much is left. Just visualizing money makes so much difference.
11. Use Credit Card with Cash Back Option
Most of the time I avoid using my credit card. But if I have to use my credit card for big purchases, I make sure I am getting cash back.
A cash back credit card provides 1% or 2% cash back, sometimes even more, when you buy items like gas or groceries. When making purchases using cash back credit card, you can expect to get a percentage of cash back into your account. A rewards credit card offers rewards on big purchases.
My sister was able to earn a free speaker system after accumulating enough points on her credit card. Similarly, I use a merchant's credit card where I get a certain amount off of my groceries bill.
If you like to pay the minimum balance and carry the rest of the amount to the next month, find a credit card that offers 0% interest on the remaining balance.
12. Plan Ahead and Start Shopping Early
Start planning early and get the gift shopping and other holiday shopping over with. By starting and finishing early, you will feel more relaxed and be able to spend time with your family during the holidays.
If you're anything like me, you will be tempted to buy that cute little gift you see in the showroom, but you have got to stop yourself right there. Because as soon as you enter that store to buy that cute little gift, there will be so many other cute gifts staring at you. So what you end up doing is buying some more. So nip it in the bud, and just don't feel tempted to buy another gift
13. Travel Plans during Holidays
Most people plan to travel during the holiday season. If you have travel plans as well, make sure to plan early. There are many sites like Kayak, Expedia, and Orbit that have some great travel deals during a specific period of time. Keep an eye out, or subscribe to their newsletter. They announce these deals to their subscribers from time to time.
Also, if possible, plan your holidays a bit further away from holidays, either before or after. If you plan during the holidays, chances are you will run into huge crowds at the airports or cars on the road. Remember, you want to relax during the holidays, not stress out.
14. Sign Up for Newsletter
Newsletters have become one of the major sources of getting firsthand information on upcoming deals and bargains. Many of them start at midnight, so be prepared to grab deals on these items ahead of time.
You can even stock up for the next event when these stores are trying to get rid of unsold items. I am signed up for many brands where I can buy toddler clothing and toys at much reduced prices.
I am planning to shop for my nieces and nephews when I get notified about the next big sale. I would be spending a lot of money otherwise if I were to just shop at regular prices.
15. Join Social Groups
Most brands have social accounts on Facebook, Twitter, Instagram, and Pinterest. They post about discounts and sales on these pages. They even post coupon codes that their followers can use with their next purchase.
Most of the time you only have to like the Facebook fan page or retweet an offer. That's all it takes to get the coupon code. So keep an eye on the brand's social accounts to reap the maximum benefits for the holiday season!
How do you save money during holiday shopping? Please share your tips and tricks in the comment box below!