Rakuten Review: How this Cash Back App helps Save Money
Want to save money while earning extra cash? Rakuten helps you do just that. This Rakuten Review is all about Rakuten and how it helps save money while earning cash back.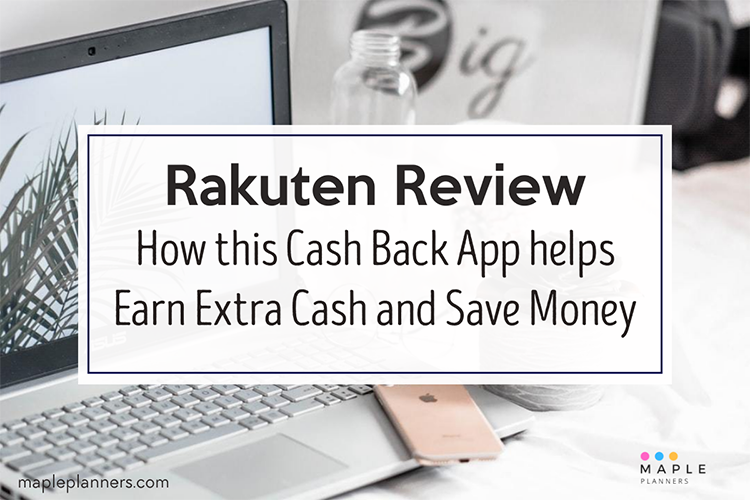 This post contains affiliate links and we will earn commission if you buy the products through those links. For more information, please read our disclosures here
I have always been skeptical about cash back schemes, and try not to participate in most of them.
When I first heard about Rakuten (formerly Ebates), I was a non believer. I did not believe that you can earn extra cash back and even make money, without putting in any money.
Related: 7 Ways You Can Save Money This Week
Yes, Rakuten is one such cashback site that allows you to earn cash back when you make purchases on your favorite websites through them.
Sounds unbelievable?
I felt the same, until I actually used them and saw real money in my account.
Feeling intrigued? Let's find out more about this affiliate marketing company and see how it actually does that.
Rakuten Review: What is Rakuten and how does it work??
Rakuten is a free cash back service that allows you to earn percentage of what you spend while shopping. Normally you will earn 1% – 30% depending on your online purchase through Rakuten.
You just have to make sure that when you go shopping online next time, you visit your store link where you plan to shop via Rakuten. For that you have to create an account with Rakuten, login and click on your store link and shop away.
That's all.
With no extra effort from your side, you will end up earning cash back while shopping.

For example, if you want to shop with Sephora, this is what you can do:
Register with Rakuten;
Login to your account;
Search for Sephora in the search bar;
Click on Shop Now; and you will redirected to Sephora;
You can continue shopping from there!
Pretty Straight forward, right?
There are over 2500 retailers on Rakuten where you can earn cash back and claim rebates with.
The big retailers like Amazon, Walmart, Target, Nordstrom and Sephora are among few where you would shop regularly and can be eligible for cash back through Rakuten.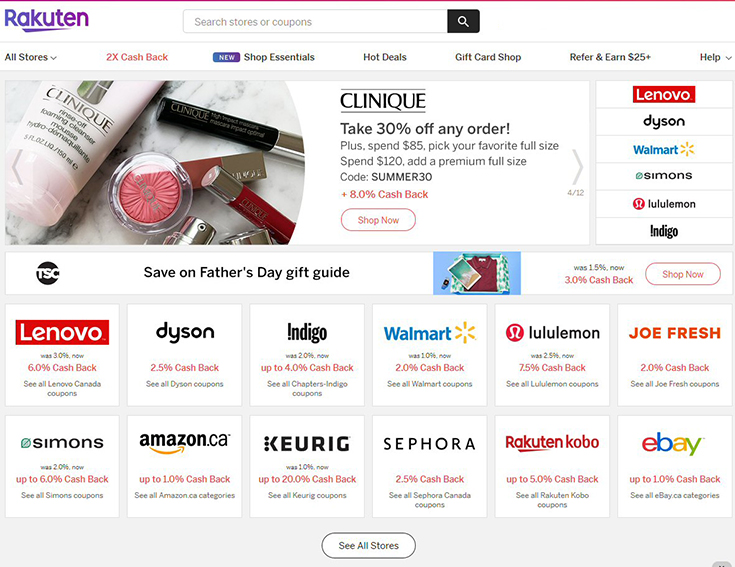 When you sign up as a new member, you are offered cash bonus or gift card.
Is Rakuten Legit? Can I trust this cash back app?
Rakuten has an A+ rating with Better Business Bureau. If you want to check out more details make sure to head over to Better Business Bureau and read through all the reviews on the site.
It is 100% free to join. All you need to start making money with them is to create an account and should have an active email address. You are not asked to pay anything upfront or asked for any financial information.
There is a strict policy in place that claims that they will not sell your personal information to any third parties.
That in itself surpasses the trustworthiness of this affiliate marketing company.
Rakuten Review: How does Rakuten make money?
My first thought exactly, but when I learned about their structure I was pretty impressed.
Rakuten is an affiliate marketing company. As an affiliate marketer, Rakuten gets rewarded by the companies and brands for directing consumers to buy from their site.
Related: 7 Simple Ways to Save Money at Target
So when you, a consumer, clicks and shops on Sephora site by clicking on their link via Rakuten, Sephora pays them commission for directing you to their site. And Rakuten shares that commission with you as an incentive to shop Sephora via Rakuten.
You see, how this is a win win for everyone.
Each retailer has setup different commission percentage with Rakuten. So depending on their business model, the cashback offered to the consumers varies.
Rakuten Review: Is Rakuten FREE to use?
Yes, it is free to use Rakuten. You don't have to pay anything when you start with them or shop via them.
All you have to do is create an account with them, using your email address and setting up your secure password.
You also get the option of using your Google or Facebook account sign in.
New members receive a cash bonus or a gift card as a thank you to join the Rakuten family.
You will receive this welcome bonus after you spend $25 or more within 90 days of becoming a member. To qualify, you can;
shop at any store on Rakuten.com that offers cash back;
shop using Rakuten Mobile App that offers cash back;
shop at particpating Rakuten in-store cash back retailers.
Rakuten Review: How do I use Rakuten to earn cash back?
You have the flexibility to shop using one (or more) of the following ways that Rakuten offers to earn cash back on your purchases.
Sign up with Rakuten, and start your shopping
Create your free account with Rakuten and sign in. Start your shopping from there by visiting retailers link from Rakuten's site. You can browse their retailers list or simply search for the one you are looking for.

When you browse and visit an online store via Rakuten, if they offer cash back, your shopping trip will be tracked to make sure that you get your cash back credit.
Download the Rakuten Cash Back Browser Extension
This is the easiest method to remember using Rakuten every time you shop online. When you first register and sign in, you will be prompted to install the Rakuten plugin.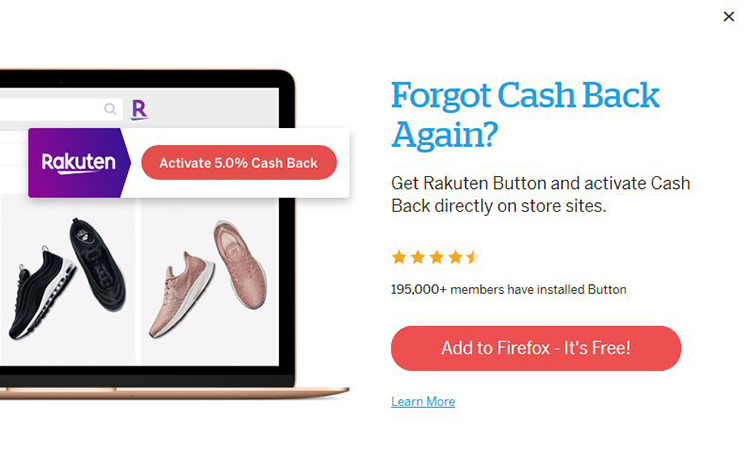 It is very easy to install and one of my preferred methods to use while shopping.
Simply shop as usual at an online store, and you will get the Activate Cash Back notification if your purchase qualifies for one.
Love to save using coupons? This browser extension will search for eligible coupons and notifies if there are any coupons you can apply. You just have to click Apply Coupons.
Related: How I Saved over $480 on My Internet, Cable and Phone Bill
I use Firefox so I use the Firefox extension. They also support Chrome, Safari and Edge. When you use the browser extension, you don't have to visit Rakuten website.
You can go directly to the web site of the retailer. If Rakuten offers cash back for that retailer, you will automatically get a drop down box.
You just need to click on the Activate Cash Back button to track your shopping route.
Rakuten Mobile App
Are you always on the go?
If yes, you will love using Rakuten Mobile app available on Apple iPhone and Google Play Store. Many people prefer shopping on their phone since it is so convenient and you can do it from anywhere.
Not being at home shouldn't mean you lose that flexibility of earning cash back.
Download the Rakuten App by visiting app store on your smartphone. Activate the App by clicking on Rakuten link.
Related: Price Book Budgeting: How To Save Money On Grocery Shopping
When you start your shopping trip, you will get the notification within the window to let you know that the cash back has been activated for that trip.
It will also let you know if there is no cash back available.
From their shop around and make your purchases as usual. Your shopping trip will be tracked and cash back credit added to your account once you complete your purchase.
Double Cash Back
This has to be my favorite thing about Rakuten – they frequently offer double cash back. When you visit their homepage, you will see the sites that they are featured for double cash back.
They rotate through these stores regularly, so you can check back frequently to see if there is a double cash back at a certain store.
Holidays and special occasions are one of the most popular time to get double cash back, so make sure to keep checking if your favorite stores are included in the offer.
Rakuten Cash Back Visa® Credit Card
When you apply for and receive your Rakuten Cash Back Visa® Credit Card, you can start saving money right away.
Every time you make a purchase with your credit card from the stores and online sites that have partnered with Rakuten, you earn cash back.
Related: Simple Way To Keep Your Budget Under Control
There are many benefits and perks from using this credit card, like you get extra 3% cash back on qualifying purchases on Rakuten.com or by using the Rakuten App.
You get $10 first purchase bonus after the first purchase using your Rakuten Cash Back Visa® Credit Card. You will also earn 1% cash back on purchases everywhere visa credit cards are accepted.
There are no annual fee so you don't have to pay extra to keep using this credit card.
Travel and Vacation Purchases
Not only on store purchase, but Rakuten offers cash back on travel related purchases as well.
You can book your airline, car rental, hotel or other travel reservations through Rakuten, and earn cash back. Your cash back will be activated once your trip is complete.
When you search or browse through you will find popular hotels like Choice Hotels, Best Western, Expedia, Days Inn etc. So make sure to take advantage of earning cash back whenever you plan your next trip.
Hot Deals
Hot Deals tab on top of Rakuten website features different hot deals everyday. These featured deals may include offers like double the cash back for special occasions like Father's Day. You may see a Free Shipping option from another retailer.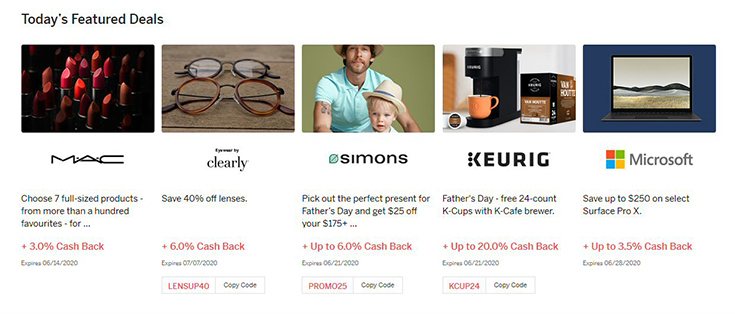 Rakuten Referral Program
Rakuten has a great referral program where you can earn a commission for referring people to Rakuten. When they sign up, you earn commission.
There are many ways to refer others to Rakuten. When you login into your account, you will be assigned a sharable link that you can share with your friends, or on your social media.
To be eligible to earn your commission, your referred members should have signed up using your unique link and make a minimum purchase within a year of joining.
You will be paid your referral bonus within 60 days of the person you referred to makes their first qualified purchase.
You can check your referrals by clicking on the section "Your Referral Activity" in your account.
Rakuten Review: How do I get paid by Rakuten?
There are three ways that you can choose from to get paid when you have accrued cash back.
Paypal Direct Deposit;
Amazon e-gift Cards; or
Physical Check
You get paid quarterly and there is a condition of no payment if you accrue less than $5 during a quarter.
Rakuten Review: Are there any pros and cons of using Rakuten?
I was pretty impressed when I used Rakuten the first few times and I am surprised I still use it when I go shopping online or in store.
Just like any other program, there are pros and cons of using it. I have listed these below. You can check these out and see if Rakuten is a right fit for your shopping requirements.
Pros:
It's free to register;
The website is very easy to use and navigate;
You start earning cash back right away when you start shopping on your favorite stores via Rakuten
It's effortless, meaning you don't have to do anything extra. You were planning to shop anyways and end up earning cash back;
There are over 2500 retailers to shop from. That's a lot of choice to shop from and earn extra cash back.
You have three options of using Rakuten – via their website, Browser Extension and Rakuten App. That means you are not restricted from earning cash wherever you are. You can shop from the comfort of your home or outdoors using your smartphone, you still earn cash back.
Low payment threshold of $5
Cons:
As a Rakuten member, you get paid quarterly. Their big fat check or Paypal payments arrive every three months. To some it may seem like a very long time to receive their cash back.
Impulse buying, is something I am guilty of. I have purchased items that I did not need immediately. Extra cash back sounds very appealing so many of us end up spending money that we didn't have to.
Most in demand products have not offer cash back. This has happened to me when I purchased television from one of the electronics store, not knowing that there this product was exempt from cash back.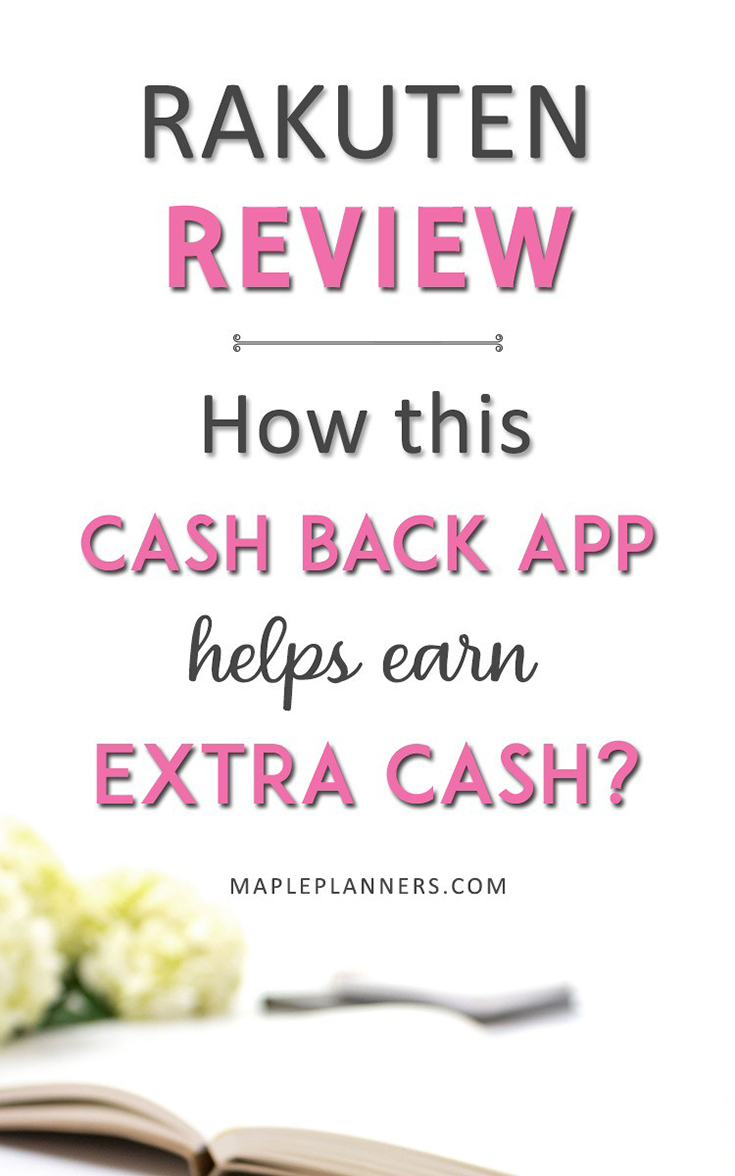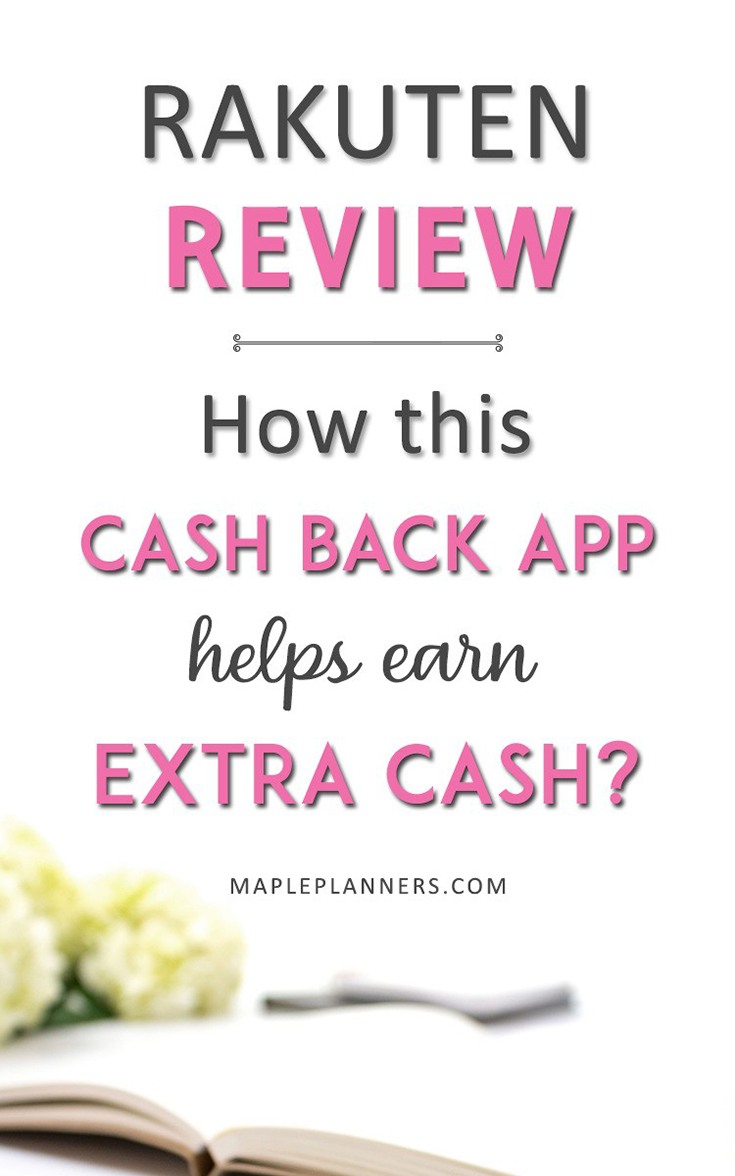 Rakuten Review: Is Rakuten really worth it?
I normally wary of using cash back schemes, and stay away from them as far as possible. But with Rakuten, I am so used to using it now whenever I want to go shopping – online or in store.
When I look at the pros and cons of using Rakuten, pros of using this cash back site outweighed the cons. I don't mind the quarterly payments. It's good to see some kind of money in my account even after few months.
Since I am more of a desktop person, that's where I shop from. So I love to use their browser extension.
When I open a store's website, I get notification from Rakuten browser extension how much cash back I can expect from my purchases.
I can save more money with one click by applying the coupons they find for me on the items I am interested in.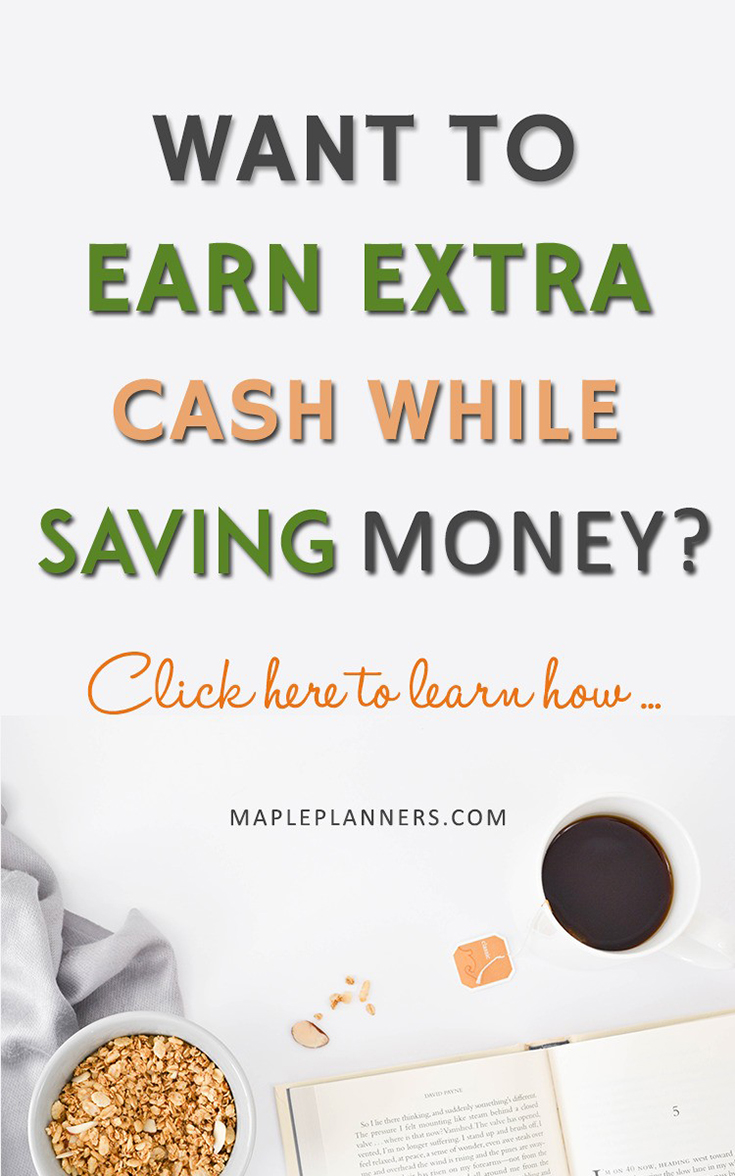 I also love that there are over 2500 stores connected to Rakuten. Most of the stores that I shop from are there, so I end up earning cash back most of the time.
Rakuten is a legit ecommerce and affiliate marketing network website. It offers vast quantity of stores and merchandise of different brands, shoppers are sure to find items that they like and want to shop for.
So basically, if you want to save money and earn extra cash back, Rakuten is for you.