Travel Planner: Free Travel Packing Checklist
Are you planning to travel soon? Make sure to grab this free travel packing checklist. This checklist includes the most essential parts of a trip, like checking for important documents, finances, health, medical essentials, etc.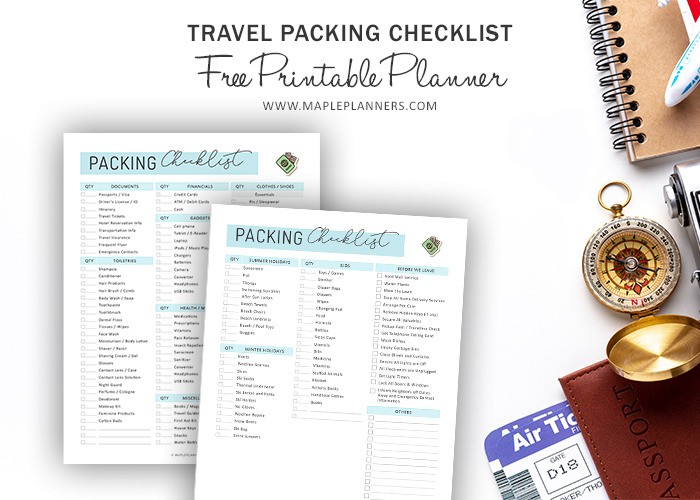 This post contains affiliate links and we will earn commission if you buy the products through those links. For more information, please read our disclosures here
As much as the vacation sounds exciting, it can also get pretty stressful. From researching where to go for a vacation to booking the tickets, packing the bags, and putting someone in charge of the house and the pets, the list seems endless.
But this phase of planning and organizing your vacation can be stress free. You simply need to write everything down.
Related: Free Printable My Pregnancy Journal
I recently launched this simple yet functional travel planner set. It includes the most essential elements of what a family trip might involve.
Apart from having a relaxed and fun filled vacation, most important part of traveling is to make sure that you have all the essential documents with you, have the credit card, debit card or travelers checks, packed the required medications (if needed), packed all the winter or summer gear.
Travel Packing Checklist
You also need to make sure that you took care of the mail and delivery services, arranged for the pet care and so much more.
I created this travel packing checklist where all the important tasks that need to be done are listed.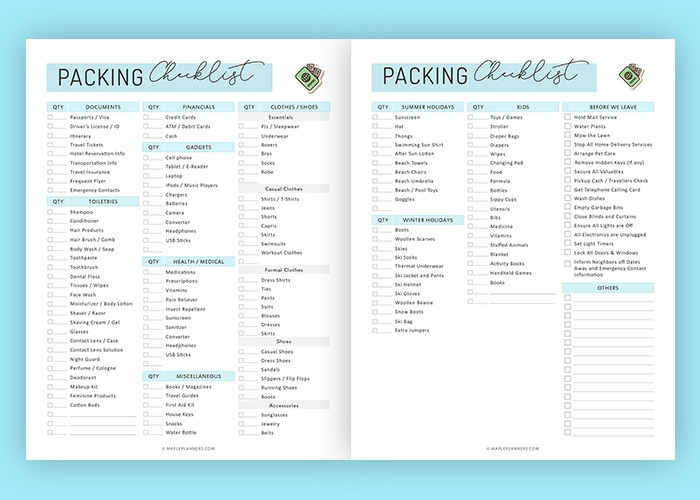 This packing checklist has been divided into different sections, making it easier to go through each item.
There are two versions included in the free download package. One is prefilled checklist and other is empty. Prefilled ones cover almost everything you need to do before you leave the house. If it is missing anything, or if you wish to make your own, you can use the empty checklist.
Related: Fun Memory Games for Kids Free Printables
Print as many copies as you want for personal use. Normally you will need two copies to cover everything up. It also depends on the number of members going to travel.
You can print one copy for each person. If you have kids, give them each an empty checklist, so that they can fill it up. You can double check later, and make any corrections.
Kids will feel responsible for taking care of their travel needs if they can fill out their copies.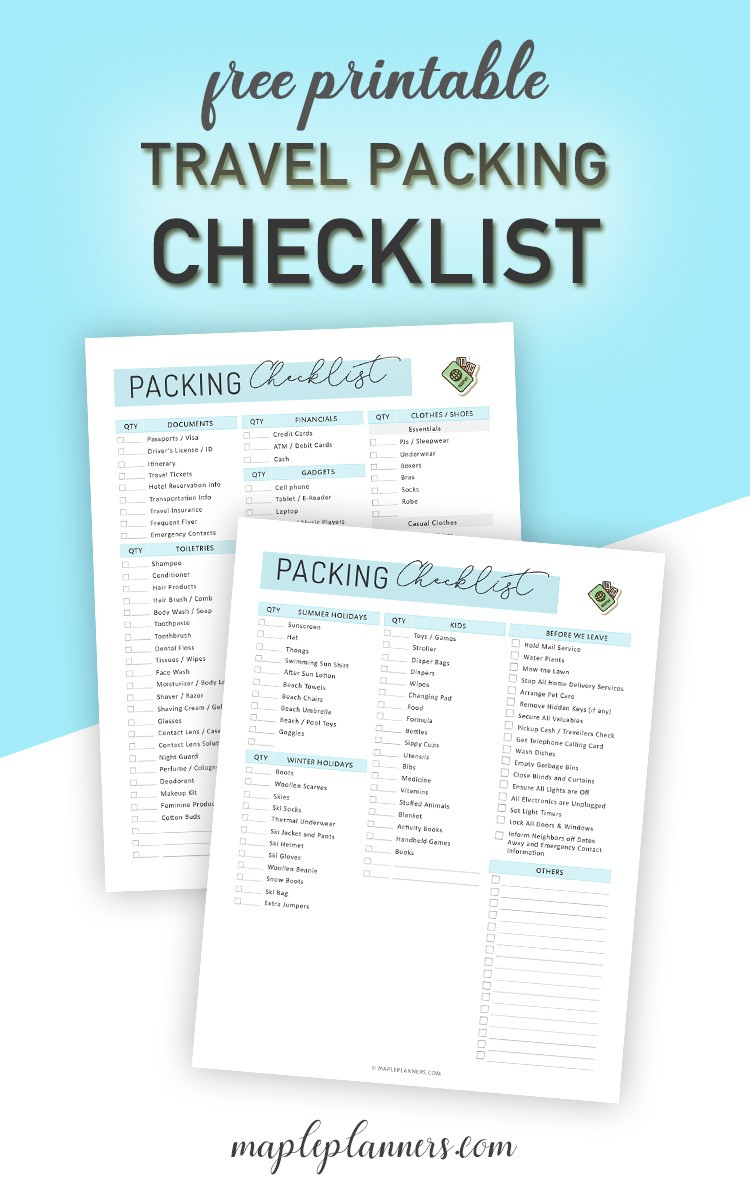 Want to get even more organized?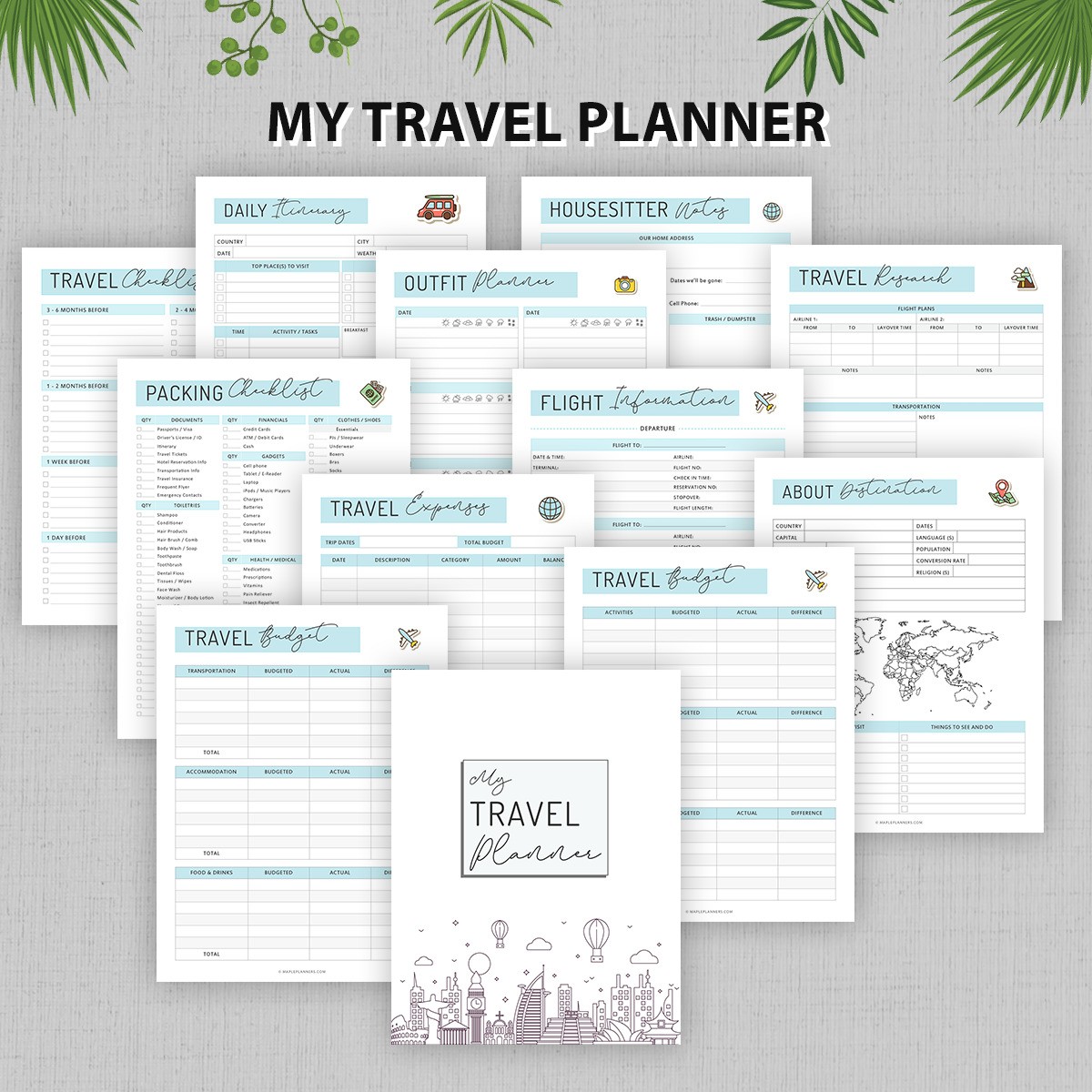 This 30 page Travel Binder is what you need. It has all the important components of traveling starting from the travel research, travel budget, travel expenses, destination information.
This is what's included in the travel binder kit:
Planner Cover
Travel Budget
Travel Expenses
Destination Information
Flight Information
Packing Checklist
Travel Research
Outfit Planner
Travel Checklist
Housesitter Notes
Daily Itinerary
Emergency Contact Information
Travel Journal
Hotel Information
Weekly Itinerary
Travel BucketList
Petsitter Notes
Tourist Attractions
Let's look at some of the pages from this cute travel binder.
Travel Budget Planner
Did you set up your travel budget?
When you go on a vacation, it is important to look at the financial aspect of traveling. So use these Travel Budget Planner Printable to budget your transportation (car rental, bus rides, etc.), accommodation (hotel, Airbnb, etc), food and drinks, activities, travel insurance etc.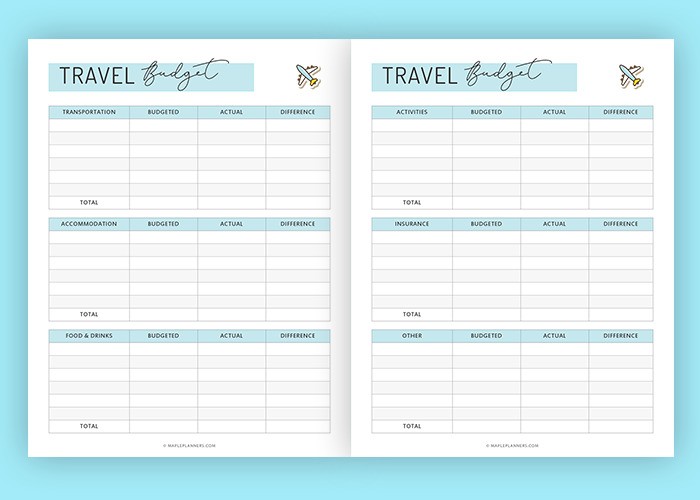 Destination Information
Find out more about your destination using this destination information page. Research and write down all about the place(s) you will visit.
The country, city, capital, languages spoken, religion followed, population, what's the weather like.
You can also color the world map, coloring the specific areas you will visit.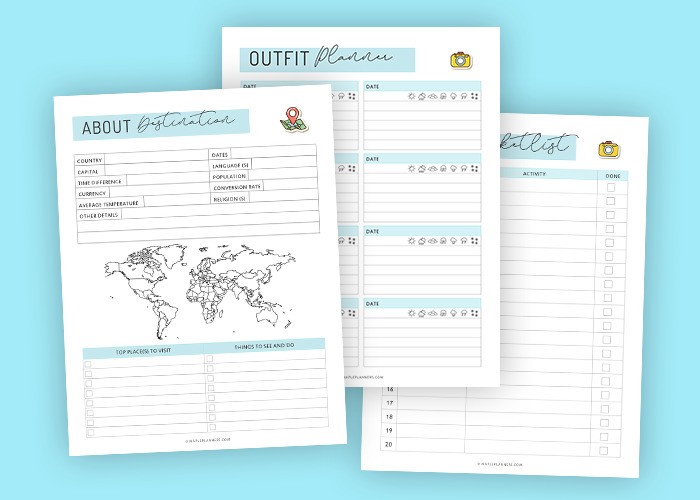 Outfit Planner
Plan your outfits according to the weather for each day using this outfit planner page. Print a copy for each member that's going to travel. This way, you will know exactly how many outfits, shoes, and accessories you must pack.
Travel Bucket List
Write down your travel bucket list for the places, and check each box off when you visit.
Daily Itinerary
Plan each day with this daily itinerary page. Write down the country and city you are in for that day. Plan your activities and the most important places to go. Budget your trip and write down expenses for each activity.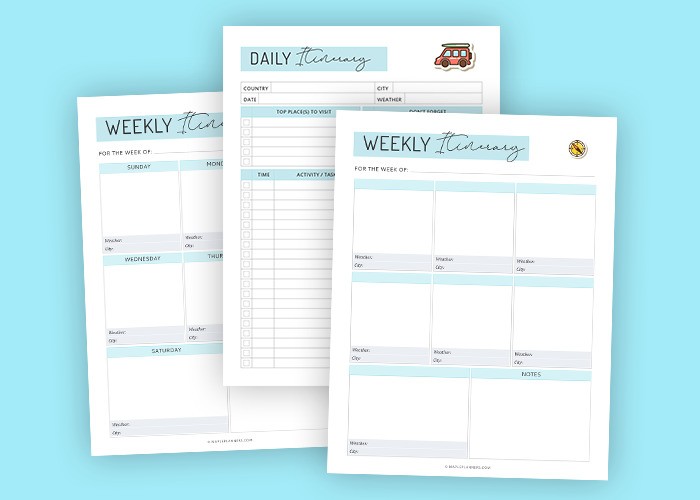 Weekly Itinerary
The weekly itinerary page can be used to plan your weeks according to the city you are in and the weather for the day. You will be able to plan your trip efficiently if you know where you will be the next day. It will so much easier to plan your accommodation and transportation accordingly.
Flight Information
Make sure to write down your flight information as well as hotel information and hand it to someone you are leaving behind to take care of your house, your family member or your friend. This way someone will have the information of your whereabouts in case they need to catch hold of you.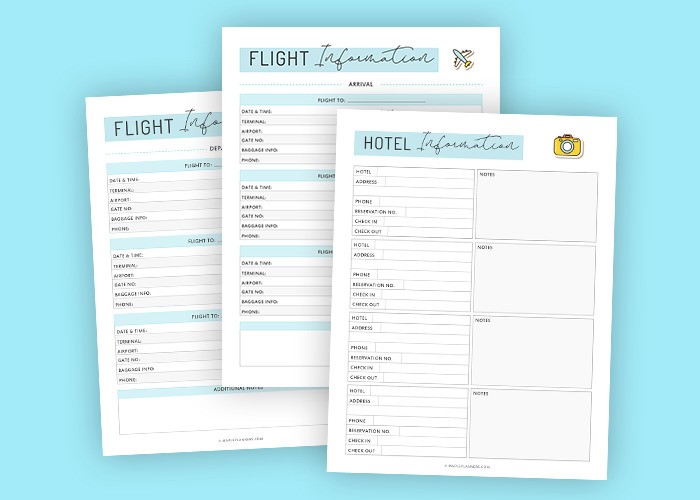 Housesitter Notes
If you have someone to look after the house and your pets, make sure to fill out these housesitter notes printables and hand them over.
Housesitter notes have every little detail like your home address, where you will be, your address and phone no of where you will be, and your return date and time.
You can also leave your passwords for WiFi, mail, and package that you are expecting and need to be picked up, the location of all the important keys, etc.
Petsitter Notes
If you are leaving behind any pets, you can fill out this Pet-sitter Notes printable and leave it for the person who will look after your pets while you are gone. Print out multiple copies you have more than two pets.
Free Printables for Kids
This was the overview of what this Travel Planner Binder looks like. Make sure to check it out and download your copy.
Fun Kids' Activities Printable
Have kids traveling with you?
Keeping them entertained during their travel time can be the most challenging task of all. Worry not; we have got you covered.
Here are some free printables that you can download from the freebies section.
These are not part of this Travel Binder but are free to download separately.
Memory Games: Download these memory games, and print two, four, or more copies of each printable. Cut them along the lines and have the kids match the characters. It keeps them busy for hours.
Maze Puzzles: These maze puzzles are so much fun and interactive games for kids. Print a number of copies of each maze puzzle and hand them out to kids whenever you think it is the right time.
Sudoku Games: Sudoku puzzles are always fun and engaging to solve. Kids will be busy for hours trying to match the correct numbers.
Road Trip Bingo: Make sure kids are busy during the long drive or plane ride. They will enjoy spotting the road signs and images associated with road trips along the way.
These games are sure to keep them busy for some time.
FREE TRAVEL PACKING CHECKLIST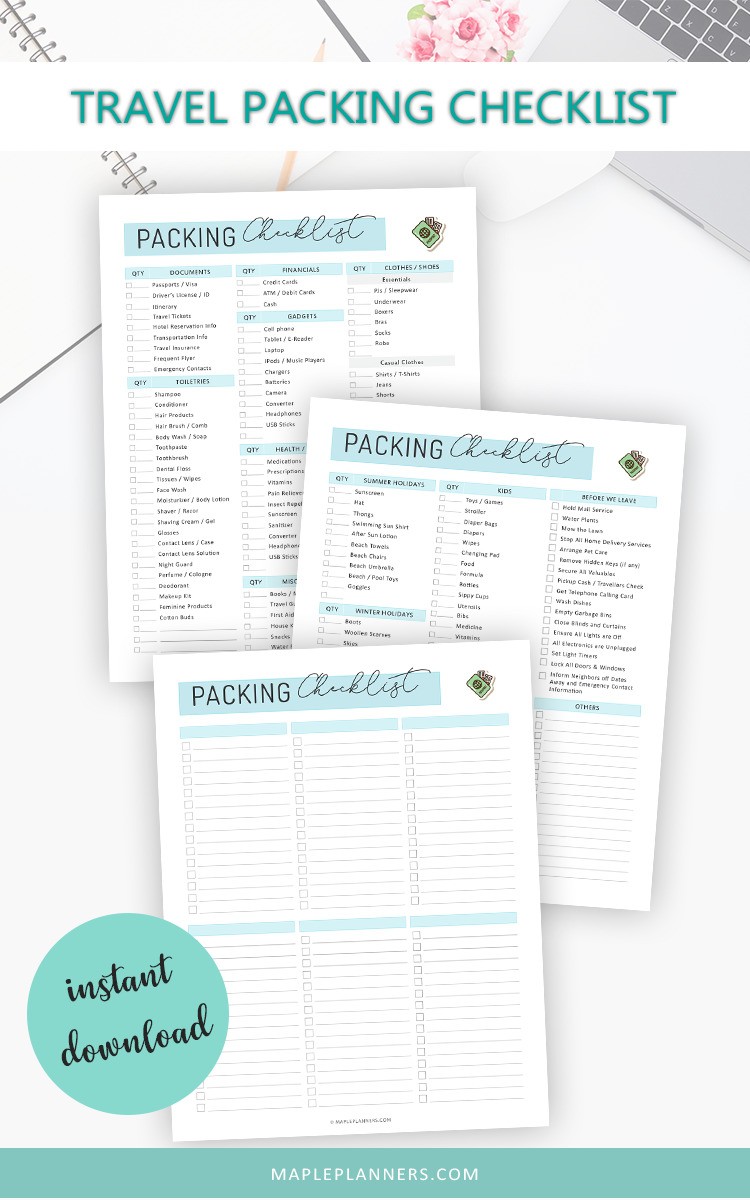 TRAVEL BINDER PRINTABLE SET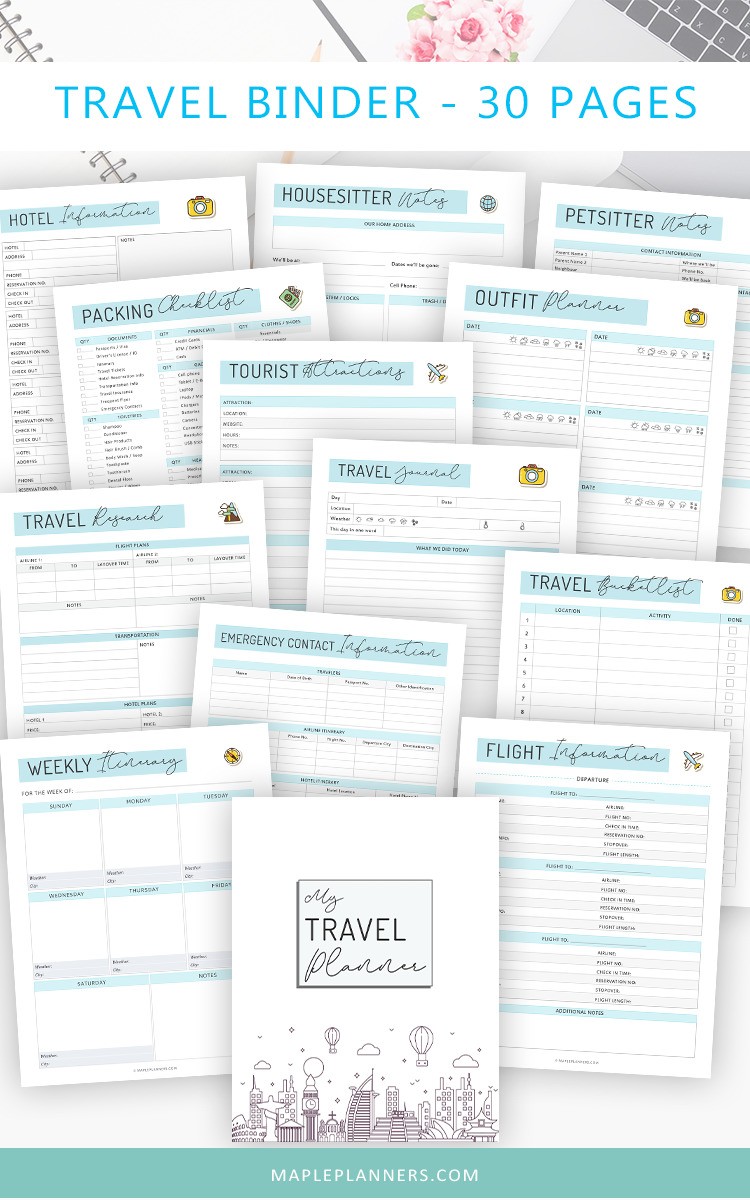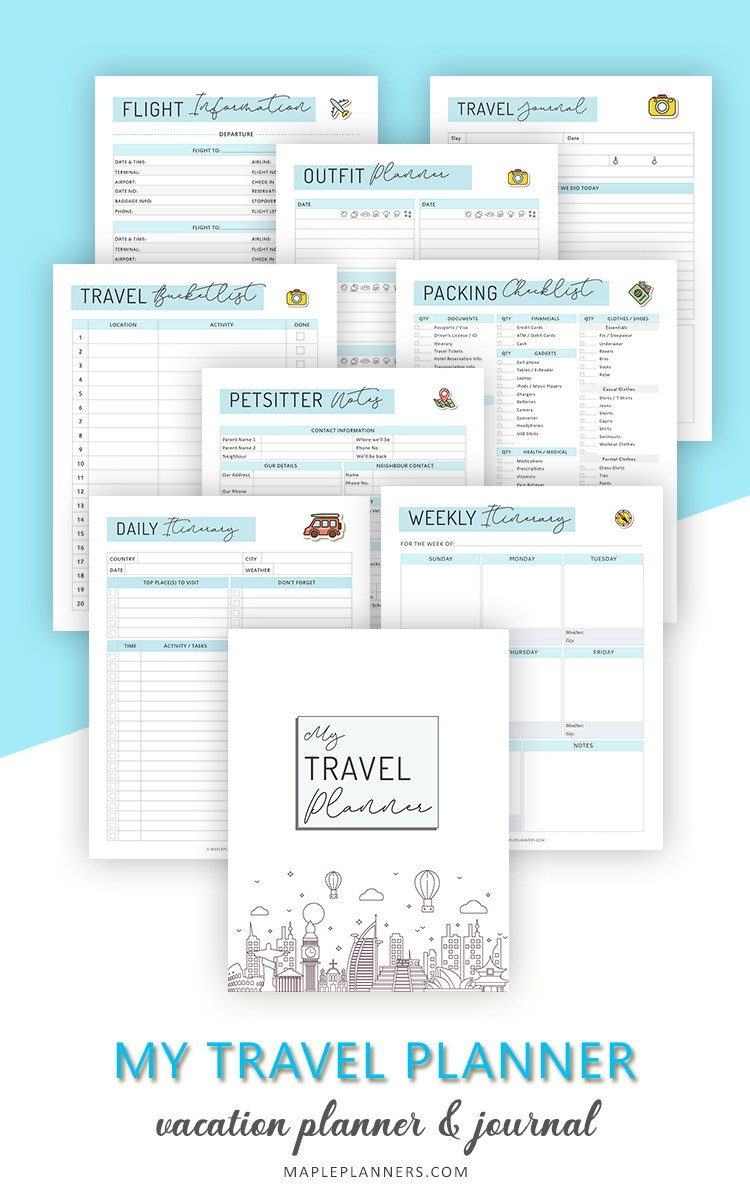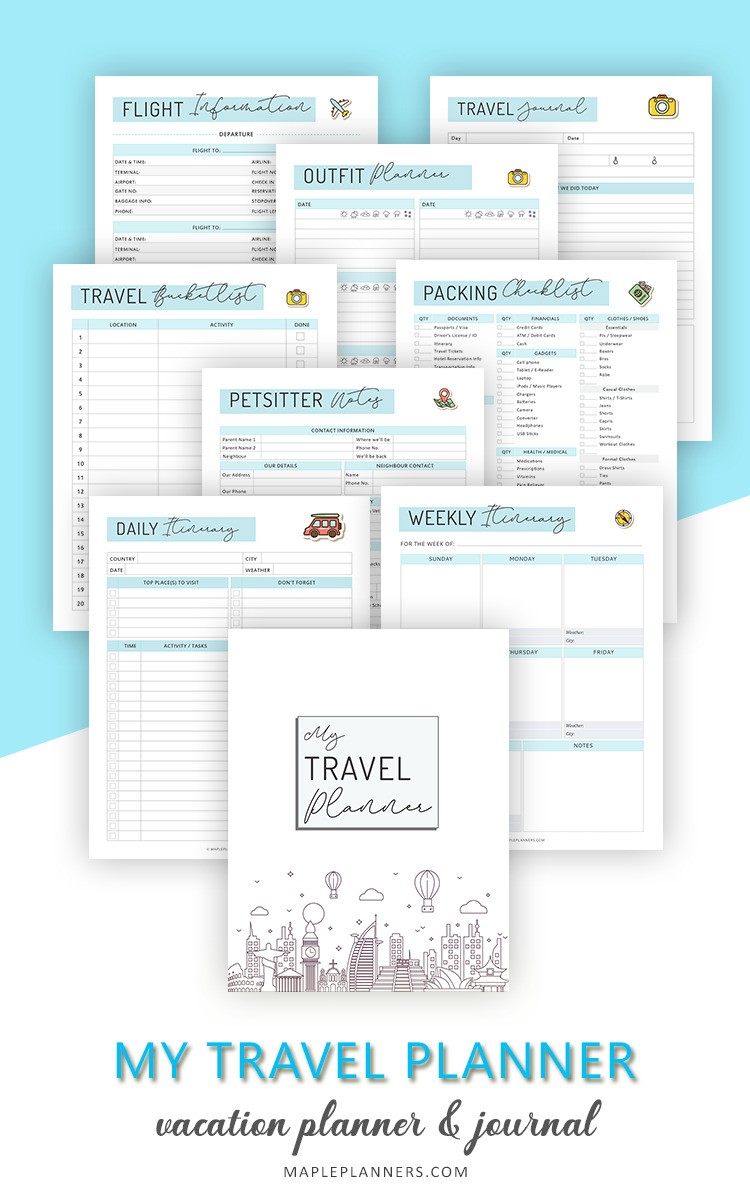 MY TRAVEL BINDER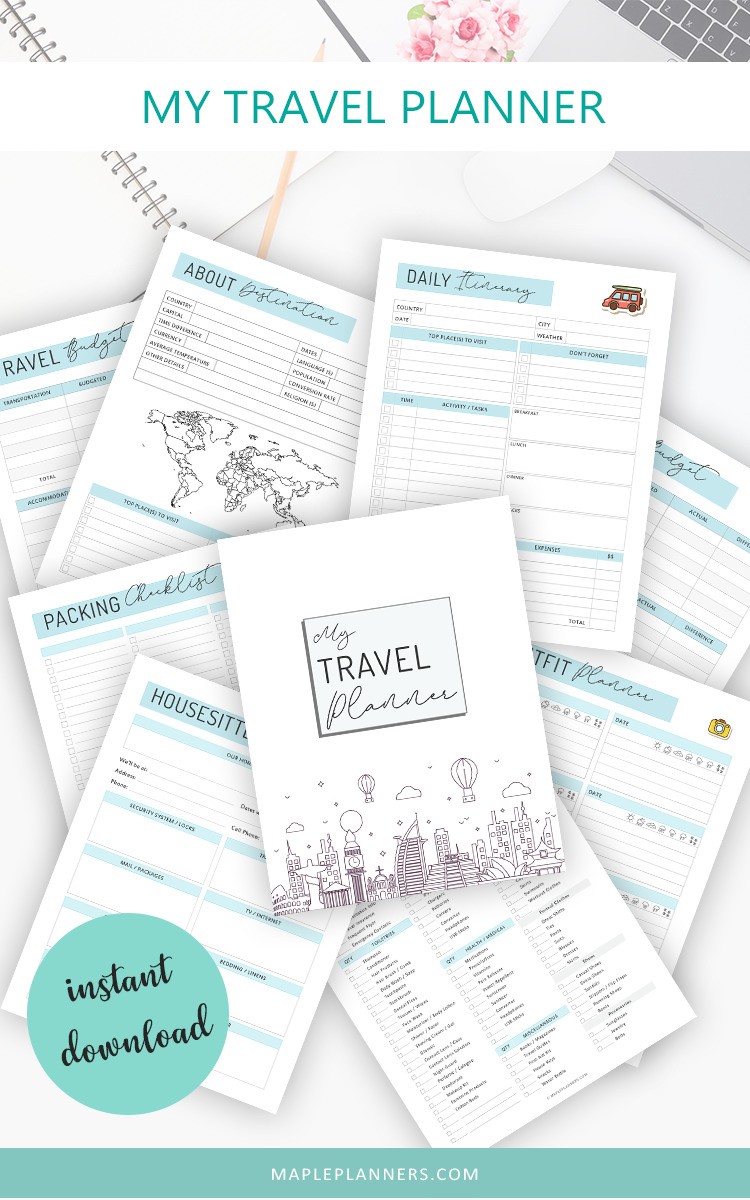 When you download and use this Travel Binder, you will feel much more organized and planned. Do you like to use any organizing tools while traveling? Please share in the comments below.