Fun Memory Games for Kids Free Printables
This post contains affiliate links and we will earn commission if you buy the products through those links. For more information, please read our disclosures here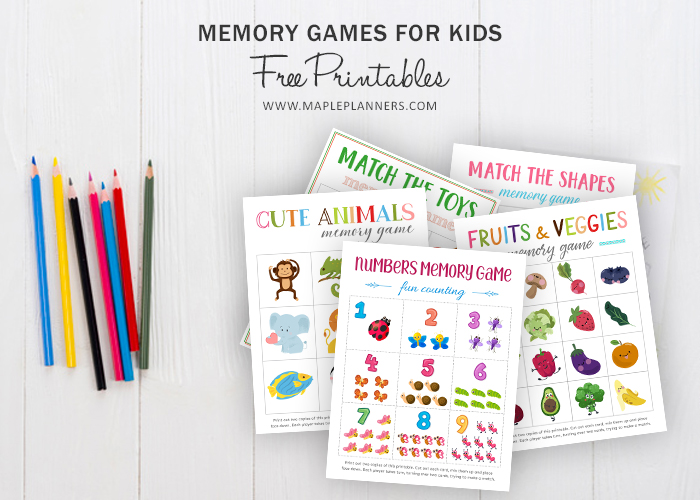 Memory games are one of those addictive games that kids love to play over and over. And I really don't mind it for the fact that these memory games not only keep them busy, but also helps with improved focus, concentration and quicker thinking skills.
These memory games are especially helpful when we are on the road or in a flight. Instead of listening to a constant "Are we there yet?", they keep busy playing these fun games. I have used these a lot when we are traveling or dining out at a restaurant. Waiting periods can be very challenging for kids as well as parents.
Fun Memory Games for Kids
I created these fun printables to take along anywhere kids might feel bored. I am so excited to share these with you today, because of the variety of elements I was able to add to each game. This package includes:
1. Animals Memory Game
2. Ocean Memory Game
3. Fruits Veggies Memory Game
4. Kids Toys Memory Game
5. Match the Shapes
6. Number Memory Game
These games are perfect for preschoolers upto first graders. If you find your kids interested in animals or ocean creatures, you can have them play with animals memory games, or oceans memory games. They will be able to recognize the images on these cards while having fun.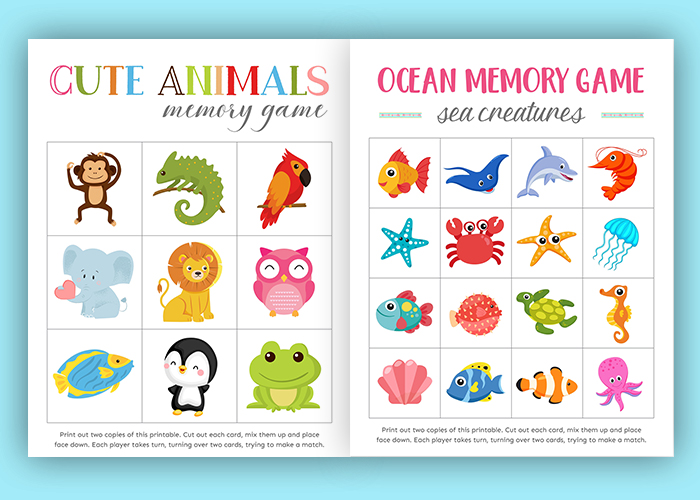 If you want your kids to get interested in eating fruits and veggies, have them play these fruits and veggies memory cards. You can educate them about healthy eating while entertaining them.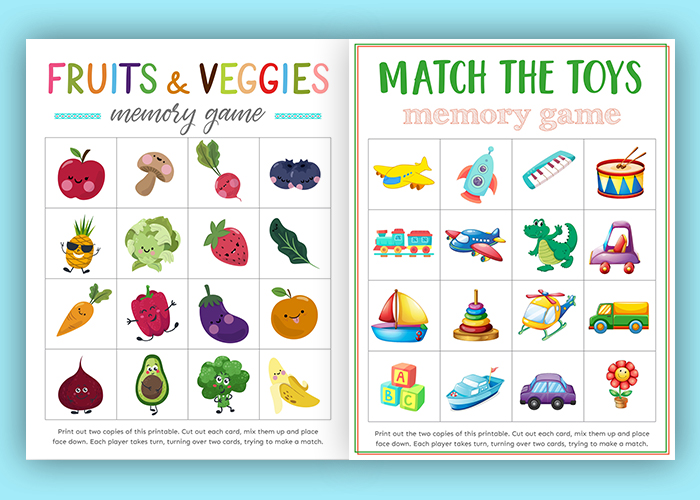 Have them count the numbers with number memory games. They can match and learn about different shapes with match the shapes game.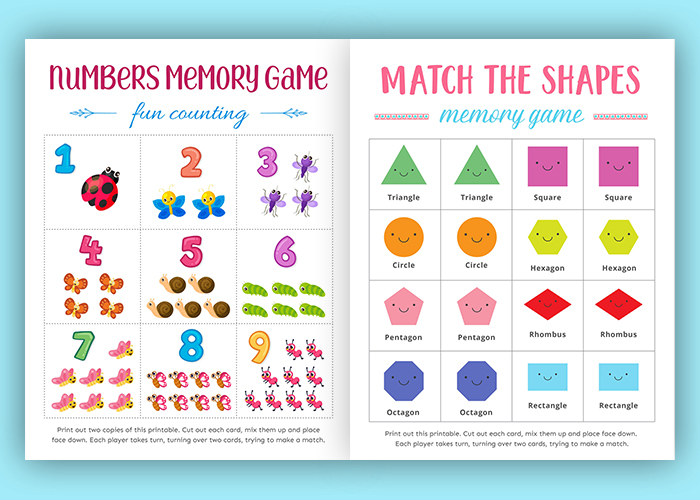 How to download and print these Memory Games?
1. Download the pdf files (of all the games or the ones you like)
2. Open the PDF files in Adobe Reader (download it from here for free)
3. Using the Print command, print on thick card stock paper. I recommend heavy card stock paper so that it looks professionally done.
4. If you plan to use these over and over, I'd recommend laminating the cards for longer durability.
5. Cut them along the lines.
How to play these Memory Games?
1. To play these memory games, print even number of copies of each game. 2 or 4, something like that to make sure that you have at least one match of each image.
2. Laminate them if you plan on using these over and over for longer durability.
3. Cut along the lines.
4. Mix up the small cards.
5. Lay them on the table or floor, face down.
6. Players take turn turning the two cards. If they match, player gets to keep them. If not, turn them back over.
7. Players need to remember what was on each card and where it was.
8. Once all the cards have been turned over and matched, the game is over.
9. To keep it going for long, print a few copies of each memory card.
These memory games have been a life saver for parents like me, especially on the long road trips or at the restaurants. Make sure to download you copies today and make those trips memorable.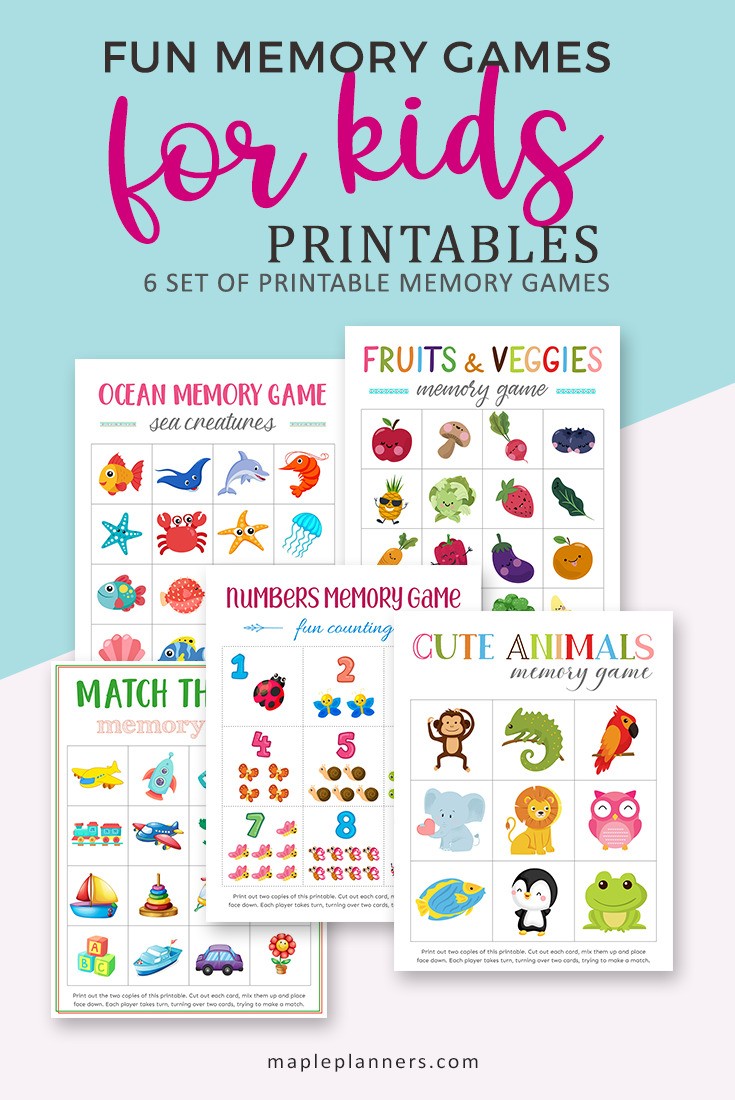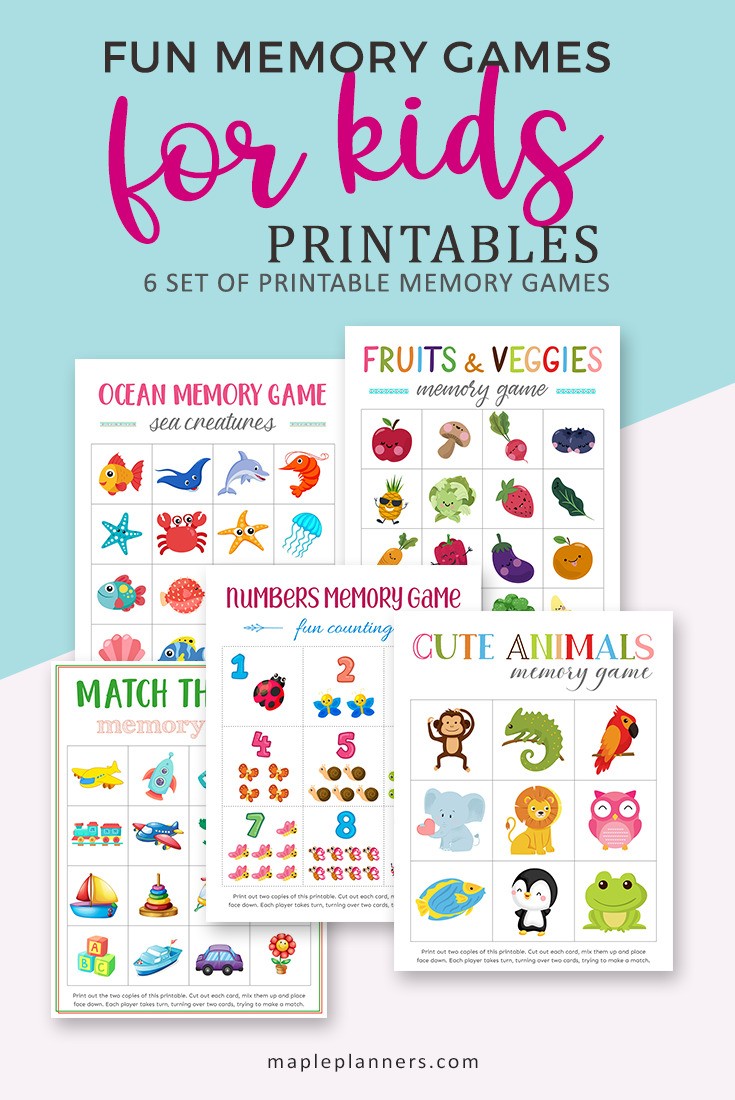 These printables are for personal use only, and may not be used for commercial use, redistribution or altered.