Weekly Planner 2019 – WO2P – Printable Planner
Can you believe it, half of the year is gone? In case, you have been looking to plan for the rest of your 2019 (you know, summer is still on, who doesn't love Fall, Christmas is yet to come), you don't want to miss these beautiful 2019 Weekly Planner 2019 printable inserts.
These simple yet elegant Weekly Planner Inserts have lot of room to write your daily appointments, important events, birthdays, anniversaries.
As it happens with all of us, it can get quite overwhelming, as the holiday season approaches. Writing everything down can be quite therapeutic. Peace of mind you feel after you check off things off your list can be very satisfying.
There are two layouts: horizontal and vertical. Lot of people prefer one over the other.
In case you want to grab these planner inserts, here's the link to grab them:
I love how the pastel colors are bright enough to bring out the chic in the planner, yet used very minimally.
These dated Weekly Planner inserts come in A5 size, Horizontal and Vertical layout, Week on 2 Pages, Monday Start and from January 2019 to December 2019. There are notes in the beginning and end of the planner.
I'd love to get your feedback on this Weekly Planner 2019 inserts. I hope you are able to use it for the rest of this year. It is available to checkout here.
Download Weekly Planner 2019 Inserts
I also offer customization, so if you're looking for something in particular, do not hesitate to contact me.
Have a wonderful Holiday Season!
This post may contain affiliate links. For more information, please read my disclosure
here
.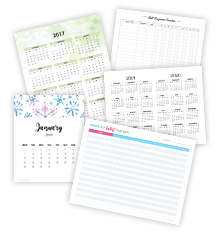 Access FREE Printables Library!
Join our mailing list to get access to huge library of freebies and exclusive deals on planner printables!