Earth Day Bingo Free Printable
Teach kids why recycle, reduce and reuse this Earth Day with these fun filled and entertaining free printable Earth Day Bingo Game Cards. These colorful cards are fun to play with pictures associated with Earth Day.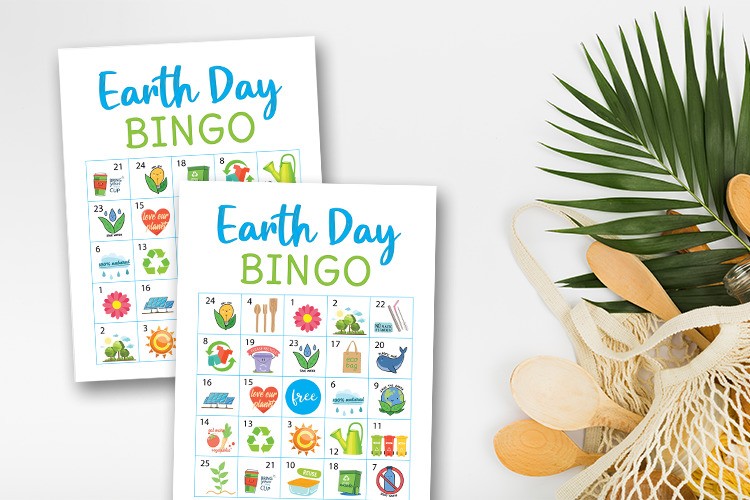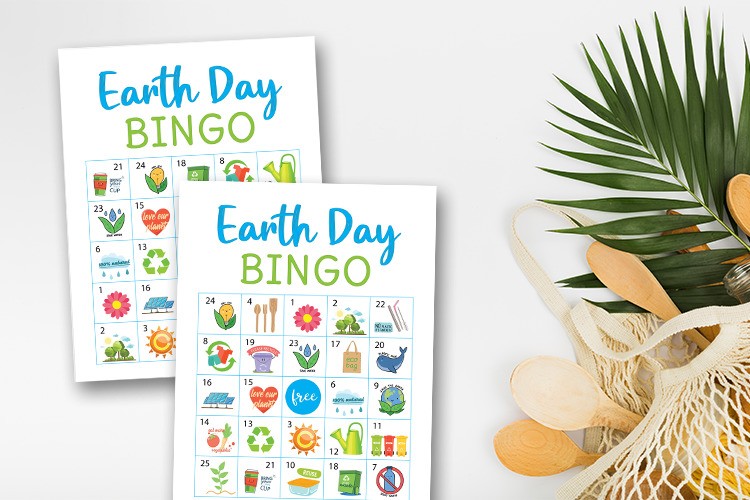 This post contains affiliate links and we will earn commission if you buy the products through those links. For more information, please read our disclosures here
Earth Day, celebrated worldwide on April 22nd, is an annual event to support environment protection and reduce waste.
As it's popularity keeps growing, this is the phenomena happening globally as more people are getting aware of why it is important to promote clean and healthy living.
Earth Day highlights how fragile our planet is and ways to make sure that measures are taken so that we can provide for the better environment for our future generations.
FREE PRINTABLE EARTH DAY BINGO
Earth Day Bingo is a great way to teach kids in a classroom, home or in a community how they can help protect this beautiful planet.
As they play this fun and engaging game and come across different images associated with Earth Day, discuss how each of these tasks is important to achieve green living.
Here are some of the simple things they can do to help protect the planet and promote green living.
Reduce Waste
Reuse Natural Resources
Recycle
Plant more Trees
Conserve Water
Shop Wisely
Use Environment Friendly Light Bulbs
Use Eco Friendly Bags
Say No to Plastic
Walk or Use Bicycle
Read Books about Earth
Volunteer for Cleanups in Community
Start a Conversation
Educate Others about Green Living
Unplug and spend more time outdoors
There are so many other things that children and students can learn about Earth Day if an interest can be generated among them.
Related: Simplifying Fractions Bingo Printable
This printable game is sure to keep kids and adults busy and engaging for a while.
One of those fun and educational activities for kids, this Earth Day Bingo is sure to be a hit while matching the pictures associated with Earth Day celebrations.
You can play this Printable Earth Day Bingo Game with kids at home, school or in a community gathering.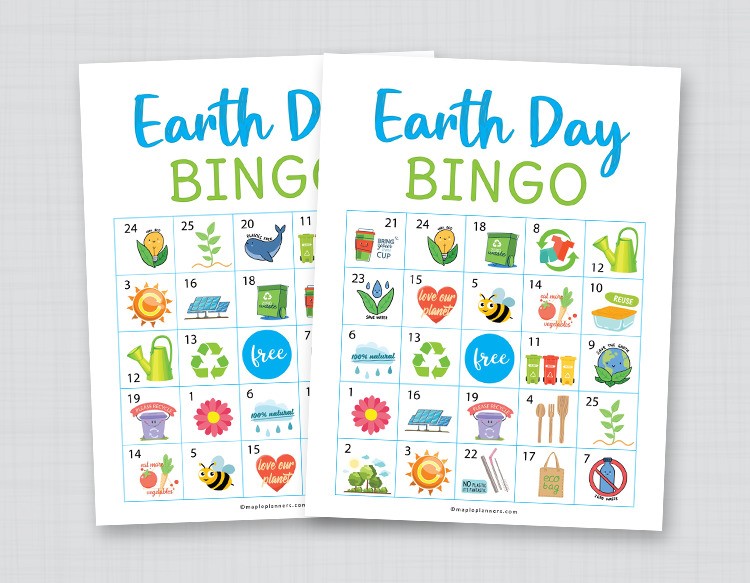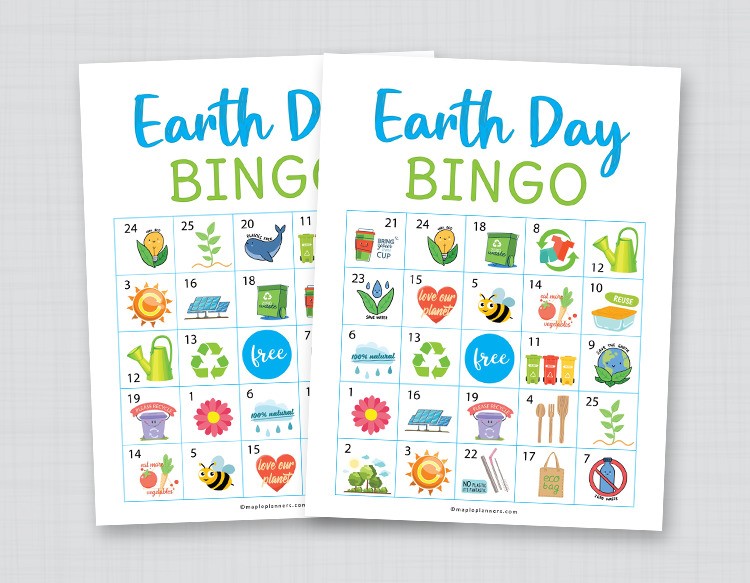 What's included in the package?
This package comes with 8 unique Earth Day bingo cards and a calling sheet.
Related: Free Printable Mazes for Kids
Although anyone can play Earth Day Bingo Game, this is a perfect Earth Day activity for kids.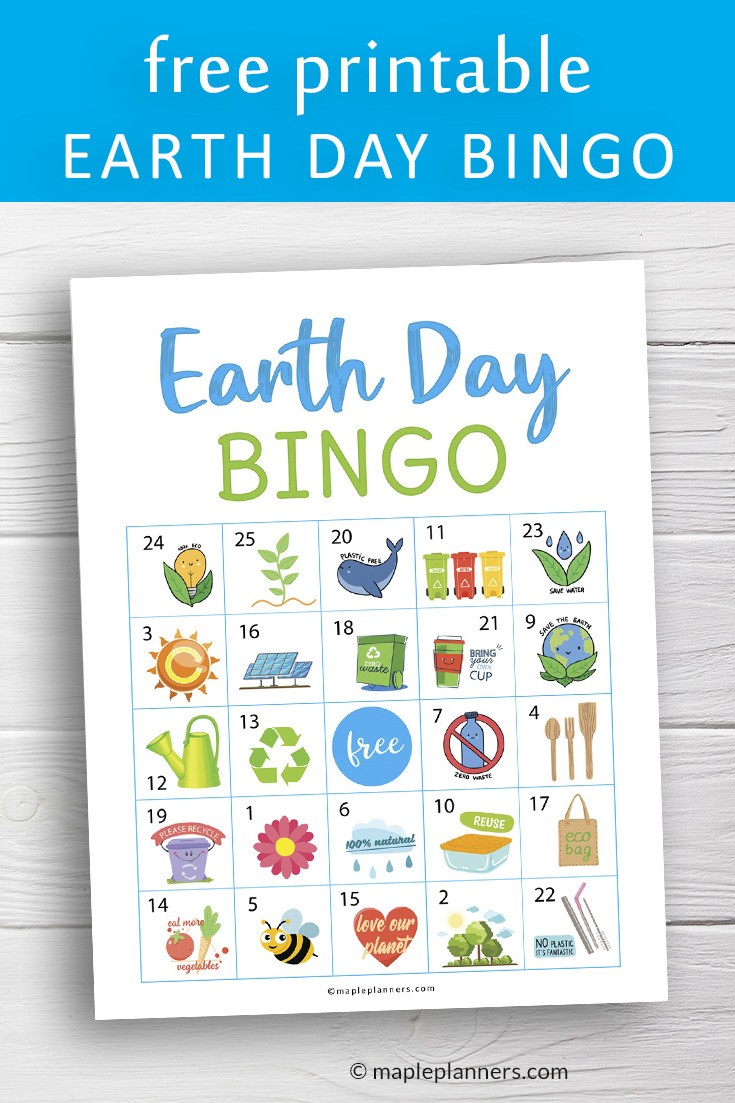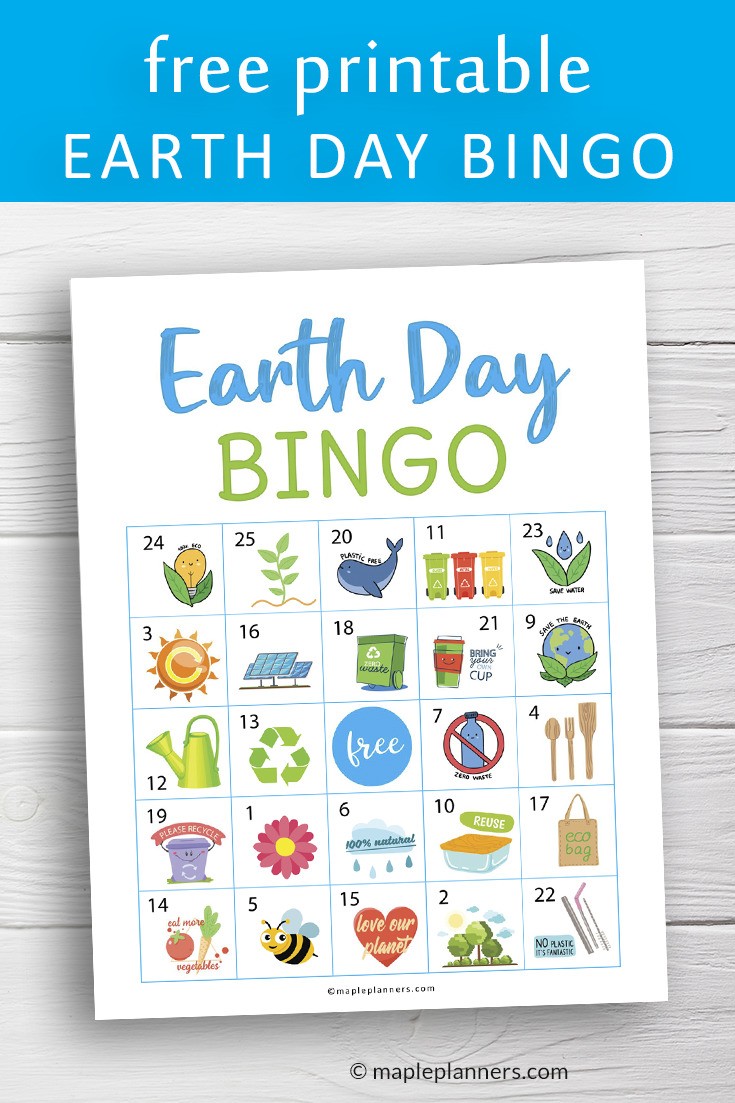 Since these are prefilled bingo cards, kids will be able to recognize different characters or images associated with Earth Day Party and Celebrations, while trying to match each of the images.
Set of 30 Earth Day Bingo Game Cards
If you have more than 8 people, you can make groups of people with 8 or less people, or go for this set of 30 Earth Day bingo cards. Each of these cards come with different characters associated with Earth Day.
These premium Earth Day Bingo Cards come in Full Size and Half Size. You have the option of printing one card per page or two cards per page on a letter size paper.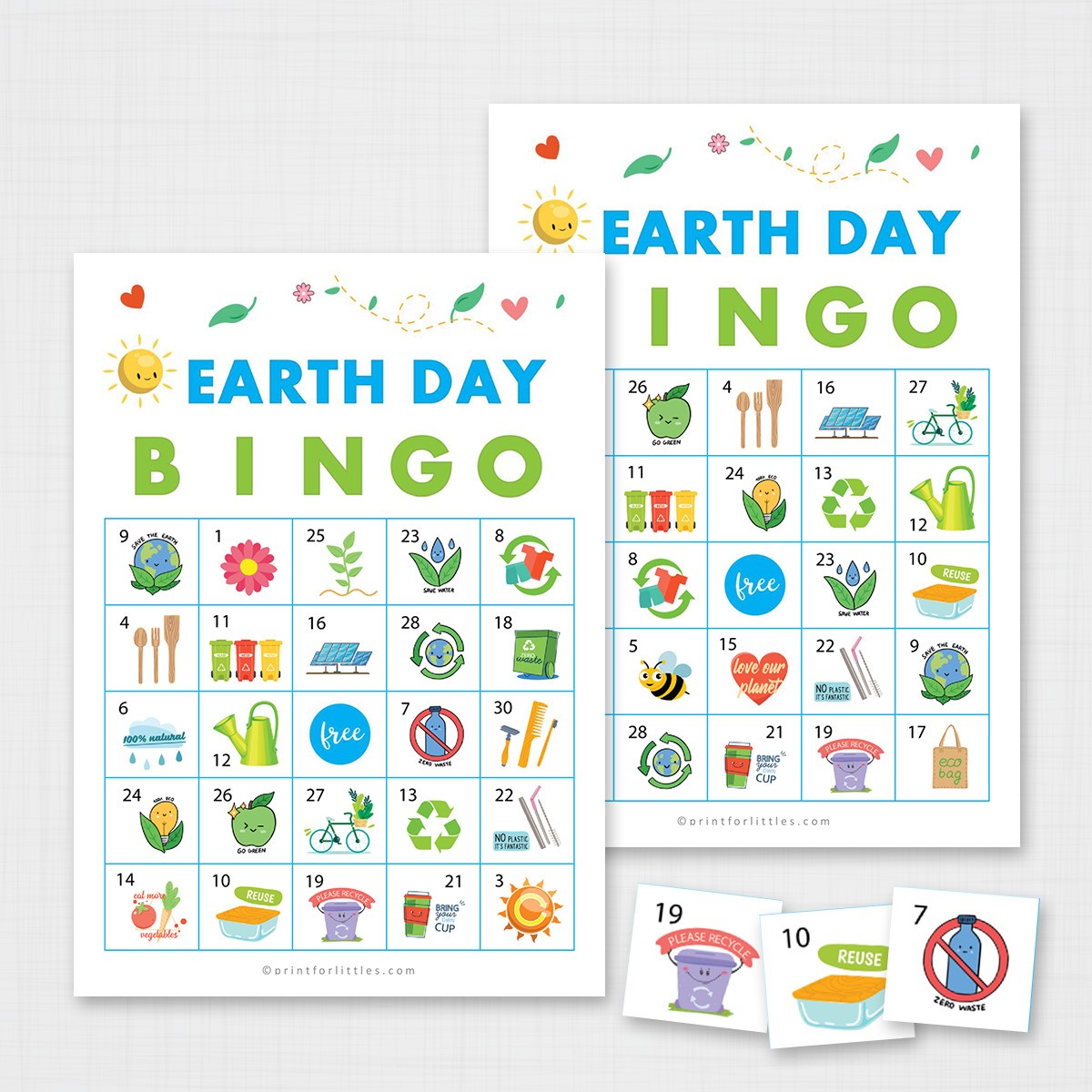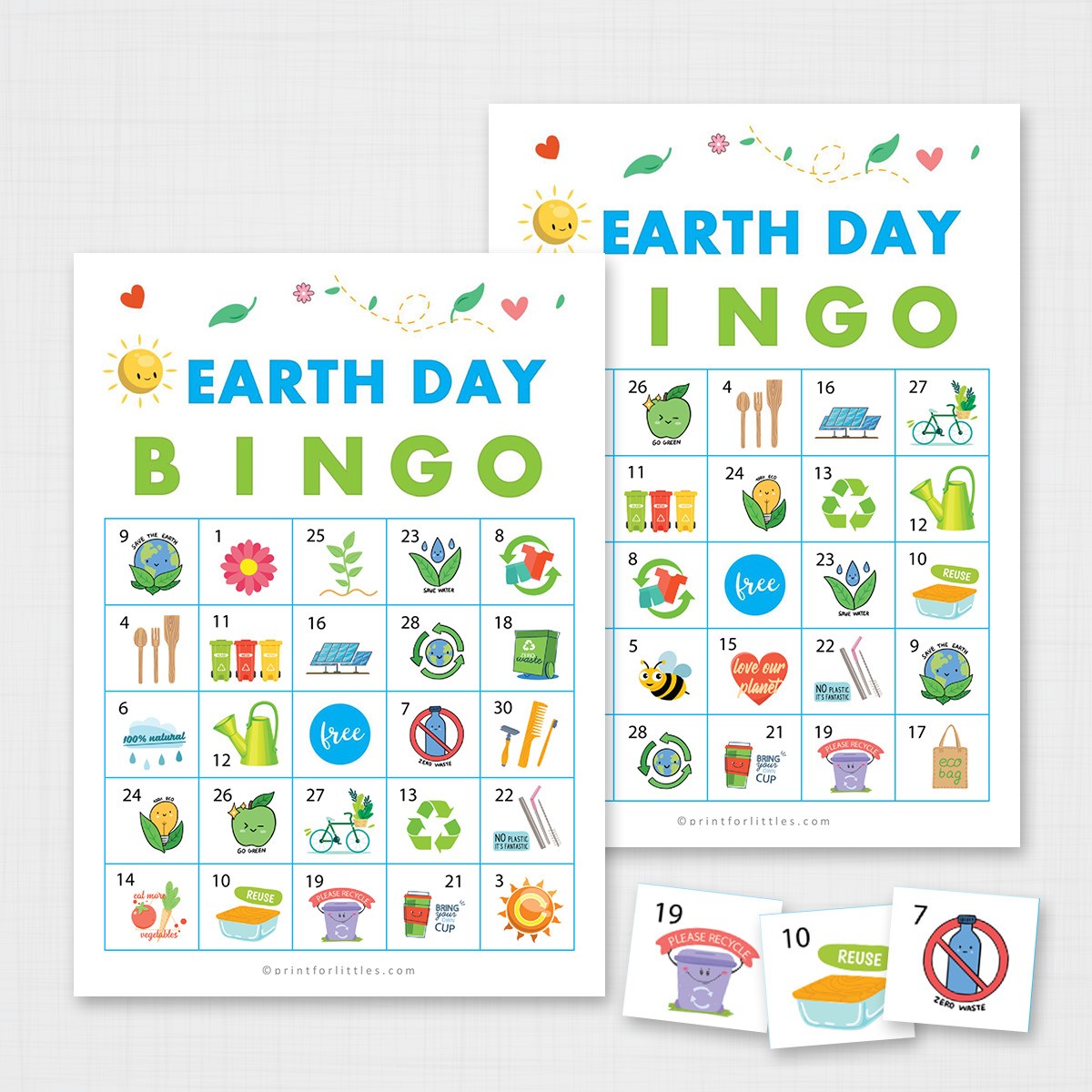 Create your own Earth Day Bingo Game Cards
These free printable Earth Day bingo game cards come with images associated with Earth Day.
Would you rather have text words rather than pictures in the bingo card squares?
You can create your own custom bingo cards with this Bingo Card Generator. You can edit the text, title, text color and so much more.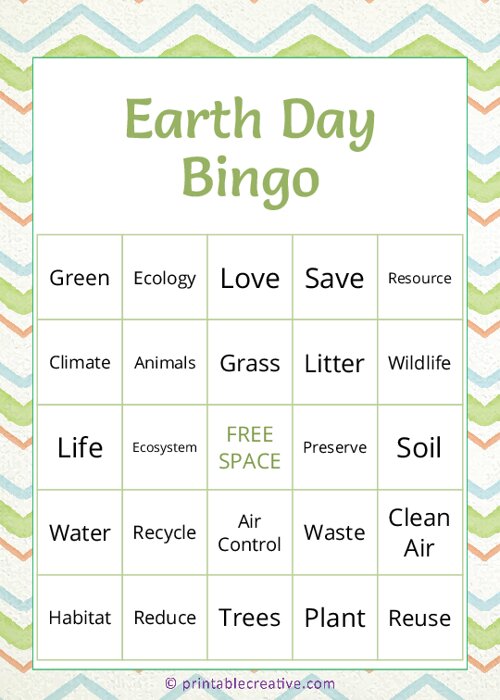 Create your Own Earth Day Bingo Cards
You can edit or add the text, title, colors and words list to create your own Earth Day Bingo Game cards. Make sure to browse other bingo cards as well and create for other occasions and activities.
To keep playing year after year, Laminate them for durability and protected.
Have the players use dry erase marker. If you don't want to use the markers, you can use treats like M&Ms, Skittles, Cereals, candies, paper clips etc.
You can even use Lego pieces or other material of your choice.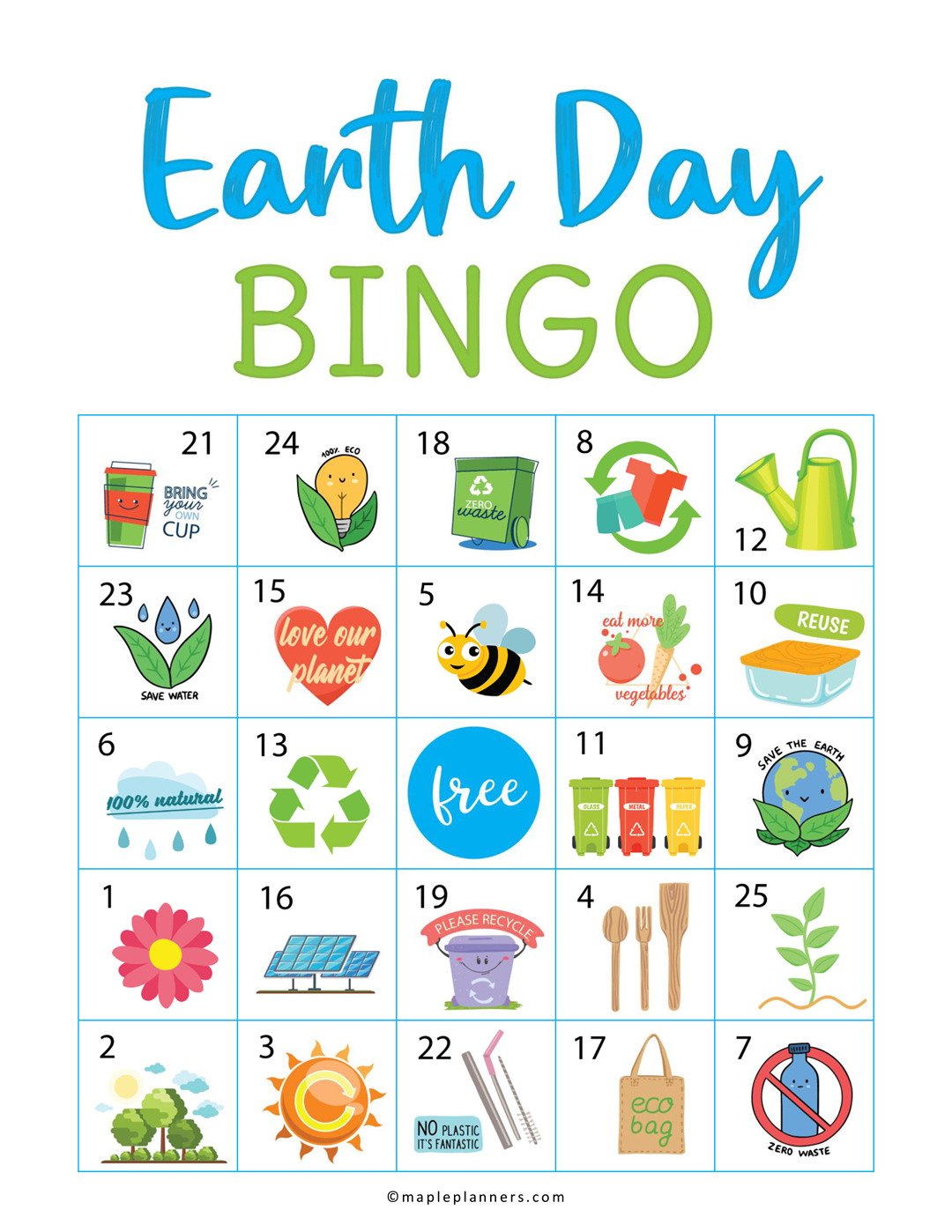 How to play Earth Day Bingo?
To play Earth Day Bingo, you will need:
Paper markers or Small candy
Scissors
Printer
Directions:
Print the bingo cards using thick card stock paper.
Distribute the bingo cards among the players.
Print the calling card and cut out the small squares.
Put them in a pile in a bowl.
Start playing by having one person pull out a small square card out of the pile and call it out or by showing the picture or saying the number on the card.
Players look for that picture or number on their bingo card. If they find the similar image or number, they cover it with the small candy or mark it off with the paper marker.
Continue pulling out the small squares from the bag or hat one at a time.
Once someone cross off five in a row, they shout out BINGO and win that game.
Space in the center is Free space.
You don't need any special preparations to make these, and no mess to clean up after they are done playing.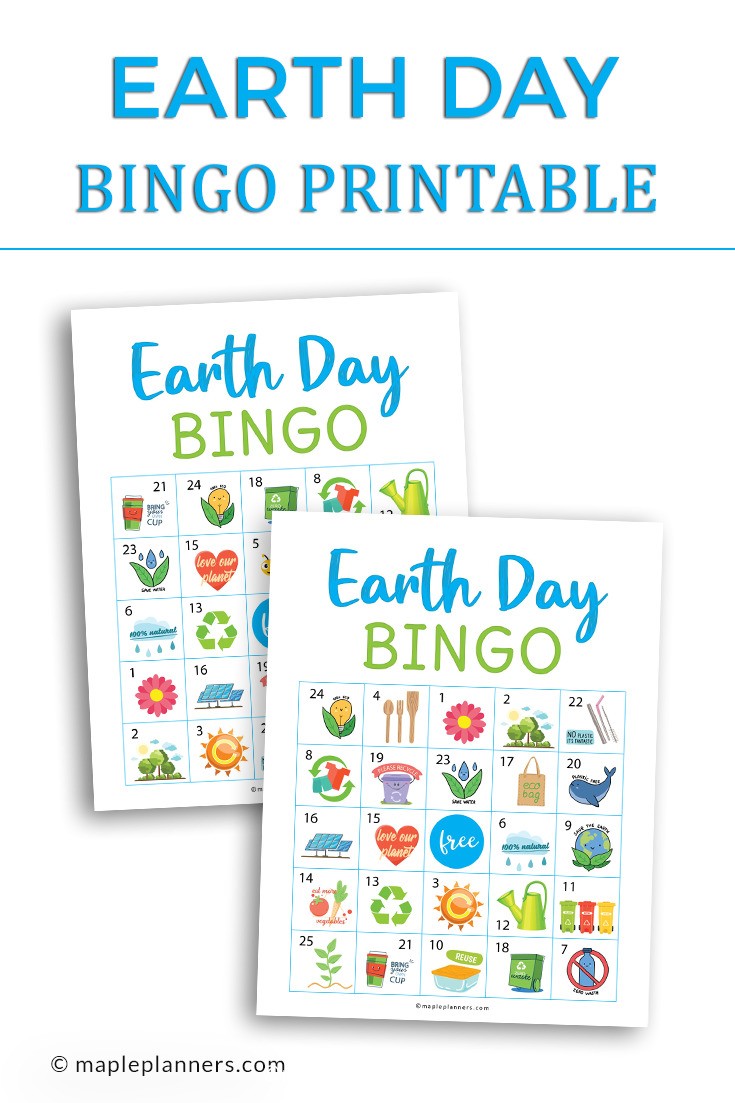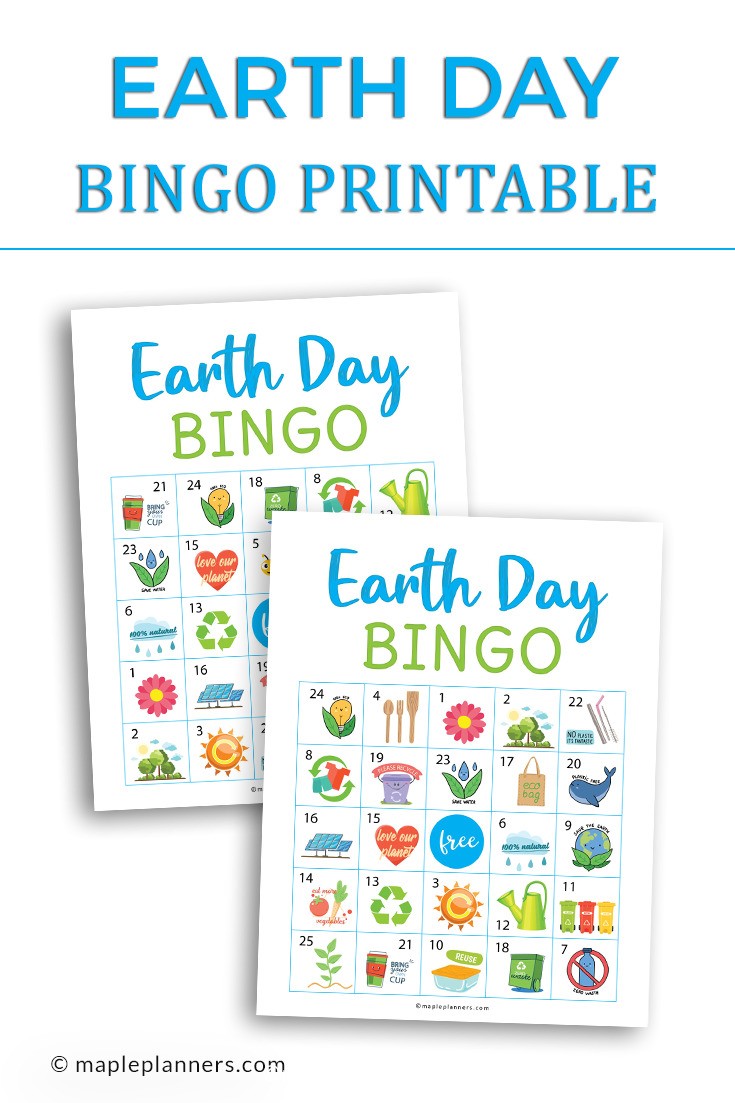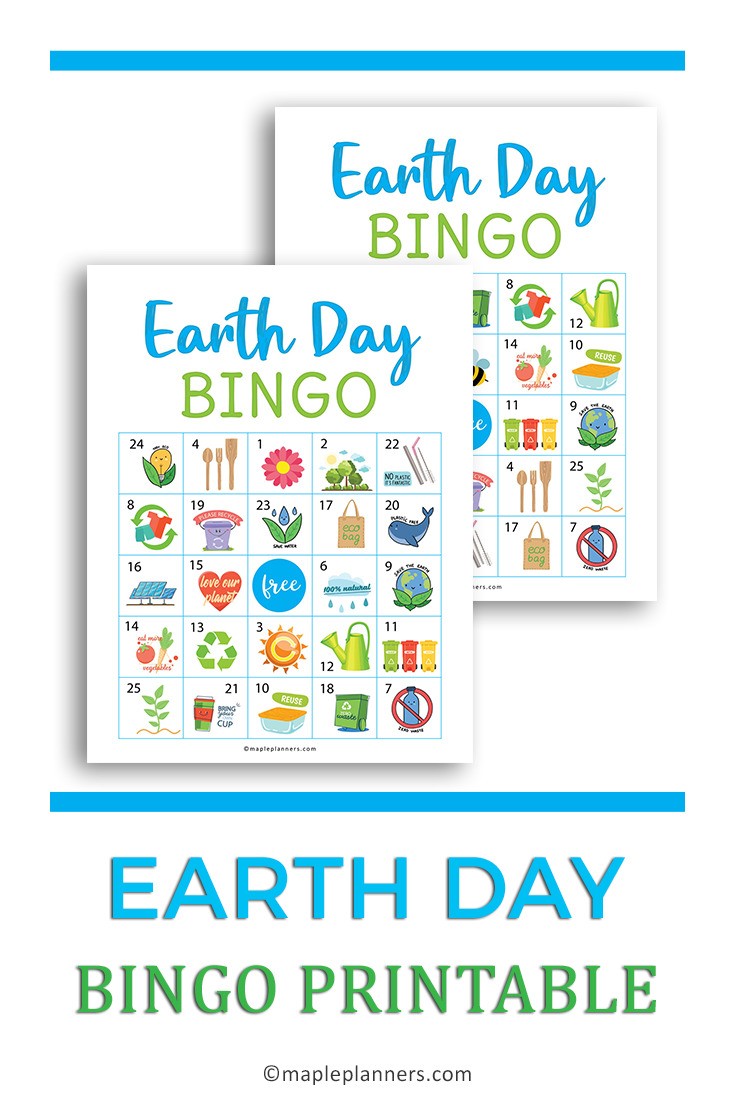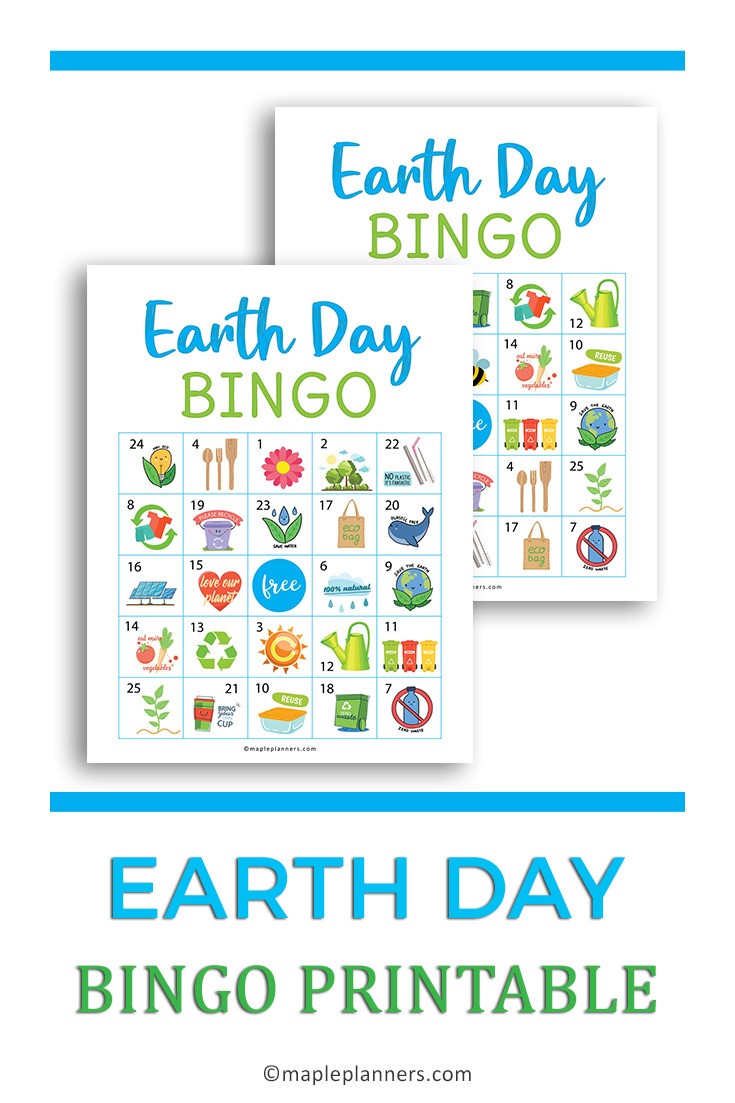 This no prep game is perfect to share more about Earth Day with children, student and grown ups. When you explain something educational in an entertaining way, it is bound to be received with much more enthusiasm.
Earth Day Activities for Kids
Are you looking for Earth Day Activities for Kids? Make sure to download this Free Earth Day Word Search. You can use this Word Search as is, or edit it use your own words list.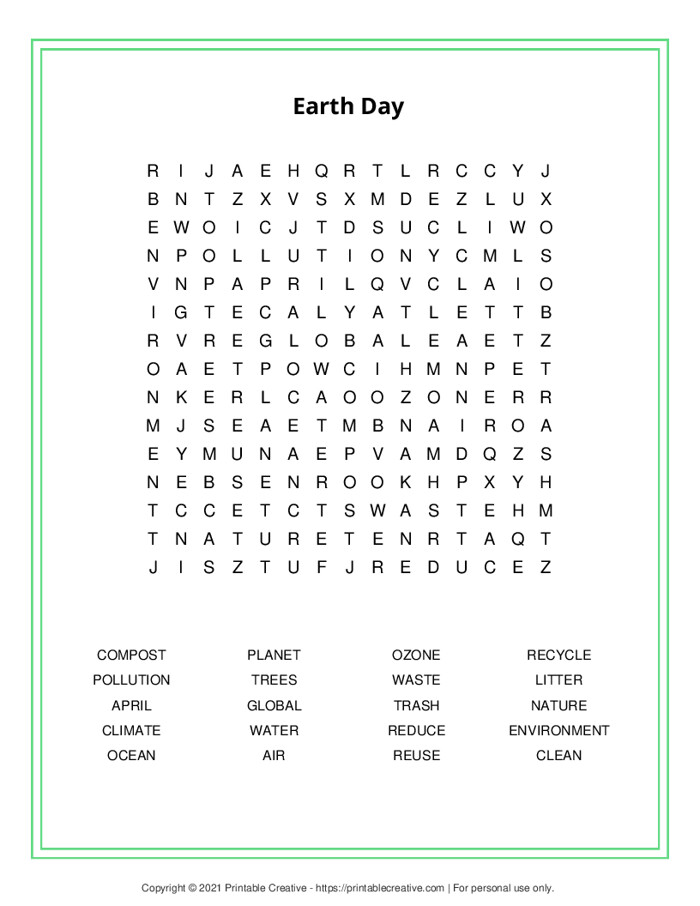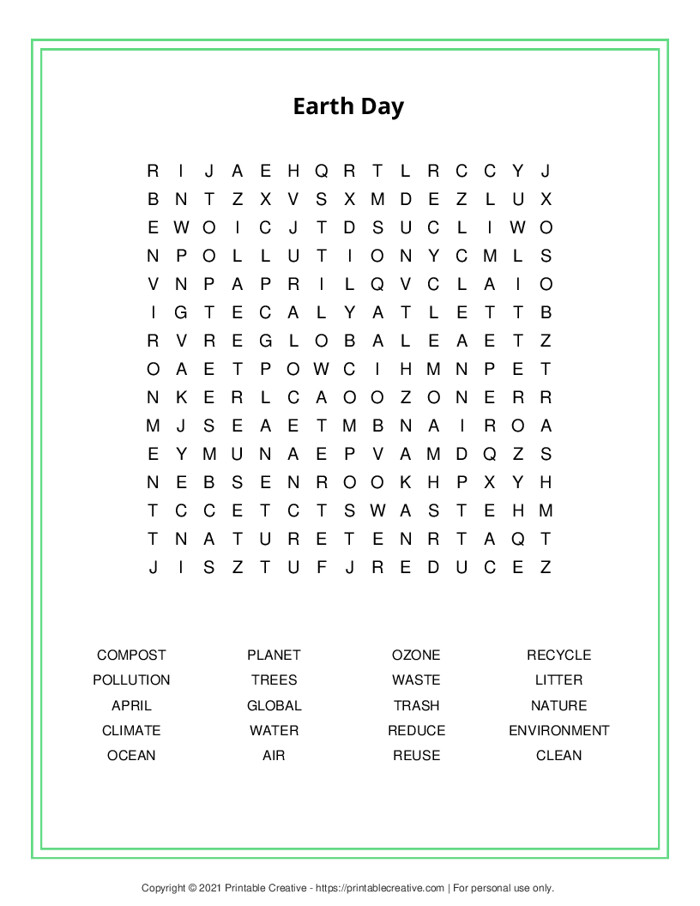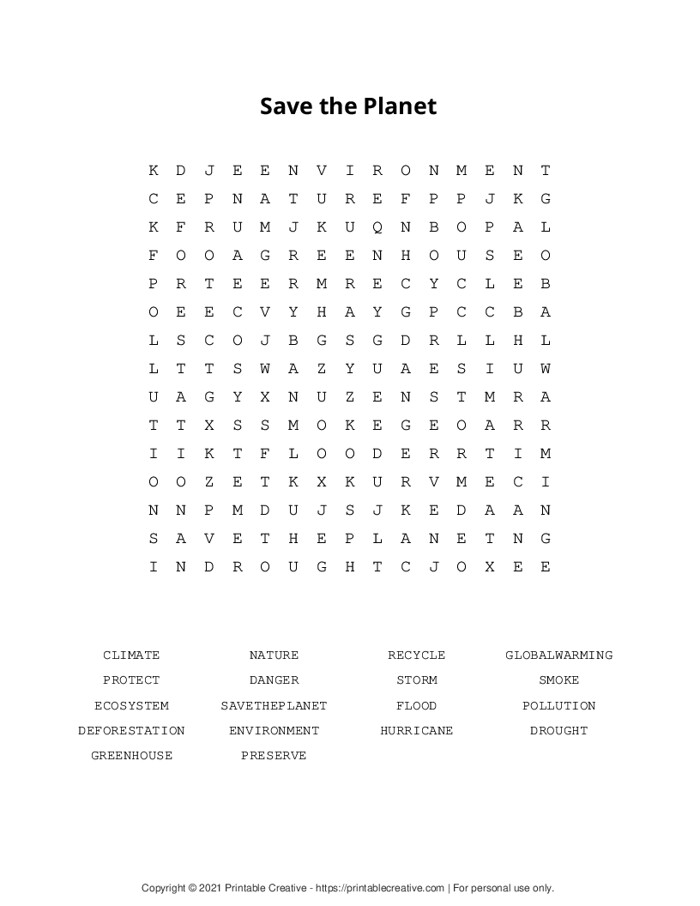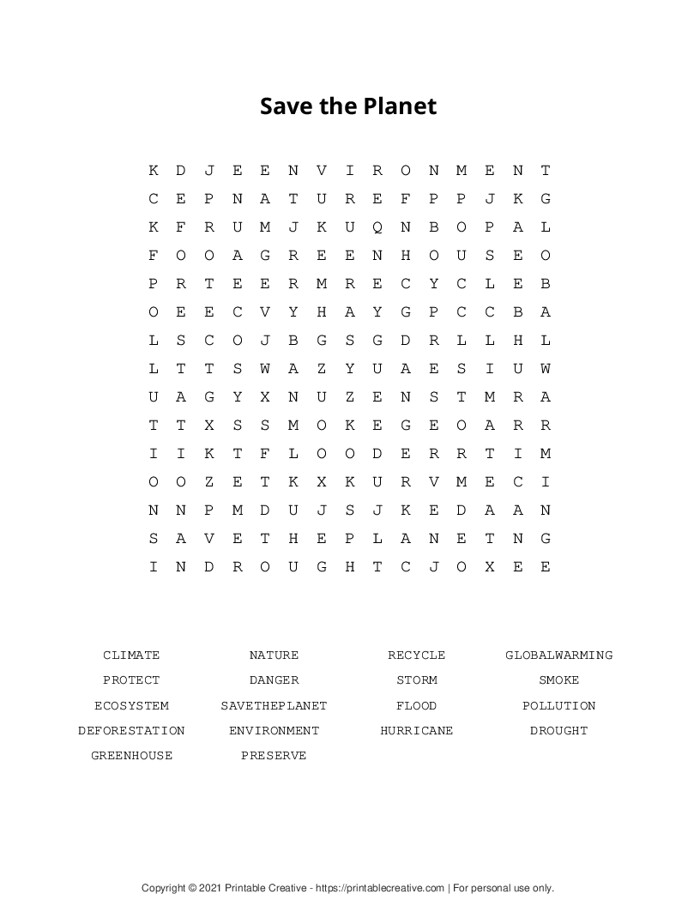 Earth Day Crossword Puzzle
Earth Day Crossword is another fun puzzle that students and grown ups can solve and find more about Earth Day. Download this free printable Earth Day Crosswords as is, or edit this puzzle to use your own clues list.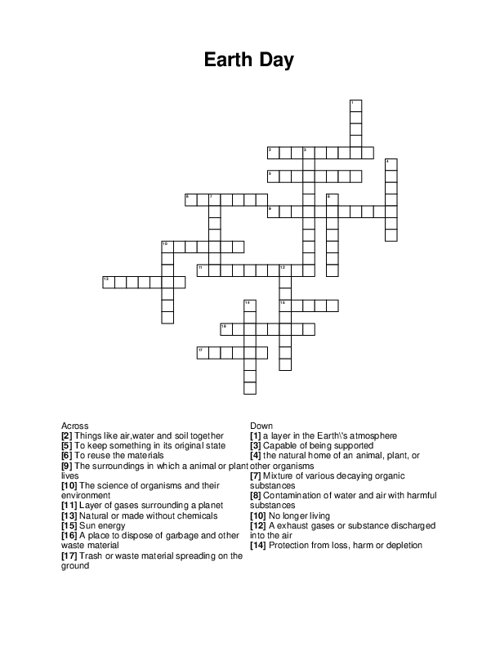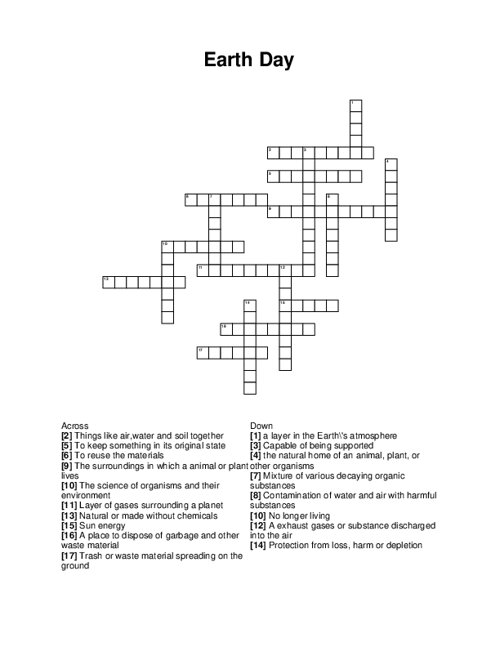 Note: MaplePlanners.com printables are for personal use only. You cannot modify, resell or redistribute them. You cannot claim the design as your own.
If you share MaplePlanners.com printables, credit must be given to MaplePlanners.com and link back to this blog post or this blog.
Looking for more Fun Bingo Games?
You can check out more bingo games available to download from printables library.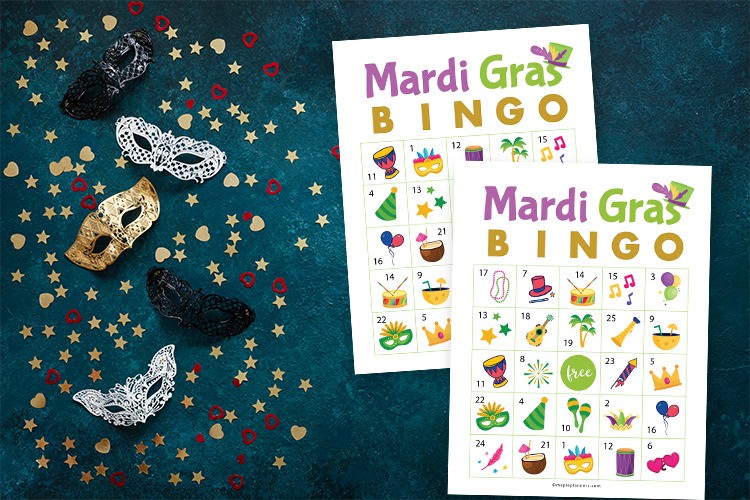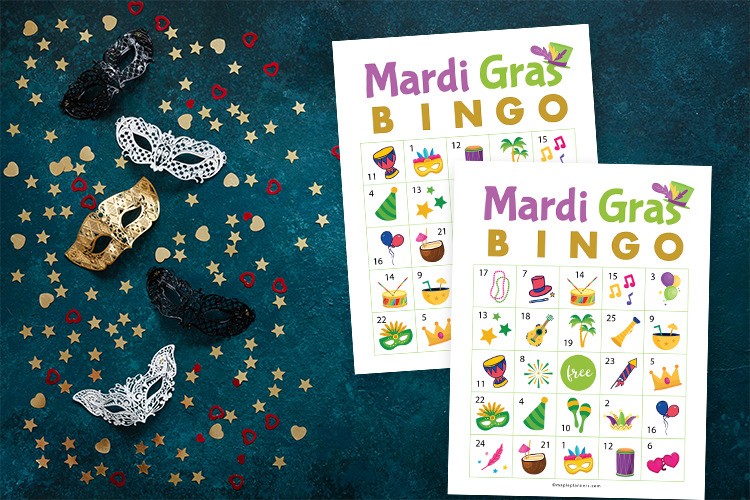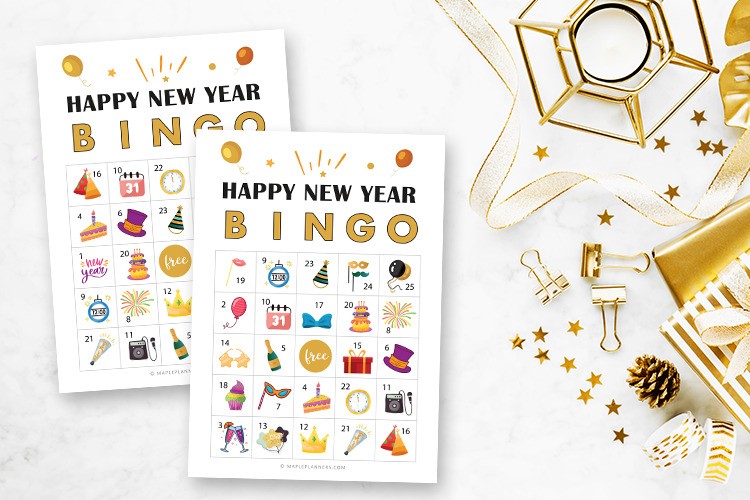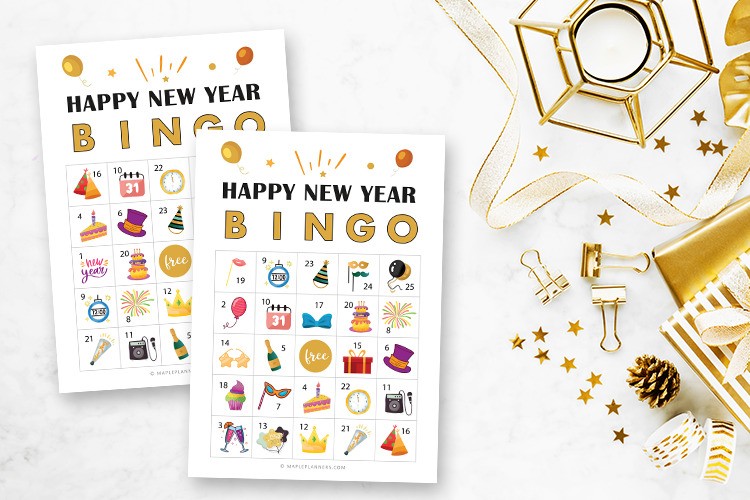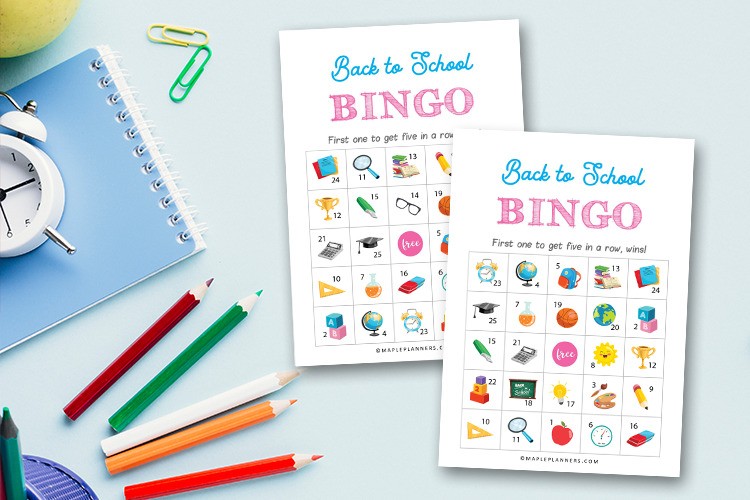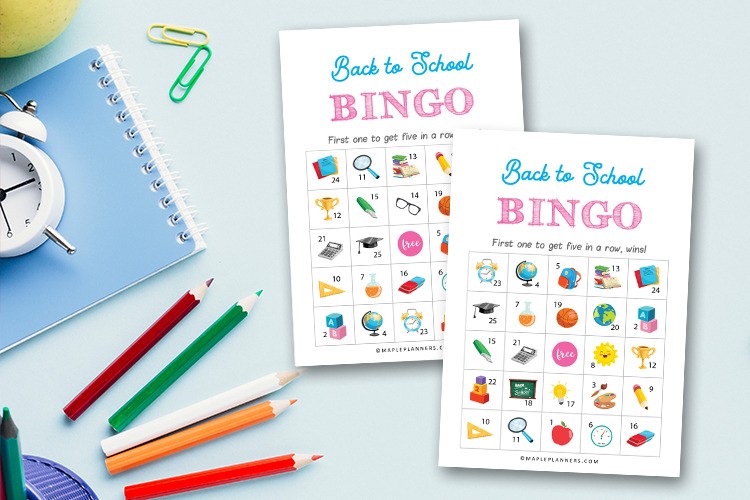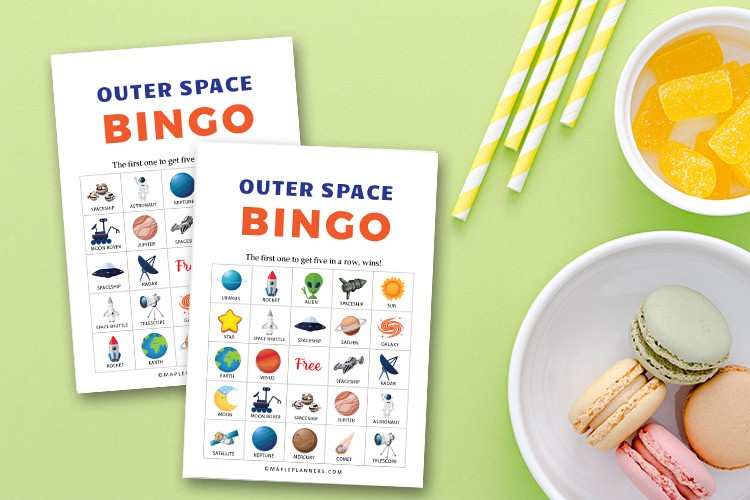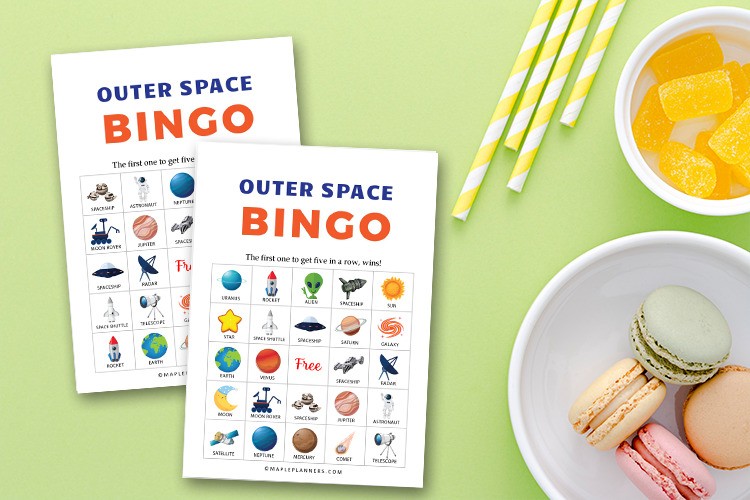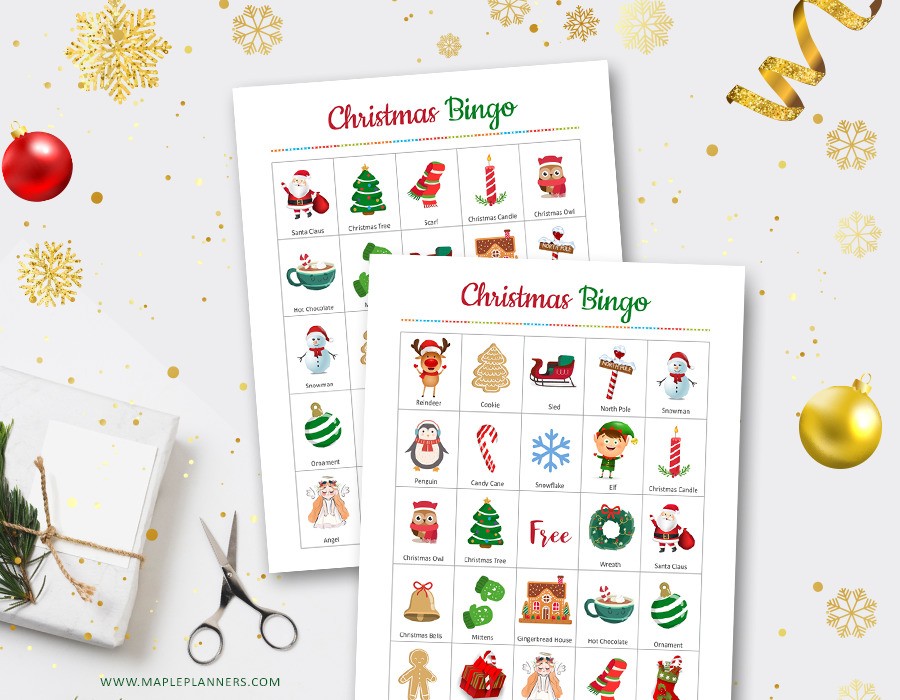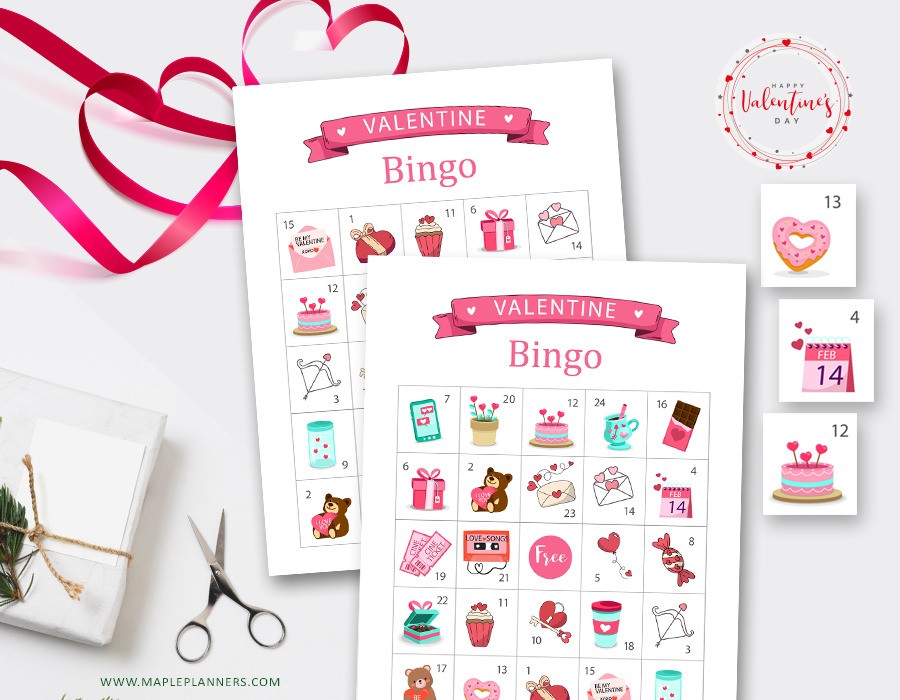 And here are some fun memory games for kids that they will love to play either indoors and outdoors.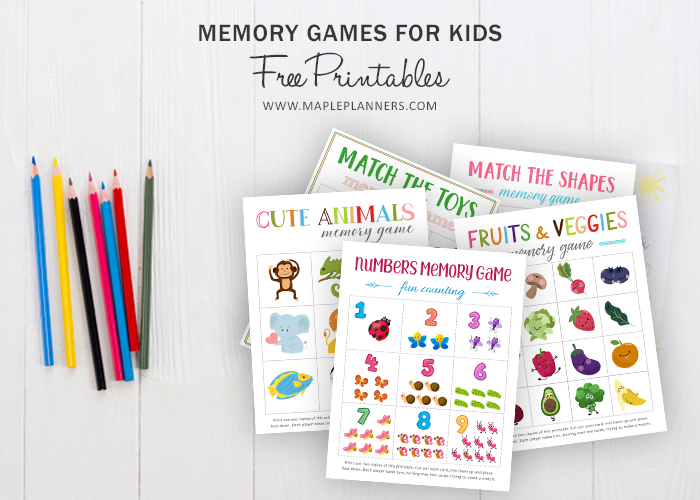 How are you planning to celebrate Chinese New Year Party? Please share in the comments below!