Printable Party Planner to Plan a Perfect Party
Plan a perfect party with this printable party planner. Keep track of important details like guest list, party supplies, favors, RSVPs, food, decorations and more.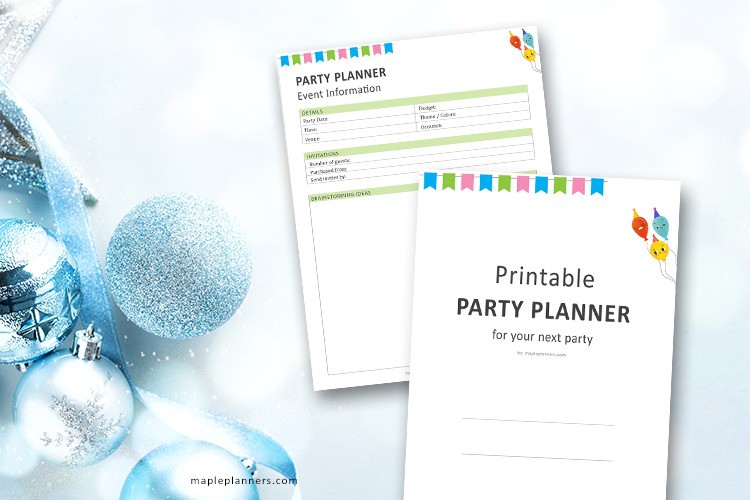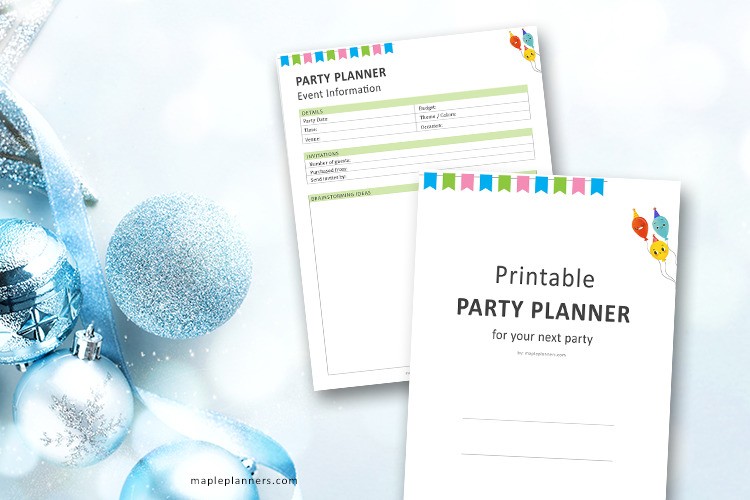 This post contains affiliate links and we will earn commission if you buy the products through those links. For more information, please read our disclosures here
Are you planning to host a party?
Planning a perfect party can be hard. There are so many decisions to make and so many things that could go wrong. But if you stick to a plan and organize everything from the beginning, you won't feel stressed about little details.
Related: Best Indoor Activities for Kids
Make sure to start planning few weeks before the event. Brainstorm and plan what kind of food you should serve, theme and colors of the party, type of music, party games, activities for kids and other details.
How to plan a perfect party?
It is important to decide on major portions of the party well in advance. Here are some of the things you can plan few weeks in advance.
Set your budget;
Decide on the theme of your party;
Find and book the venue if not hosting at home;
Create invitations and send out in time for guests to RSVP;
Plan out your menu in advance;
Put together the music playlist;
Order party supplies and decorations, if you are planning to DIY;
Order the baked goods in advance, if not baking at home;
Book the chef or order food in advance;
Create grocery shopping list;
Prepare non-perishable and frozen food in advance;
Plan the party activities and games to play;
Prepare party day schedule to make sure everything is in order;
Get the camera ready and keep the batteries charged for the day of the party.
Free Printable Party Planner
Organize everything in advance with this printable party planner. It is perfect tool to help you plan your birthday party. It's easy to use and keep all your information organized in one place.
With this printable party planner you will be able to stay organized throughout the entire process. Simply download and print out all the templates or the ones you need and make yourself a beautiful binder.
Let's look at the printable party planner templates.
Party Planner Cover
Add this cute party planner cover to your binder. You can also pick any other printable planner cover of your choice..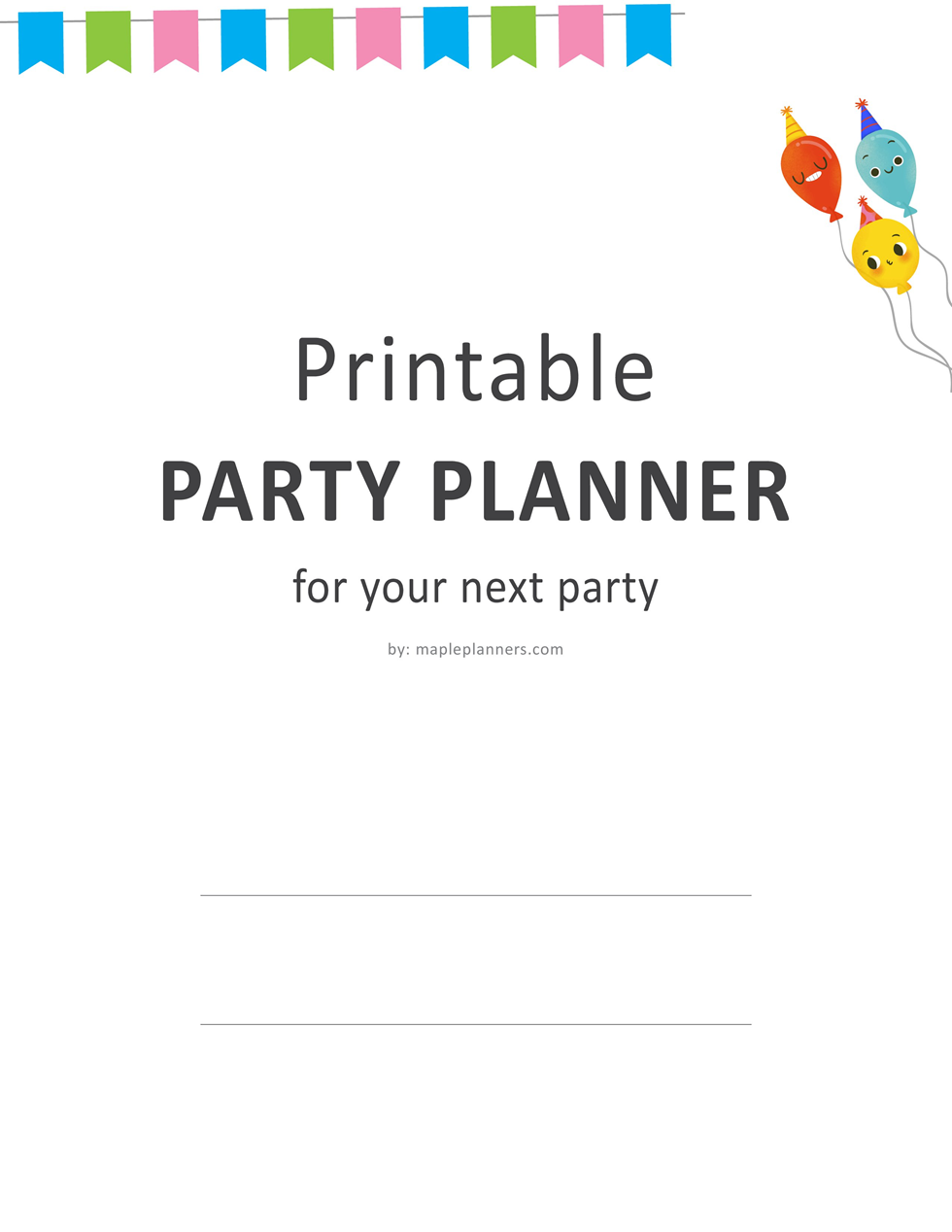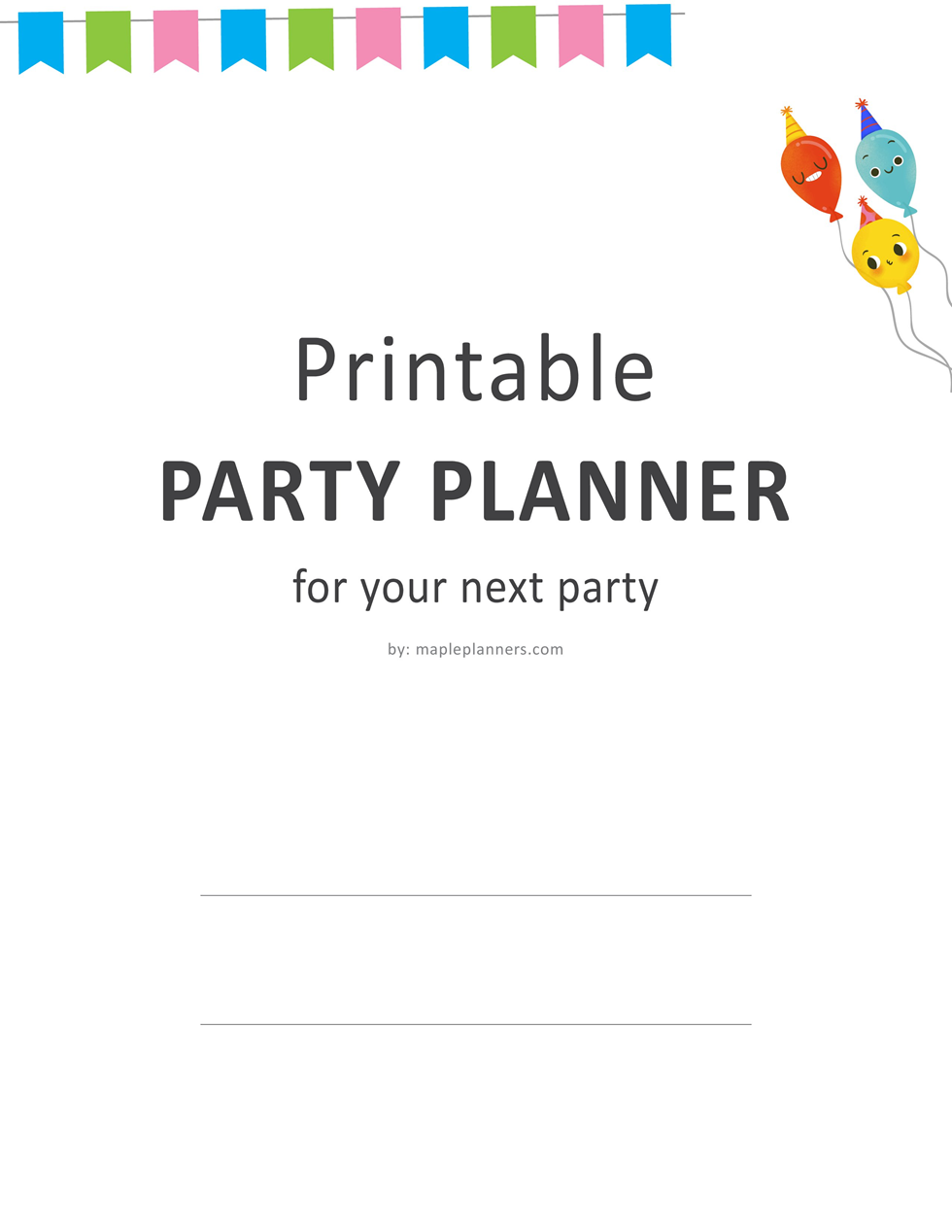 Party Planner Birthdays to Remember
Download and print this template if you wish to keep the birthday list, anniversaries and other important dates in one place.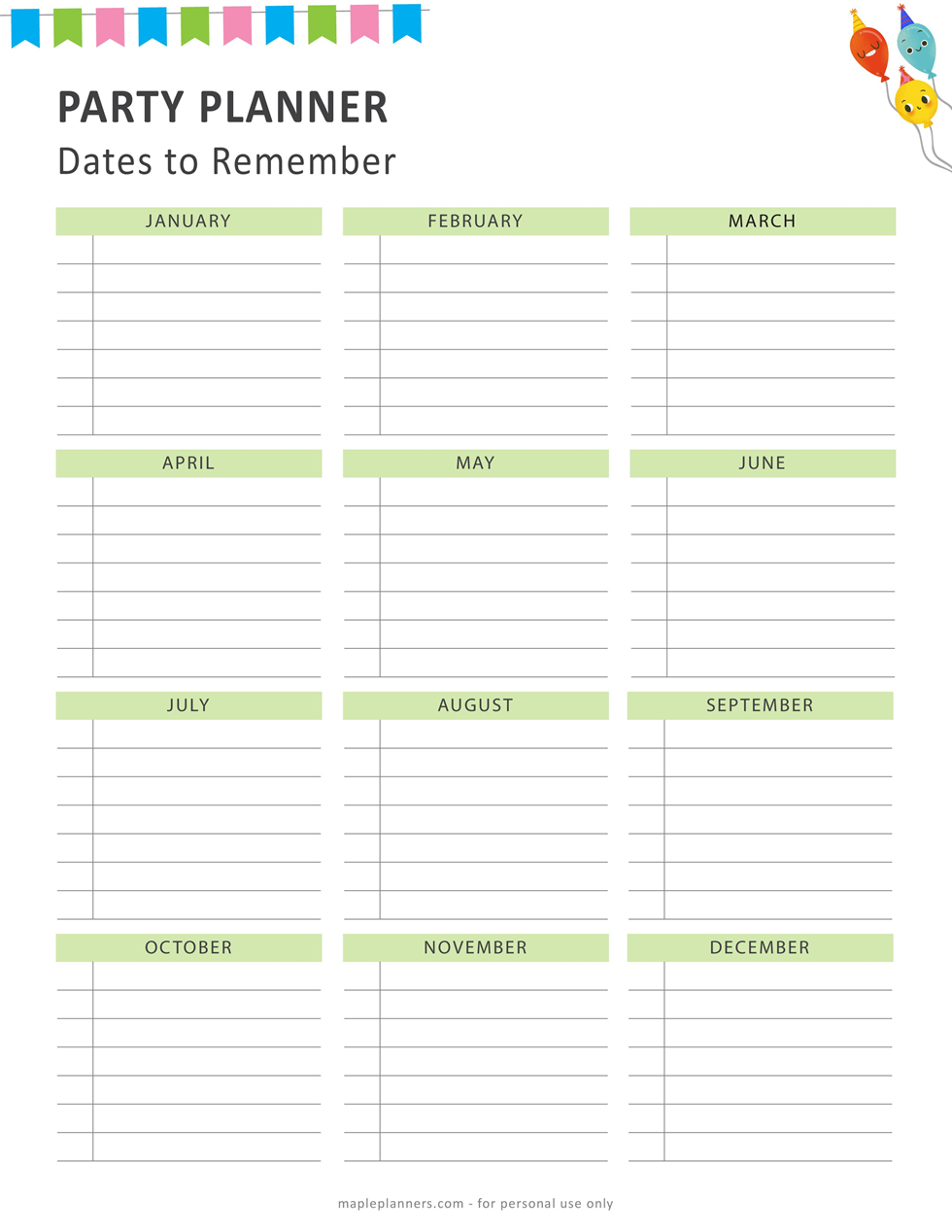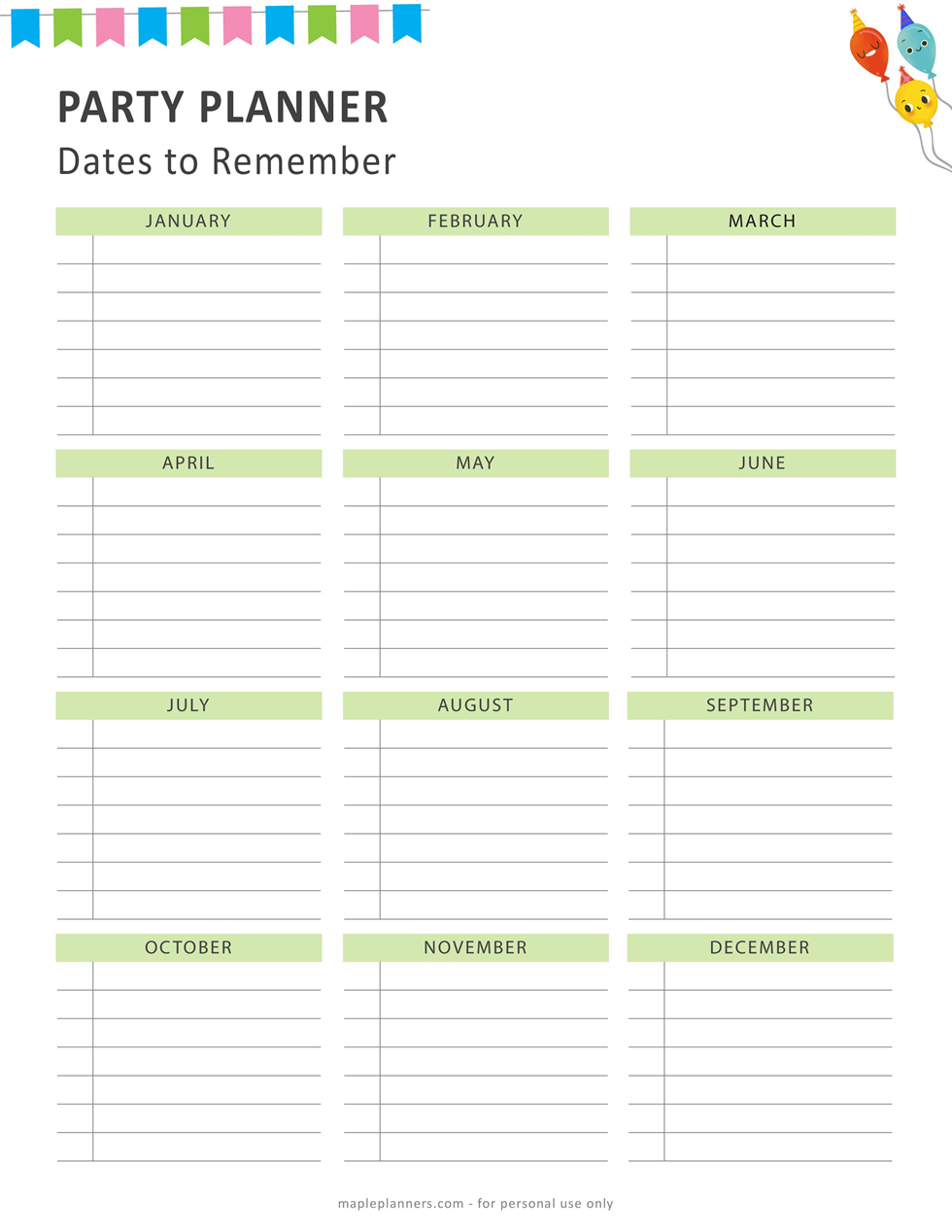 Party Planner Event Details
Write down important information about your event. The date and time of the party, venue, theme, colors. Also write down the number of guests, place you purchased your invitations from and the time by what the invites should be sent by.
Brainstorm party ideas and write the most favorite or best ones.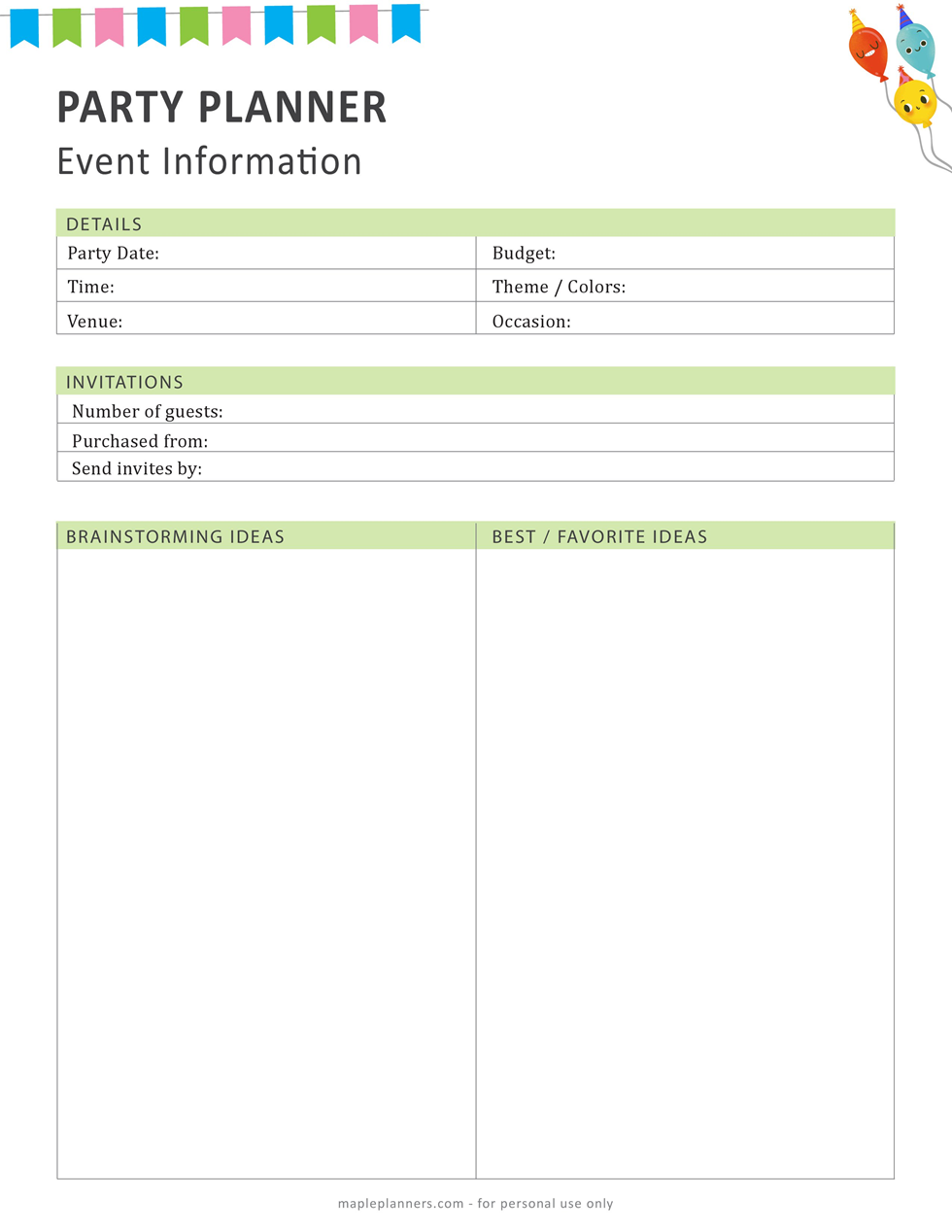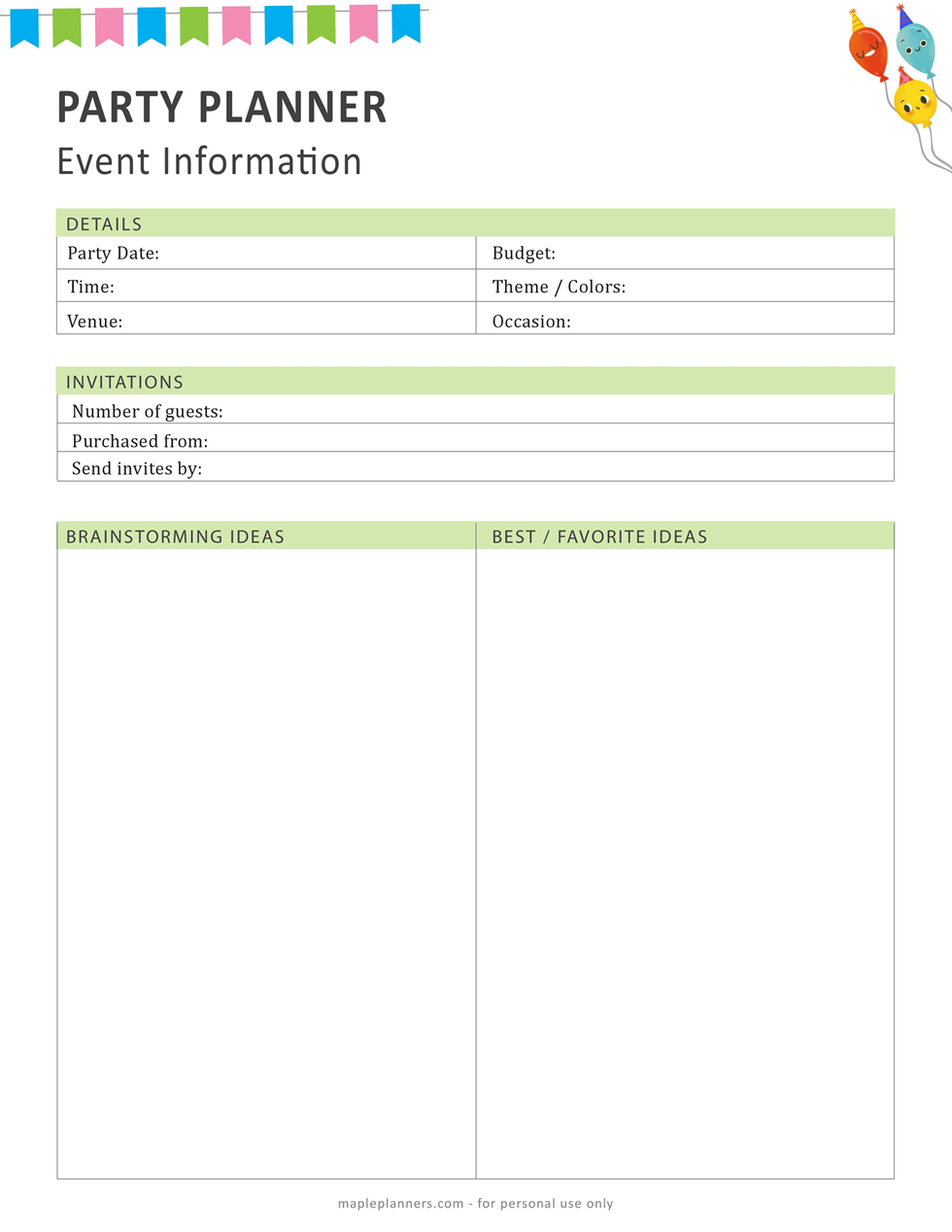 Party Day Schedule
To enjoy the stress free day of party, make sure to write down your schedule for the day, starting from 7 in the morning. There's plenty of space to write your things to do from the morning to afternoon to the evening.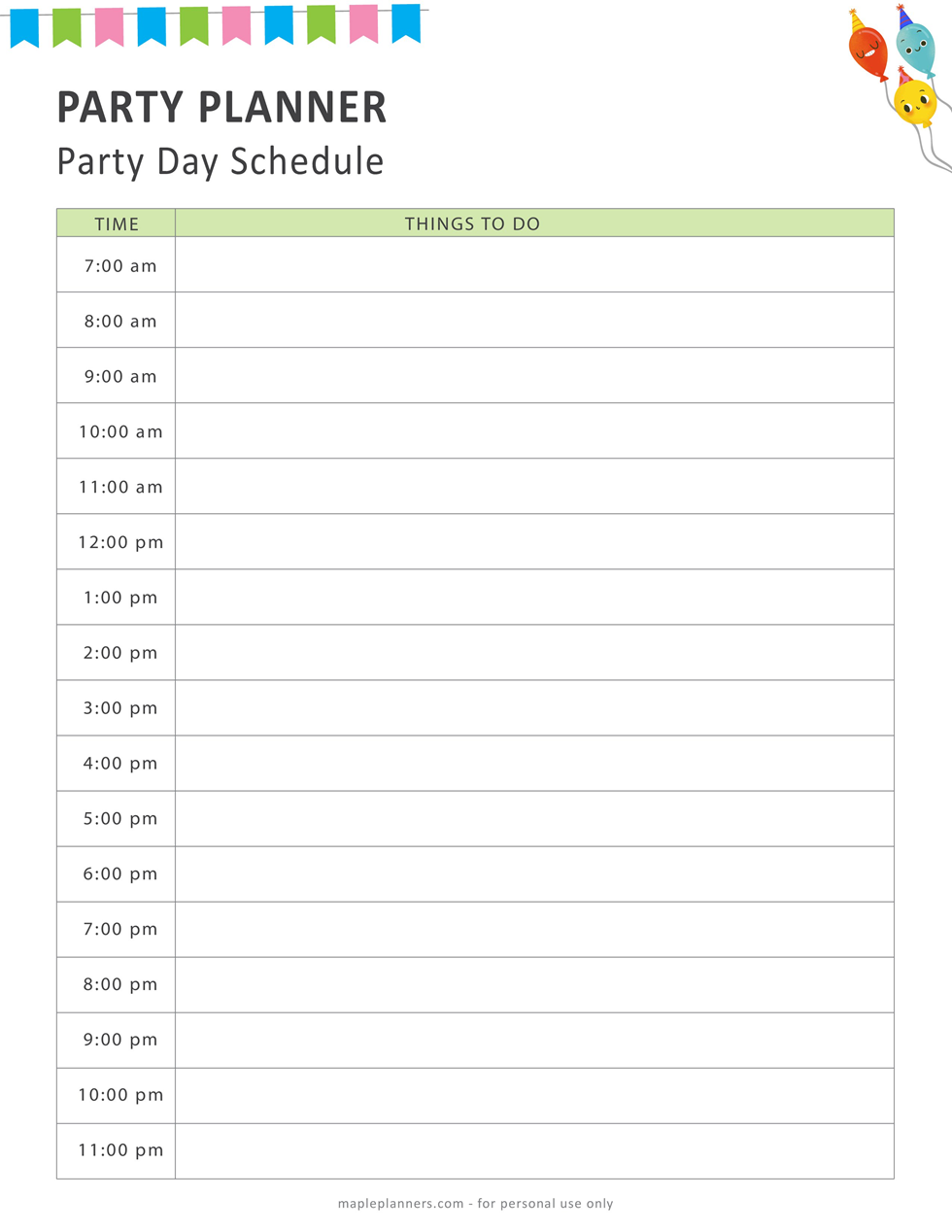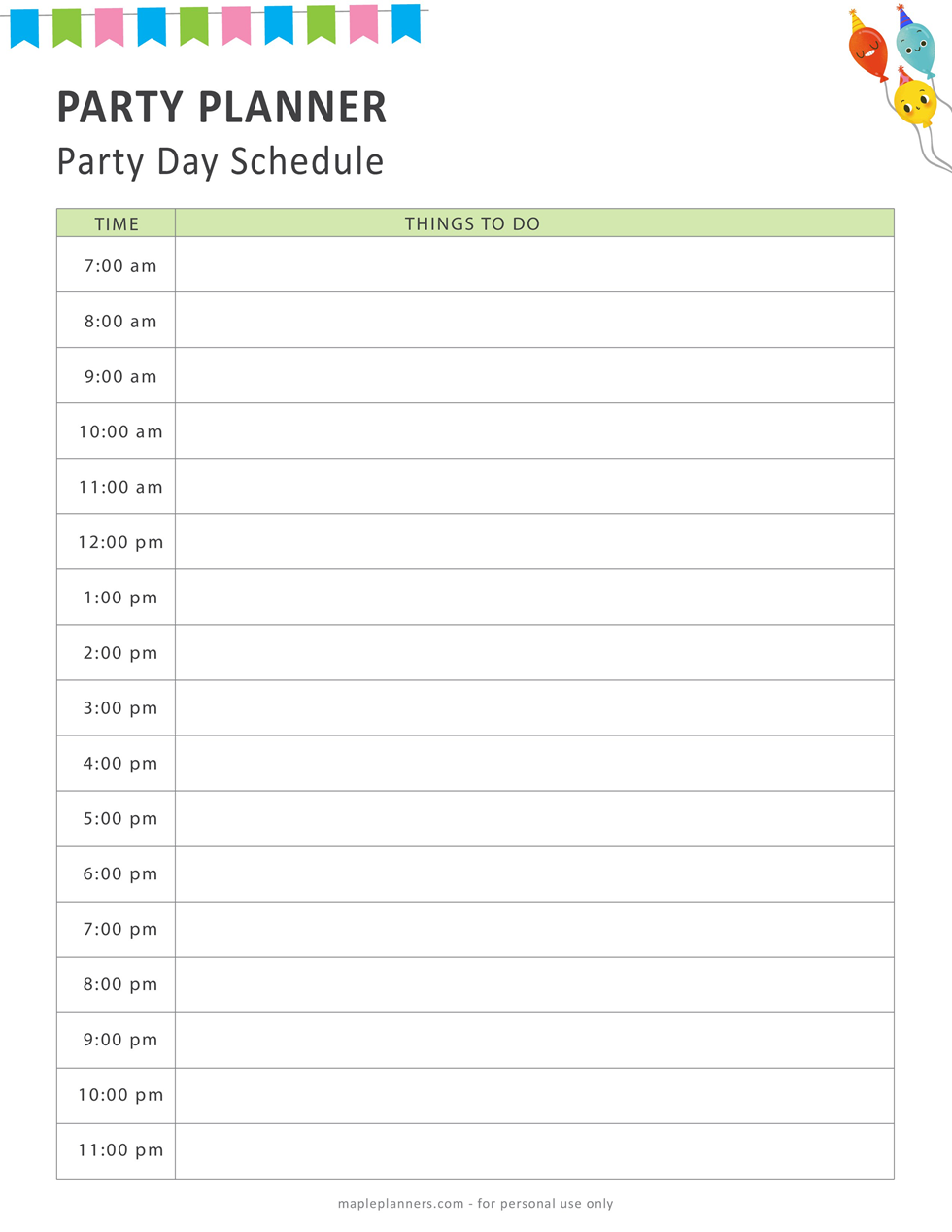 Party Planner Decorations
If you plan on going the DIY route for the decorations and make your own decor, make sure to order your supplies few weeks in advance. This way you will be prepared for the day of the party without feeling stressed. Brainstorm the decorating ideas for the party, finalize the details and write down all the supplies you need and from what store. Make notes if required.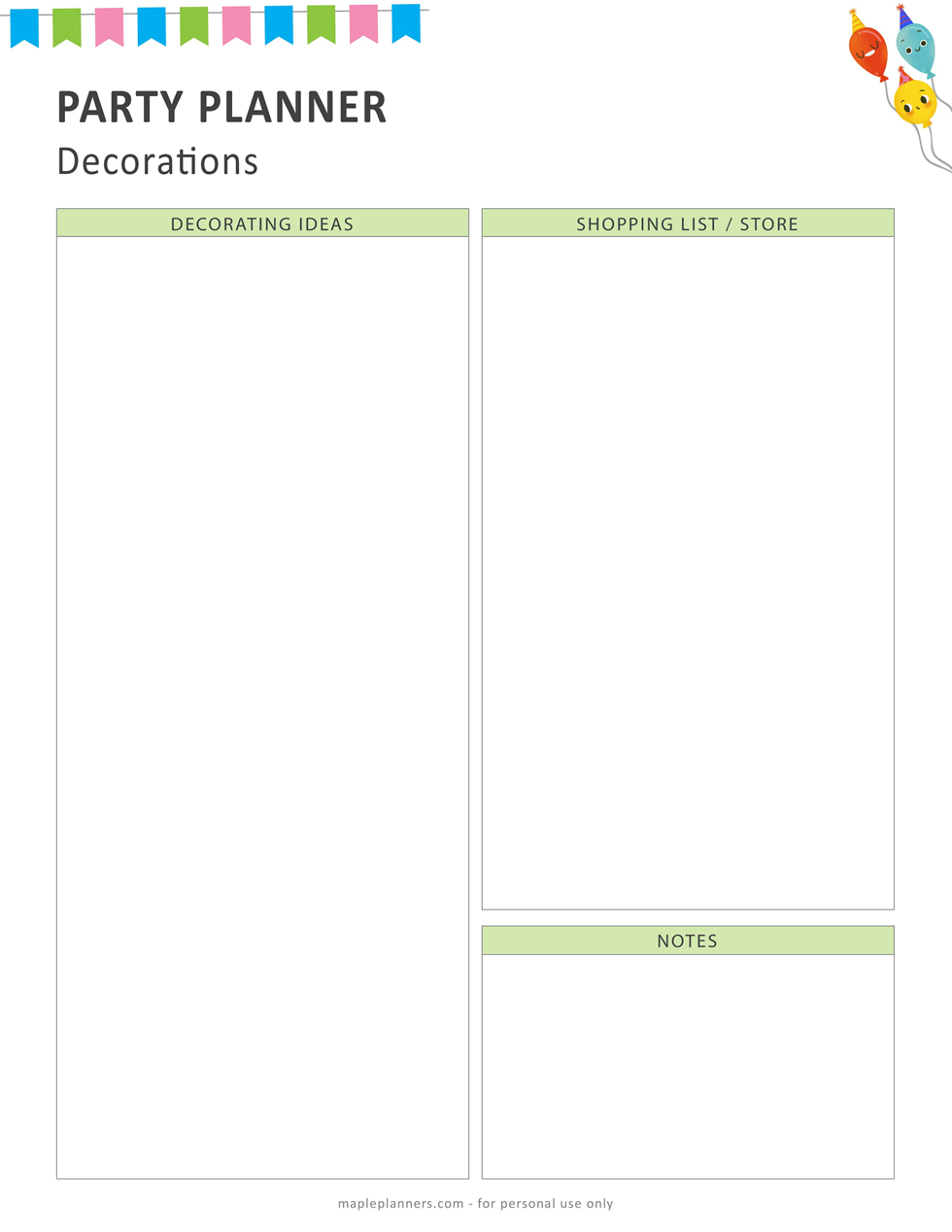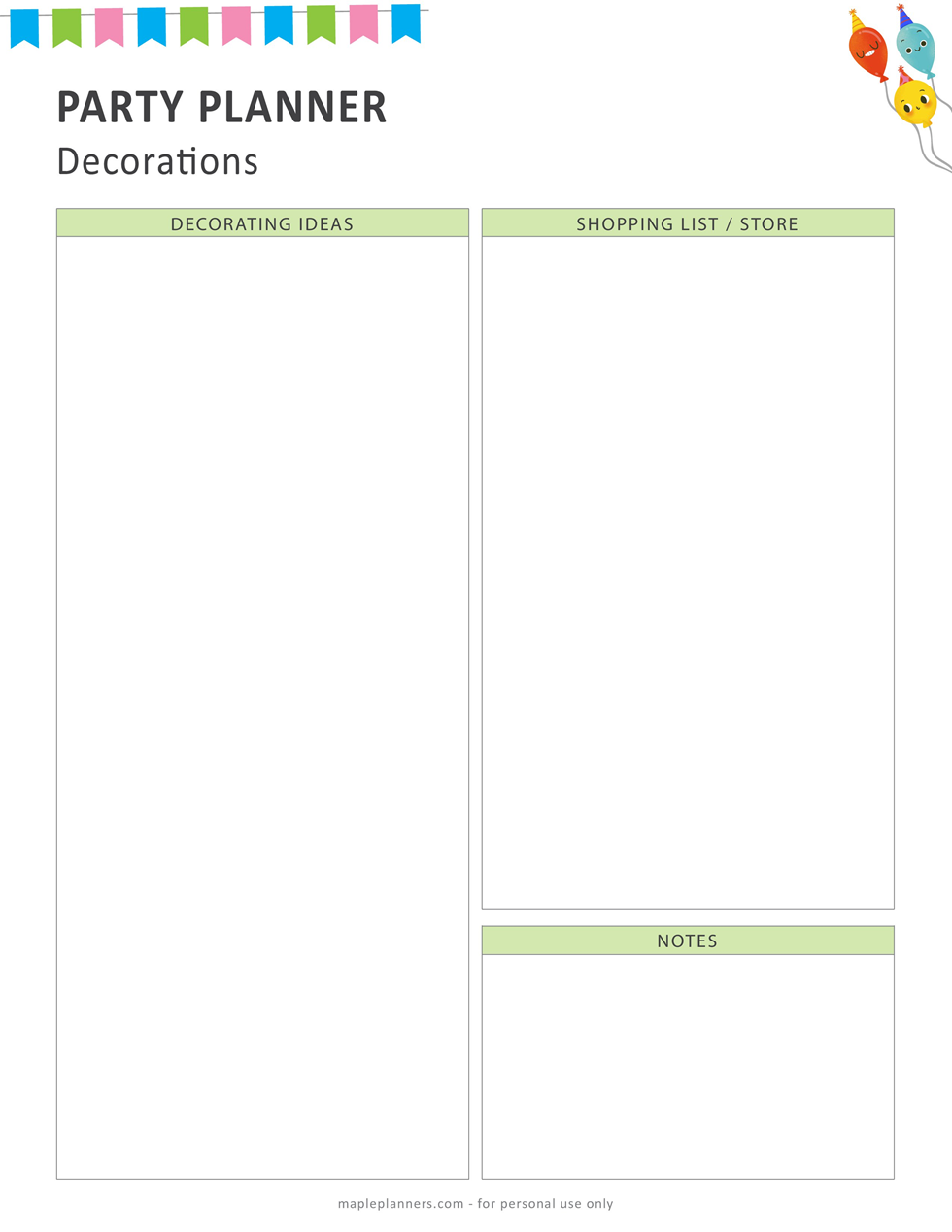 Party Favors and Supplies
Brainstorm party favors ideas and decide on your favorite ones. Write down the final party favors and the stores you can get these from.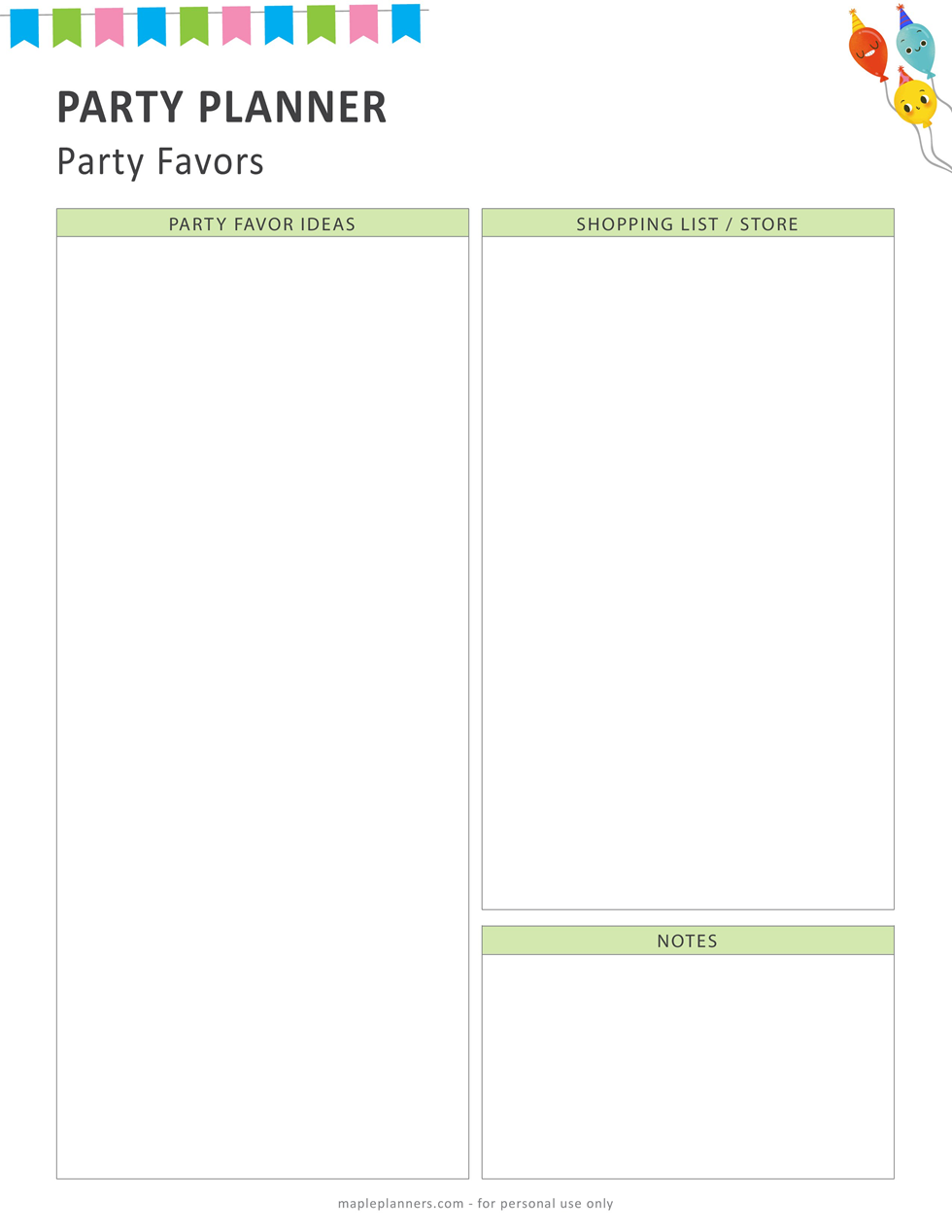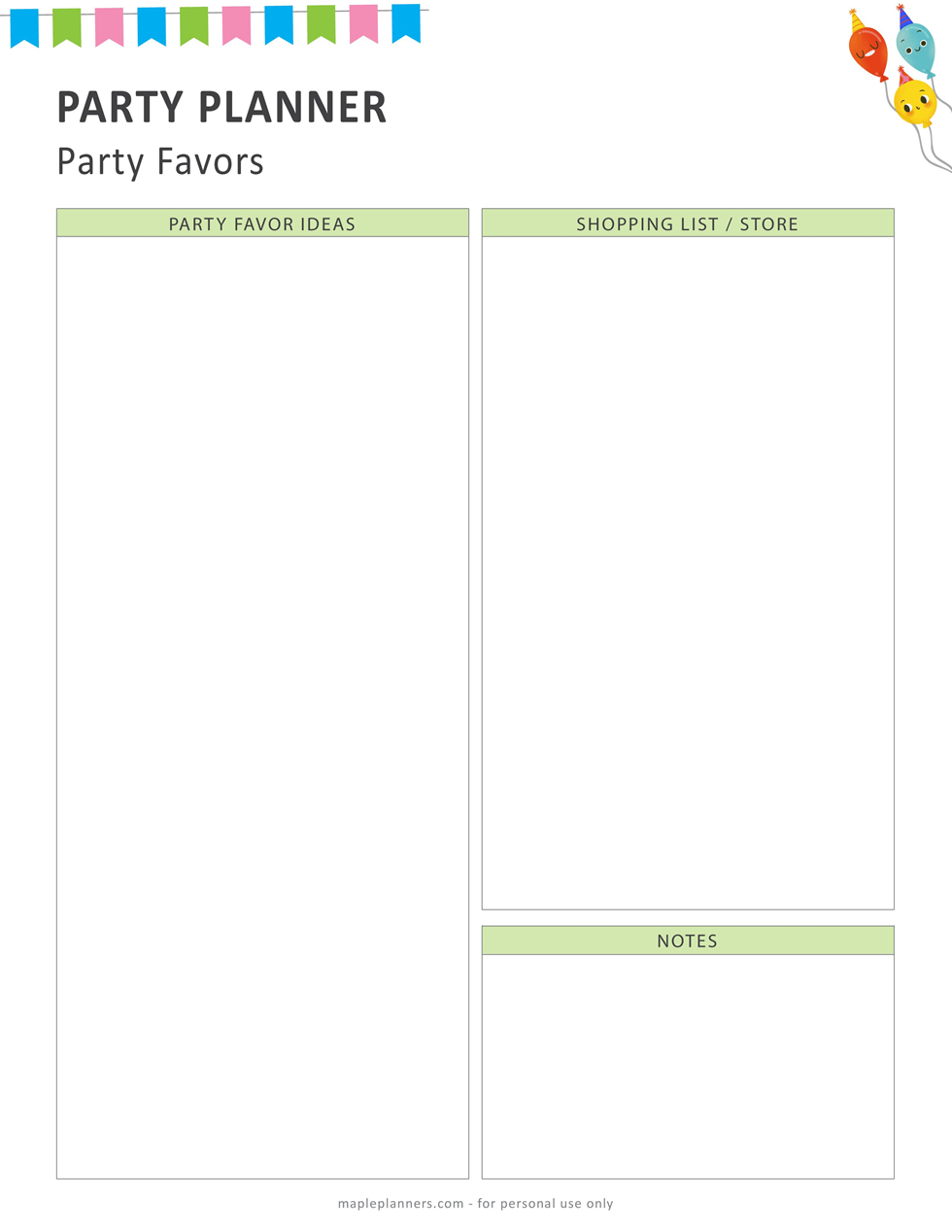 Gift Tag Maker
Make your own gift tags with this gift tags maker. All you have to do is pick the style that you want the tag for like
square, diamond, pentagon etc. Pick the width and height and if you want the tag border.
Write your own customized message to your loved ones. This gift tag maker is perfect for a birthday party, Christmas party, Easter, Valentines Day or any other special occasion.
These Happy Birthday Gift Tags will be cute addition to your party supplies.
Party Games and Activities
Brainstorm party games and activity ideas with this party game ideas template. Write the name of the game, how to play and supplies needed.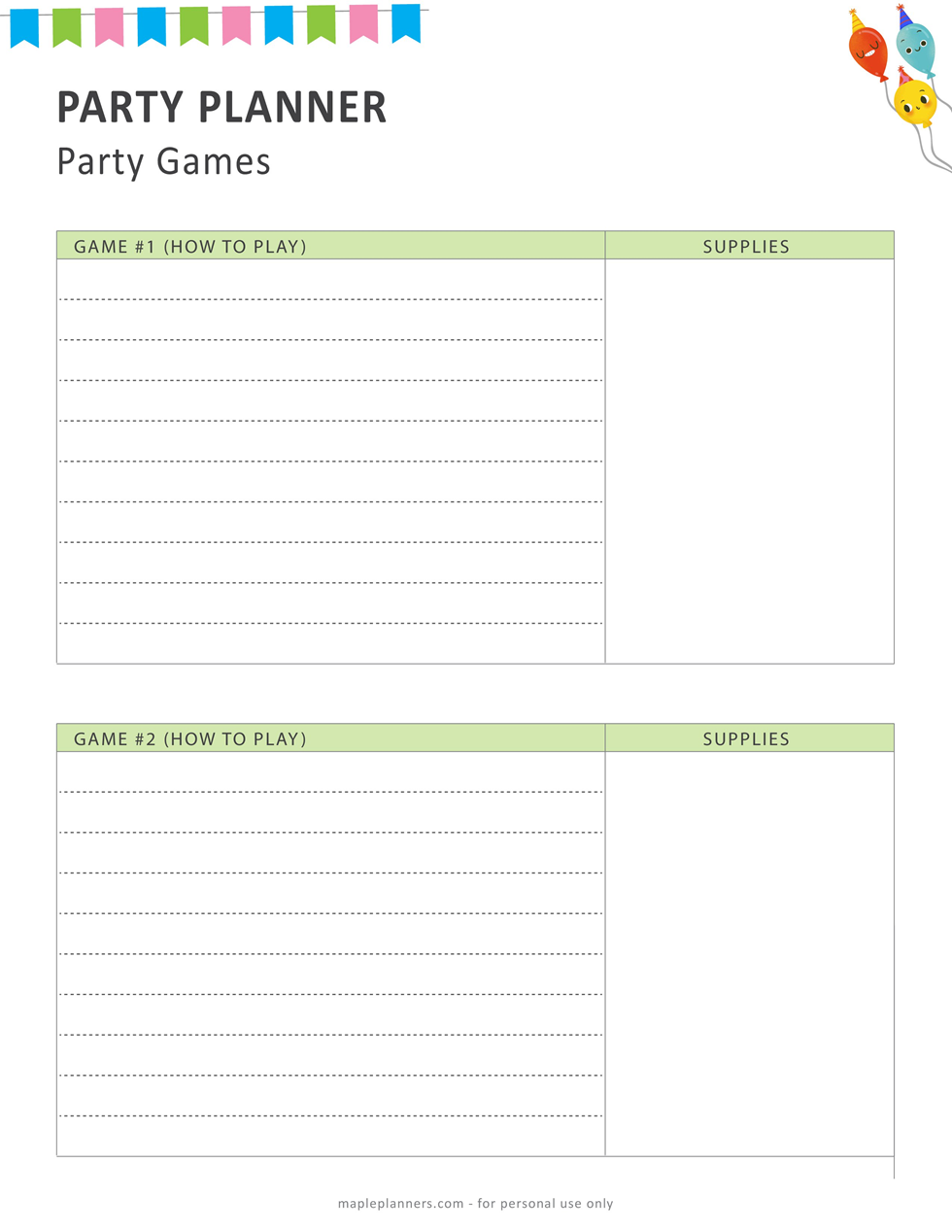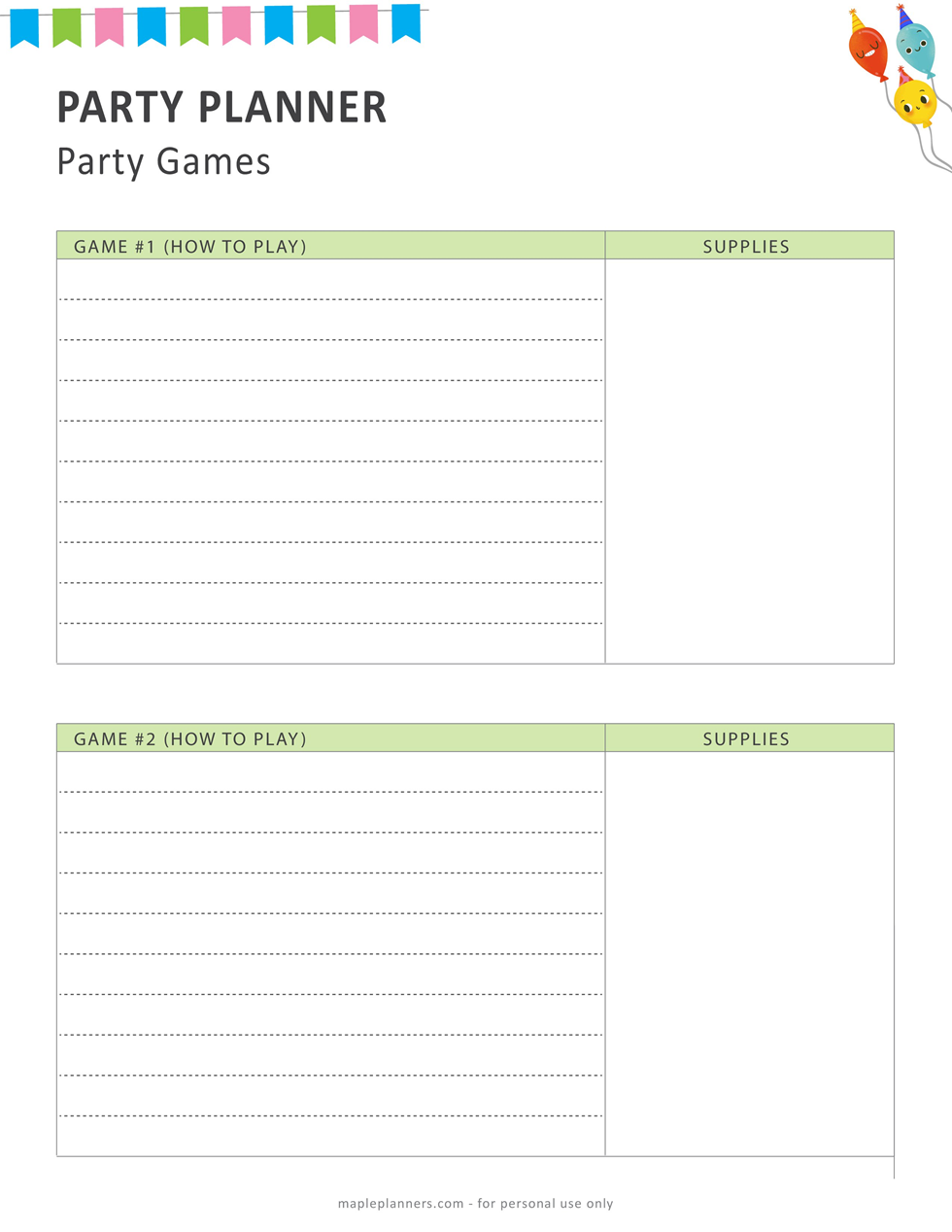 Party Planner Guest List
Make the guest list for your party with this party planner guest list template. Write their name and address. Check mark the boxes under Invited and RSVP if they were invited and if they RSVP'd.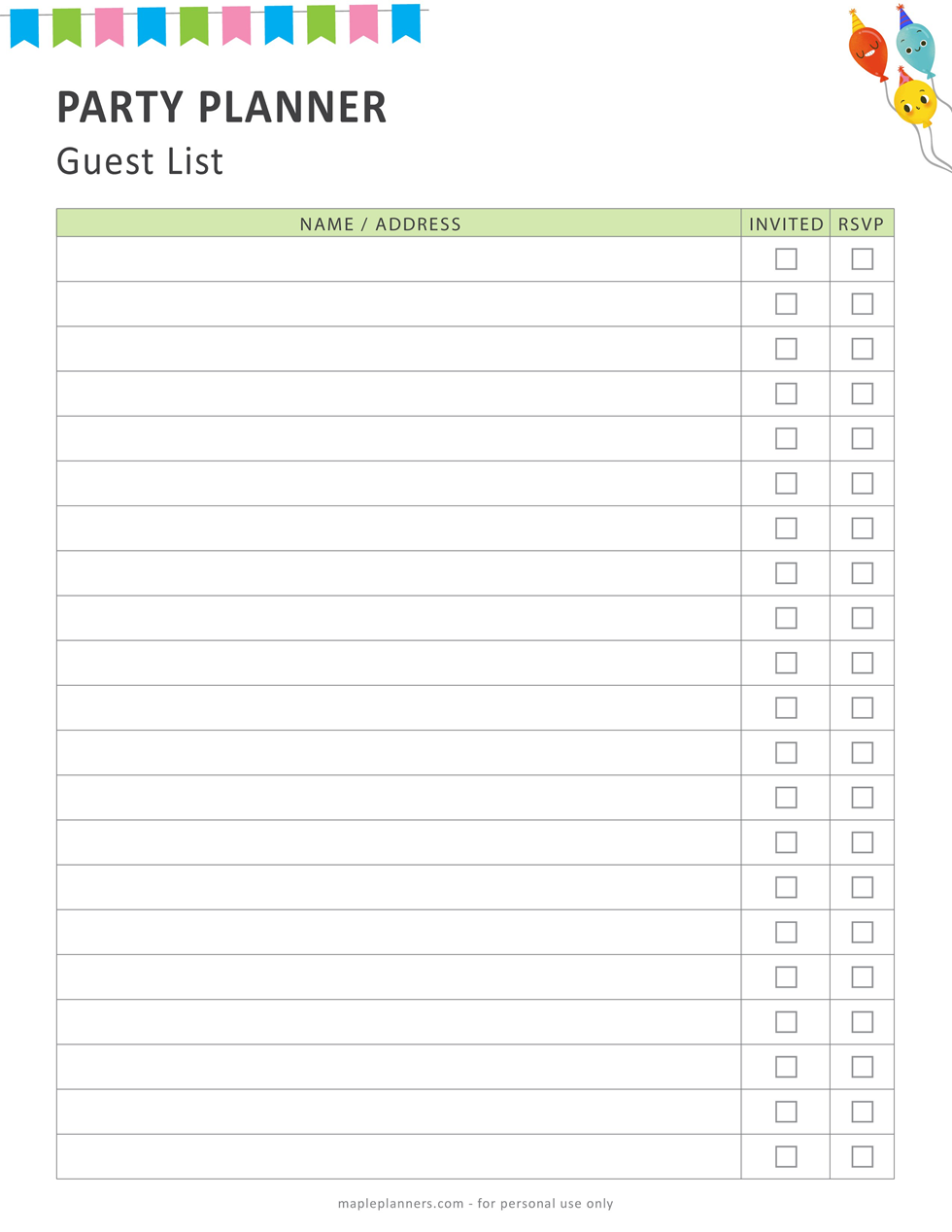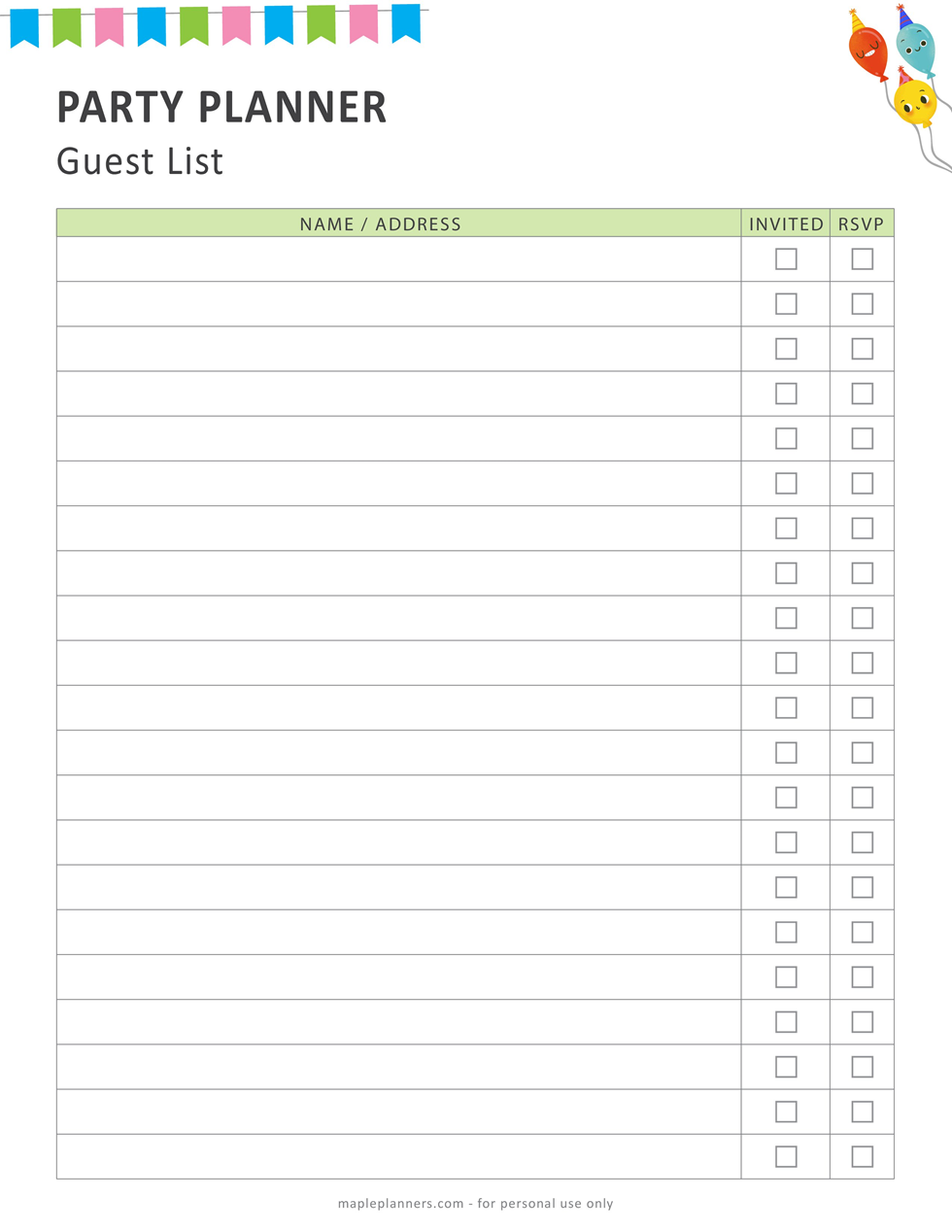 Party Menu Planner
Plan your menu well in advance and order your catering service if not preparing food at home. Order your baked supplies as well so that you are not feeling scrambled at the last minute right before the party.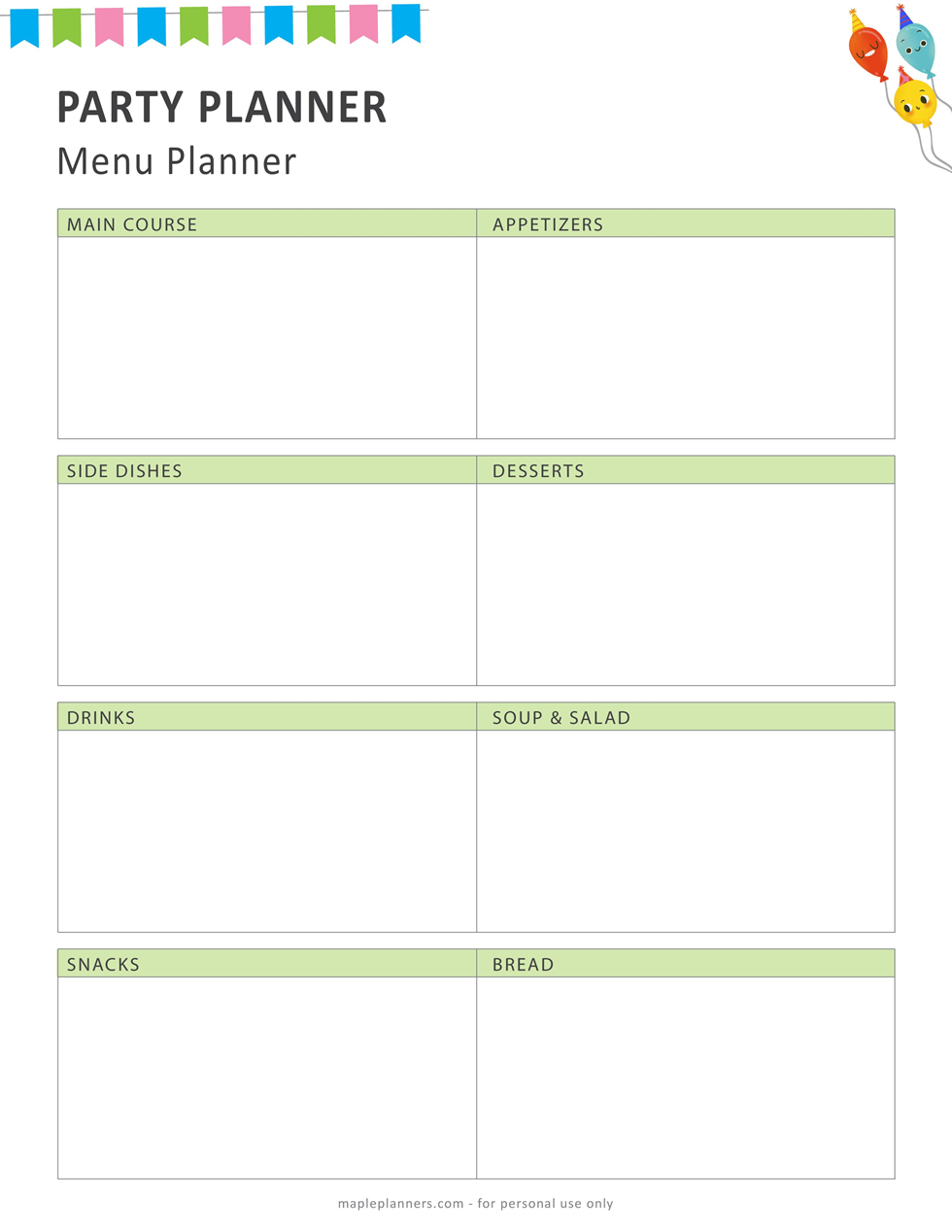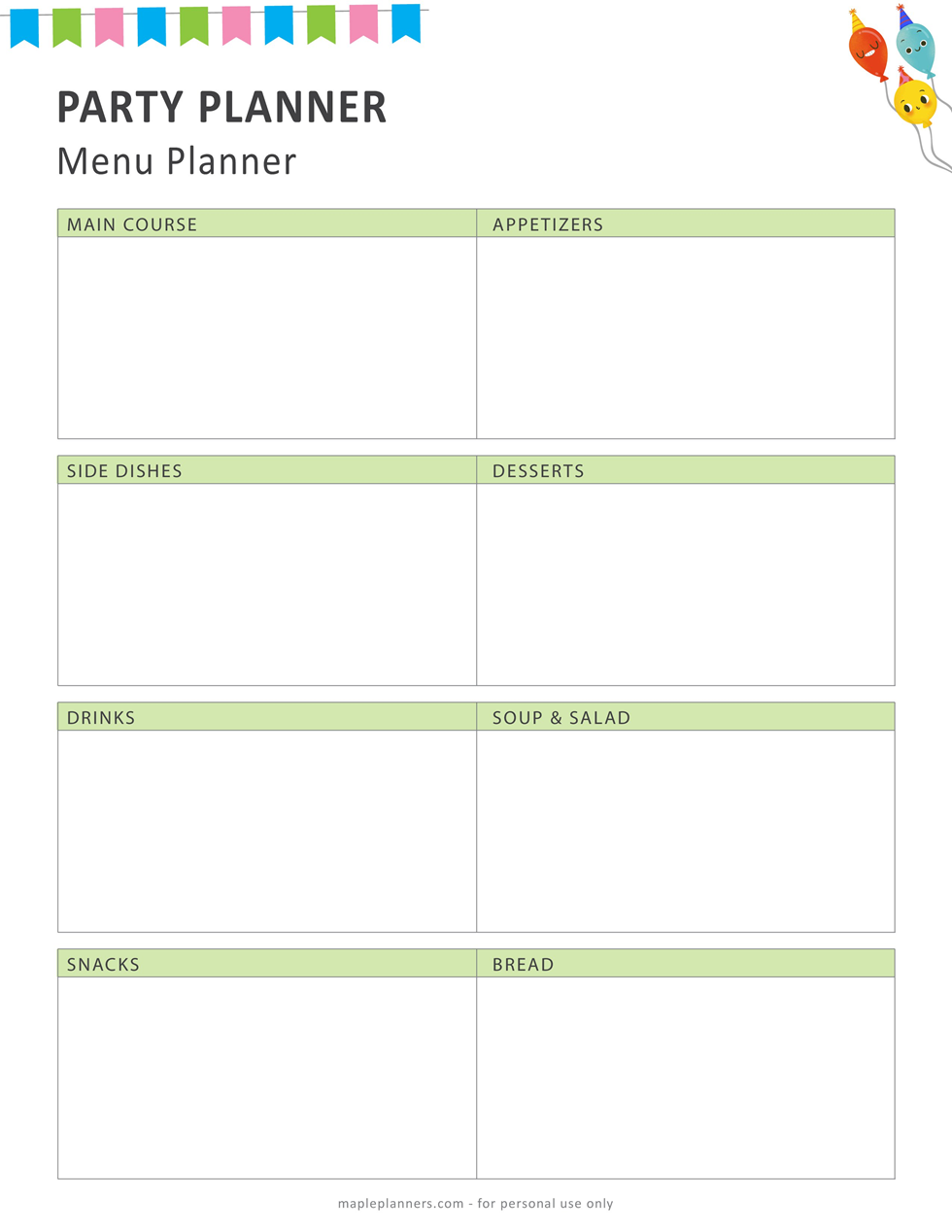 Party Planning Checklist
Download and print this party planning checklist to make sure you are organized few weeks before the party. This prefilled checklist helps you plan important details about the party. Add your own items as per your requirements.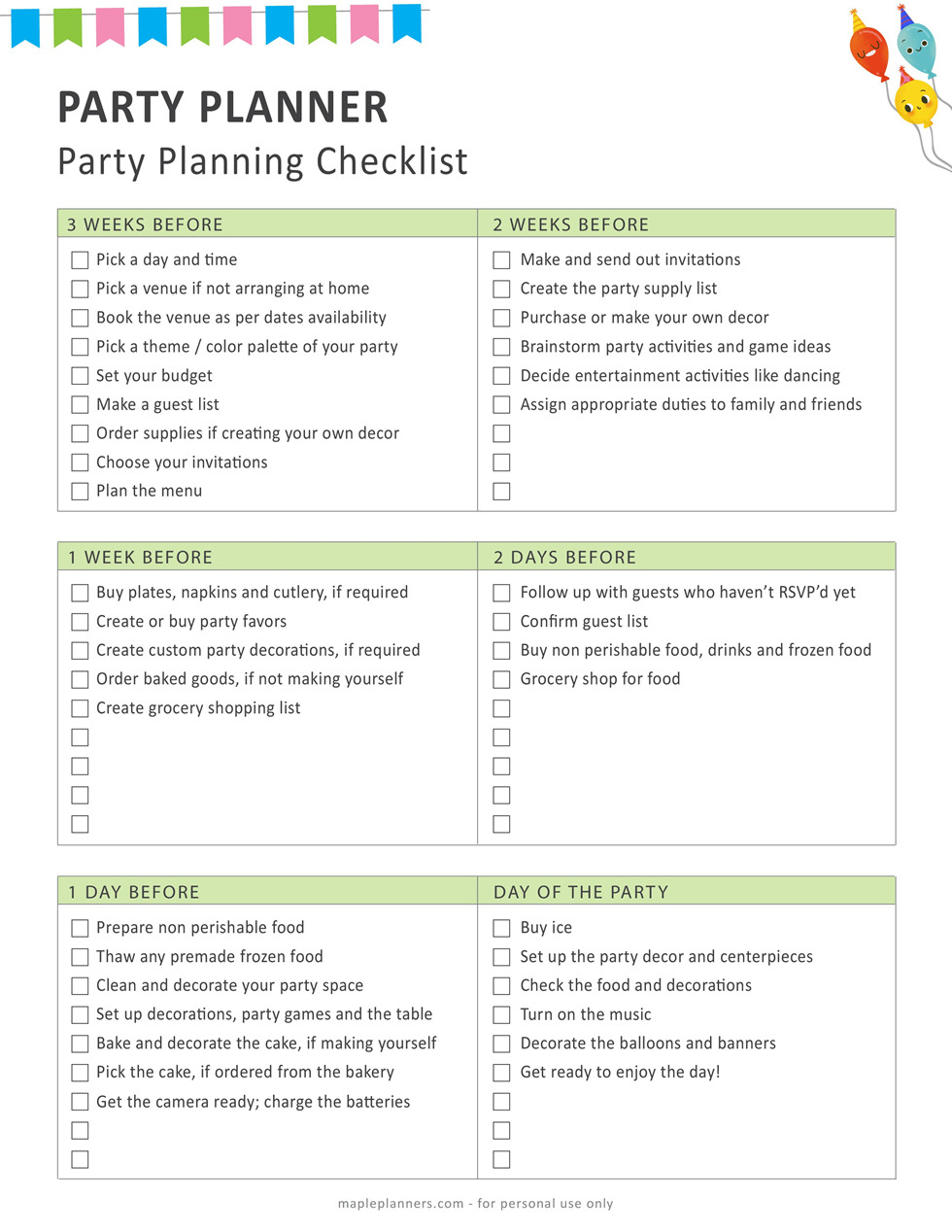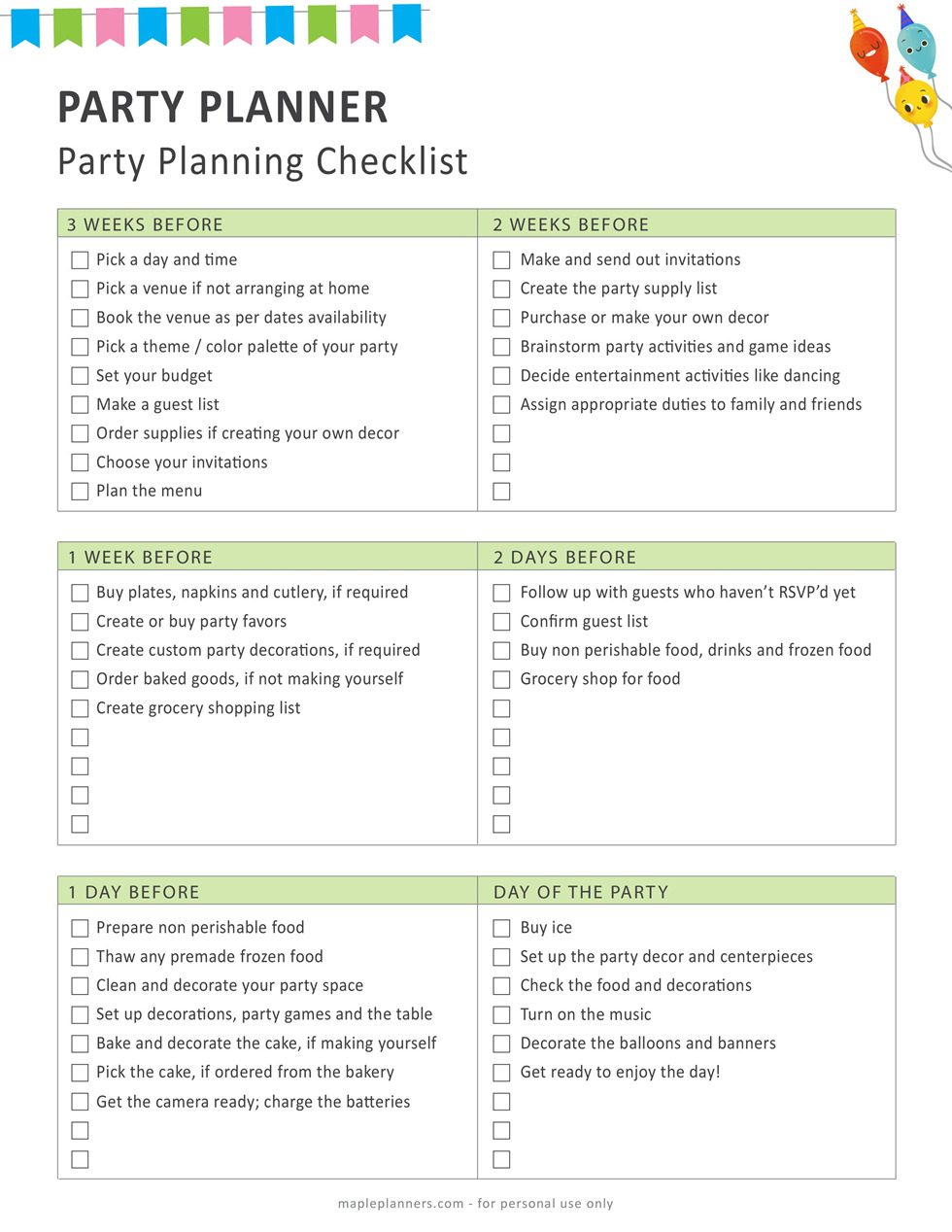 Party Planning Checklist Blank version can be used if you wish to add your own tasks to the checklist.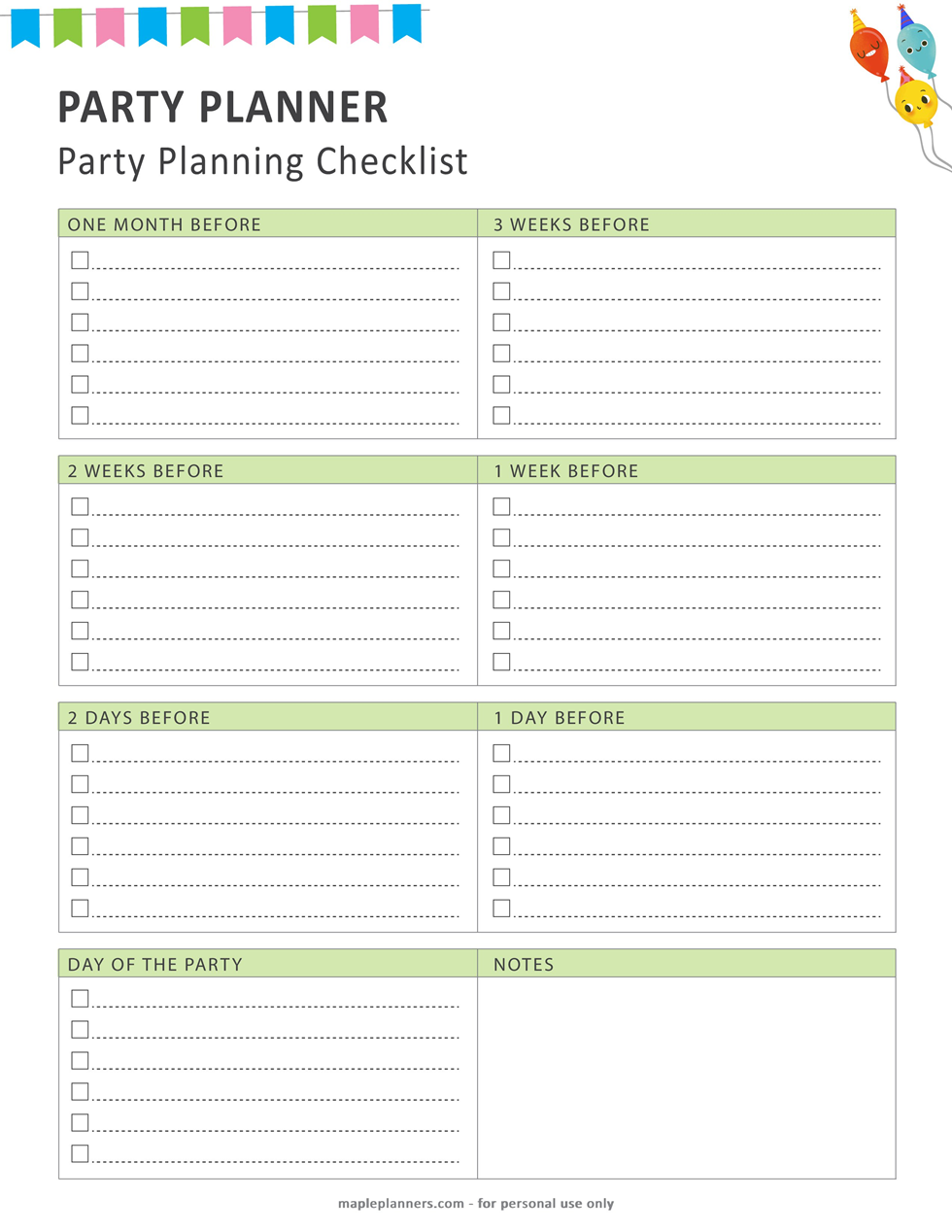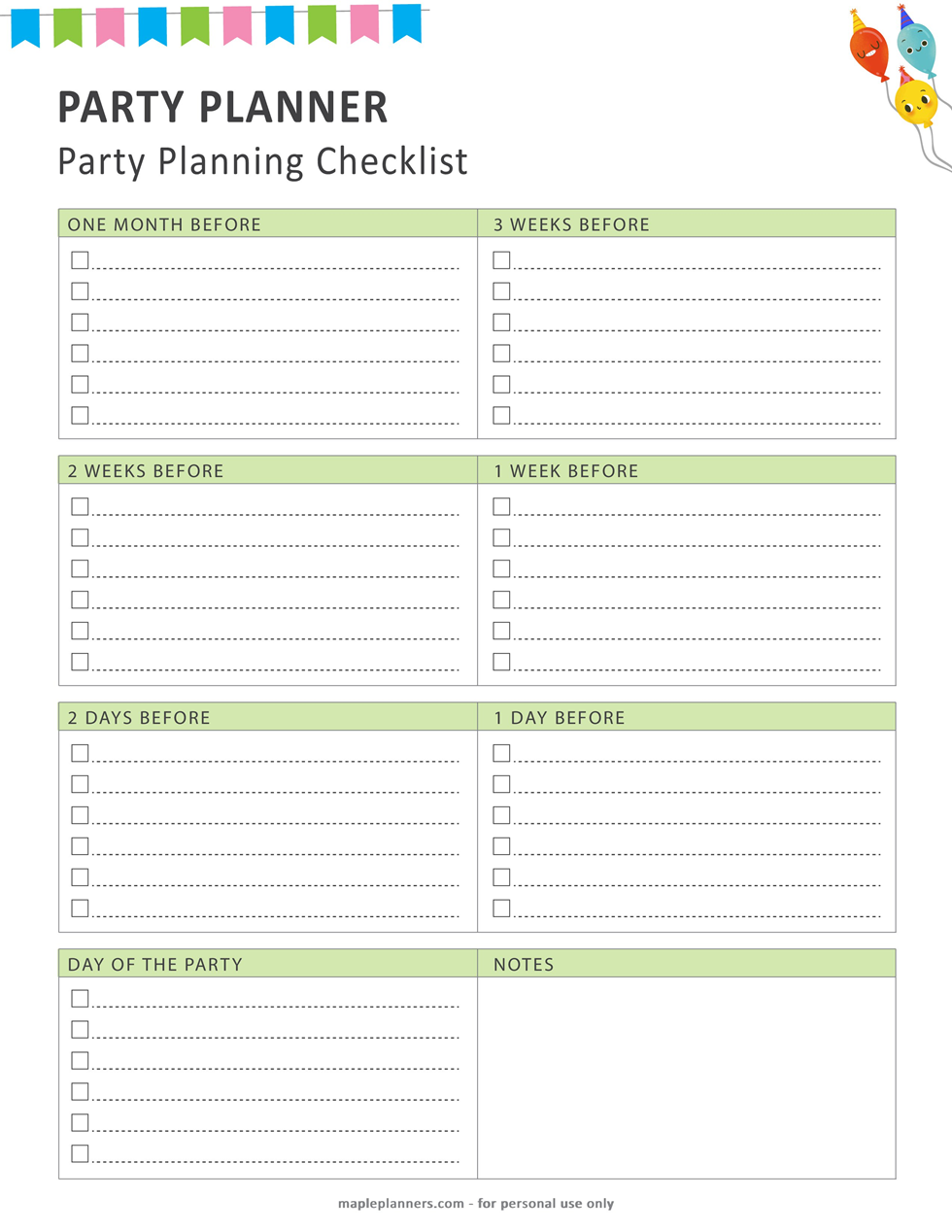 Party Budget Tracker
Budget is the foremost important part of your party. Depending on how much budget you set aside to organize your party, you should keep track of the budgeted amount and the total amount spent on food, decorations and venue.
Download and print this template to track your budget for the party.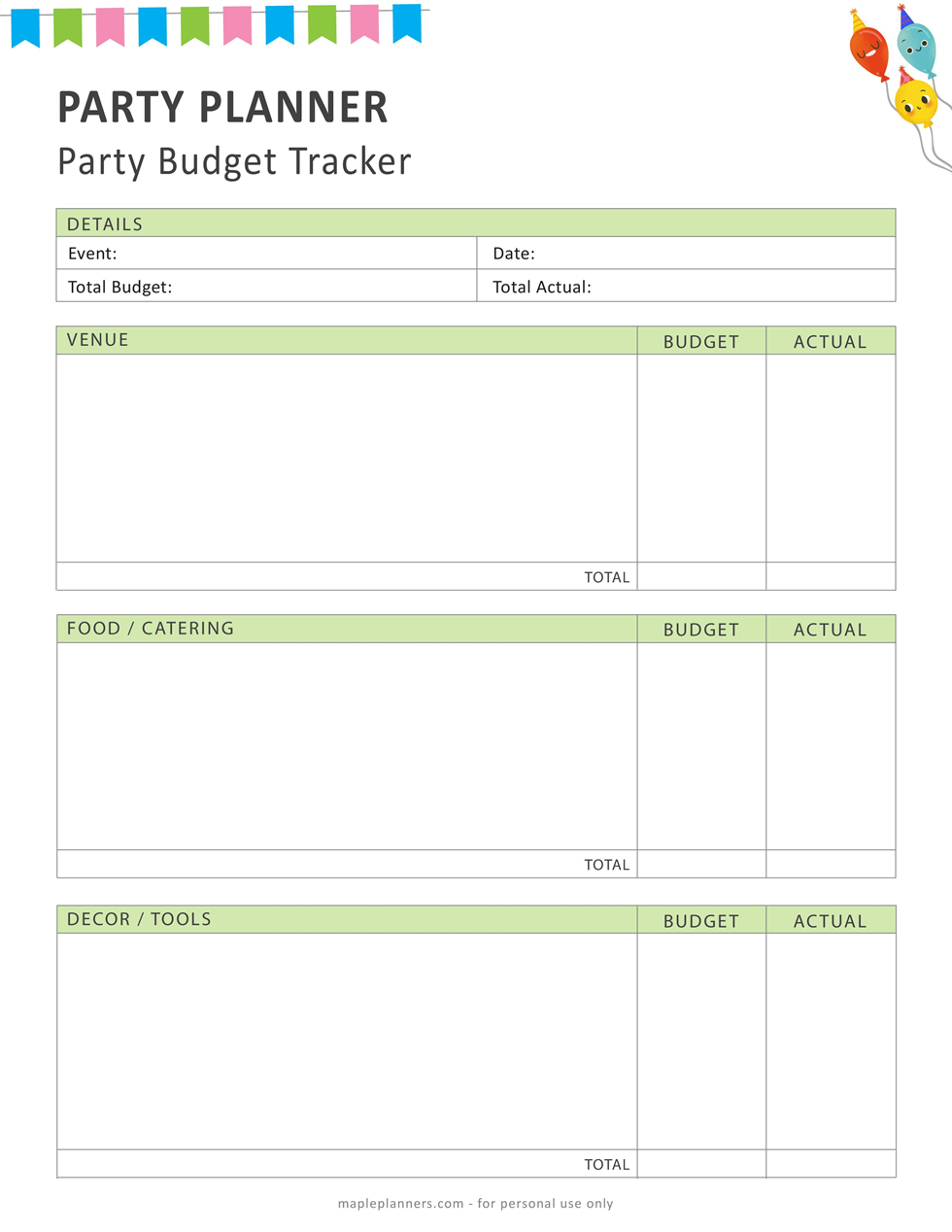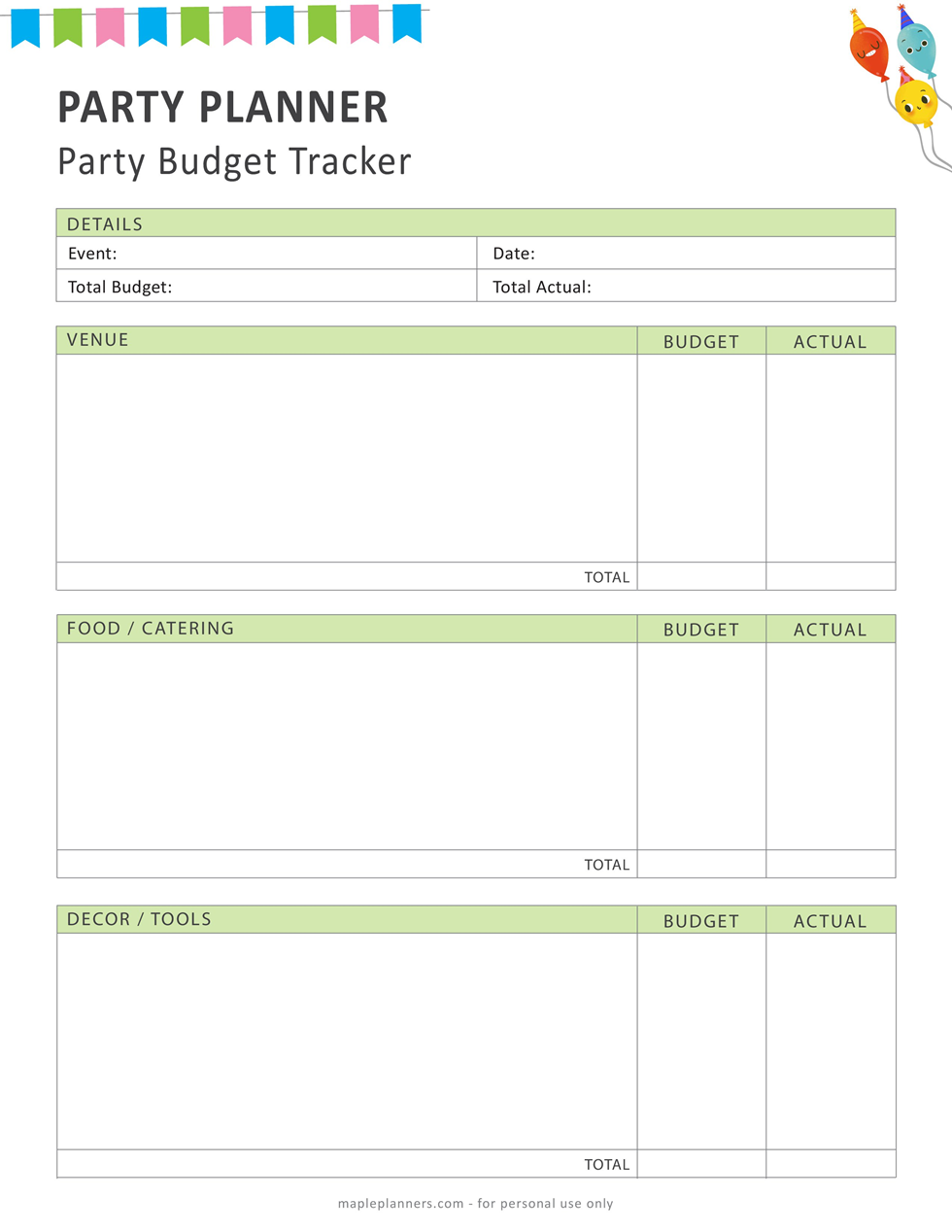 There are more party planner templates that you should check out.
Planning a birthday party is hard work. With all the important dates, RSVPs, invites and favors to keep track of it can be overwhelming. That's why we created this Printable Party Planner to make your next party planning session much easier!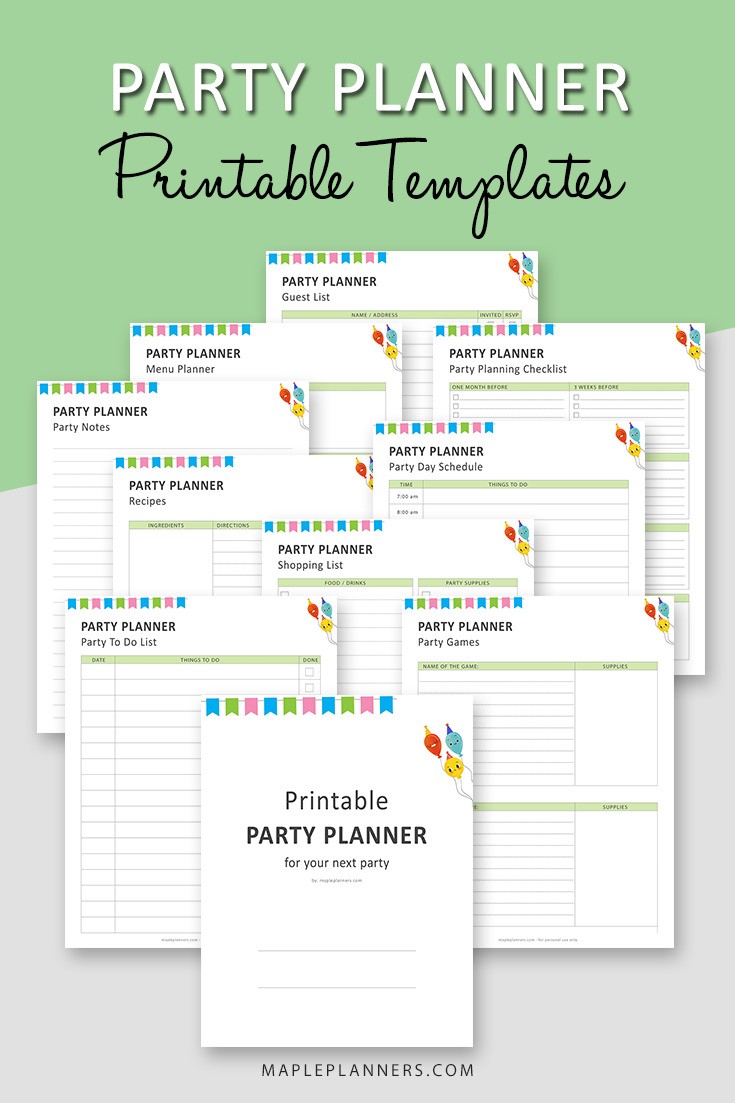 This planner has everything you need to organize every detail from invitations and favors through decorations and food for your event. The printables are designed with vibrant colors that will add some cheerfulness while you plan out all the details for your celebration!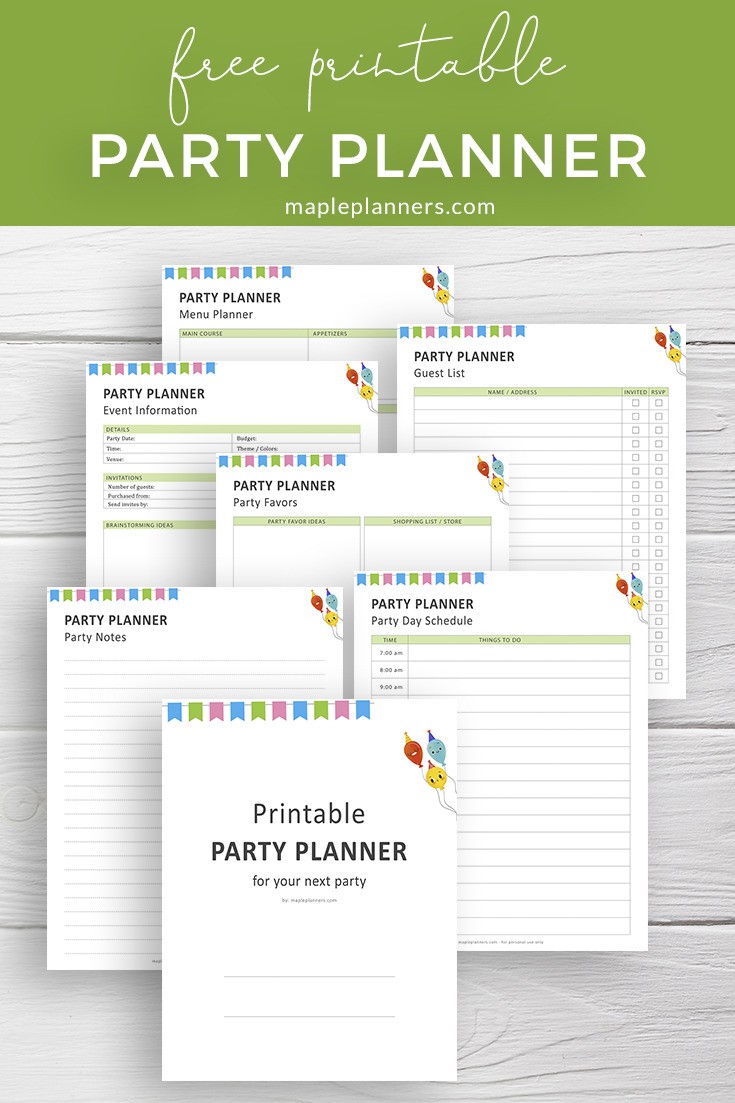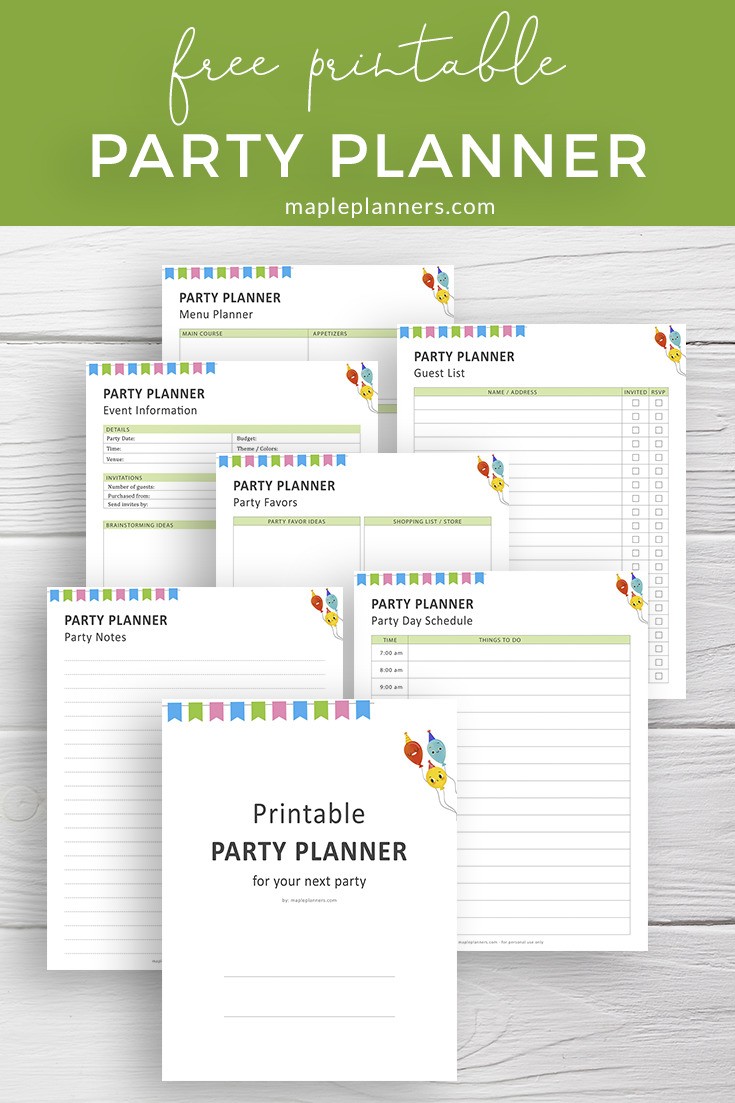 Download your FREE Printable Party Planner
Don't forget to share in the comments below how do you plan parties? We would love to know about any tips or tricks that have helped get things done more efficiently when getting ready for an event.